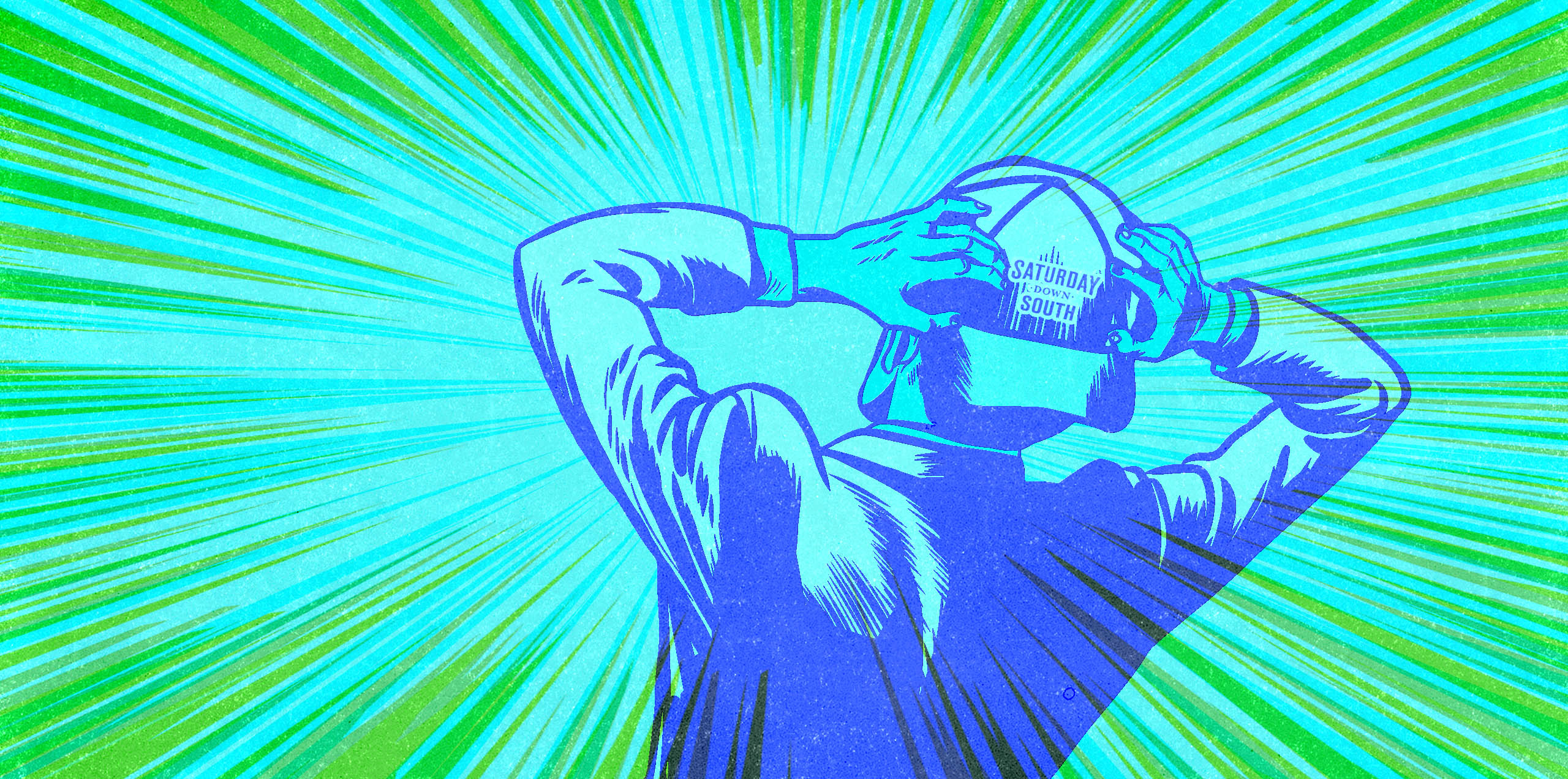 SEC
10 things I'm overreacting to after Week 4 in the SEC
Christmas came early for Kirby Smart.
His Dawgs — the most dominant team in all the land, the team that has heard for 3 weeks how it's appreciably better than the team that won the national championship last season — looked about as engaged and energetic as Uga does on hot, muggy Saturday mornings in Athens.
The outcome was never, ever, ever in jeopardy (and please don't pretend otherwise), but Smart had to relish watching his Dawgs lick their bowl of rat poison clean. He couldn't even hide his smirk during the halftime interview.
Now do I have your attention, men? That was not … elite.
The Dawgs are fine. Can't say the same for Eli Drinkwitz, KJ Jefferson's vertical, Miami's courage or Billy Napier's math skills.
Those are among the 10 things I'm absolutely overreacting to after a wild Week 4 in and around the SEC.
10. Brock Bowers for the Heisman
Why not? He's the best offensive player on the best team in the nation.
Those are requisite descriptions for any Heisman favorite, though they're generally reserved for quarterbacks and occasionally running backs.
Simply put, Bowers is doing things we haven't seen a tight end do. Ever.
He ran for 2 more TDs Saturday, giving him 3 on the season.
That included an eye-opening 75-yard TD run to open Georgia's scoring. What other tight end outruns a defense for 75 yards?
There is none.
Second play of the game. Brock Bowers is insane

— PFF College (@PFF_College) September 24, 2022
That's basically a jet sweep designed for a wide receiver.
Late in the first half, after Bowers made an acrobatic catch to put the Dawgs at the 2-yard line, I scrambled to Georgia's record book to see which Dawg has the most rushing TDs in a game. (Had to be Herschel, right? Nope. Washaun Ealey ran for 5 TDs against Kentucky in 2010). For whatever reason, the Dawgs decided to try other options. They still scored, but the fact that we're looking up single-game rushing records and hoping they call rushing plays for their tight end is kind of the point.
Bowers is a legitimate triple-threat. And if Georgia ever lined him up to attempt a 47-yard field goal, I'm guessing he'd nail that, too.
If the goal truly is to give the Heisman to the best college football player in America, Bowers is making a pretty clear case week after week that he's that guy.
9. Speaking of the Heisman … it's long past time to give Reggie Bush his trophy back
I absolutely love how Reggie Bush is challenging the establishment with his latest Wendy's commercial.
Everything about the commercial is an epic troll job directed at the Heisman Trust and NCAA folks who foolishly decided to take back his Heisman Trophy and strike his accomplishments from the record book. (P.S. We still remember …)
Even before NIL, singling out Bush for college football's problems was akin to trying to patch the Titanic with waterproof tape.
Now? Their continued stance looks more punitive by the day.
For what it's worth, shortly after NIL legislation passed and people again mocked the lunacy/hypocrisy of Bush v Heisman, the Heisman Trust said that they'll happily give back the trophy as soon as the NCAA restores Bush's numbers and names to the record book.
Bush has tweeted that he wants the trophy back.
Since then? Nothing.
Apparently, he's tired of waiting. With this commercial, Bush and Wendy's took direct aim at the out-of-touch policy-makers.
Watching Bush laugh his way through the commercial before finishing with a stiff-arm is pure comic genius.
8. Anthony Richardson said what?
Nobody has banged the drum harder or longer for Anthony Richardson than Overreactions.
Since last September, it seems Richardson has found a different, dynamic way to work himself into this weekly conversation.
With very few exceptions, each excerpt was full of praise, too. I mean, I gave the kid the Heisman last year after he dual-threatened USF's very existence.
So obviously I teetered between baffled and outraged earlier this week when I read that Richardson said he couldn't be Superman.
Excuse me? What franchise quarterback says that?
That's part of the DNA and certainly part of the job description. Heck, Stetson Bennett has flat-out said that he's the best QB Georgia has — and he's been surrounded by 5-star, future NFL starters since he arrived and will be watching and perhaps analyzing their NFL exploits long after he leaves.
For Chizik's sake, Anthony, revealing the cape was Cam Newton's signature move!
And now, the guy whose skills most similarly match Newton's, whose raw tools and draft hype far exceed the modest results, wants to dial back the expectations and pressure to be great — instead of embracing the challenge and screaming for more?
That's one way to end the Cam comps.
Maybe he heard what Tim Tebow said this week, about how Richardson needed to do what was best for the Gators, not necessarily what was best for his NFL stock. Translation: Be Superman. Run the ball. Put the Gators on your back.
We saw Saturday, again, how otherworldly Richardson's ability is. He threw for a career-high 453 yards and 2 TDs and ran it 17 times and scored 2 more TDs.
None of that really matters though if he truly doesn't want to be the guy.
7. No wonder these guys are on the hot seat
If you missed the end of the Auburn-Missouri game, you missed a classic coaching clinic — bloopers edition.
There's too much to unpack, but Bryan Harsin and Eli Drinkwitz traded curious decisions that riled their respective fan base.
Harsin struck first, when he decided not to attempt a go-ahead field goal in the final minute. Instead, he called a running play on 4th-and-1 at Mizzou's 29. Tank Bigsby was stuffed for a loss. Mizzou ball.
Harsin's decision looked bad in real time and grew worse each time Mizzou snapped the ball on its ensuing drive. A long Brady Cook completion set up Mizzou with a 1st-and-goal from Auburn's 3-yard line with 45 seconds left.
That's when Drinkwitz made a decision that ultimately might cost him his job. Instead of trying to score the game-winning touchdown, Mizzou played for the walk-off field goal. Mizzou ran 2 plays to eat clock and stay in the middle of the field, setting up a chip-shot 26-yard field goal.
You already know what happened next. College kickers, that's what. Harrison Mevis missed, and off to overtime they went.
Auburn ended up with more points than Mizzou, but I'm not sure either coach won Saturday.
6. 6 notable numbers
Bryce Young led the SEC last season with 18 completions covering 40 yards or more. He entered Week 4 with 0 such completions. He got on the board with a 48-yard completion to Jermaine Burton.
3 SEC QBs threw at least 4 TD passes Saturday: Mississippi State's Will Rogers threw 6 — matching his single-game Bulldogs record. Young and Kentucky's Will Levis tossed 4.
Georgia allowed a rushing TD Saturday, its first of the season. The Dawgs have gone 20 consecutive games without allowing 2 rushing TDs. The last team to do that? Mizzou, in a game the Tigers lost 49-14 in 2020.
Wake Forest's wildly under-appreciated QB Sam Hartman set a single-game school mark with 6 TD passes in a thrilling but ultimately heartbreaking overtime loss to Clemson. Hartman has 13 TD passes in 3 games and a program-record 85 in his career. That's 6th all-time in ACC history and 5 behind Trevor Lawrence and Deshaun Watson. Hartman is going to make a run at Tajh Boyd's ACC record of 107 TD passes.
Has anybody benefitted more from a change in scenery than Bo Nix? Basically booed off The Plains, Nix has been electric at Oregon. Saturday, Nix threw for a career-high 428 yards to go with 3 more TD passes. With 1,100 yards and 10 TD passes through 4 games, he's going to pass his season-highs at Auburn by Halloween.
11. That was Florida's deficit when Billy Napier decided to go for a 2-point conversion at Tennessee. What chart, exactly, was he referencing? A 2-point conversion wouldn't have changed the fact Florida still needed 2 more scores. After Florida got another TD to pull within 5, Napier went for 2 again. He had to that time to try to get within 3. Florida's try failed. The Gators recovered the onside kick and instead of needing a field goal to tie (which would have been the case had Napier kicked PATs after each of those 2 TDs), the Gators needed a walk-off TD miracle. This time, they didn't get it.
5. Craziest TD of the year …
The funniest part about this play was the fact Arkansas QB KJ Jefferson actually thought he could dive in … from the 5-yard line.
Needless to say, he did not make it.
Arkansas was on the verge of taking a 21-7 lead, but Texas A&M punched the ball out of Jefferson's hands. Tyreek Chappell scooped up the fumble, and, well, just watch the rest. It's the early candidate for play of the year.
You have to see this to believe it.@chappell_tyreek →@therealdemani→ 97 yards to the ?

? ESPN | #BTHOarkansas pic.twitter.com/M3Ukdtdr4y

— Texas A&M Football (@AggieFootball) September 25, 2022
Chappell's improv hand-off to Demani Richardson not only changed the game, it likely changed the season for both parties involved.
Sam Pittman billed this as a prove-it week for the Hogs. And they played well, too. But they never recovered from this mistake.
Texas A&M, meanwhile, recovered from last week's embarrassing loss to App State and the early deficit for another signature top-10 win.
It's crazy how quickly 1 play can change fortunes.
4. The 4 Playoff teams are …
1. Georgia, 2. Ohio State, 3. Clemson, 4. Alabama
Don't discredit Clemson's gutty win at Wake Forest by simply saying, yeah, well, it's Wake Forest.
For 5 years, Wake Forest has fielded one of the nation's highest-scoring offenses. Last season, the Deacons won the ACC Atlantic Division. The Deacs are legit.
If Clemson continues to get this kind of play from DJ Uiagalelie (371 yards, 5 TDs), the Tigers are legit, too. There's nobody in the Coastal who will pose a threat. Clemson's last huge hurdle to clear their Playoff path is a home date next week with NC State.
Alabama replaces USC at No. 4 after toying with Vanderbilt. The Tide's passing game looked better, but the only thing Vandy football shares with Wake Forest football is world-class academics. So, advantage Clemson, at least for another week.
USC survived with a last-minute TD, which, ultimately, is all the Trojans need to do. As long as they stay undefeated — and in that league, with that QB, that receiver and that head coach, I think they will — they'll be in the Playoff.
3. Miami is the biggest pretender in America
The Canes' collapse Saturday against visiting Middle Tennessee came as next to no surprise to anybody who has followed them since their glory days.
Saturday's loss was all but sealed last week, when Miami lost a brutal game at Texas A&M.
Following one loss with another is very much a Them thing with The U.
This is the 11th consecutive year that Miami has lost at least 2 consecutive games. Usually, tough losses are followed (and compounded) by puzzling losses. Elite programs don't do this. Nick Saban hasn't lost consecutive games at Alabama since 2013.
It's difficult to pinpoint Miami's most maddening example of tanking, too. There are so many.
In 2018, the Canes lost to Virginia … then proceeded to lose their next 3 after that — all 3 against unranked ACC teams.
Remember 2017? Those Canes rose to No. 2 in the country — then closed the season with 3 consecutive losses. The derailment started with a loss at unranked Pitt.
In 2016, the Canes were 4-0 and ranked No. 10. They suffered a brutal 1-point loss at Florida State and 3 weeks later they were 4-4.
In 2014, after nearly upsetting FSU but ultimately falling short, the Canes lost their next 3 games, too.
In 2013, the Canes were 7-0 and ranked No. 7. They lost at Florida State — and then lost to unranked Virginia Tech and Duke.
In 2012, they followed a loss to ranked Notre Dame by losing to unranked North Carolina.
The lesson is simple: As supremely talented as the Canes are, once they check out, they don't come back.
That's the culture Mario Cristobal has to change.
2. Tennessee is … a Playoff threat?
Hendon Hooker isn't seen as a high-end NFL prospect and that continues to cloud his ranking as a college quarterback.
Simply put: He's outstanding. He makes this Tennessee offense not just go, but borderline unstoppable.
Without the best receiver in the SEC (see, it can be done, Alabama), all Hooker did was join Josh Dobbs on the list of Tennessee quarterbacks to total 300+ yards passing and 100+ yards rushing in the same game.
Tennessee's offensive numbers are impressive. But you knew that.
Want more impressive? The Vols are poised to crack the top 10 Sunday for the first time since 2016. They haven't finished a season in the top 10 since 2001 — when Phil Fulmer's bunch ended up No. 4.
Do that this year and the Vols make the Playoff. That obviously involves beating Georgia.
Sound crazy? Probably, but that offense vs. Georgia's defense will be the best battle we see all regular season.
Stay tuned.
1. Georgia paid Kent State $1.9 million. A suggestion …
I hope, with all the money Kent State made Saturday, they'll spend some of it on new helmets.
Today Kent State @KentStFootball is wearing its 44th different helmet in its past 59 games since start of 2017 season. Nine different logo designs with variety of color combinations. Complete history at https://t.co/tD3Od8mI9I #2022FBSNewHelmet88@UniWatch@PhilHecken@Lunedyne pic.twitter.com/IU5v4LfFQB

— Blaise D'Sylva (@wtfcoach) September 24, 2022
With so many options available (are they "Oregon of the Midwest?"), how was this the choice? How bland were the other 43?