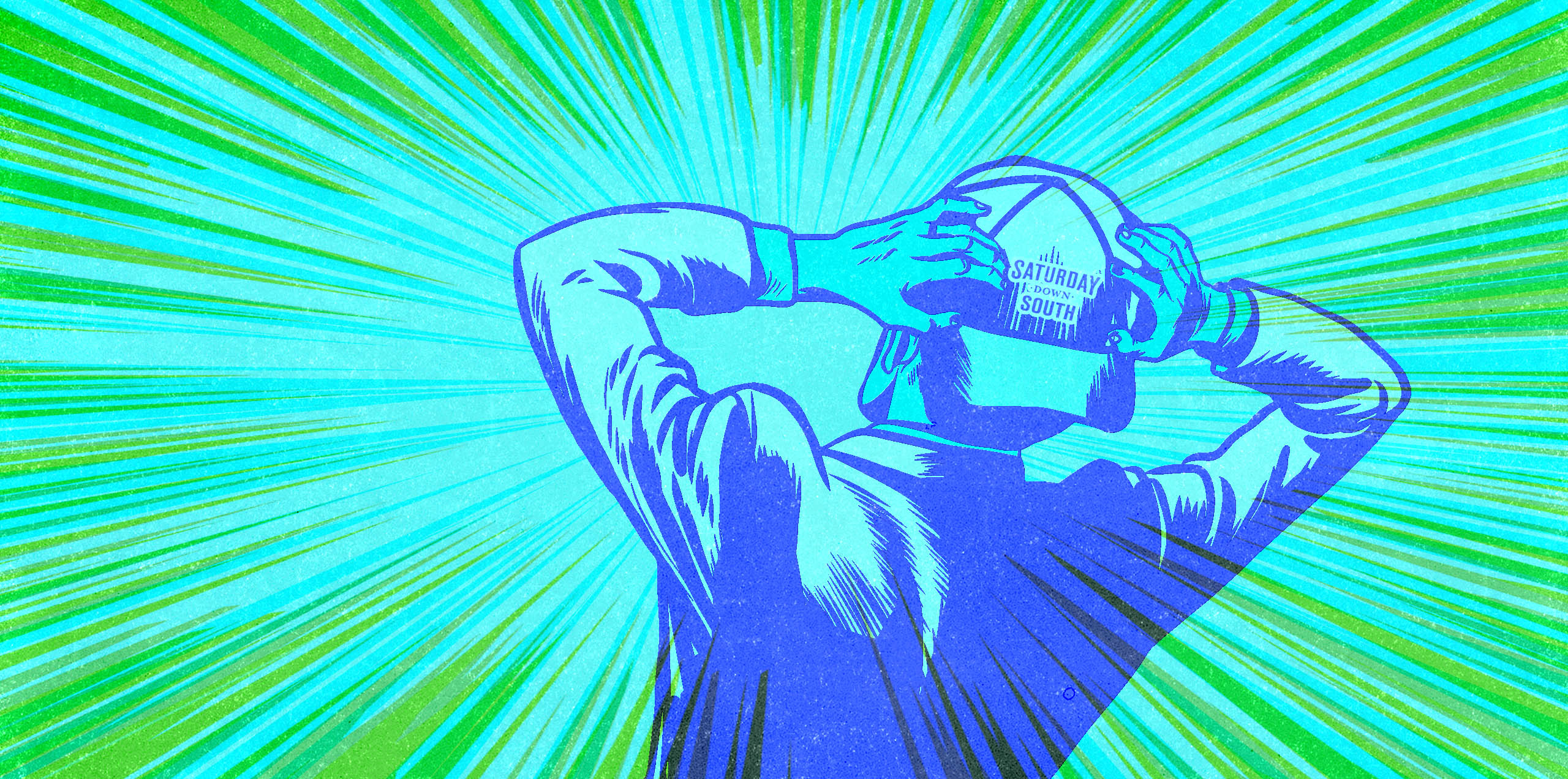 SEC
10 things I'm completely overreacting to after Week 6 in the SEC
Midway through the 2nd quarter of Alabama-Texas A&M, my local CBS affiliate went dark.
Technical difficulties, they said.
I thought it was Nick Saban making sure nobody in Tampa could see the Tide's subpar performance. Or Nick's halftime interview.
The feed eventually came back. Alabama did too, briefly, but not entirely.
That massive upset is just 1 of the 10 things I'm absolutely overreacting to after Week 6 in and around the SEC.
10. What did Jimbo say?
That's right. He said Texas A&M was going to "beat their —" before Nick Saban retired.
And how.
Texas A&M dominated Alabama … then survived to author the biggest upset in a season full of them.
In the process, Jimbo Fisher became the first former assistant to beat Saban. A&M became the first unranked team to beat Alabama since 2007.
The how was as wild as it was unpredictable.
Even Seth Small's winning kick — a chip-shot from 28 yards — immediately looked like it was hooking left. It straightened out and slid inside the left upright for Fisher's biggest win since he captured the 2013 national championship at FSU.
Big picture? Nothing really changes. Texas A&M will climb back into the rankings but lament its 2 early SEC losses even more. Alabama still can make the Playoff, but now the Tide must win out, including the SEC championship.
9. Can Kentucky really go 11-1?
ESPN's FPI isn't impressed with the 6-0 Cats.
I am.
FPI still sees 4 losses coming — 3 in a row starting with next week's trip to Georgia.
OK, Kentucky probably isn't beating Georgia, but the Cats are playing so well that 10-2 might be the floor.
Mark Stoops is the coach of the year. Liam Coen is the assistant of the year. Wan'Dale Robinson is the college football transfer of the year. Unless his teammate, QB Will Levis, is.
It says something when guys from the NFL and blue-blood programs such as Nebraska and Penn State want to become part of something special at Big Blue Nation.
8. If Will Levis is at Penn State, Penn State is still in the Playoff hunt
Last week, I wrote that Penn State would walk into Iowa City and beat Iowa by 10.
The Nittany Lions were up 17-3 when starting QB Sean Clifford suffered a game-ending injury in the 2nd quarter. Penn State's offense was stuck in neutral the rest of the afternoon, and Iowa escaped with a 23-20 victory.
Penn State backup Ta'Quan Roberson was 7-for-21. More critical, he threw 2 interceptions. Roberson had 10 possessions: 5 ended with a punt, 2 ended on downs, 2 ended with turnovers and 1 produced a field goal.
Penn State's Playoff hopes are on life support and they're non-existent if Clifford's injury turns out to be serious.
Saturday turns out better if Will Levis were still in Happy Valley. He would have protected the lead and probably extended it, and everybody would be talking this morning about the Halloween weekend showdown at Ohio State. Instead, Levis is in Lexington, where he's leading Kentucky to heights not seen since Bear Bryant roamed the sidelines.
I know we're getting way ahead of ourselves, but if Kentucky upsets Georgia next weekend?
Oh, my. It's interesting how these decisions play out.
7. Look good, play good
The only thing better than Tennessee's alternate uniforms was its quarterback, Hendon Hooker.
We've been waiting way too long time for somebody to remind us of Josh Dobbs.
Hooker played the part Saturday. He was dominant against South Carolina — matching Jarrett Guarantano's career-high 3 TD passes in the opening half before Tennessee voluntarily shut down the passing game.
That's the only thing that prevented Hooker from having a 4 TD day.
That day might be coming soon, and it will be notable.
Tennessee hasn't had a QB throw 4 TD passes in a game since Dobbs did it against Florida in the first month of the 2016 season. Heck, since 2012, a Vols QB has thrown 4 TDs in a game only twice.
If pushed, Hooker would have become the 3rd on Saturday. But it's nice to know that intentionally conservative play-calling was the culprit, not a lack of ability.
The biggest takeaway in Week 6 was that the Vols finally have a QB. And, just like that, the SEC East became a lot more interesting.
6. Loved the decision. Absolutely hated the call
I was surprised — and impressed — that Sam Pittman decided to go for 2 and the win after KJ Jefferson's TD pass on the final play of regulation brought Arkansas within 1 point of Ole Miss.
I figured — probably along with the rest of America — that Pittman would feed Jefferson and ask his Hogs to graze on the Rebels' porous d-line. After all, Arkansas had rushed for 350 yards. They only needed 3 yards for the win.
Lane Kiffin seemed so resigned to what was about to happen that before the snap, cameras caught him on the sideline, eyes closed, hands clasped as if he were praying for just 1 stop — just 1! — knowing how unlikely that would be.
Instead, Arkansas curiously called a pass play that looked doomed from the start. Jefferson harmlessly overthrew Treylon Burks in the back of the end zone. Sam Pittman said afterward that he loved the play call. He said the Hogs had 3 good options but simply didn't convert.
He saw something I didn't. I saw 3 Hogs receivers surrounded by 7 Ole Miss defenders.
On a day Jefferson outplayed Matt Corral, the Hogs deserved better. Same situation later in the year, no way they run that same play. In Jefferson, they must trust.
5. 5 quirky questions that popped into my head Saturday
1. Does Pete Golding have a buyout clause?
2. Is Georgia saving JT Daniels for the SEC Championship Game?
3. What year did Ladd McConkey win the British Open?
4. Oklahoma and Texas combined to score 103 points. Is it OK if we go back to calling it the Red River Shootout?
5. How much will this playsheet go for on eBay?
Clipboard @Lane_Kiffin pic.twitter.com/JhbdEmHlb6

— Cole Cubelic (@colecubelic) October 9, 2021
4. The 4 Playoff teams are …
1. Georgia, 2. Ohio State, 3. Cincinnati, 4. Alabama
Please tell me you weren't impressed with Iowa's 3-point home win escape over Penn State's backup QB? If you were, can we please speed ahead to the B1G title game: Ohio State 42, Iowa 17.
3. Bo Nix got you again
I had to laugh last week. Nix made a couple of crazy, unrepeatable improv plays to beat LSU and people legitimately wondered whether he had turned the corner.
Come on, man.
Even at his supposed Manzielian best, Nix completed just 52% of his throws against LSU. He should have been sacked a lot more than he was.
You can credit his daring, elusive Johnny Football impersonation, but I cringed because there was nothing particularly hopeful about the performance. It was just more of the same — only that time, it ended with a few completions. Ultimately, all the LSU game did was reward bad habits and extend his start streak.
Bottom line: He played the exact same way Saturday against Georgia.
And the outcome was wholly predictable.
2. Ole Miss' Twitter account owned Week 6
The Rebs' mock game was strong Saturday.
YES SIR. pic.twitter.com/cXdDrSMER2

— Ole Miss Football (@OleMissFB) October 9, 2021
— Ole Miss Football (@OleMissFB) October 9, 2021
1. Georgia is going to win the national championship
I've been at SDS for 7 football seasons.
That's the first time I've written that sentence.