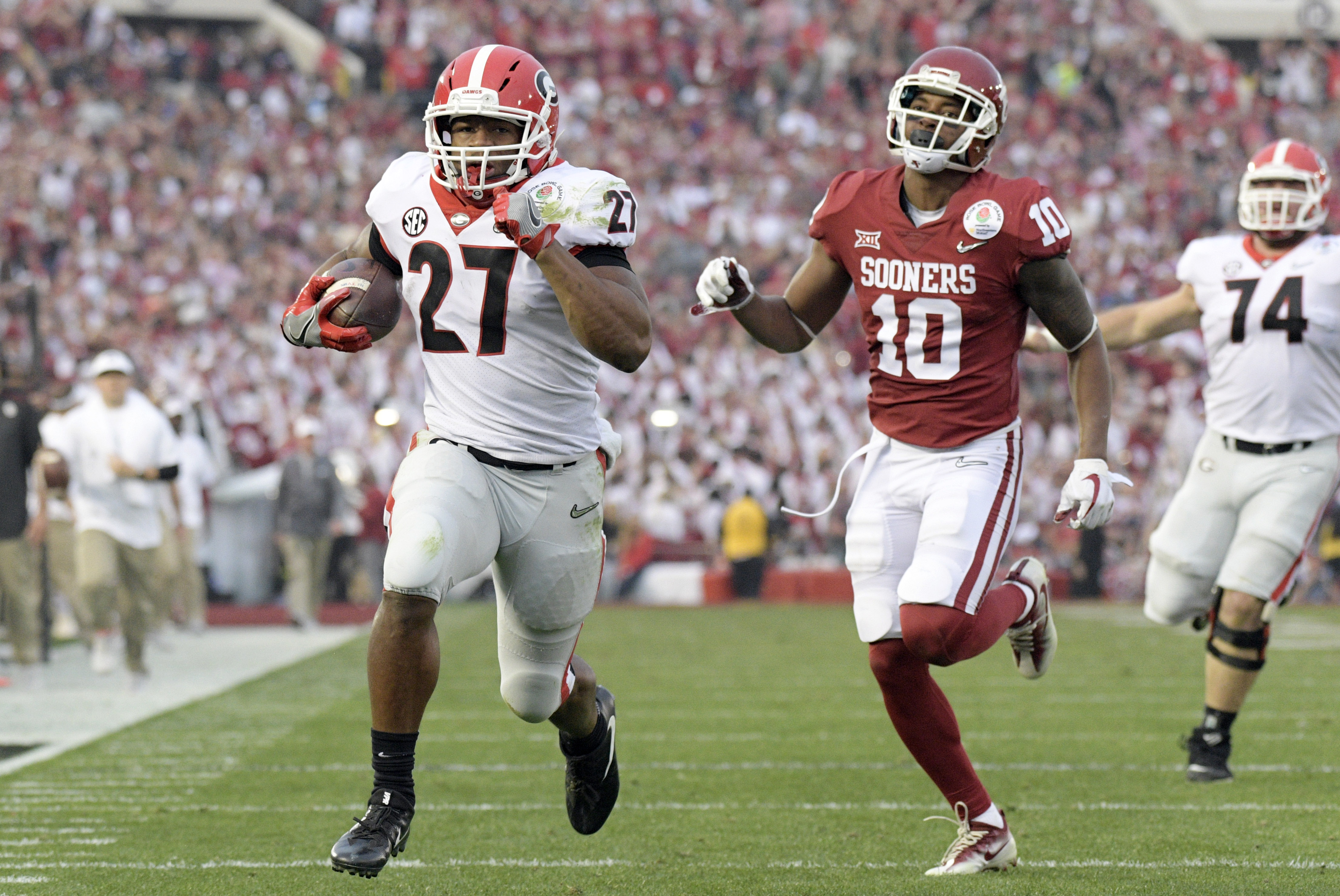 SEC
10 things we learned about the SEC this bowl season
Coaching hires haven't been the only SEC story lines worth dissecting since the 2017 regular season concluded.
The bowl games have given us a mixed bag of outcomes. Certain SEC teams finished strong, others not so much. And it's not over yet. Alabama and Georgia still have some business to settle.
But here are 10 things we've already learned about the SEC this bowl season:
10. Don't doubt Mississippi State
Full disclosure, I didn't think the Bulldogs stood a chance against Louisville and Lamar Jackson in the TaxSlayer Bowl. Changes at the helm are tricky, but Mississippi State found a way to win despite not having Dan Mullen or Joe Moorhead leading the way. It was a gritty 31-27 victory that wouldn't have been possible without some stellar defense.
Jackson threw four interceptions and Keytaon Thompson had himself a day running the ball to help prove me wrong. Fans had to give me grief about my prediction. Fair enough. I'll take it:
@TyeSportsRadio picked @HailStateFB & @Thompson_Kt5 to lose by 24!

GREAT JOB TYE…YOU ARE A TRUSTED RESOURCE… L https://t.co/cSL7g7Urgl

— Damon Johnson (@damonejohnson12) January 1, 2018
9. Muschamp, Gamecocks have some grit
Kirby Smart deserved SEC coach of the year, but Will Muschamp shouldn't have been too far behind. Despite losing its best offensive player in Deebo Samuel in just the third game of the season, South Carolina rallied to win nine games. That's a three-win improvement from last season.
The Gamecocks stifled Michigan in the Outback Bowl, forcing five turnovers. The 26-19 victory wasn't pretty, but it was a good sendoff for Skai Moore and others. Anytime Jim Harbaugh loses a football game, the world is a better place.
8. Arkansas fans are not excited about Chavis
Arkansas fans are not thrilled with the potential hire of John Chavis as their new defensive coordinator. It is expected and has been reported by many that "The Chief" is going to get the job. Several voiced their opinions loud and clear on social media during the Belk Bowl.
In that game, Chavis's Texas A&M defense gave up 646 yards in a 55-52 loss to Wake Forest. John Wolford threw for four touchdowns against the Aggies with ease. Not the momentum you want to carry into a possible new job.
John Chavis, your defense… pic.twitter.com/H32Q5xtG72

— Lance I. (@TheBUNKY_1974) December 29, 2017
7. Georgia-Alabama not better than Alabama-LSU
It was only a matter of time before these comparisons were going to come out. Two SEC powerhouses meeting for the national championship. In 2011, LSU and Alabama were clearly the best two teams in the country by a wide margin. Sorry (not sorry), Oklahoma State.
Alabama's only loss in 2011 was a 9-6 barn-burner against LSU. The Tigers finished the regular season undefeated and won the SEC Championship before falling to Alabama in the title game. While Georgia and Alabama were great this season, both were walloped by Auburn. Not the same caliber of teams.
Alabama will face Georgia for the national title

This will be the first time since 2011 that teams from the same conference will meet in the title game.

— ESPN Stats & Info (@ESPNStatsInfo) January 2, 2018
6. Malzahn was outcoached
Auburn fans have to be wondering if Gus Malzahn's new contract is worth the money, especially after a 34-27 loss to Central Florida in the Peach Bowl. The Knights deserve credit, but how much? Auburn wasn't fully motivated for the game, and that goes back to the head coach.
Malzahn had to know unbeaten UCF was going to come out with everything it had for its moment on the big stage. Three turnovers plagued the Tigers and cost them a chance to end the season on a high note. Will the "Gus Bus" face more pressure in 2018 after two big losses to cap off the 2017 campaign?
5. Kentucky got hosed
There was no reason for Benny Snell Jr. to be ejected in the Music City Bowl. Without its best offensive weapon, Kentucky didn't have enough firepower to overcome Northwestern. Snell's ejection wasn't the only peculiar call from the referees during UK's 24-23 loss.
That's theee ejections in this northwestern vs Kentucky game that make absolutely zero sense

— Doug Samuels (@CoachSamz) December 29, 2017
4. Lock might need to stay another year
Many were wondering if Missouri quarterback Drew Lock should move on to the NFL after this season. If his performance in the Texas Bowl is any indication, he has a lot to work on. He completed slightly above 50 percent of his passes and had a 48 QBR in the 33-16 loss to Texas.
The Longhorns are a solid defense and ranked inside the top 30, but Lock missed too many throws. Tom Herman and the Texas sideline "put him in a body bag" toward the end of the game.
There was a lot of mocking going on the Texas sidelines last night after Missouri QB Drew Lock's touchdown celebration. pic.twitter.com/mHPYBW2KjS

— LeadingNCAA ™ (@LeadingNCAA) December 28, 2017
3. LSU underwhelmed again
LSU hasn't won 10 games since 2013. The Tigers had a golden opportunity this season, but fell to Notre Dame 21-17 in the Citrus Bowl. It seems like LSU's last title game appearance was a lifetime ago, even though the Tigers played in the 2012 BCS National Championship Game.
For many other programs, 9-4 is a great season. It's not a bad start for Ed Orgeron in his first full season with the program, but he has a long way to go.
2. Alabama got its revenge
Without Deshaun Watson, Clemson was beaten down by the Crimson Tide. Alabama had a full month to get healthy after an uncharacteristic amount of injuries during the season. A revitalized Tide defense proved too much for the Tigers to combat.
The Crimson Tide also had a full month to think about their latest lost to Auburn and the loss to Clemson last season. Nothing like sweet revenge to quench the appetite. Now, the next step is a daunting one — facing the Georgia Bulldogs.
1. Georgia is back!
Kirby Smart was named the 2017 SEC Coach of the Year for a reason. The Bulldogs are one game away from being crowned national champs for the first time since 1980. That isn't the only feat they have accomplished this season.
The Bulldogs reached the SEC Championship Game for the first time since 2012 and won it for the first time since 2005. Smart has awoken a sleeping giant that was beginning to go dormant under former coach Mark Richt. Georgia fans are thrilled with the new direction of the program.
https://twitter.com/SBNation/status/948258903871119360