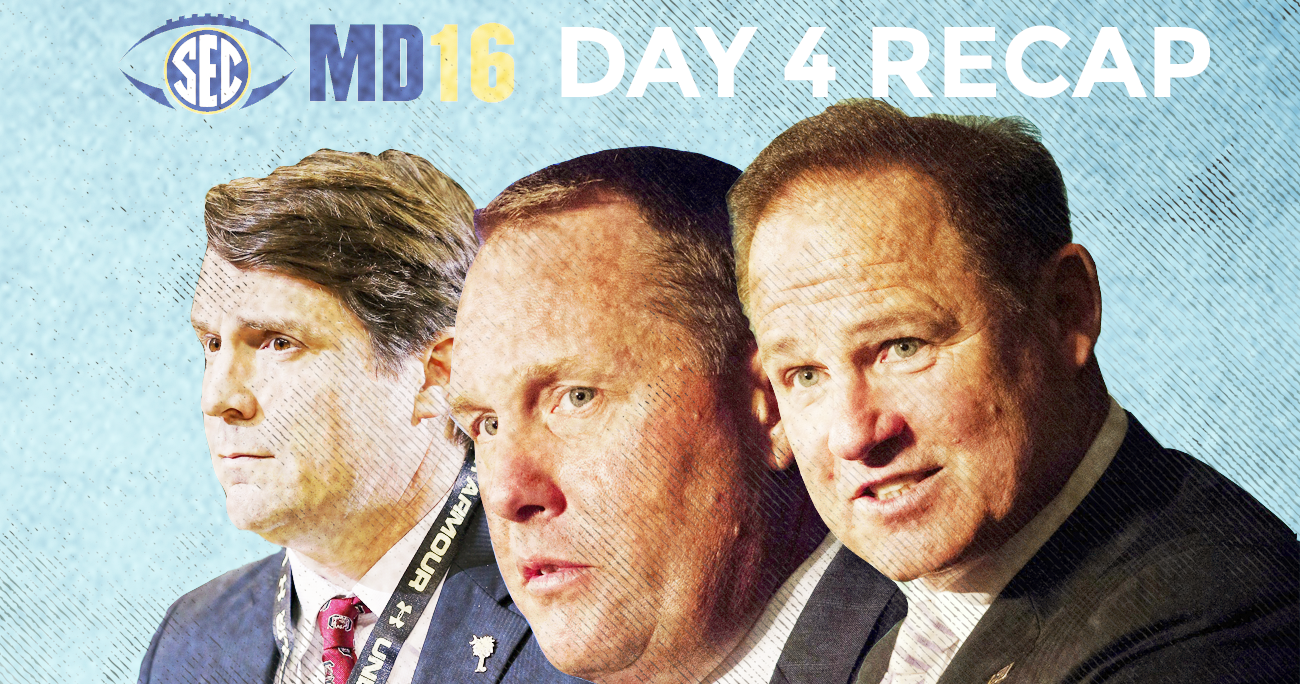 SEC
2016 SEC Media Days: Day 4 Recap
The SDS crew is on site this week in Hoover, Ala., covering the 2016 SEC Media Days. If you missed the coverage today, here's your Day 4 recap …
There was concern that the final day of SEC Media Days would be overshadowed by the first day of Pac-12 Media Days, which began on Thursday.
Not really.
The Pac-12 coaches and players answered questions from imaginary people. Heck, Arizona coach Rich Rodriguez and his players were competing to flip full water bottles upright. One commenter of that tweet said it best, "what a time to be alive."
If you're wondering what other conference's media days look like, well, there you have it. Yet another example of why the SEC changed its slogan to "It Just Means More" because down here, it really just does.
A lot of the national media was present for an interesting finale to the festivities in Hoover, which featured LSU, Ole Miss and South Carolina.
Speaking of national media, here's a look at the picks for 2016.
OLE MISS
Hugh Freeze was one of a few SEC coaches who knew he'd face some tough questions, but his gauntlet had the potential of being the most brutal.
Freeze was on the defensive all day long and noted during his press conference that the school will take ownership of its wrongdoings if brought to light.
"Whatever we did wrong, we should be held accountable if there are things," Freeze said. "We should, and we will be."
Like Alabama coach Nick Saban, Freeze was grilled much harder once he sat down with SEC Network's Paul Finebaum, Dari Nowkhah and Booger McFarland.
At one point, Finebaum brought up the speculation surrounding potential Ole Miss sanctions (some feeling the Rebels face major ones) and interpreted his body language during an interview with ESPN's Marty Smith.
That ruffled Freeze and made for an awkward conversation before the two were later seen in a hallway having an animated discussion, one that involved Freeze criticizing Finebaum's questions.
Paul Finebaum and Hugh Freeze having a discussion. We overheard Freeze critiquing @finebaum's questions. @WVTM13 pic.twitter.com/mrGPO0VQoj

— Tom Annino (@tomannino) July 14, 2016
Outside of the drama with Freeze, his quarterback Chad Kelly had a few quotes that turned heads. One of them included his goals for the season, which couldn't be any loftier than the ball that bounced and found Quincy Adeboyejo for a 68-yard touchdown last season against the Tide.
"15-0 and SEC championship and a national championship," Kelly said.
Kelly also took a few jabs at his former team in Clemson.
Upstate reporters getting a bit salty…What's that Chad Kelly? Where's the real Death Valley? #SECMD16 #GeauxTigers pic.twitter.com/gU3nlYQO8o

— Laura Goldman (@GOODasGOLDman) July 14, 2016
With all due respect to Memorial Stadium, which seats 81,500, LSU's Tiger Stadium has a capacity of roughly 20,000 more than that. And that's where opponents' dreams have, indeed, come to die.
LSU
It was interesting to see Les Miles at this year's SEC Media Days because we nearly didn't have him there. Yet, Miles stood confidently at the podium as the coach of a team that many feel will win the SEC West this season.
In light of the recent tragic events in the Tigers' backyard of Baton Rouge, Miles spent a considerable amount of time talking about social issues as the area copes with the shooting of Alton Sterling.
"The tragic events in the last weeks have certainly taken the national spotlight," he said, "those areas, including Baton Rouge. We've had several meetings. We met with the entire staff, and it was not about our roles as coaches or staff, but more or less who we were as people, and I wanted to listen. And I felt like it improved our communications.
Miles also mentioned that he has to help his players process emotion, but that he's not sure if he's processed his own emotion while seeing the country in the state that it's in.
That was meaningful stuff from Miles, who went a whopping 20 minutes, 51 seconds in his opening statement before the Q&A session.
Congratulations to Les Miles who went back to back winning the SECMD opening statement filibuster championship belt (2015, 2016).

— Saturday Down South (@SDS) July 14, 2016
What LSU fans want to know is whether Cam Cameron's offense will open things up a bit. Here's what Miles had to say when posed that question.
"I think we could expect more from our quarterback play and our receiver play," Miles said. "I think Dural and Dupre should have marked seasons, seasons where they make big plays and significant games.
What we're going to do is this. We're going to throw it and run it with advantages, and where the advantages are, we're going to. (Receivers) Malachi (Dupre) and Travin (Dural) would be those guys."
Meanwhile, Leonard Fournette's opinion of who the best running back in the SEC is hasn't changed after naming Georgia's Nick Chubb last season.
"I still feel that way," Fournette said.
SOUTH CAROLINA
Will Muschamp was back at Media Days after a one-year hiatus, and immediately let those in attendance know that he doesn't have what it takes to fill in for the Head Ball Coach during events like that one.
"I'm going to go ahead and tell you. I'm going to disappoint you now. I'm not as entertaining as him," Muschamp said. "You don't need to write an article about it tomorrow morning. There's only one Steve Spurrier in life, and I'm not it."
I'm not sure anyone needed a reminder of that.
However, Muschamp did let the media in on an entertaining nugget about his battles on the gridiron and hardwood with first-year Georgia coach Kirby Smart. Now we don't know who to believe.
Muschamp also shed some light on his quarterback battle, saying redshirt senior Perry Orth and true freshman Brandon McIlwain have separated themselves in the race. Incoming freshman Jake Bentley and sophomore Lorenzo Nuñez will also be part of the competition, but Nuñez will play some receiver as well.
In other news, it was reported that sophomore offensive lineman Christian Pellage will be suspended for at least one game following a DUI charge on Friday, according to Josh Kendall of The State.
Meanwhile, another lineman, tackle Mason Zandi, kept Spurrier's tradition alive by taking a photo of himself at Arby's after Media Days.
A tribute. #SECMD16 @MasonZandi @SC_HBC pic.twitter.com/BbyzHtQSA7

— Gamecock Football (@GamecockFB) July 14, 2016