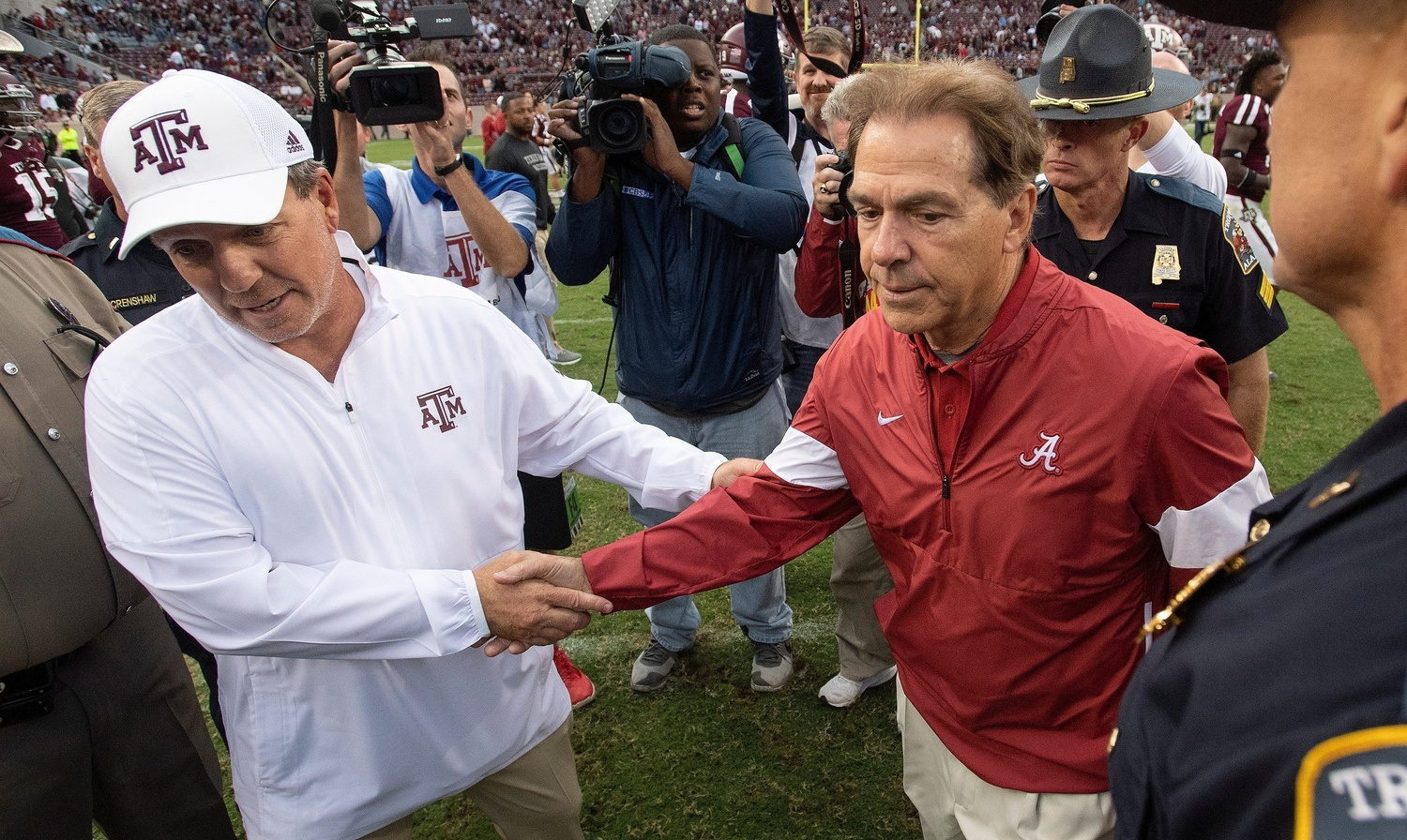 SEC
5 takeaways from the preseason AP Top 25
This ain't the place for that, guy.
You know who I'm talking to. It's the "polls don't matter" guy. I used to be that guy. I'd sit there and roll my eyes when the AP Poll came out as I argued with people about why certain teams were overrated and others were underrated.
I'd also be the guy to point out an early-season matchup of ranked teams and why that was appointment viewing.
I'd even later come back to preseason polls to see how a team managed expectations.
So yeah, polls do matter. They sell tickets. They sell expectations. They sell interest in the sport.
Shoot, they brought "polls don't matter" guy to this column to read about my 5 takeaways from the preseason AP Top 25:
1. Alabama is No. 1, but not unanimously
The Tide are starting at No. 1, which is no surprise. The runner-ups earned that spot for the 5th time in the last 7 seasons. The only debate was about whether Alabama would become the second unanimous preseason AP No. 1 in the poll's history (2015 Ohio State is the only other). That didn't happen.
Alabama got 54 first-place votes while Ohio State got 6 and defending champion Georgia received 3. The spin zone for Nick Saban is that he gets to play the "disrespect" card and tell his team that there are 9 humans who don't think his team is worthy of the top spot.
On the other hand, Alabama is working against history here. There's only been 1 preseason AP No. 1 team who won a national title in the last 17 years. It was 2017 Alabama, who made the Playoff despite not winning its own division and needed overtime to pull out a title. In other words, going wire to wire as the top dog ain't easy.
Then again, it might be a little bit easier with Bryce Young and Will Anderson.
2. Texas is back … behind the rest of the Top 25
After the Longhorns showed up at No. 18 in the Coaches Poll with a first-place vote after a 5-7 season, AP voters correctly left them out of the Top 25 altogether. Texas was 2nd in the "receiving votes" category, putting Steve Sarkisian's program unofficially at No. 27 to start the year.
Votes had to be in before Texas got some unfortunate news over the weekend that it had 3 key injuries during its scrimmage on Saturday:
In today's Texas scrimmage, RB Roschon Johnson, WR Isaiah Neyor and G Junior Angilau were all injured to varying degrees, according to @OBWire. Sark will next speak with reporters on Monday.

— Brian Davis (@BDavisAAS) August 13, 2022
Regardless of those injuries, the Longhorns are 8 months removed from capping a bowl-less season that included a loss to Kansas. You can be a Quinn Ewers/Bijan Robinson believer while acknowledging that putting the Longhorns on the outside of the Top 25 was the smart move.
3. Overrated? No. 6 A&M and No. 14 USC.
I said at the start of the offseason that A&M was going to be the most overrated team in the country entering 2022. Then USC added more and more players via the transfer portal and expectations for Year 1 of the Lincoln Riley era quickly soared past reasonable. That's why they were both obvious to end up in those dubious preseason spot.
No. 6 A&M is getting a whole lot of love for a team who went 4-4 in SEC play last year and is still trying to play in a conference championship game for the first time this century. The Aggies signed the No. 1 recruiting class in the 247sports ranking era, but as it relates to this year's expectations, putting them in the top 10 to start 2022 implies that a group of true freshmen will instantly step into the nation's toughest division and look the part.
Don't forget that the Aggies rank just No. 84 in percentage of returning production, and they lost elite defensive coordinator Mike Elko. Even if they get more production at the quarterback position from Haynes King or Max Johnson, there are still major questions about a new-look group of pass-catchers and defensive linemen.
And as for USC, AKA a 4-win program who has 1 AP Top 25 finish in the last 4 years, I'd say No. 14 is too much. I get the love for Riley's transfer portal moves, and I won't deny that Caleb Williams, Jordan Addison and Travis Dye could be one of the nation's top offensive trios. But I still need to see more from Williams, who averaged 6.4 yards per attempt in starts vs. top-70 defenses. And defensively, I have major questions about a group who couldn't crack the top-100 last year.
Both A&M and USC are getting credit for what they could become beyond 2022 instead of who they are today.
4. Underrated? No. 19 Arkansas and unranked Tennessee.
Consider this.
Arkansas is at No. 19 in the preseason AP Top 25 and I'm arguing why the Hogs are underrated and worthy of starting closer to the top 10. That's how quickly Sam Pittman turned this thing around. Bravo.
Meanwhile, Josh Heupel inherited a disastrous situation in the Jeremy Pruitt fallout, yet after just 1 year, I felt his team was slighted by not being ranked in the preseason Top 25.
Kudos to both of those coaches.
I have faith in Arkansas and Tennessee because I know what they have at the game's most important position. KJ Jefferson and Hendon Hooker are 2 of the 10 best returning quarterbacks in the sport. What they did to weather the storm against SEC competition last year was darn impressive. They had a combined 52-7 TD-INT ratio and both excelled with their legs, as well. They ranked in the top 10 nationally in quarterback rating and they return for offenses with the majority of their starters back.
Yeah, I'm buying that. Even though I have questions for both teams — who will replace Treylon Burks and who will force stops on Tennessee's defense — I find myself defending both programs. They have an identity. Arkansas had the top Power 5 rushing attack and Heupel cranked out his 4th consecutive top-10 offense.
Don't be afraid to buy (slightly) low on Arkansas and Tennessee.
5. You're never gonna believe this but the SEC has an early lead in the conference supremacy argument
Stunning, right? Here's the breakdown of AP Top 25 teams by conference:
SEC: 6
ACC: 5
Big Ten: 4
Pac-12: 3
Big 12: 3
AAC: 2
Independent: 2
Also of note, Kentucky earned its first preseason AP Top 25 ranking since 1978 while LSU will start unranked for the first time since 2000.
In fact, 12 of 14 SEC teams at least received multiple votes to start in the Top 25 (Mizzou and Vandy were the lone teams left out). It's possible that this allows the SEC to be in position to put multiple teams in the Playoff for the 3rd time in 6 seasons. Alternatively, the conference could beat up on each other and derail the paths for preseason favorites Alabama and Georgia.
Whatever the case, it's worth noting that there were more teams from the SEC West in the preseason AP Top 25 than there were in the entire Big Ten (and 1 more than the Pac-12 and Big 12). Until further notice, the West is the cream of the crop.
As a result, so is the SEC.