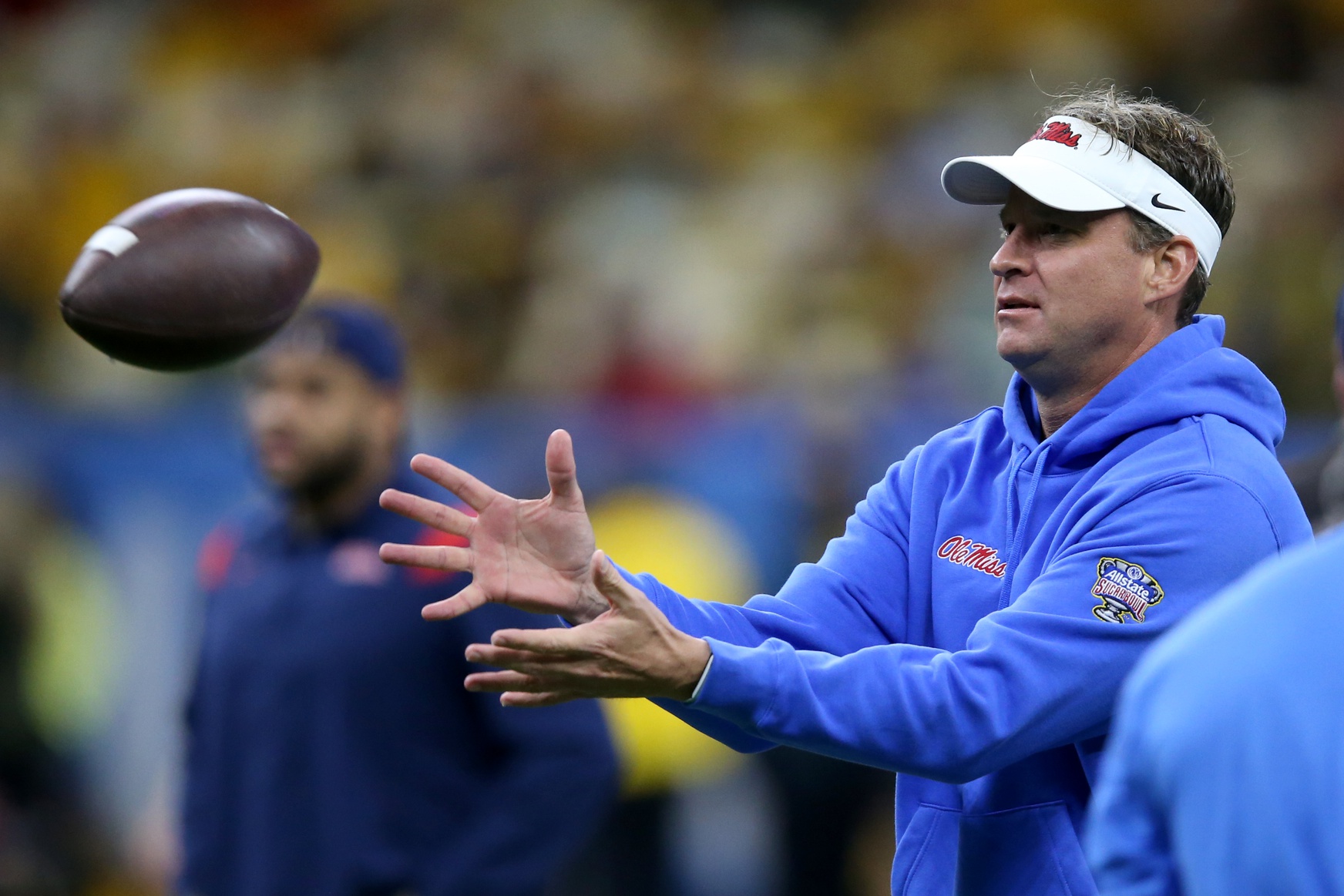 SEC
7 potential matchups involving SEC teams that would be fantastic to see in the postseason
I know, I know. The season hasn't even started. We've got hundreds of matchups on the schedule and I'm already thinking about the games we don't have yet. I should appreciate what we have and not obsess about what we don't have.
I hear you, guy in the comments section.
And honestly, you're not wrong. I'm fired up for college football season and the chaos it yields even though I'm of the belief that Alabama, Georgia and Ohio State are the only teams who can win a national title. As a fan of chaos, I endorse as much of it as possible.
But a reader got me so intrigued by a column idea (shoutout Andrew Hoskins) that I thought I'd tweak it slightly and wish some games into existence for the postseason. These are games that aren't on the schedule but could be by season's end. That could be a conference championship or a bowl game.
Yes, I'm fully aware that I'm the kid on Christmas Eve who is already asking his parents for more presents on top of the ones waiting under the tree. Deal with it. Florida and UCF proved to us last year that we can wish bowl matchups into existence.
Here's my attempt at that.
Ole Miss vs. USC
Drink every time you read/hear the word "tarmac" leading up to this fake matchup. On second thought, your liver doesn't deserve that. You, reader of this column, deserve another game of Lane Kiffin coaching against a former team. Conventional wisdom suggests that it won't yield thrown mustard bottles and golf balls like the last Kiffin reunion at Tennessee, but hey, you never know. Kiffin didn't exactly leave USC as a popular man. Maybe instead of mustard bottles, USC fans could throw pooka shells. Something tells me that would overshadow a potential USC reunion for Ole Miss newcomers Jaxson Dart and Michael Trigg.
LSU vs. Notre Dame
Duh. Brian Kelly bringing his new family to face his former family is a bowl executive's dream. That storyline writes itself. This isn't that far-fetched to see in a potential New Year's 6 bowl. These teams faced each other in the postseason 4 times in the past 25 years, 2 of which were during the Playoff era. The amount of hatred toward Kelly from the Notre Dame faithful would make this must-see TV. Say what you want about Irish fans. They travel well and they'd love nothing more than watching Marcus Freeman take down the coach who left because Notre Dame didn't have a championship ceiling (my words, not his).
Texas A&M vs. Texas
Copy and paste this one until they actually have a chance to start playing regularly again in 2025. What gets lost in the shuffle of this petty beef of hurt feelings and trolling poop buckets is the fact that A&M and Texas could've faced each other in a bowl matchup during this decade of separation. If they had been slotted against each other in the Sugar Bowl, there wouldn't have been any wiggle room because the Playoff poll determines that (they take the highest-ranked non-Playoff teams from Big 12 and SEC in non-Playoff years). The only problem? Well, they only earned 1 New Year's 6 bowl bid apiece in the Playoff era (2018 Texas and 2020 Texas A&M). We need both of these programs in a Sugar Bowl like Texas needs a battle cry that's tougher to mock than "Horns Up."
Arkansas vs. Clemson
The Chad Morris Bowl! Sorry, Arkansas fans. Too soon? Yikes. Hey, what better way to show the college football world how different the 2020s are than the 2010s than watching Arkansas go toe to toe with Clemson? And also, what better way is there to repay Dabo Swinney for his ringing endorsement of Morris? Jokes aside, this would be a phenomenal battle in the trenches. Clemson might have the best defensive line in the country and Arkansas is coming off a year in which it led all Power 5 teams in rushing. This would make for a fantastic Orange Bowl, and based on how their teams are wired, I'd be surprised if there were a bunch of potential opt-outs.
Tennessee vs. Michigan
A Peyton Manning-Charles Woodson simulcast of this game would be unbelievable. Let them just take slow moments in the game to go back to the famous 1997 Heisman Trophy race. Both Manning and Woodson are already on ESPN's airwaves. I can't imagine there would be a bunch of hurdles. The venom that Vols fans have for Manning's runner-up finish is second to none. If Woodson wasn't available, well, I suppose I buried the lede by waiting this long to suggest a Manning-Tom Brady simulcast. Even if this was a non-New Year's 6 bowl game, who wouldn't want to watch that?
Tom Brady doesn't like Peyton Manning's Smokey head cover and proceeds to drop it on the ground to step on it.

Brady to Peyton: "They haven't been good since you left." pic.twitter.com/jP9zR3Q1XJ

— Connor O'Gara (@cjogara) May 24, 2020
And in terms of how they're currently built, this would have major shootout potential. I wouldn't have a ton of faith in either defense getting a ton of stops against these offenses (Michigan would run all over the place and Tennessee would throw for 500 yards). But really, it'd be all about that incredible simulcast possibility.
Georgia vs. Oklahoma
Wait, didn't we see this already? We did. It was 5 years ago, and it was one of the best games of the 21st century. Why wouldn't I want to see these teams clash again? Despite the fact that both Georgia and Oklahoma are part of the "it's the same teams every year" group, they only met once. Like, ever. Yeah, they're scheduled to face off in 2023 and when the Sooners join the conference by 2025, that'll be a much more regular matchup. But in the words of "Parks and Recreation" character Tom Haverford, "but this is America! I want it now!" Jeff Lebby's offense vs. Kirby Smart's defense would be fantastic, and as we saw last year in the season opener, Brent Venables was plenty capable of frustrating the UGA offense. We could do much worse than a Georgia-Oklahoma Playoff semifinal … again.
Alabama vs. Ohio State
I'm sure a bunch of you just rolled your eyes at this inclusion. It always feels like this matchup is the preseason national championship prediction, so who cares about another Alabama-Ohio State matchup? Well, two things. Remember that 2014 Sugar Bowl matchup when it felt like we were at the beginning of an epic back and forth between the 2 programs? That didn't happen. Well, Clemson took Ohio State's spot in that epic back and forth with Alabama. Since that 2014 matchup, the 2020 title game was the only other time they faced off. The game was a snooze fest because Alabama dominated an Ohio State team that didn't have a prayer with Justin Fields banged up — they would've lost but at least been more competitive if he didn't have the rib injury — and it was in front of a sparse COVID-reduced crowd.
Would it be fun to see some new blood in the Playoff? Absolutely. But would it also be incredible to watch Bryce Young and CJ Stroud battle for a title? Absolutely. A true football fan wouldn't dare boycott this matchup.