SEC
Betting Stuff: The SEC has entered the chat
Betting Stuff is a regular sports gambling column here at Saturday Down South with a focus on college football wagering (though don't be surprised to see some non-college football insights from time to time). Betting Stuff is brought to you by MyBookie. If you're looking for a place to make a deposit and start getting in on the action, look no further than MyBookie. Sign up and use code SDS20 to get a free $20 bet on one of this week's college football games. You keep the winnings!
The upside down
If you're looking for a quick primer on just how wacky the college football gambling landscape is in 2020, you could simply turn to the Navy Midshipmen. Navy finished its 2019 campaign with an 11-2 record and returned its head coach, long-time offensive coordinator and a rising star at defensive coordinator.
How did all of that recent success and coaching continuity translate in their season opener against BYU? They were torpedoed by the Cougars 55-3 in an empty Navy-Marine Corps Memorial Stadium. But that's not even the shocking part. Two weeks later,  Navy traveled to Tulane, to take on a Green Wave team that featured a stout defensive front. In the first half Navy looked completely lost and quickly spotted the home team a 24-0 lead. What followed is truly remarkable, but decidedly 2020. Navy outscored Tulane 27-0 in the second half, outgaining the Green Wave 291-82. To put that comeback in its proper gambling perspective, a Navy moneyline bet placed at halftime would have yielded a 33x return.
Navy isn't the only underdog of note through the first 3 weeks of this strange and wild college football season. Underdogs have been incredibly profitable 29-18 ATS (61.7%) overall, with 5 outright upsets involving dogs that were catching 10 or more points.
One common factor in 4 of those 5 upsets was the program's ability to squeeze in some spring practices. Arkansas State, for example, was 1 of 3 FBS programs to reach double-digit spring practice sessions and they engineered a shocking upset of Kansas State after covering on the road at Memphis to start the season. Practice time, coaching continuity, and returning production have been valuable predictors thus far, but will those data points continue to matter as the SEC and Big Ten return to play? Only time will tell.
Hold your nose and take the points?
Since the SEC expanded to 14 teams in 2012, the league hasn't been kind to underdogs. Once you account for vig, 8 programs produced negative returns as underdogs and only South Carolina (28-18-1, +8.2 units) was able to break through the 58% threshold when catching points. This omits the fact that Alabama is 1-0 as an underdog in conference play since 2012, a fact that is absolutely astonishing. For added perspective, every other Power 5 conference has at least 3 teams that performed at the 58%+ level or better as an underdog.
In other words, the SEC just means more … favorites covering. 
Does that mean the conference will be impervious to upsets in this unpredictable football climate? Early indicators favor 2 underdogs in the SEC's first week back, namely a preponderance of money being wagered on Ole Miss and Arkansas.
When there's a major discrepancy between the percentage of bets placed and the percentage of money wagered on a particular team, sharp action is usually the culprit. While Ole Miss is receiving a healthy 61% of early bets against Florida, those bets are accounting for 98% of all money wagered. Likewise, Arkansas has received 98% of all money wagered thus far, but accounts for just 37% of all tickets. That means when people are betting the Razorbacks, they're betting BIG. 
Some folks are content playing the market and relying on information like the kind I just provided to guide their weekly card. But if you're unconvinced, consider the fact that Florida and Georgia will be breaking in new offensive coordinators in their season openers — even though Dan Mullen will continue to call plays for the Gators.
The Bulldogs are hoping Todd Monken, an innovative offensive mind who hasn't coached in college since 2015, can revive a stagnant offense that has failed to maximize the potential of its personnel. It's reasonable to assume that there will be growing pains for Monken and the offense given the fact that their presumed starter, Jamie Newman, opted out of the 2020 season just three weeks ago. This lack of experience and cohesion is compounded by the fact that UGA returns just 50% of its offensive production from 2019 (99th nationally). 
Florida, which returns its starting quarterback, is in a decidedly better position in its first week but will need the offensive line to make major strides (92nd ranked by PFF) if they hope to be truly dynamic in Mullen's "smashmouth-spread" system. Brian Johnson, UF's new OC, has an impressive coaching resume and should be viewed as an upgrade over co-OCs Billy Gonzales and John Hevesy. For this reason, I'll be keeping my money on the sidelines for Ole Miss-UF, but am intrigued by Arkansas catching a generous 26.5 points at Donald W. Reynolds stadium. 
My record
Last Week: 4-2 (66%, +1.8 Units)
Overall: 8-8 (50%, -.8 Units)
Games I'll be playing in this week
Georgia-26.5 at Arkansas (52.5)
As I noted above, Georgia has plenty of unknowns on offense. And the combination of a new starting quarterback and play-caller gives me pause. In the end, two major factors have me siding with the Razorbacks in this game: playing time and Kendal Briles. Kirby Smart has been outspoken about what he considers to be his team's secret weapon against COVID-19 this season — depth. Weathering potential cases is a part of Smart's season-long strategy, which means that we'll see more of the Bulldogs' 2- and 3-deep on Saturday than we might have under normal circumstances. It's a strategic advantage for UGA to empty its bench instead of going for style points.
Building valuable experience will trump securing a blowout. This strategy will be employed all over the field and means that we'll see both JT Daniels and D'Wan Mathis at quarterback Saturday. Musical chairs at quarterback is a factor that benefits a major underdog like Arkansas. 
Running backs in Kendal Briles offenses have averaged these numbers over the last 5 years…

1288 yards
15 TDs

Rakeem Boyd is gonna have a great year. #WPS https://t.co/xLYl7gxS6G

— Chris Marler (@VerneFUNquist) September 11, 2020
The second piece of this puzzle is Arkansas OC Kendal Briles. The former Broyles Award finalist has created offensive stars everywhere he has coached and engineered some of the nation's most explosive offenses at Baylor, FAU and Houston before he repaired a completely dysfunctional FSU attack last season in Tallahassee. Despite the Seminoles' glaring personnel issues along the offensive line, FSU made dramatic leaps forward in terms of total offense (361.2 → 403.2 ypg) and scoring (21.9 → 29.1 ppg). Briles will have an underrated collection of skill position players to work with, in addition to Feleipe Franks at QB. Franks, a redshirt senior, will be joined by Rakeem Boyd in the backfield. Boyd, a Doak Walker Award Watch List honoree, will be running behind an experienced offensive line that boasts 61 combined career starts. The pieces are certainly there for the U of A. 
I like Arkansas to score in the 17-21 point range, which would necessitate nearly 50 points from Georgia to cover comfortably. I think this will be more competitive than that, particularly in the early going, resulting in an Arkansas cover. 
Pick: Arkansas+26.5
UCF-27.5 at East Carolina (77)
I've been preaching about the importance of continuity for the past month and no team fits the bill better than the Pirates of East Carolina. ECU returns the 4th-most production in the country (8th on O, 26th on D), a dynamic dual-threat quarterback and is on an offensive hot streak dating to last November (38 ppg over last 4 games). If you watch their 2019 road game at UCF, it's easy to see why they're a live dog in this one. Holton Ahlers, the ECU starter, accounted for 360 total yards and a pair of scores, while completing 62.2% of his passes against the Knights. The Pirates ended up losing 41-28, but covered easily a 34.5-point underdog.
Josh Heupel's team looked impressive in the second half against Georgia Tech last week, but their 28-point victory didn't come without a bit of good luck. The Yellow Jackets turned the ball over 5 times, including a fumble inside the UCF 10. Geoff Collins' young team also had a chip-shot field goal blocked. Those mistakes led to a second-half runaway, which I believe is inflating this number by at least 3 points. My power rankings call for a 22.5-point spread in this game, indicating a sizable amount of value on the ECU side (MyBookie: UCF-27.5). 
Pick: ECU+27.5
Iowa State-2.5 at TCU (44.5)
The Big 12 has been the brunt of many jokes following its 0-for-3 performance against the Sun Belt in Week 2. When you examine each game, however, it's easy to see how the Sun Belt pulled off such a coup — they sent their best on the road. Louisiana is an excellent team and may well flirt with a NY6 invitation. Coastal Carolina, likewise, appears to be a solid bowl team once again, thanks in large part to their returning offensive production (5th nationally). And Arkansas State, barring a complete meltdown, will likely go bowling for the 10th consecutive season. I say this because public perception absolutely influences point spreads week to week, and Iowa State is well-positioned for a bounce-back performance. 
The Cyclones will welcome back 2 starters this weekend, including future NFL tight end Charlie Kolar. The big target will help them reduce the drops (6) that plagued them in their opener. This is a quintessential "buy-low" opportunity for a team that was touted as a CFP sleeper just a month ago. But if you're looking for an angle in this game beyond a pure contrarian play, consider the explosion factor, or in TCU's case, the Horned Frogs' complete lack of explosiveness. Gary Patterson's offense, despite boasting a first-round NFL draft choice at wide receiver, was in the bottom of nearly every explosive metric in the Big 12 last season. Only WVU produced fewer 20+ yard plays last season in the Big XII, and this will make keeping pace with Iowa State difficult on Saturday.
Pick: Iowa State-2.5
Odds and ends 
Havoc
Even casual observers of college basketball understand that full-court press teams have the potential to generate turnovers and easy buckets. When executed properly, an aggressive attacking defense can suffocate an opponent. Similarly, college football data scientists began tracking "havoc" stats about 4 years ago. In its simplest terms, defensive havoc is defined as the "percentage of plays in which a defense either recorded a tackle for loss, forced a fumble, or defensed a pass (intercepted or broke up)."
The college football world finally had a useful defensive metric with predictive weight. Thanks to Collin Wilson at the Action Network, we have a visual of the teams that are especially good at creating defensive havoc.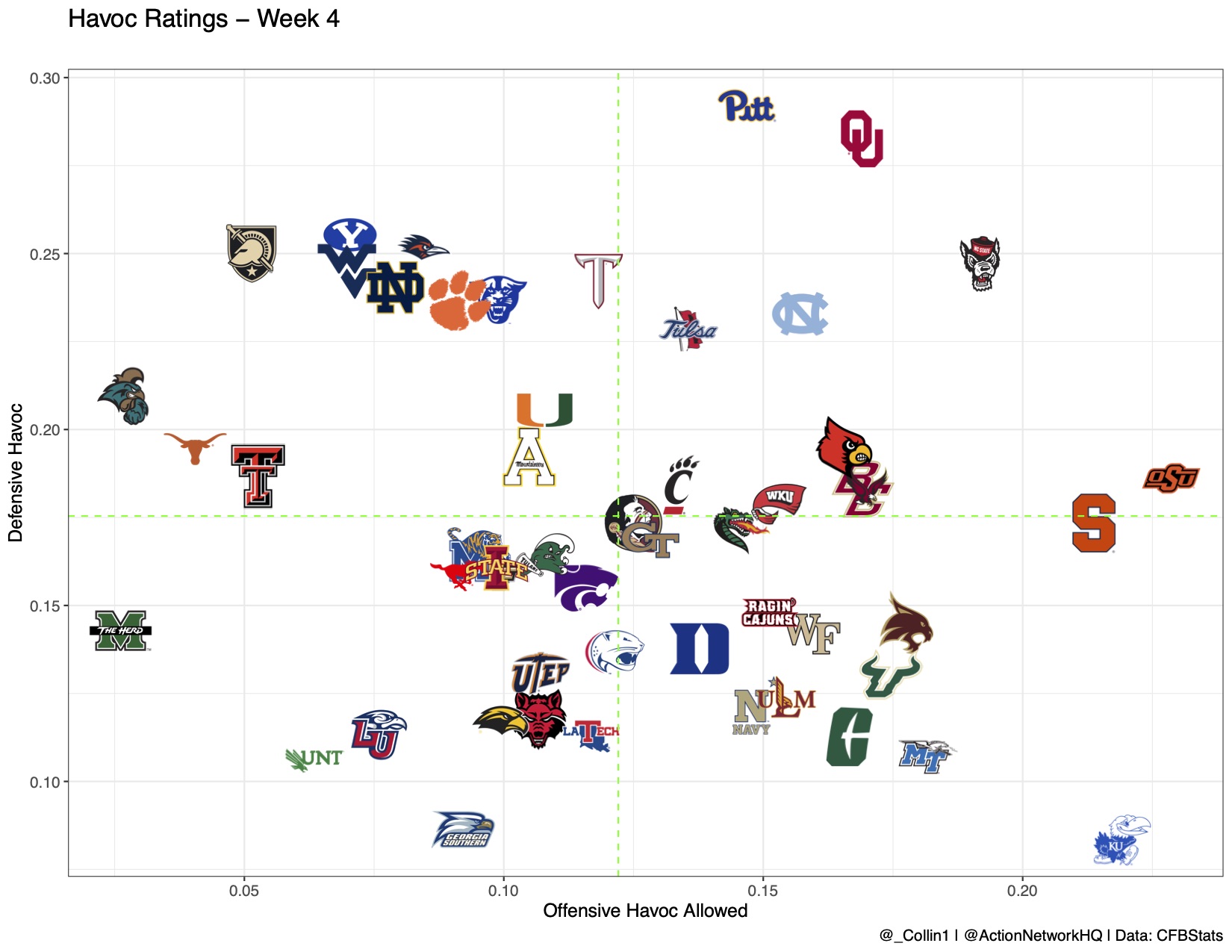 The ideal position for a team is to end up in the top left of this chart. That would indicate they create havoc on defense and avoid negative plays when they have the ball.
Pitt, and its defensive-minded head coach Pat Narduzzi, continue to be underrated (2-0 SU, 1-1 ATS), thanks in large part to their disruptive defense (MyBookie: Pitt-3 vs. Louisville). Marshall, on the other hand, isn't very disruptive on defense but has made virtually zero mistakes on offense in their first 2 games, which explains their ranked upset of Appalachian State.
Be sure to check out CFBStats.com throughout the season to cherry-pick teams that create and prevent negative plays, as it will continue to be a useful metric for gamblers. 
It's in the game
Thanks to our friends at OperationSports, EA's NCAA Football 14 has once again been updated to reflect accurate 2020 rosters. The methodology employed by the staff of roster editors is incredibly detailed, including electronically timed 40-yard dash records, aggregated recruiting rankings, and both preseason and postseason all-conference honors. The result is that their digital recreation of the college football landscape is as accurate as it's ever been. Now that all 130 teams have been edited, I'll be simulating each matchup and sharing the most interesting, and potentially profitable, predictions.
A new addition to my college football gambling coverage for @SDS will be simulation data from NCAA '14. Now that 2020 rosters are up-to-date, I'll be sharing predictions and tracking EA's record ATS. pic.twitter.com/PU6Q82Ijgp

— Michael Calabrese (@EastBreese) September 23, 2020
This week, the simulation spit out a near upset in Death Valley (LSU 27-21), an Alabama runaway (ALA 55-17), and an upset for Will Muschamp and his Gamecocks (23-20). We'll check in weekly to see if the videogame predictions hold any weight. 
Baptist revival
This season has created some strange bedfellows, with programs scrambling to replace postponed or canceled games. One positive outcome has been the fact that a few overlooked programs are getting their 15 minutes of fame. Houston Baptist and its high-flying passing attack (523.5 ypg) have been an absolute delight to watch. After obliterating the total in the opener against North Texas, HBU nearly upset Texas Tech on the road as a 40-point underdog. They're back this week against Louisiana Tech, and once again, the total isn't nearly high enough. Currently at 68.5, expect this total to reach 73 or 74 before kickoff. Grab it while you can.