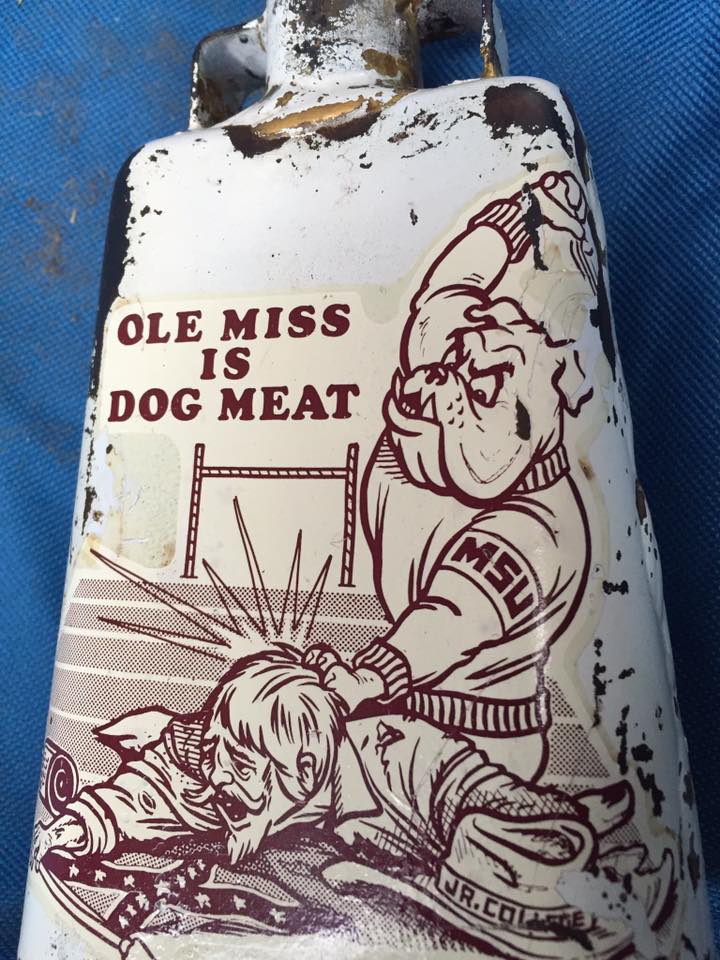 SEC
Cowbells: Mississippi State's outlaw tradition
Most everyone in the South has heard of "outlaw" country music, but what about an "outlaw" Southeastern Conference football tradition?
Yet for much of its existence, that's been the situation of Mississippi State's cowbell.
Officially, fans weren't supposed to ring cowbells from 1974 to 2010 at Davis Wade Stadium. The SEC outlawed all artificial noisemakers in '74, including cowbells, by then a 30 to 40-year-old tradition in Starkville.
"In Oxford, they would frisk you. They checked bags at the 1998 SEC Championship Game, which was probably protocol, but they would ask you if you had a cowbell," Jake Wimberly, a Jackson sports talk show host and Mississippi State grad.
Not that it stopped Bulldogs fans from bringing them. Mitzi Waller Dean of Panther Burn, Miss. recalls being given one as a gift in 1983 when she was an MSU freshman from her future husband, Robert. After carving her name on it, she brought it to a game.
As was the code of the time, it was confiscated.
However, she was able to get the bell back from campus security the following Monday, but not before an admonishment.
Mitzi had an admonishment of her own. She rang the bell as she left.
What's more, when her daughters went to State in 2007 and 2012, she gave them their own cowbells.
"It was a rebellious thing to do," Dean said. "We said to the SEC, 'You're not going to tell us what to do as a fan! I'm a Bulldog!'"
"What is your identity?" asked Jackie Sherrill, the Bulldogs head coach from 1991-2003. "When you think of Mississippi State, you think cowbells. So you use your identity to your advantage."
Nobody really knows where the tradition started, only that it coincided with the time of Mississippi State's only undefeated season in 1940.
The popular legend is a cow wandered onto the field during a game with Ole Miss. The Maroons, the team's nickname at the time, defeated the Rebels in Starkville that day, and the tradition stemmed from there.
"It came more so because it's an agricultural school," Wimberly said. "Mississippi State used to be Mississippi A&M."
By the '50s, cowbells were commonplace at home games. Professors Earl W. Terrell and Ralph L. Reeves became immortalized in MSU culture for teaching students how to weld handles onto the bells a decade later. The bookstore started selling them in 1964, with partial proceeds going to the Student Association and Industrial Education Club, which helped make the cowbells.
"Go to a watch party and people will have a cowbell. Baseball games, basketball games, pep rallies, in their offices. It's near and dear," Wimberly said.
Bulldogs fans take to making a cowbell their own. It could be said it's a comparable method of cheering to the Pittsburgh Steelers' Terrible Towel, but while Terrible Towels are produced with different designs, they aren't individually unique.
Mississippi State fans will decorate cowbells like a hockey goalie will his or her mask, with logos and designs and whatever they like. For the most part, every cowbell is an individual.
And unlike a towel, a bell makes noise.
The man many credit for making the cowbell legal again is none other than Sherrill.
"Jackie will tell you this. He is very passionate about this. He pretty much told everyone to ring 'em. He said it wasn't fair for Tennessee to have Rocky Top and Alabama to have the elephant," Wimberly said. "He said we have a smaller stadium, and we want all the advantage we can get."
"Cowbells should be allowed. It's no different than playing 'Rocky Top,'" Sherrill said. "Everyone is trying to induce sound."
For Sherrill, it was about creating a home field advantage in Starkville, much like he felt he had when playing at Alabama.
"There were a couple of times the cowbells were constantly ringing. And your voice overrides the cowbell," he said.
Perhaps the most famous instance of cowbell use during the Sherrill era was in 2000 against the Florida Gators. The Gators were 4-0, ranked third in the nation, and found themselves with the ball at midfield trailing 31-23 with 11 minutes left in the fourth quarter at Starkville.
The clanging of cowbells can clearly be heard as two shotgun snaps go past Rex Grossman, causing a promising 1st-and-10 situation at the 50-yard line to result in a 3rd-and-57 at the Gators' own 3. From there, Florida was just content to take a safety.
The cowbell had enabled the turning point of the game to occur in a 47-35 Bulldogs victory.
More recently in 2014, the cowbell helped provide the loudest atmosphere ever heard in Starkville when the third-ranked Bulldogs defeated second-ranked Auburn 38-23, enabling Mississippi State to be ranked No. 1 for the first time in history.
It was especially sweet as many felt it was Auburn who helped initiate the artificial noisemaker ban in '74. But by 2010, after 36 years, the SEC realized what the cowbell meant to Mississippi State and rescinded the ban.
The theme now is "ring responsibly." For instance after Bulldogs touchdowns. So there's no need for fans to do what Dean did as a freshman, such as smuggle a cowbell in her purse, sit in the middle of a row away from security on the aisle and ring the bell collectively with other fans.
"Other fans hate the sound. Mississippi State fans love it. It will make them smile," Wimberly said. "It's something that has been entrenched since I was a kid."