ESPN experts update College Football Playoff picks following Week 5
ESPN experts have adjusted their College Football Playoff picks following Week 5 of the 2022 season.
Alabama, Georgia and Ohio State remain unanimous picks to make the Playoff field, appearing on all 14 lists. Clemson appeared on 12 of the 14 projections to snag the near-unanimous No. 4 spot.
As you can see below, Michigan and Oregon each received one vote. No other teams were projected to make the Playoff: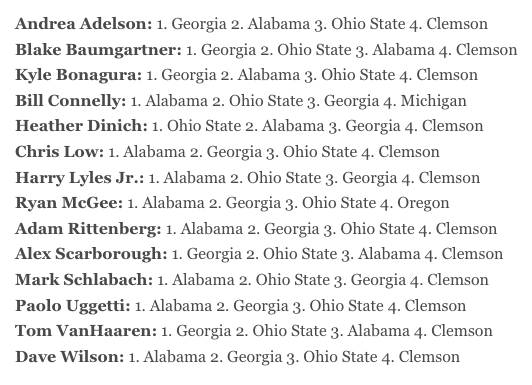 Alabama and Georgia both struggled on Saturday, beating Arkansas and Mizzou, respectively. The college football world will also watch intently this week for any news about Alabama QB Bryce Young's shoulder injury.
For now, though, both teams are solidly in the Playoff field. We'll see how Week 6 action impacts the ESPN projections next Sunday!