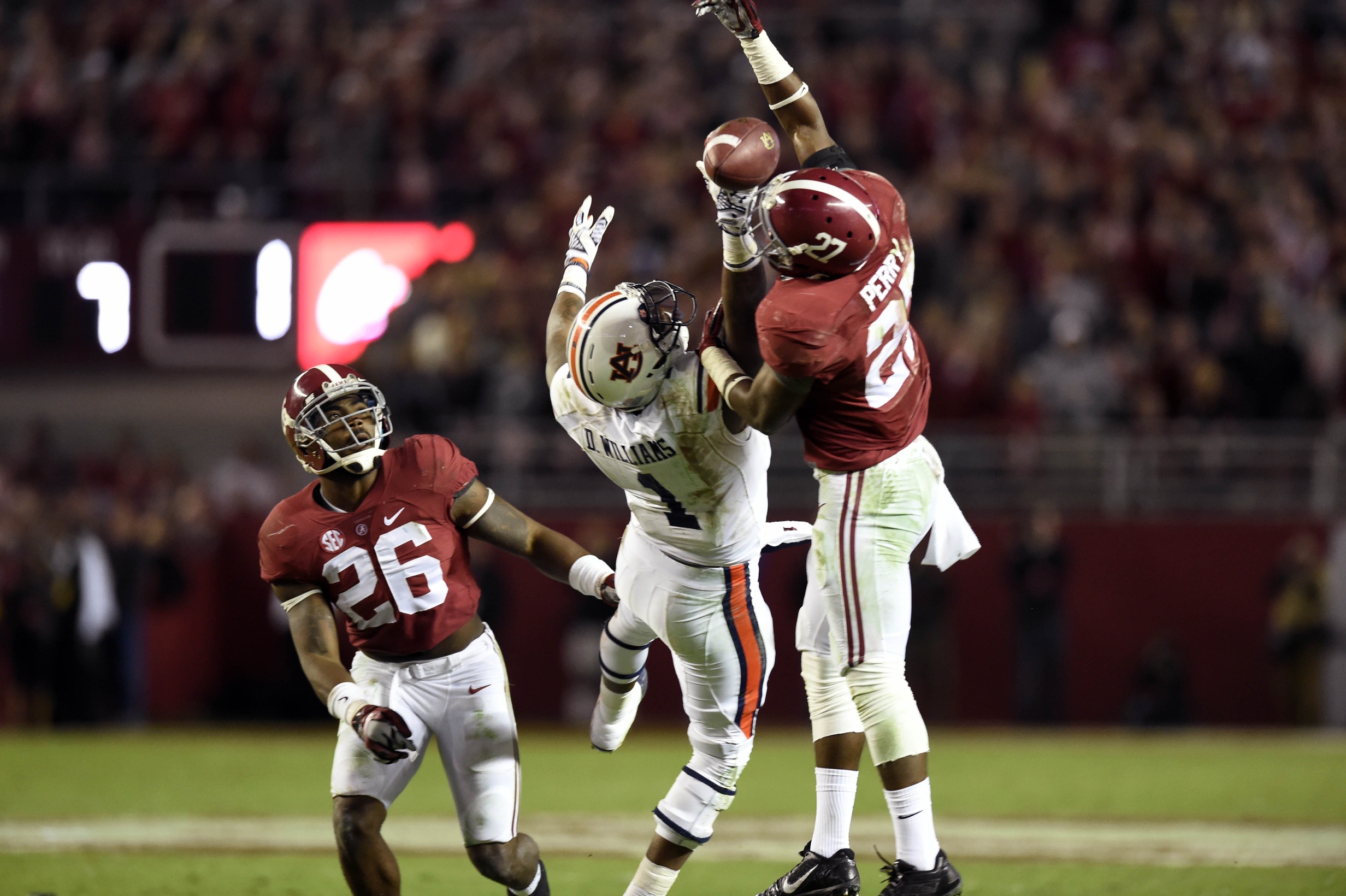 SEC
What fans are saying about SEC rivalry week on Twitter
Rivalry week is here as the top teams throughout the SEC compete with their greatest in-state or regional foe.
Auburn vs. Alabama might not have as much riding on it as usual (unless the Tigers can pull off the major upset), but there's still plenty of emotion about the Iron Bowl and other matchups.
Fans from throughout the South are gearing up for what may be their team's last game of the season, and they let the world know about their excitement on Twitter.
We kept it clean, so you won't see tweets like the one Louisville linebacker Henry Famurewa posted (and deleted) about his thoughts on Kentucky.
Georgia vs. Georgia Tech
When asked if he'd one day wear a Ga. Tech shirt to honor his brother Marcus, Keith Marshall said "I'll never put on a Tech shirt."

— Anthony Dasher (@AnthonyDasher1) November 24, 2015
Good-old fashioned hate?"I heard they tore up our hedges after the game,I'm looking forward to a good game"#UGAvsGT pic.twitter.com/cvYtxgECg3

— Bulldogs On 2 (@WSBbulldogs) November 24, 2015
Tech fans – enjoy this day. It *could* very well be the last day that we run this state for at least another year. #UGAvsGT #TogetherWeSwarm

— Georgia Tech Fancast (@GTfancast) November 27, 2015
Have Matthew Stafford and Calvin Johnson scored more today than their alma maters will on Saturday? #UGAvsGT

— exhoopsprguy (@exhoopsPRguy) November 26, 2015
Kentucky vs. Louisville
I HATE Louisville, sorry just thought it needed to be said. #BBN

— jared lorenzen (@JaredLorenzen22) November 25, 2015
Louisville is so classy. Another reason to hate Louisville. #downwiththeL https://t.co/UdaeWtEn71

— jared lorenzen (@JaredLorenzen22) November 27, 2015
The purpose of the phrase 'Once in blue moon' is an event of rare. Example: UK beats Louisville in football once in a blue moon.

— Tammaland (@Tammaland) November 27, 2015
The Cowboys season is more disappointing than Louisville football with coach Kragthorpe

— Quinn Thompson (@Rich_HomieQuinn) November 27, 2015
Clemson vs. South Carolina
https://twitter.com/clemsonsteven/status/670010936577687552
We are days away from the #PalmettoBowl! Let's hear it for the #Clemson #Tigers! #ALLIN #RivalryWeek https://t.co/JiOR3km0Rh

— Vic Beasley (@VicBeasley3) November 26, 2015
So you're saying the #Gamecocks are struggling to even burn the paper tiger? Uh-oh. #PalmettoBowl https://t.co/CUmevP2ftD

— Daren Stoltzfus (@DarenStoltzfus) November 23, 2015
Alabama vs. Auburn
"We've got our bowl game. We have it every year, its called the Iron Bowl"- Shug Jordan Hype vid by @JustinKing https://t.co/yfOxkoGTZs

— JOX Roundtable (@JOXRoundtable) November 22, 2015
I'll never forget this. We witnessed history two years ago. Anything can happen at the #IronBowl pic.twitter.com/fhxrCKA7Lt

— ☀Allie (@Alliewardamn) November 27, 2015
What's the difference between puppies and auburn fans? Puppies eventually stop whining. #AuburnHateWeek #BAMAvsAUB

— Rap god Rach (@Rachelkeenan_) November 27, 2015
Bama is on upset alert. Can't be looking ahead to other games that are not assured. #IronBowl #RollTide #RTR #WarEagle #BAMAvsAUB

— Gary Brown (@CFBupdate) November 26, 2015
#Birmingham native actor and comedian @RickeySmiley is #IronBowl ready. #BAMAvsAUB #RollTide pic.twitter.com/ElASw2vxY1

— Tidal Towel™ (@TidalTowel) November 25, 2015
Alabama 52 Auburn 13 Roll Tide Roll! @finebaum #BAMAvsAUB #RollTide

— Brandon Knight (@aatrapshooter) November 24, 2015
Florida State vs. Florida
Quincy Wilson was tight with Dalvin Cook, Ermon Lane when the three committed to Florida. On FSU wk? 'We're not on speaking terms right now'

— Edgar Thompson (@osgators) November 24, 2015
Almost time to shut them gator fans up. #FSUvsUF

— Quentin Owens (@TheDopeQ) November 27, 2015
#tbt to Karlos Williams's vicious hit on #UF's Louchiez Purifoy. #FSUvsUF pic.twitter.com/dc4EdLMi6x

— Nole Gameday (@NoleGameday) November 27, 2015
Sean Maguire in when he completes a pass on Jalen Ramsey in practice, "It's great because he starts crying." #Noles #FSU

— Ryan S. Clark (@ryan_s_clark) November 23, 2015
Sean Maguire also says if he can complete a pass on Jalen Ramsey, he believes he can do the same against Vernon Hargreaves III. #FSU #Noles

— Ryan S. Clark (@ryan_s_clark) November 23, 2015
On a funnier note, I am definitely thankful for this #FSUvsUF #UFHateWeek pic.twitter.com/Lz5L3YOHjT

— Mr. Percell (@PercellMath) November 26, 2015
Since 1990, FSU-UF have met as Top 10 teams 14 times. Alabama-Auburn over that same span? Three times. OSU-Michigan? Three times.

— Corey Clark/TDO.com (@Corey_Clark) November 26, 2015
Mississippi vs. Mississippi State
#OleMiss averages 36.9 PPG, Miss. State only averages 30.7 PPG going into this years egg bowl. #HottyToddy #HYDR #WAOM

— The Ole Miss Logo (@OleMissLogo) November 27, 2015
Now that we've won the #MagnoliaBowl we're ready for the #EggBowl. @OleMissFB & State at 6:15 tomorrow on ESPN2. #BeatState

— Steven Paris (@HellhoundParis) November 27, 2015
Egg Bowl analysis: Ole Miss is the more talented team, but in the #EggBowl, that doesn't always matter

— John Macon Gillespie (@jmake_2016) November 27, 2015
LSU vs. Texas A&M
#GeauxTigers #LSU #ForeverLSU #TAMUvsLSU #LesMiles pic.twitter.com/Qq0pdDQjnb

— tony romano (@trom1983) November 27, 2015
Kentucky vs. Vanderbilt