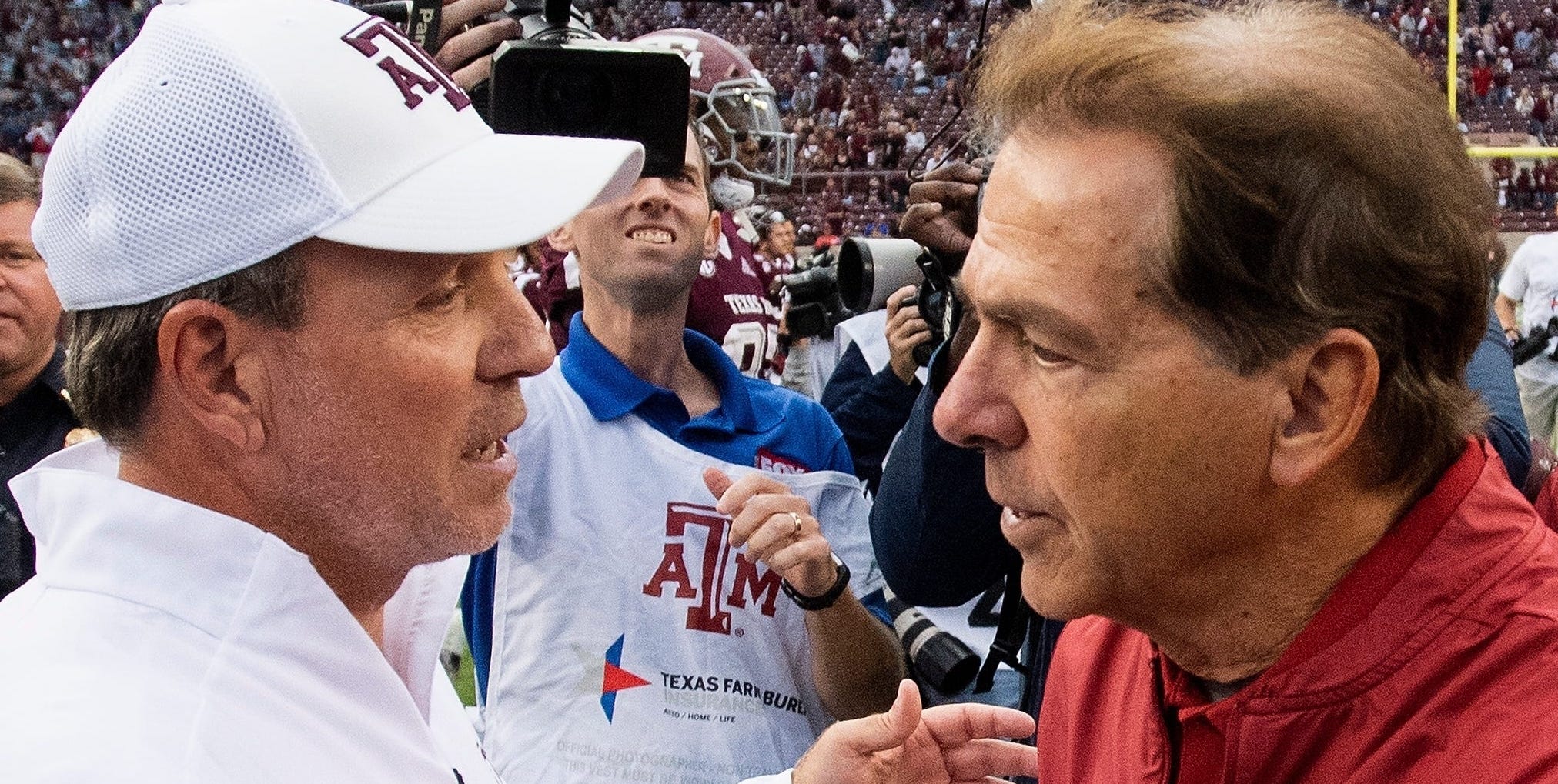 SEC
Final thoughts (and a prediction) on Texas A&M-Alabama
This isn't the way CBS drew it up.
When CBS announced in the summer that it would use its annual Saturday doubleheader slot on Oct. 8, everybody knew exactly what that meant. It meant that CBS wanted a primetime, A&M-Alabama showdown that would be in the running of "game of the year" in college football.

DRAFTKINGS SPORTSBOOK
21+ and present in participating states. Gambling problem? Call 1-800-GAMBLER.
NEW USER BONUS
BET $5
GET $150
IF YOUR BET WINS!

A WWE war of words over Jimbo Fisher and A&M "buying" its historic 2022 recruiting class put Nick Saban in a rare spot. He backtracked. And of course, rare it was to see an opposing coach take direct shots at Saban and how he handles his business.
CBS was banking on a 12-round heavyweight fight. Instead, the buildup for Saturday night in Tuscaloosa is for that of a first-round knockout.
A&M is coming off its second loss of the season, which was a humbling blowout at the hands of MSU. Alabama is, well, still Alabama. Hence, why the Tide enter Saturday as a 24.5-point favorite despite the lingering question about Bryce Young's status coming off his shoulder sprain against Arkansas.
No, Saturday night didn't get the buildup many hoped and thought it could. But after last year's stunner, who knows?
Let's break it down just in case we're in for some more shenanigans:
1. Have we already bailed on Jimbo-Saban being a legitimate beef?
Man, I hope not. We need some bad blood in the SEC. Dare I say, coaches have been a bit too cordial and friendly to one another in recent memory. We don't have a Steve Spurrier who'll take jabs at an opposing coach or program, and for a brief moment this offseason, it felt like we were about to get the next great beef.
But then you read what Fisher and Saban said about each other this week and you realize that both of them are very much removed from their heat-of-the-moment comments in May:
Jimbo Fisher on his relationship with Nick Saban: "We're in good shape, and we've moved on."

— TexAgs (@TexAgs) October 3, 2022
Jimbo Fisher: "Nick (Saban) is a tremendous coach. People say he's arguably one of the best ever or the best ever."

"I learned a whole lot from Nick. He's a very, very good football coach."

— TexAgs (@TexAgs) October 3, 2022
I long for the days in which Fisher called Saban a "narcissist" with a "God complex." Would Fisher be a bit more brash if his team was still undefeated? Eh, probably not.
And to be fair, this was never really about Saban disliking Fisher. His comments about A&M and the recruiting class it "bought" was more about Saban's gripe with the lack of enforcement with the current NIL setup. Both Saban and Fisher called for federal legislation back in May. They just expressed that point in extremely different, combative ways.
That feels like ancient history at this point.
2. Who starts at QB? And does it make a difference with how this plays out?
Max Johnson is reportedly out for the season with a broken hand while Bryce Young is questionable with the shoulder injury he suffered against Arkansas last week.
What does that mean? It'll be either Jalen Milroe vs. Haynes King or Young vs. Haynes King. Or perhaps we could see a little Conner Weigman if King struggles, though Fisher wanted to keep his redshirt.
In either scenario, we figure a couple of things should be true. One is that Alabama should have the advantage to establish the ground game against a young but talented A&M defensive line. The other is that no matter who A&M plays at quarterback, the downfield passing probably won't be much of a strength and frankly, the underneath game without Ainias Smith probably isn't too promising.
Even if Young plays, I don't imagine it'll be a high-volume passing attack. The same would probably be true of Milroe, who only attempted 4 passes in the second half of the Arkansas game, which went for 3 yards on 1 completion. Obviously, we know his legs are a major strength. We saw that in the Arkansas game when he delivered a back-breaking 77-yard run on 3rd-and-15 in a 5-point game.
The Alabama offense would certainly be more one-dimensional without Young, but this should be a game that Bill O'Brien should be able to get away with that. A&M is No. 97 against the run and against FBS competition, the Aggies allowed 186 yards per game. Despite Alabama's early-season ground game problems, I wouldn't bank on A&M stopping the bleeding on the road.
3. Jahmyr Gibbs' Heisman odds are … intriguing
They're at 20-to-1 right now, in case you were wondering. I was definitely wondering after the Georgia Tech transfer went for a career-high 226 scrimmage yards at Arkansas.
I'm not saying the guy is about to win the award or that he should be the leader in the clubhouse. He needs more volume to be in that discussion. In the Playoff era, here are the scrimmage touches per game that each running back had in order to finish in the top 3 in the voting (pre-Heisman ceremony numbers only)
Melvin Gordon (Wisconsin), 25.7 scrimmage touches/game
Christian McCaffrey (Stanford), 27.9 scrimmage touches/game
Derrick Henry (Alabama), 26.6 scrimmage touches/game
Bryce Love (Stanford), 20.3 scrimmage touches
Jahmyr Gibbs is only at 12.4 scrimmage touches per game. So far. Maybe some of that is because it's a new offense and maybe some of that is because he's only 200 pounds and there's concern about his durability with a massive uptick in workload. I don't know.
What I do know is we just watched Gibbs, with Young sidelined, rack up 20 scrimmage touches which had only happened 3 times during his 2 years at Georgia Tech and it was the first such occasion at Alabama. He got twice as many carries (18) as he had in any other game in O'Brien's offense so far, and he looked darn impressive doing it:
18 Rushing Attempts
206 Rushing Yards
2 Rushing Touchdowns

Jahmyr Gibbs was just awesome for @AlabamaFTBL against Arkansas. pic.twitter.com/Jk6cevUIHm

— SEC on CBS ? (@SEConCBS) October 1, 2022
I already outlined why Alabama will likely have a ground-heavy attack this week. In a primetime game at home on CBS behind an improving Alabama offensive line, Gibbs could absolutely enter the top 3 of the Heisman conversation by night's end. Also remember that in the past 4 decades, Charlie Ward is the only Heisman winner who ever missed a game against Power 5 competition, so if Young is out, there's a good chance we see his chances diminish. Fair or not, Gibbs could be the one who stands to benefit from that.
4. Devon Achane is going to be in an "empty the tank" situation
Achane is going to need to hit multiple home-run plays in order for A&M to win this game. It's as simple as that. So far, he's really the Aggies' only chance of having a big play. What do I mean by that? In 4 games against FBS competition, A&M has just 1 scrimmage play of 40 yards, and it came from Achane.
A team who ranks No. 109 in FBS with just 4 scrimmage plays of 30 yards against FBS competition is desperate for any sign of explosive offense. The Aggies are tied with Iowa with 27 first downs gained via the pass against FBS competition. Rutgers is the only Power 5 team with fewer.
You get what I'm saying.
With the bye week on deck and the aforementioned quarterback questions, this could be a game Achane gets 25 carries, regardless of what the final score is. He hit at least 22 scrimmage touches for 120 yards in each of A&M's 3 games against Power 5 competition.
The carry distribution is among the most lopsided in the country for the 185-pound back. Of the 95 carries that have gone to running backs, 81 of them went to Achane. In the last 3 games vs. Power 5 competition, Achane has a 53-10 advantage. It's his backfield. Shoot, without Smith, it's his offense. This game will be a reminder of just how reliant A&M has become on Achane to generate any sort of juice.
5. The big difference between this year's matchup vs. last year's matchup for A&M is _____________.
"A much less dangerous defensive front."
Last year, A&M was able to pressure Young using minimal help from the second level. When you have a defensive line with guys like DeMarvin Leal, Tyree Johnson, Michael Clemons and Jayden Peevy, you can do those sorts of things. All of those guys are gone now.
DJ Durkin has to get creative if he's going to pressure the quarterback. Alabama only allowed 5 sacks in its first 5 games … and A&M only has 6 sacks recorded in its first 5 games. That's the challenge with having such a young defensive line in the SEC. As talented as some of those 5-star freshmen guys are, they were never going to pick up where the 2021 group left off.
Not a single qualified A&M interior defensive lineman or edge defender has an overall PFF grade of 59.0 this year. There are 32 SEC interior defenders who are above 59.0, and there are 44 SEC edge defenders with a grade better than that, as well.
As surprising as last year's game was, the least surprising development was watching the strength of A&M's team (the defensive line) play at an elite level. I can't see that being the case this time around.
6. Oh, and 1 wild Nick Saban era stat to consider if you're betting A&M moneyline
Last year in this matchup, Saban lost to a former assistant for the first time and also lost to a team outside of the top 15 of the AP Poll for the first time since the 2010 South Carolina game. The dude went more than a decade without stubbing his toe in one of those matchups.
Will history repeat itself? Eh, I wouldn't bank on that.
When you place that wager on A&M to win this one straight up, remember this. It's been 15 years since Nick Saban lost to a team outside of the top 15 of the AP Poll at home. That was, of course, the Louisiana-Monroe game in Year 1.
If you're holding out hope that A&M is about to run it back and Fisher has Saban's number suddenly after their first 3 meetings suggested anything but a fair fight, maybe just place your bet elsewhere.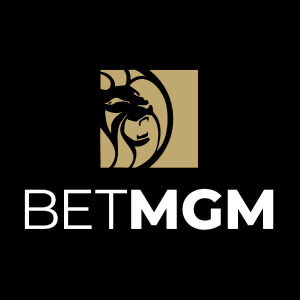 BetMGM Sportsbook App
States: OH, MA, MD, LA, CO, IN, IA, MI, NJ, PA, TN, WV, VA, AZ
21+ and present in Participating states. Gambling problem? Call 1-800-GAMBLER.
$1,500 FIRST BET OFFER
And a prediction … Alabama 35, A&M 14
You knew which way I was leaning with this one. The only question was whether I could pick A&M to cover the spread. Believe it or not, I do think the Aggies have a sneaky chance to cover +24.5 if Alabama's offensive game plan is a bit more conservative and not necessarily airing it out 35 times. This could be more about wearing down the A&M front, who had 3 physical battles in a row heading into this one.
Of course, I'm well aware of the possibility that Alabama is up 28-0 at the end of the first quarter and I'm questioning why in the world I didn't assume a classic Saban "unleash hell" game was in store.
To be fair, a 21-point win would still probably feel like a beatdown. This could definitely mark the 4th time in 5 meetings that Fisher lost by at least 3 scores, which would be a tough pill to swallow. So, too, would be the Aggies falling to 4-3 by early October. Barring a miracle unlike any we've seen in college football this season, that'll be exactly what happens.
All we can ask for is some postgame press conference fireworks.