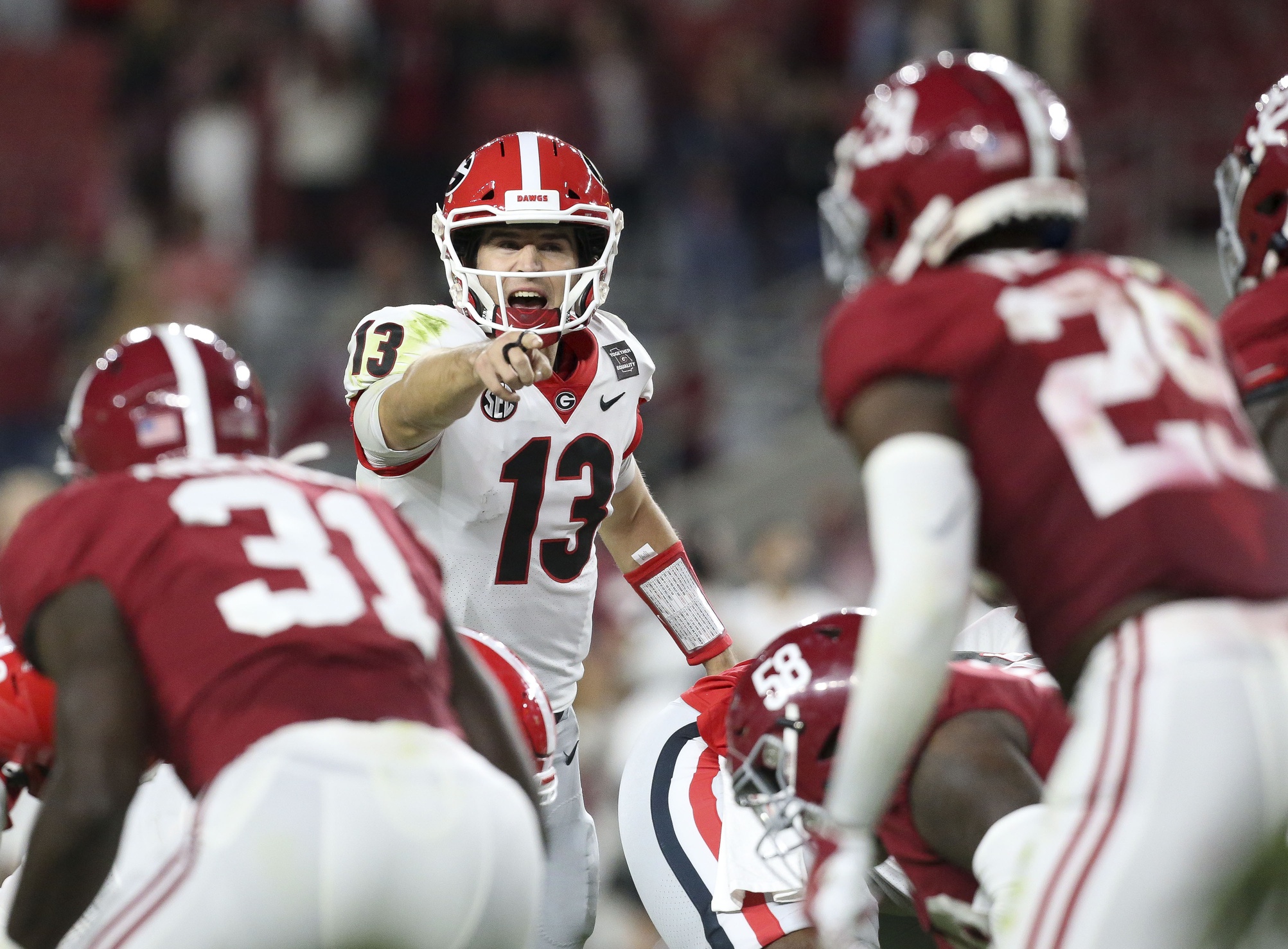 SEC
Georgia vs. Alabama: Final thoughts (and a prediction) on the 2021 SEC Championship
Three years ago, it felt like I was watching a movie.
I watched in disbelief, surrounded by Georgia fans at Mercedes-Benz Stadium in Atlanta, as Jalen Hurts came in for an injured Tua Tagovailoa and led Alabama to a comeback win in the SEC Championship. The benched former SEC Offensive Player of the Year put on his cape and stole the show. More importantly, he stole Georgia's shot at repeating as SEC champs.
Georgia fans, in a weird way, actually didn't seem as stunned as I was. For them, it was like watching a movie with a sad ending that they had seen before. They knew it was coming. Granted, they couldn't have predicted that Kirby Smart would attempt a fake punt with Justin Fields and that Hurts would pull a modern-day Kirk Gibson.
I bring that up because Saturday's showdown in Atlanta should have a much different feel if and when Georgia gets a lead. If UGA goes into halftime with a lead for the 4th consecutive time against Alabama, dare I say, we shouldn't be waiting for the Dawgs to crumble. Not this team. Not the team that just had a historically dominant regular season on defense and who trailed for just 20 minutes and 1 second in 720 minutes of football. Compare those first 12 games to 2020 Alabama (36:47) and 2019 LSU (31:00), both of whom went on to win a national title.
If this is Georgia's year, we'll know by night's end. And no, Georgia shouldn't lack motivation to win this one because a Playoff spot is already in the bag.
Saturday is monumental for Smart's legacy. It's now Part IV of this rivalry, in which Smart led against Alabama 3 times as much as Nick Saban. So does Smart finally get the better of his former boss?
Let's dig into it:
1. If Alabama wins, it'll be because Will Anderson did Will Anderson things
Duh. Hey, just because it's obvious doesn't make it untrue. Anderson is that dude. As in, the dude that's about to set the modern-day FBS record for tackles for loss as early as Saturday. He has 30.5 and needs to get to 32 to tie it. The Power 5 record is 31 TFLs, so that's inevitable. I mean, the guy has multiple tackles for loss in each of his past 6 games, and he hit 3 in each of his past 4 games. It's not a matter of "if." It's a matter of "when."
Think about this. What's the most likely path to an Alabama victory? Is it scoring 35 points against a Georgia defense that hasn't surrendered more than 17 all year? Nope. Especially not for an Alabama team that couldn't hit 21 points against 6-win teams in 2 of the past 3 SEC games of the season.
I compare Anderson to Ivory Christian from "Friday Night Lights" the movie. I could totally see him delivering this type of lift (via YouTube):
Anderson put the team on his back in big moments — his effort at less than 100% in that Florida game was incredible — and Saturday is the biggest moment yet of 2021. Anderson, even in the likely even that Georgia puts multiple bodies on him, can't be invisible. Even if it means forcing Stetson Bennett IV into the arms of Phidarian Mathis, the sophomore has to be at his absolute best.
If he's neutralized, it could turn into a long day for the Alabama defense … but I don't know that that's possible.
2. Against Bryce Young, this is the time to shine for Channing Tindall and Nolan Smith
Go ask Anthony Richardson about Smith, AKA the guy who forced a fumble and then picked him off late in that second quarter in Jacksonville. Or go ask Hendon Hooker about Tindall, AKA the guy who sacked him 3 times and hurried him 4 times while forcing a fumble. Those were the 2 best quarterbacks that Georgia faced. They could make guys miss in the open field, they could stretch the field and they could easily take over a game.
Neither is on Young's level, though. And unlike Hooker and Richardson, Young really doesn't use his mobility to make plays past the line of scrimmage. He does an even better job at keeping his eyes downfield than some NFL starting quarterbacks.
Still, that poise will be tested against a pair of linebackers who have just been a menace to quarterbacks this year. Smith and Tindall don't miss on quarterbacks when they get in space. Whether that's officially a sack or keeping a quarterback from picking up a 3rd down with their legs, both excel when they're tasked with containing an opposing signal-caller.
This is the exact type of play that Tindall or Smith has to be able to make. When Young's first read isn't there, that closing speed has to take over and prevent him from extending plays:
Channing Tindall is FAST. pic.twitter.com/SgI0qllfAD

— DawgTalk (@kirbywetrust) November 15, 2021
For all that Young does well, he'll take a bad sack or 2 nearly every game. Everyone knows about the abilities of that vaunted Georgia defensive line, as well as All-American Nakobe Dean, but it's Smith and Tindall who need to step up in those moments.
3. The Brock Bowers impact
Alabama's defense has done a lot of things at a high level this year, but it hasn't been particularly good defending tight ends in the passing game. Not a lot of teams the Tide faced really utilize the tight end in that way, though in those few instances — Florida, Texas A&M and Auburn get the tight ends involved — we saw someone like Jalen Wydermyer slip open and give a struggling quarterback a big throwing window against Alabama:
JALEN WYDERMYER HOUSE CALL 🚀

AGGIES BACK ON TOP 😤

— 247Sports (@247Sports) October 10, 2021
If Alabama forgets Bowers like that, good night. That top-end speed isn't that of a freshman tight end. He moves like a receiver, and he can absolutely make the Tide pay if he's covered by a linebacker. He's a matchup nightmare unlike anything Georgia has had at the position in recent memory, which is saying a lot considering Isaac Nauta and Darnell Washington were 5-star recruits.
Bowers has a catch of 20-plus yards in 9 of Georgia's 12 games. He had multiple touchdowns in 5 games and he hit the century mark 3 times, including last Saturday when he torched the Georgia Tech secondary on a 77-yard score.
Is there a chance that Bowers' impact is minimized because Todd Monken needs him to help block against Anderson? It's possible, but unlikely. Bowers has only been in pass protection on 22 snaps in 12 games (via PFF). On top of that, he lined up either in the slot or out wide on 46% of his snaps this year. In other words, if Bowers is on the field, he's either running routes or he's doing his part in the ground game.
As DawgNation's Mike Griffith told me before the start of the season, Georgia thinks Bowers is like George Kittle. The numbers certainly reflect that. On top of having the Georgia record for touchdowns by a tight end (10 receiving and 1 rushing), Bowers is a force as a blocker in the ground game. He's 1 of 2 Power 5 tight ends with a PFF receiving grade of 89.0 with a run blocking grade of 71.0.
I'd fully expect to see Monken move him around all over the place. That could even include that diabolical end-around play that he likes to dial up for the young tight end. For all the talk about George Pickens as being the Dawgs' best offensive player, Bowers has filled that role in a major way.
4. No pressure, Trey Sanders
On one hand, I'm happy for Sanders. The former 5-star running back has had a rough go of it at Alabama. He was in a serious car accident, he suffered a season-ending injury back in 2019 and even when he was healthy, he just struggled to crack the rotation.
But with Brian Robinson dealing with a pulled muscle and Jase McClellan and Roydell Williams already out with season-ending injuries, Sanders is Alabama's only healthy scholarship running back left heading into Saturday. That workload that Sanders has been waiting for? It should finally be there whether Robinson is able to play or not.
That's why, on the other hand, I'm sort of terrified for Sanders.
His first career start is expected to come against the likes of Jordan Davis, Jalen Carter and Devonte Wyatt. As in, the defensive front that allowed 2 rushing touchdowns all year. Like, the defensive front that ranks No. 3 in FBS in yards per game (78.9) and yards per carry (2.49). You know, the defensive front that ranks No. 1 in FBS who just 3 running plays of 20 yards allowed all year.
Ummmmm UGA IDL Jalen Carter is a monster. His Kentucky film is bonkers good. pic.twitter.com/TSUmy1NbH9

— Dante Collinelli (@DanteCollinelli) November 11, 2021
This would be a daunting task for any starting running back, much less one who has never had more than 12 touches in a game. Honestly, I wouldn't be surprised if Sanders again didn't have more than 12 touches. The Tide have struggled to run the ball with that inconsistent offensive line with the No. 105 run offense in FBS in November (Alabama averaged just 63 rushing yards in its last 3 SEC games). Why not put the ball in the hands of Young to try and attack Georgia downfield instead of having Sanders run into Davis every other play?
Still, Sanders is likely going to be called on in some critical short-yardage situations. He has to make the most of his opportunities so that Georgia's pass-rushers can't just pin their ears back every play.
5. Why this is all or nothing for Alabama
Sorry if you've heard me say this before, but it needs to be shouted from the mountain tops. Alabama isn't getting into the Playoff with 2 losses. Not unless pure chaos unfolds and it's just upset after upset throughout conference championship weekend. A 2-loss Alabama team won't edge undefeated Cincinnati, even if it's an overtime thriller. Even a 1-loss Oklahoma team, that is now just 2 spots behind Alabama, can beat a top-10 Baylor team and move into the top 4.
The selection committee has never put a 2-loss team in the field, and it didn't when 2018 Georgia suffered loss No. 2 in thrilling fashion with that aforementioned Hurts-led comeback in the SEC Championship. I don't believe the first 2-loss team to make the field in the 8-year history of the system is going to be a team that doesn't win its conference championship.
There's also the fact that this is not a dominant Alabama team. An average margin of victory against Power 5 competition of just 14.7 points is nothing to write home about. Six of those 8 SEC games were within 1 score in the 4th quarter. Also, what's Alabama's second-best win? A 7-point win at home against 8-4 Arkansas. That's why Alabama, which hasn't even been the top 1-loss team in the past 2 Playoff rankings, won't get the benefit of the doubt with 2 losses.
But on the other end of the spectrum … Alabama should get the No. 1 seed if it beats Georgia. It would be the best win of any team in the country this year. And without any other potential unbeaten Power 5 teams, you'd have to give the Tide the edge for beating a pair of current top-10 teams (Ole Miss being the other one).
Saturday is as all or nothing as it gets for Alabama.
And a prediction … Georgia 35, Alabama 21
This is simple for me — I think it's Georgia's year.
Yes, I've said that before and been burned. I've also never seen a Georgia team dominate the way it has so far in 2021.
It wouldn't surprise me if it took a bit for that to play out Saturday. I'd expect to see Alabama come out like the more desperate team and perhaps go into the break locked in at 14-14. Anderson should be able to make plays and Bennett, even with that mobility, could have some tough moments early.
But the third quarter is where this flips. That's when Georgia reminds us that it's the best team in America and that this young, inexperienced Alabama offense isn't built to go 60 minutes with the Dawgs. It doesn't happen quite as fast as the Florida game, but a pick-6 (I'll say Dean gets another) and 2 short fields turn into touchdown drives to completely flip the game. UGA outscores Alabama 21-0 in the third quarter to put the game on ice.
There's no backup quarterback to turn to for Alabama this time. Smart can't fake punt his way out of a win against the Tide.
Finally, Georgia gets over the hump and beats Alabama for the first time in 14 years. Finally, UGA fans exhale.
The year of the Dawgs continues.