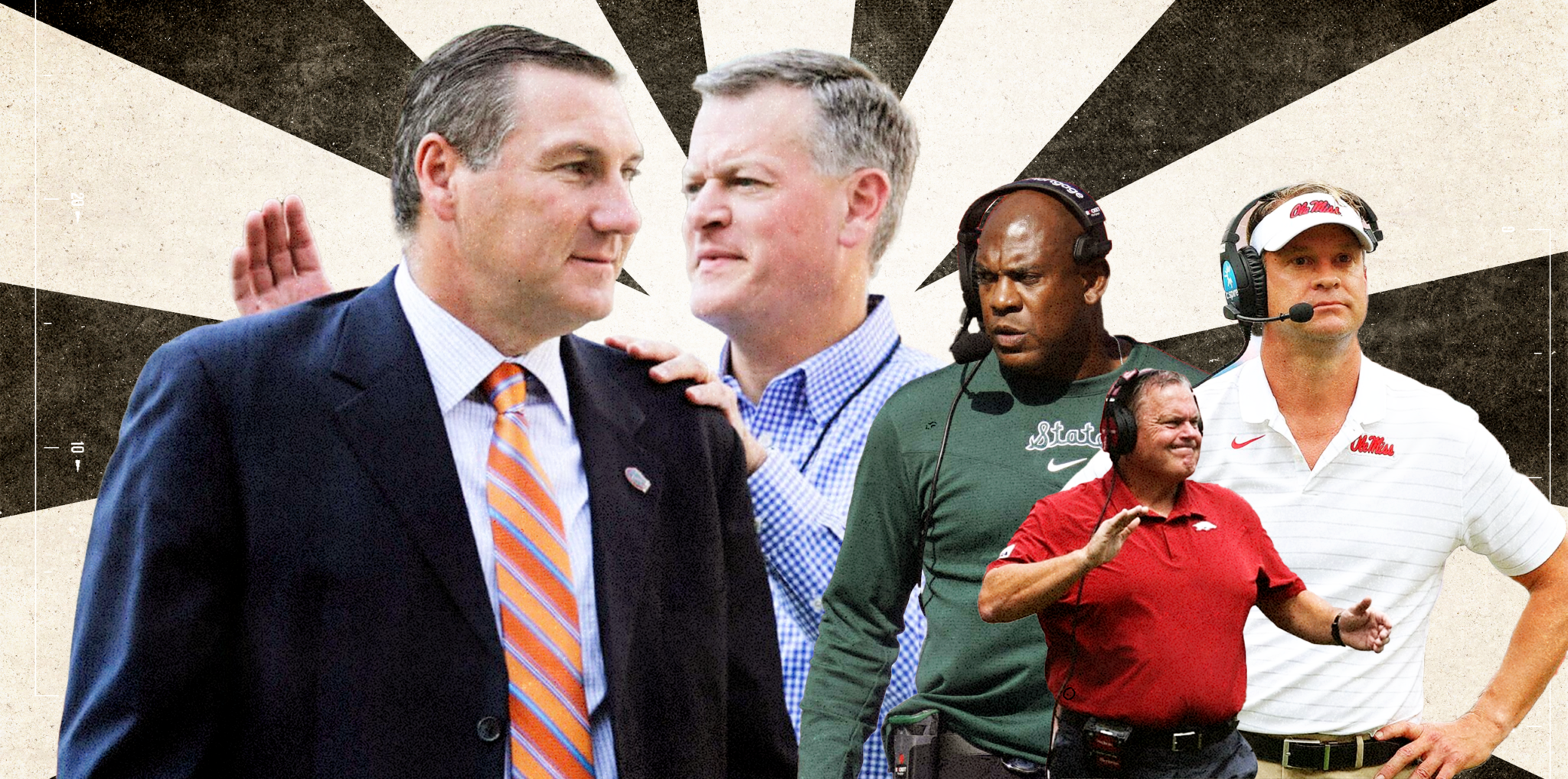 SEC
First and 10: In the end, Dan Mullen has nobody to blame but Dan Mullen
1. I don't want to get on a soapbox, but …
This no longer is about wins for Dan Mullen. It's about a loss, one singular defining moment for the Florida Gators that has set in motion real, tangible doubt that will quickly devolve into the inevitable.
Dan Mullen has lost the fan base.
"I didn't see that coming," Mullen said after Florida's 40-17 loss to SEC bottom-feeder South Carolina.
We should've all seen this coming.
From an undeniable list of failure not befitting a program that demands championships, to a singular moment where coaching tenures rise and fall, no one survives the loss of the fan base.
And there's only one way it goes from here. The only question is when.
When do Florida president Kent Fuchs and athletic director Scott Stricklin determine there's no way out for Mullen, cut their losses and send him away with a $12 million buyout?
When do they accept that Mullen's greatest strength is game day Xs and Os, and his greatest weakness is recruiting and program building – the lifeblood to winning championships?
When do they realize what makes Mullen so good on fall Saturdays (the audacity of his play-calling), is the very thing preventing the program from developing into the elite (the audacity of being the smartest guy in the room).
When do they ignore that dangerous and debilitating thought – "who are you going to get if you fire him?" — that permeates the decision to fire coaches and paralyzes programs until it's too late (more on that later)?
A Florida booster, who has given "millions" to the university, regularly emails me. We've exchanged emails for more than a decade, dating all the way back to when Urban Meyer was in Gainesville.
He's levelheaded and has never been a quick-trigger thinker. He sees big picture in a time when small things become big things overnight through the cesspool of social media.
His email to me early Sunday morning, just after the clocks officially fell back an hour, told the story. Make no mistake, he has told me numerous times that he has "never" and "would never" use his position to influence hiring/firing of coaches.
But this email, as much as anything, sums up the current state of Florida football.
"This is much more than losing to South Carolina. I wish it were just losing to South Carolina. This just makes it all worse."
And that was it. End of email.
This is where the Florida fan base currently resides, a painful purgatory of knowing this won't get better because Mullen and his staff don't recruit well enough for it to get better.
You can't magically become a better recruiter overnight. You can't coach your way out of this.
You can't ignore a trendline that shows 8 losses in the past 10 games against Power 5 programs. You can't avoid Florida ranked No. 23 in the latest 247Sports composite recruiting rankings, behind South Carolina, Arkansas, Kentucky, Missouri, LSU, Texas A&M, Alabama and Georgia in the SEC.
You can't forget a 2020 season that included Mullen's willful disregard of – get this – recruiting rules that landed Florida on probation for the first time in 3 decades. Or the 3 embarrassing postgame press conferences that put the university and the powerful Gators brand in a bad light.
These all now come more into focus because Mullen's team showed up on a chilly night in Columbia, S.C., and were blown out by a team playing a 3rd-string quarterback (whose prior experience was in the NCAA lower divisions), and a program on the first step of the ladder back up from ground zero.
Guess who's at ground zero now?
2. A quick, ugly evolution
The overriding question, without an easy answer, is how did we get here?
How did a team that was a handful of plays away from beating Alabama in the SEC Championship Game last season, lose to one of the worst teams in the Football Bowl Subdivision?
There was a turning point moment, and it's not what you think.
When former Florida offensive coordinator Brian Johnson left to become the quarterbacks coach for the Philadelphia Eagles, Mullen lost his best recruiter and developer of offensive talent – and as important – the only check on his massive ego.
Johnson was the one coach, a source within the program told me, who could tell Mullen "no." The one coach Mullen would listen to — not unlike how a previous Florida coach with a huge ego (Urban Meyer) could only hear "no" from one coach (Charlie Strong).
Look, all coaches have egos. Some are bigger than others; some only show up out of circumstance. Mullen's ego has gotten him into trouble numerous times as the Florida coach, but each time players bailed him out on the field.
Players he didn't recruit. That's the rub.
The easy argument is Mullen took a 2-star recruit in QB Kyle Trask and turned him into an All-American who had the greatest single season in school history. Or that Mullen made an SEC quarterback out of Feleipe Franks.
Or that Mullen developed all of those receivers who were drafted from the 2019-2020 teams and are playing in the NFL.
But they also were recruited by former coach Jim McElwain, an utter disaster of a head coach who failed miserably as a developer of talent and recognizing talent (remember Treon Harris over Will Grier?).
They were also players who developed significantly under Mullen and Johnson.
"He's going to be a head coach in our league one day," an NFL scout told me of Johnson.
This is Year 4 under Mullen, and this is his team and his recruits. And as important, this is his staff's development of those players.
If you're going to praise Mullen for developing Trask, you must criticize him for the play of Emory Jones (12 TDs, 10 INTs) after 4 years in the program. You must question the development of redshirt freshman QB Anthony Richardson, a generational talent who looks lost.
You must turn a critical eye when you hear television bobbleheads proclaim Mullen doesn't have the "same speed and talent" on the outside, and that's why the Florida quarterbacks are struggling.
One NFL scout told me former 4-star recruit WR Jacob Copeland is the most underused player in the SEC. "He will play on Sundays," he said.
WR Xzavier Henderson, like Copeland and WR Justin Shorter, were top-100 recruits. Are we to believe that even when Mullen lands 4- and 5-star recruits, the players are the reason they're not developing?
This, of course, leads us to the most damning problem of all under Mullen: recruiting.
The state of Florida is 1 of the top 3 states for high school talent (Texas, California), and any Gators coach can win a championship by recruiting the state better than anyone else – something that, frankly, should be a given.
This year alone, 1 player in the top 25 Florida high school players according to 247Sports is committed to the Gators. Only 5 of the top 50 have committed to Florida, and 7 in the top 100 – and we're less than 6 weeks from National Signing Day.
You win games, you win championships, by procuring elite high school talent and developing it. Mullen wasn't an elite recruiter at Mississippi State and hasn't been an elite recruiter at Florida.
That's not opinion. Those are cold, hard facts.
Georgia coach Kirby Smart said it best after his team whipped Florida on Halloween weekend, when asked about the reason the No. 1-ranked Bulldogs are so dominant this season: "No one can outcoach players."
3. We should've seen this coming, The Epilogue
It is here where we explain the absolute lunacy of the tired thought process, "who are you going to get?" if you fire your current coach.
First and foremost, that philosophy does a remarkable disservice to your players who, more than anything, deserve every opportunity to succeed. It's also diminishing your product.
Florida is a blue-blood in college football. It has an elite recruiting footprint and unlimited resources. It plays in the best conference in college football and has a history of winning national championships.
The facility issues of the past are gone, with the team set to move into a $100 million standalone football facility next year. Everything is set up for the right coach.
The choice is simple: You believe Mullen will suddenly become a better recruiter with that sparkling new facility behind him, or you believe change is needed.
Change means a $12 million buyout, and landing a coach who embraces the philosophy that Jerry Jeudy should never get out of the state of Florida. Nor should the Bosa brothers, or Amari Cooper, or Derrick Henry or Evan Neal or Jalen Carter. Or so many other program-changers.
It means hiring a coach who, on Day 1, travels to IMG Academy in Bradenton, Fla., and fixes what's wrong, what makes all of those elite players leave the state of Florida. It doesn't matter if a majority of IMG players are from other areas across the country, like Nolan Smith or Kellen Mond.
Once they're in Florida's backyard, the coach in Gainesville should have an advantage. When you pay a coach $7.5 million a year, you expect more on your return.
Mel Tucker isn't letting those IMG players leave the state. He's not letting the players at Ft. Lauderdale's legendary St. Thomas Aquinas School look elsewhere. Nor will James Franklin, or Matt Campbell. Or even Lane Kiffin.
Recruiting is about relationships. it's about building trust and belief in what you're being sold, and a tangible, embraceable plan.
It's not about being the smartest guy in the room, and proclaiming a "standard" supersedes all.
4. Hog wild
High school players are more aware than ever of their place in the machine. They understand the importance of making the right choice of where to play, and finding the right coach.
Exhibit A: Arkansas coach Sam Pittman.
For years Pittman was an elite offensive line coach, and one of the best recruiters in all of college football. His personable, relatable aura is magnetic and oozes charisma.
It shouldn't be a surprise then, that Pittman – in his first head coaching job — has turned around what was the worst program in the SEC (a 20-game SEC losing streak) in less than 2 seasons.
Arkansas' win over Mississippi State gave the Hogs 6 wins and secured their first bowl season since 2016. When Pittman arrived, Arkansas had just muddled through back-to-back 2-10 seasons — the program's worst back-to-back seasons since World War II – and had zero buzz.
Then he got to work recruiting, and it has paid off quicker than anyone could imagine. His first recruiting class in 2020 was No. 29 in the nation according to 247Sports. His second was No. 25. His third, with 6 weeks remaining until National Signing Day, is No.19.
This can't be overlooked: He's recruiting at Arkansas, which isn't exactly at the same level as Florida – or any of the other elite SEC bluebloods. The best players in Arkansas are, for the most part, no longer leaving the state.
Pittman is also making a deeper impact in the state of Texas, one that will only strengthen after wins this season over Texas A&M and future SEC rival Texas.
He is winning in Year 2, and has yet to completely overhaul the roster. What happens when the entire roster are his recruits?
High school players recognize genuine and fake. How many times do we have to hear recruits say that, at the end of the day, they signed with the school "that just felt right" before we believe it?
5. The Weekly Five
Five picks against the spread.
Texas A&M (Pick) at Ole Miss
Georgia at Tennessee (+22)
Mississippi State at Auburn (-6.5)
Arkansas (+5.5) at LSU
South Carolina at Missouri (-3.5)
Last week: 4-1.
Season: 29-19-1.
6. Your tape is your résumé
An NFL scout analyzes the prospects of a draft-eligible SEC player. This week: LSU LB Damone Clark.
"He's one of those late bloomers, and he has really played well this season. Saw flashes of his ability to run sideline to sideline last year, but he looks more comfortable and aware this season. If he's a (middle linebacker), he has to shed blocks quicker and more consistently. It's hard to argue his production at that level of play, but his stock will rise or fall based on how he works and interviews at the Combine and how he shows at his personal workout at LSU. He definitely has 3-down ability, and he's pretty fluid in drops and coverage. Another thing he has going for him is that position at that school has produced a couple good ones lately (Devin White, Patrick Queen). He's not at that level, but he's also unfairly compared to those two guys. If he runs well (at workouts), he's a 3rd-day pick, and maybe higher."
7. Powered Up
This week's Power Poll, and one big thing: best-case November scenario.
1. Georgia: Avoid the 1 dangerous game that shouldn't be – the one every championship team deals with (see: Tennessee or Georgia Tech).
2. Alabama: The defense continues to develop more of a pass rush to protect a shaky secondary.
3. Texas A&M: Auburn upsets Alabama, Aggies win out and go to SEC Championship Game.
4. Auburn: Beat Alabama. That's good for a contract extension for first-year coach Bryan Harsin.
5. Ole Miss: Upset Texas A&M, win the Egg Bowl (two very difficult tasks), earn a New Year's 6 bowl and keep coach Lane Kiffin. How about that Christmas list, Santa?
6. Tennessee: Nothing could surpass upsetting Georgia. But winning 7 games, and setting up an 8th in a bowl game would be a gigantic first year for coach Josh Heupel.
7. Arkansas: Win 2 rivalry games (at LSU, Missouri) and keep it respectable at Alabama, setting up chance for 9 – NINE! — wins.
8. Mississippi State: Splitting Auburn and Ole Miss games (preferably beating Ole Miss) gets 7 wins – a significant step in Year 2 under Mike Leach.
9. Kentucky: Stop the bleeding. Three wins as heavy favorites (Vanderbilt, New Mexico State, Louisville) set up the potential for another 10-win season.
10. LSU: Win 2 of 3 home games (Arkansas, Louisiana-Monroe, Texas A&M) to get to the postseason.
11. South Carolina: Beat Clemson for the first time since 2013. Anything else is gravy.
12. Florida: Win out and – at the very least – have the upper hand on state rival Florida State for those final days of UF vs FSU recruiting.
13. Missouri: Feed TB Tyler Badie against 3 teams that haven't stopped the run (South Carolina, Florida, Arkansas) and get bowl eligible.
14. Vanderbilt: Losses to Kentucky, Ole Miss and Tennessee are likely, but you've found something in QB Mike Wright. Get valuable work for 2022.
8. Ask and you shall receive
Matt: I'm a Georgia homer, I love my Dawgs. But I don't like what's going on with Adam Anderson and how (Georgia coach) Kirby (Smart) dealt with it. I want to win, but I don't want to win like that.

Carrie Dalton, Macon, Ga.
Carrie: These are incredibly difficult decisions. You have an allegation of sexual assault, and because of the serious nature of the allegation, it's hard to not act in the safest way possible: suspend the player until the investigation plays out.
Smart has done this – but he did it after the allegation became public, which was before a critical rivalry game last week against Florida. Anderson played in the game (and played well), but he wasn't the difference in a blowout. Georgia could've easily won the game without him.
This begs the question: If Smart knew about the allegation before the Florida game (and the timeline says he had to have), why play Anderson? And if he knew and played him, why is Anderson now suspended from the team?
If nothing else, it's terrible optics for a program that has been cruising without a hiccup.
Anderson is a terrific player and has top 15 NFL Draft potential, but I wouldn't expect him back on the field at Georgia if and until the investigation of the allegation is complete – and if he is cleared.
9. Numbers
35.3. In the first 6 games of the season – all wins — the Kentucky defense gave up 105 points (17.5 ppg.). In the past 3 games – all losses – Kentucky has given up 106 points (35.3 ppg.).
10. Quote to note
Mississippi State coach Mike Leach, on the failures of his kicking game in a 3-point loss to Arkansas: "Announce this. There's an open tryout on our campus for kickers. Anybody that wants to kick or walk on and kick at Mississippi State, we'll hold a tryout any time you can get over there to our building, providing you're cleared by the NCAA."