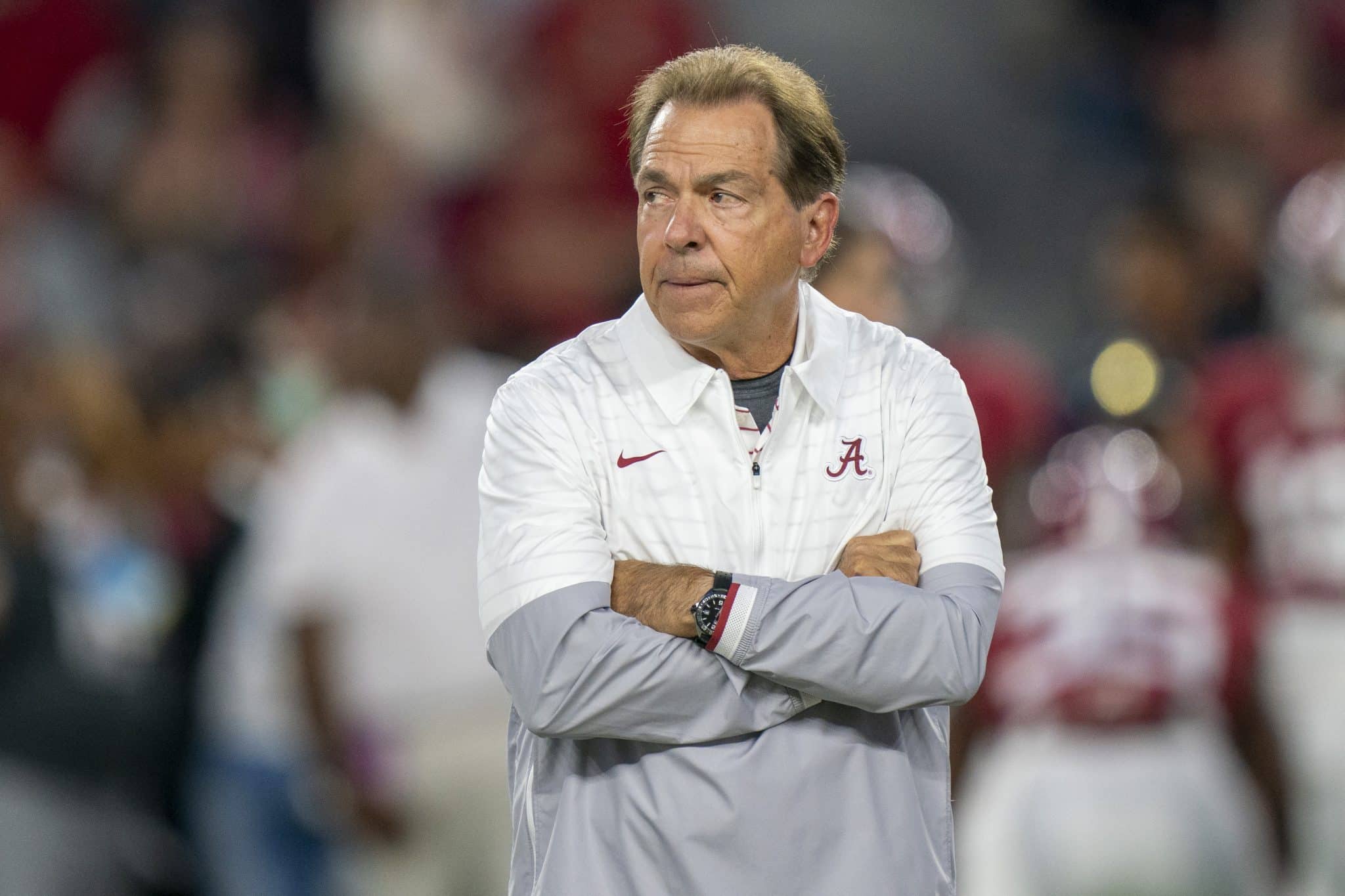 SEC
First and 10: Inside the SEC's 8-game vs. 9-game scheduling nightmare ... and who's to blame
1. I don't want to get on a soapbox, but …
At one point during the back and forth, SEC commissioner Greg Sankey could no longer hide the reality of what was going down.
It was all falling apart. Again.
How could it have come to this? How could a majority of 14 athletic directors and football coaches in the SEC not agree that a 9-game schedule was the best thing for the future of the conference, and more important, the best thing for its fans?
How could the SEC, with the opportunity to take a bold step with the addition of Texas and Oklahoma in 2024 — sitting thisclose to a schedule worthy of the 16-team super conference — trip again with another self-inflicted wound?
Sankey was told last Wednesday afternoon that Alabama athletic director Greg Byrne proclaimed that before the SEC could move to a 9-game schedule in 2024, it would need more information on the new 12-team Playoff set to begin in the same season.
Specifically, how would the Playoff value a 9-game SEC schedule, and would a 3-loss team in the SEC hold greater value than a 1- or 2-loss team in other conferences?
The look on Sankey's face was priceless, equal parts anger and incomprehension. No moment last week encapsulated the dysfunctional and disconnected spring meetings quite like it.
Sankey took a deep breath, and a resigned response followed: "I know we've been really diligent in providing information."
He paused, looked down at his notes, and looked back up, and started again, "there are ways to move into (a 16-team conference) with careful intent — that are not about 2 or 3 more pieces of paper."
He was done, and it was painfully obvious talks to move to 9 games were done, too. The only thing left was the official vote.
But how did it come to this? How did the SEC, haggling about the 9-game schedule since officially inviting Texas and Oklahoma to the league in the summer of 2021, find itself in this position again?
This isn't about the "leadership" of Sankey, or the "money" from an restructured exclusive ESPN media rights contract. This was about egos and protecting self-worth.
The very opposite of what the SEC stands for — or at least, what it constantly preaches.
No school is bigger than any other. Alabama is just as important as Vanderbilt, and Georgia and Florida are as critical to the health of the conference as the Mississippi schools.
The last 2 votes for expansion in 2011 and 2021 — votes that added Texas A&M, Missouri, Texas and Oklahoma — were without dissent.
Texas A&M may not have been thrilled about rival Texas joining the league, but it acquiesced — because what's good for 1 is good for all. And the SEC always stands together publicly.
Only not this time.
By the time the 14 schools voted on the schedule format for 2024 — Texas and Oklahoma were part of the process, but didn't vote — it was every man for himself. It was so preposterously provincial, one athletic director told SDS, "our new friends (Texas and Oklahoma) must have felt right at home, like they were back in the Big 12."
This thing is far from over. A move to a 9-game schedule isn't guaranteed to happen next year, either.
2. The "permanent" problem
How could Sankey have known 2 years ago that the format for the 9-game schedule would be its eventual demise?
Not the elimination of divisions and the 2 best teams playing in the SEC Championship Game. Not the guarantee that every team would play every other at least twice over a 4-year period — allowing players and fans to experience all 16 SEC campuses.
But the 3 permanent opponents.
The new schedule format included 3 permanent opponents and 6 rotating, and would keep existing rivalries while providing more and better games for media rights partner ESPN — thereby giving the SEC more leverage in future contract negotiations.
More games, better games, more media rights cash. Everyone wins.
Except, apparently, Alabama.
For a decade, Tide coach Nick Saban preached about the advantages of playing a 9-game SEC schedule. He wanted it, and publicly called out his colleagues who didn't.
When it was clear — prior to the summer of 2021 — that the SEC would stick at 8 games and not join the Big Ten, Big 12 and Pac-12 in playing a 9-game schedule, Alabama decided to add multiple nonconference games against Power 5 opponents beginning in 2025.
Earlier this spring, Alabama was informed of its 3 permanent opponents for the proposed 9-game schedule — and suddenly, the coach who for years politicked for a 9-game schedule, got sideways. Alabama's permanent opponents would be Auburn, LSU and Tennessee, and Saban — with a 38-10 career record at Alabama against the 3 schools — wasn't happy about it.
He publicly complained about the 3 permanent opponents, and asked aloud why Alabama had to play Tennessee and LSU, while maybe others in the SEC didn't have as difficult a road.
Tennessee was nationally relevant in 2022 for the first time in 2 decades, and until a loss at Knoxville last season, Saban was undefeated against the Vols at Alabama. Yet this bridge was too far.
Byrne admitted Alabama's permanent opponents were "a lot" and that, "if that's the hand we're dealt, we're going to have to play it."
But multiple SEC sources confirmed that Alabama's "hesitation" with the 9-game schedule allowed 3 other schools that previously were leaning to the 9-game schedule to pull back, too: Tennessee, Auburn and Arkansas.
All 3 schools like the 8-game schedule because it guarantees 7 (and sometimes 8) home games. A 9-game SEC schedule includes, every other season, the likelihood of 6 (and sometimes 7) home games.
The easy argument for those 3 schools is the loss of gate revenue from those games — even though a restructured deal from ESPN (more on that later) would've made up for a lost home game(s). This wasn't all about money.
This was about guaranteed wins.
3. A shift in plans
As recent as February, SEC officials believed the votes were there for a 9-game schedule.
Even Sankey, notoriously conservative and desperately wanting to remain a facilitator and let the coaches/ADs get to a decision on their own, finally spoke out at the beginning of last week on the advantages of 9 games. He said it was time to "land the plane" — and more important, the SEC had an "opportunity to play (secondary rivalries) every year instead of every other year. Those games are huge."
He also stated, in a rare moment of taking sides, that "money follows, it doesn't lead. When all you do is chase money, you make a lot of bad decisions."
As the week began, Florida, Georgia, LSU, Missouri and Texas A&M wanted 9 games, and Kentucky, Mississippi State, Ole Miss and Vanderbilt wanted 8.
South Carolina made it clear it would vote with the majority, and/or for the best interest of the league. Meanwhile, there were 4 outliers: Alabama, Tennessee, Auburn and Arkansas.
Alabama and Saban's waffling over the last month, multiple SEC sources confirmed, opened the door for the other 3 schools to do the same.
While the SEC has mandated all member schools play at least 1 nonconference game against a Power 5 school, the other 3 nonconference games are wide open to individual school interpretation.
In 2023, Tennessee's nonconference schedule includes home games (see: guaranteed wins) against FCS Austin Peay, UTSA and UConn.
Auburn's 2023 nonconference home schedule includes games against FCS Samford and FBS independents UMass and New Mexico State.
Arkansas' 2023 nonconference home schedule includes games against FCS Western Carolina, Kent State and FIU.
In a 9-game schedule, 1 of those guaranteed wins goes away.
"Alabama pulling back was the cover those 3 needed," another SEC source said. "If Alabama holds at 9, so does Auburn because Auburn can't say it wants less SEC games than Alabama. Once they're both in on 9, Tennessee and Arkansas are there, too, because neither want to be the reason the conference stays at 8. That's 9 votes, and then South Carolina joins and you're at 10 (schools) for 9 games.
"Once that happens, everyone agrees to 9 games and it's 14-0 like we always do. Because we're all in this together, and we all want what's best for the conference."
But once Alabama pulled back, the majority quickly moved to 9 schools against, and the conference was forced to play (at least) 1 season of 8 games as a transition year. When announcing the decision last week, Sankey said the transition year was brought about because of the difficulties of canceling and/or rescheduling nonconference games with the move to 9 games in 2024.
But Florida and Georgia have multiple Power 5 games scheduled from 2024 and beyond — and were still leading the charge for 9 conference games.
4. Moneyball
Burke Magnus has for years headed south for Memorial Day weekend to meet with SEC officials during their spring meetings.
He has been an executive with ESPN for nearly 3 decades, and has — as much as anyone — been the guiding force in the network's development of college football from a regional sport to a national behemoth.
He's the reason the SEC and ESPN agreed in 2020 to a record-setting deal for exclusive rights beginning in 2024.
Three months ago, he was named President of Content at the network — essentially, No. 2 in charge — further separating him (or so it would seem) from the college sports monster he built. There was no reason for him to be in Destin.
But there he was, showing up and answering questions from presidents, ADs and coaches like he always has.
"The relationships here are important to us," Magnus said.
But numerous ADs spoke about the unknown with the restructuring of the ESPN deal. What if ESPN doesn't increase the revenue for a 9-game schedule, and the conference teams are playing another game — with another chance to sustain a loss — without a restructured deal?
"Ridiculous," an SEC source said. "That's a bull— argument and they know it. Of course those (media rights) numbers will change, and change significantly."
The addition of Texas and Oklahoma gives the SEC a pro rata increase in revenue from the deal, likely pushing it to at least the $930 million annually range. But the SEC wants more because Texas and OU are premium properties — and their addition to the league creates multiple mega games for the network.
The 9-game schedule brings annual mega games between Texas-Texas A&M, Florida-Oklahoma and Texas-Arkansas, as well as the current "traditional rivalries" all over the league schedule included in the 3-6 format. Also, twice every 4 years, Texas and Oklahoma play home and home series vs. SEC's TV blue-bloods Georgia, Alabama, LSU, Tennessee and Auburn.
"The last thing ESPN wants to do is pro rata Texas and Oklahoma," an industry source told SDS. "They know the value. They don't want an unhappy partner."
This thing is far from over. A move to a 9-game schedule isn't guaranteed to happen next year, either.
The SEC it seems, may need a bigger plane.
5. The Weekly 5
The top 5 games that stress the Texas A&M over (7.5) wins in 2023:
1. Sept. 9, at Miami: Week 2, and first big test — on the road against an athletic defense — for QB Conner Weigman and new OC/play-caller Bob Petrino.
2. Nov. 25, at LSU: Tigers could be in the Playoff hunt, needing a win to secure the West Division.
3. Oct. 14, at Tennessee: A week after a grinder against Alabama in College Station, Aggies play at Knoxville against what should be a humming Vols offense.
4. Sept. 30, vs. Arkansas. Neutral site rivalry game in Arlington, Texas, has a history of tight 4th-quarter finishes.
5. Nov. 4, at Ole Miss: Weigman had 4 TDs and 0 INTs in this game last year, and Ole Miss still stole a road win by rushing for 390 yards.
6. Your tape is your resume
An NFL scout analyzes a draft-eligible SEC player. This week: South Carolina WR Juice Wells.
"He's not a burner. He's not going to be a guy you stick on the outside and say, 'Go win on 3rd down.' But he fights for separation and balls as well as anyone I've seen in the last few years. His catch radius is tremendous, and he gets open. A middle of the field guy who will catch balls, and then turn and get upfield. Again, not a burner, but he has quick acceleration after the catch."
7. Powered Up
This week's Power Poll, and 1 big thing: Texas and OU prefer 9 games, and in addition to those 2, the SEC needs 2 more flips to reach a majority to move to a 9-game schedule. Where each team stands:
1. Georgia: Solidly on the 9-game side. Jere Morehead, the SEC's most sports-oriented president, wants it.
2. LSU: Both AD Scott Woodward and coach Brian Kelly are big 9-game supporters.
3. Alabama: Will likely move to 9 eventually, but could get there quicker with a tweaking of the permanent opponents.
4. Tennessee: Vols were once at the forefront of strong nonconference scheduling. Now look. This program is hunting wins — for now, anyway.
5. Texas A&M: Aggies are 9-game proponents and won't budge.
6. Kentucky: The tip of the spear for the 8-game cabal, with longtime — and strong voice in the room — AD Mitch Barnhart leading the way.
7. Ole Miss: If you could play Mercer or Louisiana-Monroe instead of another SEC game, wouldn't you?
8. Arkansas: The first significant potential flip. Rabid, passionate fan base wants big games.
9. South Carolina: A strong flip possibility. South Carolina sees itself as Georgia and Florida, and that it's not far off.
10. Mississippi State: They're hunting wins, and historically, can you blame them?
11. Florida: Give AD Scott Stricklin a ton of credit. Gators got little help from the conference with permanent opponents, and he wants 9 games (and his 2024 nonconference schedule is at Florida State, UCF and Miami).
12. Auburn: None of the SEC's major TV properties schedule down on nonconference games quite like Auburn. That alone should pave the way for a 9-game schedule.
13. Missouri: A surprising member of the 9-game group, but Missouri administration sees the value: big home games, big gate draw, big games for fans.
14. Vanderbilt: An obvious member of the 8-game crew. No chance of flipping to 9 games.
8. Ask you shall receive
Matt: What's your best guess: does the SEC ever get to 9 games? — Henry Dunne, Nashville.
Henry:
Eventually, yes. It may take some tweaking of the 3 permanent opponents, but they'll get there. I had 2 SEC sources tell me they believe Alabama's hesitancy to go to 9 games was an effort to get the SEC to take LSU or Tennessee from its 3 permanent opponents.
If that's the case, the natural move is to take the LSU game away. But if the SEC does that, what's to prevent others from taking a similar stand? For that matter, what's to prevent others from believing the conference is playing favorites?
The SEC always has stressed the greater good is stronger than a top-heavy league. But the reality is, 1 or 2 teams are going to have to play a difficult road with permanent opponents. There's no avoiding it.
Florida has Georgia, Oklahoma and South Carolina. Of the SEC's 6 big TV properties (Alabama, Georgia, Florida, LSU, Tennessee, Auburn), only Florida has a permanent opponent with newbies Texas or Oklahoma.
You think Florida is happy about that? You think Florida is happy about not only losing rival Tennessee for Oklahoma, but Tennessee's permanent 3 of Alabama, South Carolina and Vanderbilt?
Yet Florida was out front, pushing for the 9-game schedule.
9. Numbers
8.33. Missouri tried over and over in 2022 to make freshman WR Luther Burden III a true No. 1 outside receiver. And over and over, it didn't work, Burden finishing with 375 yards receiving and averaging just 8.33 yards per catch.
A former 5-star, top-10 recruit according to the 247Sports composite, Burden will play this season in the slot, and Missouri wants to take advantage of his catch-and-go dynamic ability.
The objective is to match him up on safeties and nickel corners in man coverage, where he can use his athletic ability to get open and stress the defense. Or have him find spots and sit in zone coverages — and then catch and turn.
10. Quote to note
Florida coach Billy Napier: "What you're desiring is a level playing field relative to funding and resources, and each coach is going to tell you that's what we need. But we're a long way away from that right now."