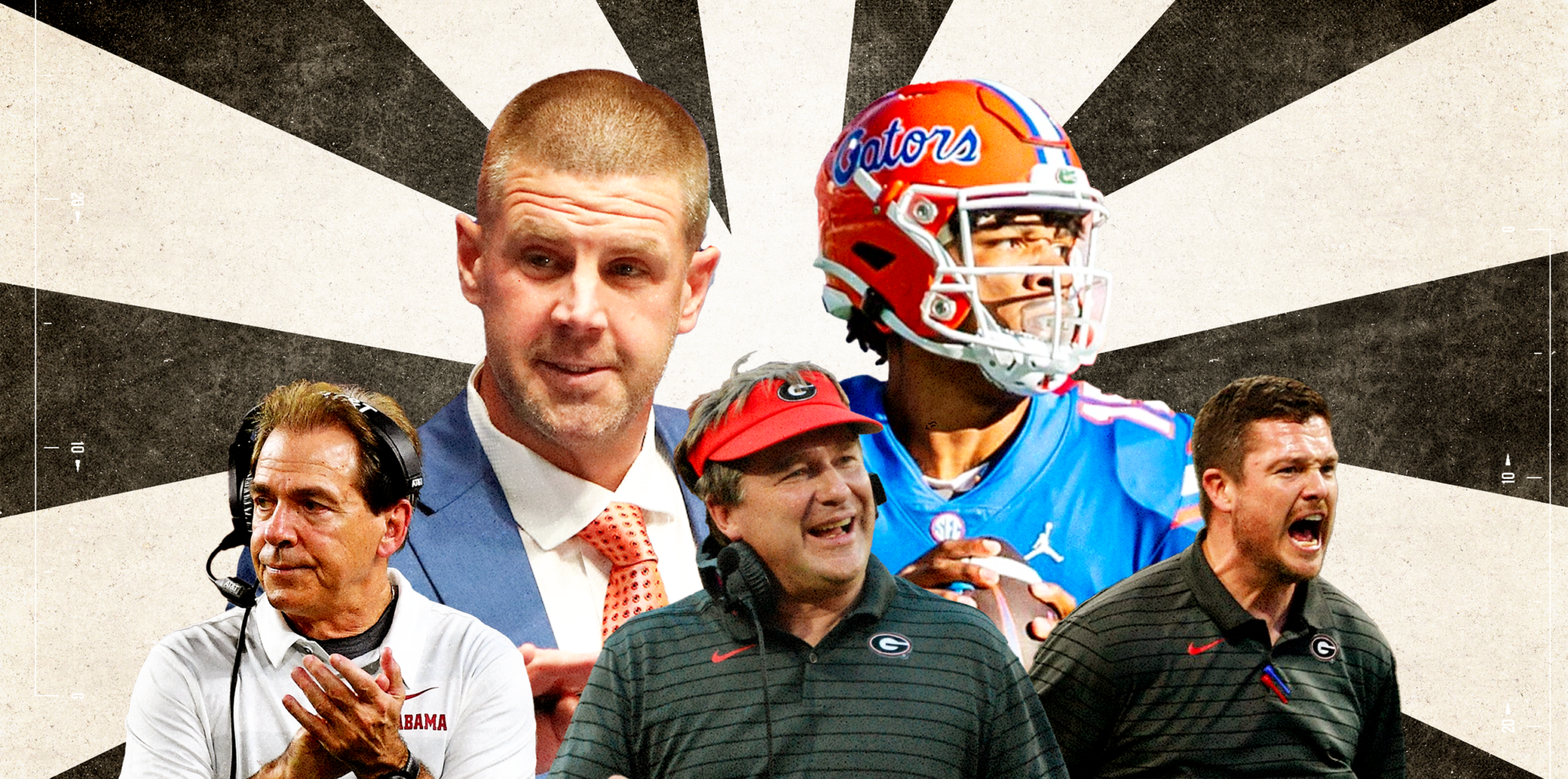 SEC
First and 10: Is Florida really that bad? In a word, yes
1. I don't want to get on a soapbox, but …
The numbers that forever define the Dan Mullen era at Florida aren't 3 New Year's 6 bowls, or 29 wins in his first 3 seasons.
The numbers that overwhelmingly explain 4 years in Gainesville are simple and telling: 14-of-36 for 171 yards and no touchdowns.
That's the stat line for Gators quarterback Emory Jones in a bowl game loss to UCF.
That's the line of a quarterback who signed with Mullen 4 years ago, who was developed by the noted "quarterback guru" over 5 spring practices (15 practices each), 3 sets of bowl practices (15 practices each) and 4 regular seasons (20 hours a week maximum during the season).
All that coaching, all that time invested in preparing a quarterback to play at the highest level of college football, translated to Jones completing 38% of his passes in a loss to UCF.
This is what Billy Napier is walking into as coach at Florida.
Now, the hammer: This isn't just a quarterback problem. It's a roster problem.
"We recruited with no home base, no foundation of what we were looking for," a former Florida staffer told me. "The prevailing idea from the top down was we're not begging players to come here."
That's how you end a 4-year coaching run at an SEC blue blood with 2 transfer portal starters on the interior of the defensive line.
That's how you end a 4-year run with an offensive line that never got better, and at one point in the 2021 season, had 9 false start penalties in one game. The same line that, on the first play of the bowl game, was flagged for — wait for it — a false start.
That's how you end a 4-year run with no receiver on the roster with deep speed to stretch defenses.
That's how you follow the historically worst season in the history of defense at Florida in 2020, with an offense tied for last in all of college football with 18 interceptions in 2021.
When you have no recruiting identity, everything suffers because nothing is a priority. There is no rhyme or reason to how and why things fail.
They just fail.
"You know how many times I heard, 'We'll address that in the (transfer) portal,'" another former Florida staffer told me. "You're the flagship university in the best state (for recruiting) in the country. You don't need the portal for anything."
You do when you have no recruiting identity, when there's sporadic interest in recruiting from the head coach – and that attitude filters down to assistants and other personnel staffers. Whether you like it or not, high school players like to be wooed.
They like to be told they're everything, and there's nothing more critical to the success of your program. They like to feel important, and they want to know why you – and not someone else – is their direct path to the NFL.
So when the staff's attitude – trickled down from the head coach — is take the next guy who wants to play for us instead of working harder on the better player, you end up with an implosion on multiple fronts.
Want to know why it went from 29 wins in 3 years under Mullen to the Gators' worst SEC record since 1979? Because poor recruiting – and recruiting habits — finally caught up to the program.
Those things can't be overcome in Year 1 of a new staff – no matter how efficient and proficient the staff.
This is what Billy Napier inherited. It will likely get worse before it gets better.
2. The shell game
A quick look on the surface of the recruiting classes at Florida under Mullen, and the implosion doesn't make sense.
In 4 years under Mullen, Florida's average class ranking was No. 11 according to the 247Sports composite. But look closer at the final 2 years under Mullen, when his philosophy was engrained among the staff.
The Gators finished No. 9 in the nation in 2020, and No. 12 in 2021. But those class rankings are wildly deceptive.
"Both of those years, we were adding guys late that we probably shouldn't have," the former Florida staffer said. "We'd lose on guys, then scramble for Plan B's that may have those stars, but that we knew didn't make sense for us, and may not make it for one reason or another."
At this point, 2 years into their careers, there isn't one impact player from the 2020 class. QB Anthony Richardson has the potential to be an elite player but hasn't been able to stay healthy – and frankly, couldn't win the job from Jones, who threw more interceptions than any Power 5 quarterback.
The No. 1 player in the class was 5-star DT Gervon Dexter, the same player Mullen and his staff recruited over before this season with 2 defensive tackles from the transfer portal (Daquan Newkirk, Antonio Valentino).
The most productive player in the class (S Rashad Torrence II) was ranked 335th in the nation by 247Sports.
The 2021 class, all of whom would've played as freshmen this season, had one player – one – with any playing time of significance: DB Jason Marshall.
That's back-to-back recruiting classes ranked in the top 12 in the nation that produced minimally for the program. That's either recruiting or development – or both.
Want to know why it looked so ugly in the Gasparilla Bowl? Because after all the opt outs and injuries, Florida was left to rely on those same players who had contributed little over the past 2 seasons.
Poor recruiting, poor player development. A recipe for a disastrous fall from New Year's 6 bowls to a spot ahead of only Vanderbilt in the SEC East.
3. You are what you are
With a recruiting class of 10, what you saw on the field at Raymond James Stadium last weekend is essentially the team you will see on the field for Florida in 2022 when Utah comes to Gainesville to open the season with 15 starters (and star QB Cameron Rising) returning from a Pac-12 Championship team.
That will put extra incentive on development, and specifically, a new coaching staff developing players they didn't recruit.
There's no guarantee that Richardson, who looked brilliant in spots this season, will stay healthy the entire 2022 season – and more important, reach his potential (that's why Napier signed Ohio State transfer QB Jack Miller).
There are no receivers on the roster who can scare defenses. The 5-star tailbacks Mullen recruited from the transfer portal (Lorenzo Lingard, Demarkcus Bowman) failed to beat out the 3 running backs who have played the past 2 seasons.
This is a program in transition, a program in desperate need for a vision and identity at player procurement. Napier is deep into hiring a personnel department and assistant coaches, and his plan is identical to the one Nick Saban uses at Alabama.
The personnel department identifies players, and then position coaches, coordinators, area coaches and the head coach recruit the players. Evaluation first, recruit second.
There's no wasted time, no mistake in what the program identifies as players of interest.
"We've refined the process over the years," Napier said. "Everyone has to be on the same page."
That will be a first at Florida since a guy named Urban roamed the sidelines.
4. Adjusting up front
The most impressive week-over-week move this season came from the Alabama offensive line: a mess in the Iron Bowl, the strength of the team a week later in the SEC Championship Game.
Now line coach Doug Marrone is out with COVID, and is expected – along with offensive coordinator Bill O'Brien, who is also COVID positive — to fly to the Cotton Bowl in Dallas before the Dec. 31 game.
Both are coaching via video calls, and former Alabama offensive line coach Joe Pendry (2007-2010) is coaching the line on the ground until Marrone returns.
The question: How will the line, hit and miss at times this season, react to the loss of hands-on coaching from Marrone – likely until the end of the month and just prior to the game against unbeaten Cincinnati?
"They're going to confuse the hell out of (the Alabama offensive line), and I would've said that before the COVID stuff," an AAC coach told me. "They're quick, and they shoot gaps and they run a lot of stunts and games up front. It's a well-coached unit. Having your line coach who has been through the wars with his guys all season not on the grass at practice is a big deal."
After some shuffling in the second half of the season, expect Alabama to stay with the group that started the SEC Championship Game: C Seth McLaughlin, Gs Javion Cohen, Emil Ekiyor Jr., OTs Evan Neal and Chris Owens.
The key is Owens, whose move from center has solidified the right side of the line in pass protection. That's a critical factor against Cincinnati's exotic blitz packages from a unique 3-3-5 stack defense.
That's a scheme Alabama believes it can run on if TB Brian Robinson (hamstring) can stay healthy.
5. The Weekly Five
Five candidates to replace Jeff Lebby as offensive coordinator at Ole Miss:
1. Joe Brady, former Carolina Panthers OC: Half of the two-headed beast (including QB Joe Burrow) that led LSU to the 2019 national title. Sounds like a no-brainer, but can he and coach Lane Kiffin coexist?
2. Kendal Briles, Arkansas OC: Kiffin loved how Lebby matched principles of the Baylor offense with his system. It will take a big salary bump ($1.75 million or more annually?) to get Briles, who helped develop the Baylor offense, to leave his comfort zone at Arkansas.
3. Charlie Weis Jr., USF OC: Kiffin's OC at FAU. A grinder whose personality won't clash with Kiffin (see: Lebby), and a fast-riser in the coaching profession. An easy transition of like minds.
4. Shannon Dawson, Houston OC: The Houston offense is Dana Holgorsen, but Dawson is the OC/QBs coach. Does Kiffin want to tweak his successful offense to add Air Raid principles (and if not Dawson, then maybe Graham Harrell)?
5. Frank Ponce, App State OC: Two successful stints at App State, and a coach with deep recruiting connections in South Florida.
6. Your tape is your résumé
An NFL scout breaks down the prospects of a draft-eligible SEC player. This week: Arkansas WR Treylon Burks.
"I gave you a breakdown on Burks prior to this season, and boy, he's one of those guys that really benefited from coming back for another season. We knew he had size and speed, but we didn't see the consistency – and part of that was because Arkansas' passing game wasn't efficient. They got better throwing the ball this year, and Burks refined his game and is a more polished receiver.
"He's a big guy who can go get the ball, and a guy who can take the top off it with top-end speed. I thought he was a little stiff a times last year, and he's more fluid this season. He carried himself well against some pretty darn good corners this year. He's a top-20 pick, no question. Could move up with some impressive times and interviews at the Combine."
7. Powered Up
This week's Power Poll, and one big thing: the New Year's resolution.
1. Alabama: Restock the analyst positions (see: home for wayward souls), beginning with former Florida HC Dan Mullen.
2. Georgia: Give complete control (and decision-making) of the quarterback room to OC/QB coach Todd Monken.
3. Ole Miss: Don't stop embracing normal, and all the benefits it creates.
4. Arkansas: Open the checkbook and give coach Sam Pittman anything he needs (staff, etc.) to strengthen the program.
5. Texas A&M: Convince a talented but young team the win over Alabama wasn't a fluke, that their time is now.
6. Mississippi State: Give more control of the offense to QB Will Rogers. Coach Mike Leach's best offenses have been with experienced QBs who know his offense as well as he does.
7. Kentucky: Walk into OC Liam Coen's offense and tell him the defense is a work in progress, the shackles are off the offense. Go score points.
8. Tennessee: Find a way to get off the field on defense – and get more snaps for a dangerous offense.
9. Auburn: Make the move from the known in the SEC – QB Bo Nix and OC Mike Bobo – to the unknown (NFL assistant Austin Davis) pay off.
10. LSU: No more phony accents. Just coach ball, BK. It's what you do better than 95% of FBS coaches.
11. Missouri: You've committed to QB Brady Cook – now commit to all that comes with it, including more dedicated QB runs.
12. South Carolina: Find a quarterback in the transfer portal. There isn't one on the roster now that will win more than 6 games.
13. Florida: Use the next 9 months to find a way to fix the defense.
14. Vanderbilt: Keep selling the dream; don't flinch, Clark Lea.
8. Ask and you shall receive
Matt: How much will losing Dan Lanning to Oregon hurt Georgia in the Playoff? — Frank Stephens, Louisville.
Frank: I don't want to minimize what Lanning brought the Georgia defense, but the unit is based on the system installed and cultivated by coach Kirby Smart. Lanning will still coach the defense in the Playoff, but serving two programs (Oregon and Georgia) is certainly never easy.
Now, think back to this offseason when Will Muschamp was a coaching free agent. There's no secret that this was a prove-it season for Alabama defensive coordinator Pete Golding, and that Lanning – who had job opportunities after last season – could be gone after the 2021 season. Muschamp could've joined Georgia or Alabama as an analyst, and set up a move to a permanent DC role in 2022.
Smart convinced Muschamp, his close friend for years, to come to Georgia instead of the highly successful Saban rehabilitation process. It paid off immediately when Smart lost special teams coordinator Scott Cochran and Muschamp filled the role. Muschamp has been working with the defense all season and has been a crutch of sorts for Smart with day-to-day operations.
He could be Georgia's permanent DC beginning next season – if he wants the job.
9. Numbers
5.31. A clash of two identities:
No other team in the Power 5 has a better average yards per carry than Michigan (5.31 yards per carry), which also rushed for 2,910 yards (1st among Power 5 teams) and 39 TDs (1st).
Georgia's defense, meanwhile, was No. 3 in the nation in average yards per rush (2.61), No. 2 in the nation in yards per game (81.6) and No. 1 in TDs allowed (3).
10. Quote to note
Alabama coach Nick Saban on the Cincinnati defense: "They've got some guys up from that can rush and have some quickness. And their linebackers are very good players. All around, this is a really good defensive team."