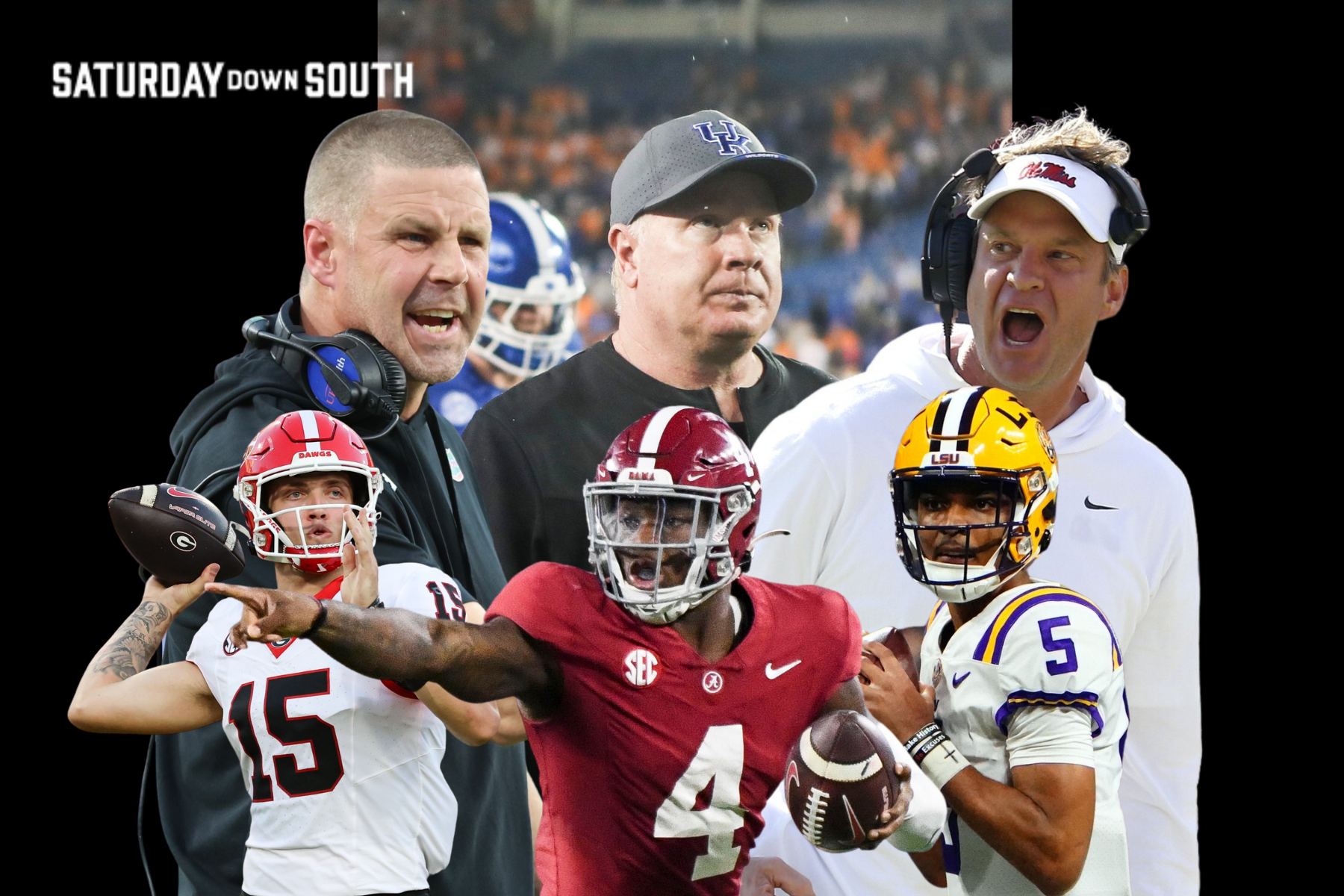 SEC
First and 10: It's time to tell the truth about every SEC team
1. I don't want to get on a soapbox, but …
It's time for the truth. You may not like to hear it, but you can't turn away.
One week remains in college football's regular season, and there's no better time to assess what happened and where it's headed.
The plain truth. The cold truth. The harsh truth.
And the bitter truth.
A season that will end where most believed it would — Georgia vs. Alabama in the SEC Championship Game with a spot in the Playoff on the line — has been anything but predictable.
From Georgia on top to Vanderbilt dragging behind, the truth hits everyone. Especially with drastic change arriving in 2024 when Texas and Oklahoma join the league — and the expanded 12-team Playoff changes postseason expectations for everyone.
"Look, our game is constantly changing," LSU coach Brian Kelly said earlier this season. "You adapt or you die."
There is, however, one constant. It is here where we begin with the plain truth: The way quarterback Carson Beck is playing in the 2nd half of the season, no one is beating Georgia.
Not Alabama. Not Ohio State or Michigan, or Florida State or Texas, or anything that comes from the Pac-12.
As unthinkable as it sounds, Georgia is primed to win its 3rd straight national title amid the new, unrestrained and unknown structure of college football that allows championship teams to be built overnight. That allows everyone in the SEC — much less, the rest of the nation — to get what they need to take a run at Georgia.
Meanwhile, the Dawgs have won 28 straight games — and have gotten better as the season moves into games of significance. Since 2021, Georgia is 18-1 in games from the last weekend of October to the end of the Playoff.
In those 19 games, Georgia's average margin of victory is 23 points. Three-plus touchdowns.
No team in the modern era of college football has had the ability to flip the switch quite like Georgia. Case in point: this season.
Since the last weekend of October, Georgia has beaten Florida, Missouri, Ole Miss and Tennessee by an average of 24 points. In each game, the defense flexed and everything changed.
— Florida took an early 7-0 lead, and the next 8 Gators possessions: punt, downs, fumble, safety, punt, punt, punt, downs — and a 36-7 Georgia lead.
— Missouri trailed 27-21 in the 4th quarter and had the ball at midfield, and the Tigers' final 2 possessions of the game: interception, interception — and a 30-21 Georgia win.
— Ole Miss tied the game at 14 early in the 2nd quarter, and the Rebels' next 5 possessions: punt, INT, punt, punt, punt — and a 45-14 Georgia lead.
— Tennessee scored on the first play of the game, and the Vols' next 4 possessions: punt, punt, punt, punt — and a 24-7 Georgia lead.
"There's just no room for mistakes anywhere on the field," Missouri coach Eli Drinkwitz said.
That, everyone, is the plain truth.
2. The cold truth
LSU has wasted a rare, generational season from quarterback Jayden Daniels.
In 11 games, Daniels has 3,577 yards passing, 36 TDs and 4 INTs. He has also rushed for 1,014 yards and 10 TDs.
Wait, it gets much better.
Daniels' average yards per attempt is 11.8, and his average per carry is 8.2. In other words, every time Daniels snaps the ball and throws a pass or runs, LSU — on average — gets 10 yards. A first down every snap.
Yet LSU has 3 losses, and the Tigers could've had 5. In 7 SEC games, LSU has given up 234 points (33.4 ppg.) and 3,152 yards (450.3 ypg.).
This isn't so much about defensive coordinator Matt House — who, no doubt, will take the fall (especially if Baylor coach Dave Aranda suddenly becomes available) — as much as it is a cautionary tale about the transfer portal.
LSU rebuilt on defense with 9 players from the portal, all on the 2-deep depth chart and all given an opportunity at some point to start and contribute.
But the portal, for the most part, is a crapshoot — full of the unloved and/or unwanted for one reason or another. For a majority of players, they're in the portal because it didn't work before.
It clearly didn't work at LSU this season.
Alabama would be lost without Jalen Milroe.
How many times have we heard talking heads pontificate about "the great coaching job" Nick Saban has done this season at Alabama?
The same Saban who benched his best quarterback because of a 10-point home loss to Texas, then refused to play him a week later out of spite — because Milroe wasn't happy about being benched — and nearly lost to lowly USF in the process.
I'm not minimizing the greatest coach in college football history, I'm emphasizing a strong-willed, talented and mentally tough player who worked through some tough early times this season to become 1 of the best players in the SEC.
Milroe has accounted for 31 TDs, and more important, is the reason the Tide are 2 wins from returning to the Playoff.
Texas A&M is a dream job.
It's easy to make fun of the Aggies. You know, the perpetual underachiever that has everything and produces nothing.
But what's not to love about this job? A deep-pocket university that has proven it will spend money to make money.
A program that historically has patience for coaches who don't produce — Dennis Franchione (5 years), Mike Sherman (4 years), Kevin Sumlin (6 years), Jimbo Fisher (6 years) — because it's invested in winning, not randomly scrambling from coach to coach.
The right coach will reach multiple Playoffs at Texas A&M. Understand this: You don't spend $80 million to run off a coach and hire Jeff Traylor.
This will be a mega hire.
Lane Kiffin has hit his ceiling at Ole Miss.
You heard it from the resignation in his voice after the ugly loss to Georgia. There's no avoiding it.
Ole Miss simply isn't a place where Kiffin can consistently land enough blue-chip high school players to organically build and win more than 10 regular-season games. And it will get more difficult with Texas and OU entering the fray in 2024.
Kiffin has done a terrific job in 4 years, closing in on his 2nd 10-win season in 3 years. He could get Ole Miss to a future Playoff, but it's a difficult haul after that.
Missouri's patience pays off.
Missouri could have fired coach Eli Drinkwitz at the end of last season, after 17 wins in 3 years and after 2022 ended with an ugly loss to Wake Forest in a meaningless bowl game.
The program was spinning its wheels, lost 4 1-possession games and was a long way from the glory days of Gary Pinkel. But instead of moving away from Drinkwitz, Missouri embraced him and extended his contract.
Drinkwitz retooled his offense, and with a win over rival Arkansas this week, Missouri will win 10 games for the first time since 2014. Outside of Pinkel, Missouri has had 1 season in program history when it won double-digit games.
3. The harsh truth
Make or break for Billy Napier in 2024 — if he survives 2023.
Think about this: If Florida were so concerned about losing a top-5 recruiting class by firing coach Billy Napier, why not publicly state Napier will return for 2024?
Because there's still debate among all involved — at the presidential level and with influential boosters. At the very least, Florida has looked better offensively in the 2nd half of the season, and the philosophy is beginning to take hold.
The defense, however, is horrific. And the overall operation still struggles game after game.
There's still heavy lifting ahead, on both sides of the ball and with changes among the coaching staff. More young players will be forced into action in 2024 — and Napier must win big in the offseason by landing impact players in the transfer portal.
All of that with the hardest schedule in the SEC, and maybe the nation, looming in 2024.
Nonconference games: Miami, UCF, Florida State, Samford.
SEC games: Georgia, LSU, Texas, Texas A&M, Ole Miss, Tennessee, Kentucky, Mississippi State.
It's a quarterback problem at Auburn — not an Alabama problem.
The game is about the quarterback, and but for 2 transfer quarterbacks (Cam Newton, Nick Marshall), what would Auburn be in the past 2 decades?
Every double digit-win season starting with the 2010 national championship season has happened with a transfer quarterback (Newton, Marshall, Jarrett Stidham).
Here's Auburn's wins total since the last (2017 with Stidham): 8, 9, 6, 6, 5, 6.
The quarterbacks in those seasons: Stidham, Bo Nix, TJ Finley, Robby Ashford, Payton Thorne.
Nico Iamaleava should've played more at Tennessee.
I get it, Joe Milton III was the good soldier. He waited his time in coach Josh Heupel's quarterback-friendly system and deserved the opportunity this season.
But once Tennessee lost to Alabama in mid-October and it was clear this Vols team didn't have the potential of the 2022 team, Iamaleava — the top-10 recruit — should've have played multiple series in every SEC game to prepare him for 2024.
In the 3 SEC games since the Alabama loss — a close win over Kentucky, and blowout losses to Missouri and Georgia — Iamaleava didn't throw a pass.
He should play extensively this week against Vanderbilt, a controlled home environment in Knoxville against a terrible team. Give Milton the start on Senior Day, but get him out of the game early.
Kentucky's most disappointing season under Mark Stoops.
The offense was set up for success, it was all there for a breakout season: the new quarterback (NC State transfer Devin Leary), and the return of a successful OC (Liam Coen).
The receiving corps was talented and deep, and Ray Davis transferred from Vanderbilt to give the unit a between the tackles pile mover.
All of that has translated into the SEC's 11th-ranked passing offense, and ugly performances in losses to Missouri and South Carolina — games Stoops' teams historically handle.
That's the difference between 6-5 and 8-3 heading into the annual rivalry game against Louisville — another team Stoops has beaten consistently of late (5 wins in past 6 games).
4. The bitter truth
It's not about a coach at South Carolina, it's future sustainability.
A funny thing happened last week: Gamecocks coach Shane Beamer was asked about his interest in the Mississippi State job.
Really, he was.
A couple of things: South Carolina is a better job, and Beamer has enough problems trying to keep the job he has. The league expands to 16 teams in 2024, and South Carolina will get further pushed down the SEC pecking order.
Because outside of 3 impressive seasons with Steve Spurrier, what has South Carolina been in the SEC? Since their 1st season in 1992, South Carolina has 17 winning seasons in 32 years.
The Gamecocks have won 9 or more games 6 times, 4 under Spurrier. The rest is a whole lot of what 2023 looked like.
And what every South Carolina coach works tirelessly to avoid.
Arkansas: champagne hopes, beer reality.
They can dream like it's the old Southwest Conference days, when the Hogs played for conference and national titles. It's just not reality.
Not in this league, not in this time. Maybe not ever.
So when you get a coach who adores the job (more on this later), do everything you can to help him succeed. Even if it means more patience than what would typically be given.
Because like South Carolina, guess who else will get pushed further down the SEC pecking order in 2024?
The Mississippi State job is a stepping stone — or tombstone.
It doesn't matter who Mississippi State hires to replace Zach Arnett. More than likely, he'll fall in line with just about every other coach in the modern era.
If he's good, he'll eventually move on. If not, he'll be fired.
The last coach not named Dan Mullen to leave Mississippi State for a better job was Darrell Royal after the 1955 season.
Nine of the 12 coaches since didn't coach at another school after leaving Mississippi State. Only Mullen (Florida), Joe Moorhead (Akron) and Bob Tyler (North Texas) moved to other jobs.
Vanderbilt must do something different.
More than likely, Vanderbilt will stick with Clark Lea, who has done just about everything right — except win.
But when the Lea experiment is complete — and it will be eventually — Vanderbilt must do something unique to stand out.
You want unique: Go hire Ole Miss offensive coordinator Charlie Weis Jr. He runs the Ole Miss offense, and is an elite recruiter.
Who cares if he's 30? Vandy has tried just about everything to win games, why not go out of the box and hire a guy that, at the very least, will make it interesting.
Because right now, it's anything but interesting.
5. The Weekly 5
It's Rivalry Week, and time for the annual expanded picks against the spread portion of the program.
Ole Miss (-12.5) at Mississippi State
Missouri (-7.5) at Arkansas
Kentucky (+6.5) at Louisville
Texas A&M at LSU (-12.5)
Alabama (-14.5) at Auburn
Vanderbilt at Tennessee (-25.5)
Florida State at Florida (+6.5)
Georgia (-23.5) at Georgia Tech
Clemson (-7) at South Carolina
Last week: 2-3
Season: 36-24.
6. Your tape is your resume
An NFL scout analyzes a draft-eligible SEC player. This week: LSU WR Malik Nabers.
"He's so smooth and fluid, and understands the game. That's so important. Beyond all of the physical attributes — and he has them all — he knows what he's doing out there. He understands the nuances of the position. He and (Ohio State WR) Marvin Harrison Jr. are very similar that way. (Nabers) can change gears effortlessly, and the explosion from point to point is remarkable. He's long and deceptively strong. I absolutely think he can go top 10 (overall), especially with the focus on elite No.1s (receivers) in our league."
7. Powered Up
This week's Power Poll, and 1 big thing.
1. Georgia: The defense is getting more dominant with each passing week. Time to assert itself earlier in games.
2. Alabama: Look at the rest of the Alabama offense. Nothing really stands out. There's no other legit star outside of Milroe — all the more reason to appreciate his season.
3. Missouri: But for Daniels and his rare season, TB Cody Schrader would have a strong case for SEC Player of the Year.
4. Ole Miss: Rebels can't look past their rival. This is more than just the Egg Bowl. This win could mean a 2nd New Year's 6 bowl in 3 years.
5. LSU: A healthy Daniels, a healthy Texas A&M defense. This could be all kinds of fun.
6. Tennessee: The Vols have scored just 90 points in their past 5 SEC games, the 18 points per game average a significant decrease from last season.
7. Texas A&M: There's a lot to like structurally on the Texas A&M roster. The talent is there for the right coach to win immediately.
8. Kentucky: The Wildcats have had problems all season with teams that line up and trade punches. Here comes rival Louisville, which has transformed into a bully ball team in Year 1 under Jeff Brohm.
9. Florida: If the big question truly is Napier's coaching ability, let's see what happens when he has a week to prepare QB Max Brown for unbeaten FSU.
10. Auburn: How does coach Hugh Freeze get this team ready for the Iron Bowl after the worst home loss at Auburn in decades?
11. South Carolina: Look away, everyone. The Clemson defensive line will do whatever it wants to the patchwork South Carolina offensive line.
12. Mississippi State: The reward isn't really a bowl trip, it's an Egg Bowl win — after 11 brutal months that included losing your coach to a sudden heart attack, and the next coach getting fired before the end of the season.
13. Arkansas: The next big decision for the program: Does QB KJ Jefferson return — or is it best if he enters the transfer portal, and the Hogs move on?
14. Vanderbilt: There's no avoiding another rout. The Commodores have lost their previous 7 SEC games by an average of 22.5 points. Go look at that Tennessee line again.
8. Ask and you shall receive
Matt: I can't believe I'm the only sane one in this (Arkansas) fan base. We can't just fire everybody. Why is it the first answer every time is to fire someone? — Sue Flaherty, Little Rock.
Sue:
Sane is a subjective state (that's hiring/firing season sarcasm). The easiest way for me to explain this is every program thinks they can be more than they are. Can they? Sure. Will they? That's where the proverbial rubber meets the road.
If you're looking from 30,000 feet above, Arkansas has the perfect fit for its program. A coach who loves the state and the program, and who desperately wants to win. He's not looking at other jobs; Arkansas is his dream.
But when lean times arrive, how does everyone respond? When OC Kendal Briles left for the TCU job, Pittman did what just about every single coach in the game does: found a coach he knows and trusts to replace him. But Dan Enos wasn't the right guy, and it didn't take long for it to play out.
Pittman has another year to fix it, and these make or break years typically don't end well. That's not saying it can't, it just means there's more going on now in college football — players leaving and coming through the transfer portal, the move to 16 teams in the SEC, the expanded Playoff — than ever before.
The game is about scoring points. Pittman can't fail again on an offensive coordinator hire.
9. Numbers
10.2. In the past 4 games — Florida, Missouri, Ole Miss, at Tennessee — Carson Beck has averaged 10.2. yards per attempt.
He's driving the ball with accurate 2nd- and 3rd-level throws, and the explosion plays are beginning to add up. Georgia had 45 plays in the pass game of 10 yards or more in those games, and averaged 40.8 points per game.
All in the 4 biggest games of the season to date.
10. Quote to note
Tennessee coach Josh Heupel on Georgia: "(They have) continued to get better throughout the course of the season. I don't know how many first-round draft picks they'll have. They're so big, long, athletic, physical, play with great fundamentals, technique. It's a good football team."