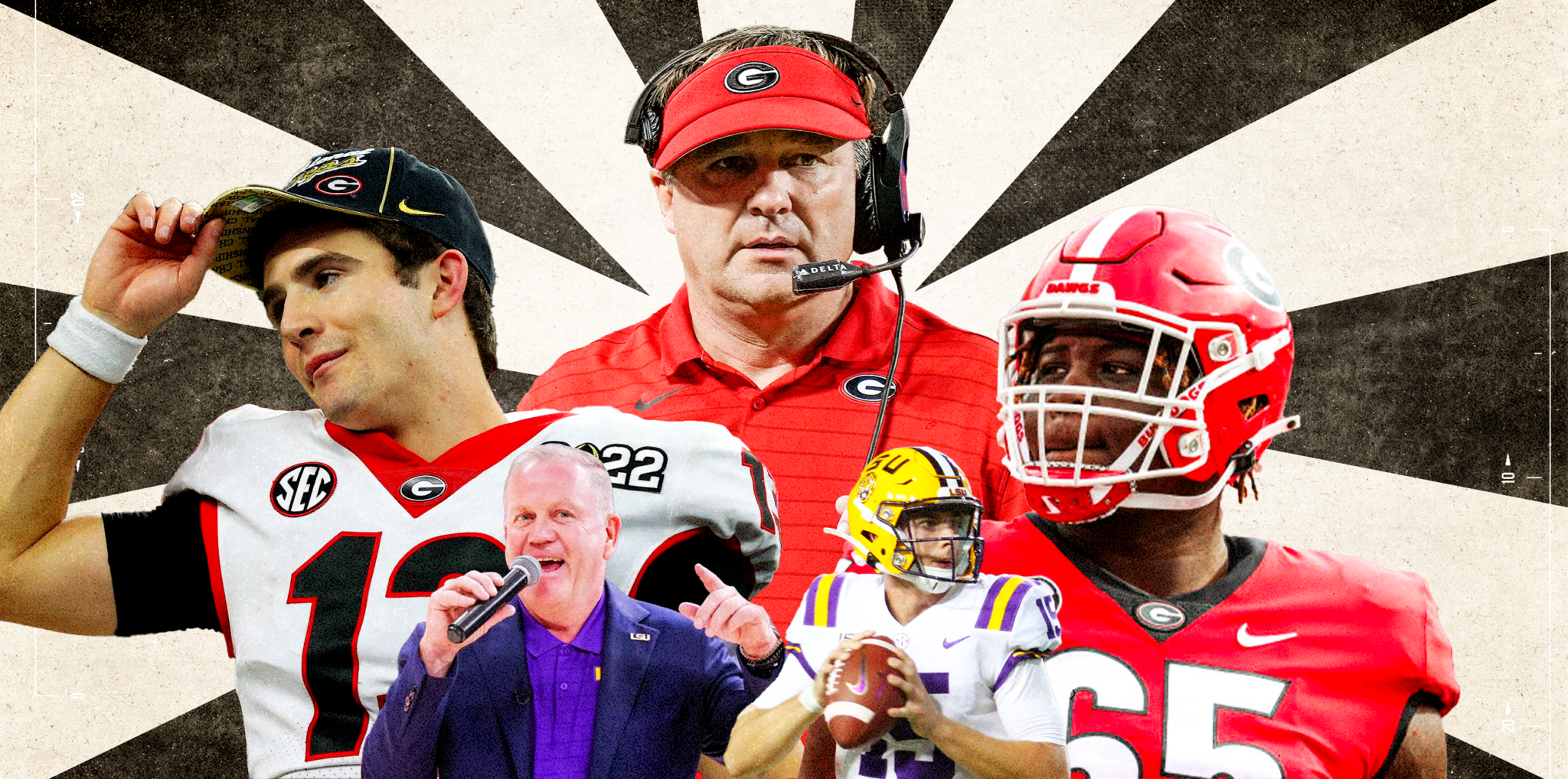 SEC
First and 10: Kirby Smart is the best coach in college football. How long can he keep that title?
1. I don't want to get on a soapbox, but …
You can have Nick Saban or Dabo Swinney. Take Ryan Day or Lincoln Riley or any of the other elite coaches who fattened their wallets this offseason.
Kirby Smart is the best coach in college football. That's right, Kirby Smart.
The coach who couldn't go a season without some strange, or quirky – or let's face it, bizarre – in-game coaching decision that baffled the senses.
The coach who could have multiple national championships were it not for some conservative play calling in 2017 and a conservative decision at quarterback that impacted 2018-2020.
That same coach made every right decision last season, lifting Georgia to its first national title since 1980 and making a definitive statement along the way.
If you're looking for the next Saban, he's right there in Athens.
"He put that flag in the ground last year," an SEC coach told me. "You better believe Nick (Saban) is concerned."
Because Saban, as he said last season, sees himself in Smart. Saban taught Smart everything, beginning with Smart's time as defensive backs coach with Saban at LSU and with the Miami Dolphins.
When Saban returned to college football, he hired Smart as assistant head coach and eventually as defensive coordinator in 2008. For 8 seasons as head coach and DC, Saban and Smart teamed up to win 4 national titles.
In the 6 years since Smart left for his alma mater, Saban has won 2 more national titles – and has split national championship games with Georgia and Smart. And that's where the evolution turns.
Built from the same mold, and now finally – like Saban early in his college coaching career – developing a killer instinct on and off the field.
No one recruits and develops players like Smart. He has mastered player procurement, and as important, gets those players ready to compete at a high level season after season.
Want to know why the Alabama defense hasn't been the same over the past 3 seasons? Look at the Georgia roster.
Since 2016, Smart has taken the Alabama early years plan to win national titles — play defense better than anyone, run the ball, game manager at quarterback – and never backed off. At times, it has been to the detriment of development (more on that later).
More than anything, it has been the foundation for building a program that has a better chance to catch and pass the Alabama dynasty than any other.
Since Georgia played for its first national title under Smart in 2017, the list of defensive recruits who were developed and became critical to the evolution of the Georgia program (and high NFL Draft picks) is utterly phenomenal.
The only way to truly do it justice is to name each player by season. It's an astounding recruiting/development resume:
2017 recruiting class: Richard LeCounte (5th-round NFL pick).
2018: Tyson Campbell (2nd), Quay Walker (projected 1st-2nd), Channing Tindall (projected 2nd), Azeez Ojulari (1st), Devonte Wyatt (projected 1st), Jordan Davis (projected 1st), Adam Anderson.
2019: Nolan Smith (projected 1st, 2023), Nakobe Dean (projected 1st), Travon Walker (projected 1st), Lewis Cine (projected 1st-2nd), DJ Daniel.
2020: Kelee Ringo (projected 1st, 2023), Jalen Carter (projected 1st, 2023).
That's how you build a defense that, by the end of last season, redefined how to win a national title in the age of the quarterback and passing game. A defense that was the most talented and vicious in college football since Nebraska's 1995 unit.
While everyone else is moving toward the idea that offense and the vertical passing game wins championships (including Saban), Smart has held firm to the idea that great defense changes everything.
Even after Alabama beat No.1 Georgia in the SEC Championship Game last season, after the invincibility of the Georgia defense – and Smart's decision to play game manager QB Stetson Bennett — was seemingly exposed, Smart didn't panic.
He doubled down.
He didn't change quarterbacks and insert a more talented thrower in JT Daniels. He didn't drastically alter what he was doing defensively.
He said Georgia had to coach better and play better. Then went out and did it and won the national title – physically beating up both Michigan and Alabama in the College Football Playoff.
And, in the process, introducing a program built to last at the top of the game.
2. What could have been
As good as it looks for Smart now, it's impossible to ignore what was – and how we got to this point.
Georgia played for the national title in his second season in Athens and lost in overtime to Alabama – after a blown coverage in the secondary. And after some curious conservative play-calling in the second half while protecting a 10-point lead, and facing a backup quarterback who played sparingly during the season.
The criticism only got worse the following season, when Smart signed the No. 1 high school quarterback (Justin Fields) but refused to budge off 2017 starter Jake Fromm. To this day, Fields hasn't opened up about his time at Georgia — saying only that he didn't "fit" — but it was clear Smart didn't want to alter what was successful the previous season.
The problem: Smart had an elite talent in Fields and a game manager in Fromm, and he didn't mold the offense to Fields' multiple talents. He chose to do what he has done from Day 1: play defense, run the ball, manage the game at the most important position on the field.
That led to a loss in the 2018 SEC Championship Game against Alabama and the penultimate of bizarre calls from Smart, which played a key role in blowing another double-digit lead to Alabama. An obvious fake punt call in the second half – with Fields in as punt protect — changed momentum in the game and became fodder for all of Smart's critics.
A week later, Fields entered the transfer portal. Nine months later, Fields won the starting job at Ohio State – which fit an offense around his talents – and Fields threw 40 TDs against only 1 INT in leading the Buckeyes to the Playoff.
A year later in 2020, Fields led Ohio State to the national title game, where the Buckeyes lost to Alabama. Those 3 years without Fields at quarterback lost Georgia a national title in 2018, and maybe another in 2020.
Then came last season, and yet another seemingly bizarre decision from Smart at the most important position on the field. Daniels was injured in preseason but started the opener against Clemson and played in 3 of the first 4 games.
When he was hurt again during a Week 4 game against Vanderbilt, Smart went with Bennett instead of talented redshirt freshman Carson Beck (more on that later) and Bennett kept winning. Even when Daniels returned later in the season and was ready to play, Smart stayed with Bennett – in the face of mounting criticism.
Even after the loss to Alabama in the SEC Championship Game – after Bennett played poorly and threw 3 INTs – Smart never veered from his decision.
"Winning the national title was the ultimate '—- you' to everyone who criticized him," one Georgia staffer told me. "You can't get into this business if you have thin skin. But yeah, that stuff bothered him."
More could be on the way.
3. More of the same
As good as it looks now, as well-oiled as the machine is running, there's potential danger ahead for Smart and Georgia.
The defense, while uber-talented, doesn't have the game experience of last year's group. There's a dicey game to begin the season against Oregon, and a dangerous spot at South Carolina and its potential-filled rebuilt offense in Week 3. All within the first month of the season.
The offense lost its best receiver (Jermaine Burton) to Alabama, and the graduation of star RBs James Cook and Zamir White is more critical than you think.
Then there's Bennett, who returned for his 6th season after wavering and later getting assurances he needed from Smart (Bennett hasn't said what specific assurances he received). Then the G-Day game happened.
Before we go further, understand spring games are glorified practices. For the most part, they're for young players who don't typically get chances during the season.
One young player, Beck, stood out among all others – including Bennett. The difference in arm talent between Beck and Bennett is startling, and Beck's athletic ability is more problematic for any future decision at the position.
Bennett played last season because Daniels was a statue in the pocket, and the staff felt like the offense needed a quarterback who could extend plays when needed. Beck gives them that ability.
Bennett played well in 2021 because he played within the offense and had a defense that eliminated any mistake and continued to deliver short fields.
That likely won't be the case in 2022 (at least at the 2021 level). After making every right move this season, Smart may be forced to make another in 2022.
One that could backfire, or one that could solidify his spot as the best coach in the game.
4. Another burner
At first look, the addition of Louisville WR Tyler Harrell is impressive late addition for the Alabama roster.
Harrell is a track star with a high ceiling who averaged 29 yards per catch last season (18 catches, 523 yards, 6 TDs). It's not that he couldn't get on the field at Louisville; he's still learning the nuances of the position.
Burton will be the team's No. 1 receiver, but he's not a burner like Jameson Williams from 2021. Harrell is – but he's not nearly as polished as Williams was when he arrived in Tuscaloosa.
Now, to the bigger picture: What has happened to Alabama's recruiting at the wide receiver spot? The program that got whoever it wanted for years, and developed the game's best at the position, has missed on numerous players in the past 3 recruiting classes.
All those drops and inconsistency during spring practice only underscored the reality that the program that once recruited better than anyone at the position, has fallen off of late.
The staff had hope for Ja'Corey Brooks (15 catches last season), but he didn't turn the corner in spring practice to become a more dependable option. He has speed and size, but hasn't put it all together (it's still early; he's only a true sophomore).
Agiye Hall, the freshman star of last year's spring game, never developed during 2021 and transferred to Texas. Traeshon Holden and JoJo Earle, right now, are just guys.
Aaron Anderson looks like the best receiver from this year's recruiting class, but if Saban felt good about the incoming freshmen and the core from the previous 2 classes – and their ability to get better over the summer at the position — Alabama wouldn't have signed Harrell.
5. The Weekly Five
The 5 best value NFL Draft picks from the SEC in the past decade (since 2012):
1. DB Tyrann Mathieu, LSU, 3rd round, 2013 Chiefs: 2-time All-Pro, 26 career INTs, 591 tackles.
2. QB Dak Prescott, Mississippi State, 4th round, 2016 Cowboys: 22,083 yards, 142 TDs.
3. DE Danielle Hunter, LSU, 3rd round, 2015 Vikings: 60.5 career sacks.
4. S Eddie Jackson, Alabama, 4th round, 2017 Bears: All-Pro in 2018, considered the best quarters safety in the NFL.
5. LB Danny Trevathan, Kentucky, 6th round, 2012 Broncos: 734 career tackles and 10 sacks for Broncos and Bears.
6. Your tape is your résumé
An NFL scout breaks down a draft-eligible SEC player. This week: Texas A&M RB Isaiah Spiller.
"Sometimes I think we get too involved in what guys aren't instead of what guys are. This is the perfect case. He's not going to run over people, but the position in our league has become more about making guys miss, anyway. Derrick Henry is an anomaly.
"(Spiller is) not a top-end speed guy, but he accelerates when he sees the hole. He gets through that thing. He has a nice jump cut, too. I love him in the passing game. He has good hands, and you really see his ability to accelerate after the catch. Again, not top-end speed, but he's got dynamic ability in space. Ball security was an issue at Texas A&M, and that's going to scare a bunch of (teams). He's a mid- to late-4th (round) guy. I don't know if he's a starter, but he can be a solid second guy in a league that's desperate for them."
7. Powered Up
This week's Power Poll, and one big thing: biggest transfer of impact, post-spring practice:
1. Alabama: RB Jahmyr Gibbs (Georgia Tech). As Nick Saban said, "fast is fast."
2. Georgia: OT Amarius Mims. Former 5-star recruit is not a transfer, but the fact that Kirby Smart kept the massive talent in Athens after he entered the portal is good enough.
3. Texas A&M: QB Max Johnson (LSU). Forget about anyone else. Johnson is the perfect fit — and has the temperament to deal with Jimbo Fisher's hard coaching.
4. Arkansas: DE/OLB Drew Sanders (Alabama): The Hogs are desperate for a pass rush difference-maker.
5. Kentucky: WR Tayvion Robinson (Virginia Tech). Silky smooth, smart threat will put up huge numbers for UK – much like Wan'Dale Robinson (no relation) in 2021.
6. LSU: QB Jayden Daniels (Arizona State): Still a long way to go in the LSU QB battle, but Daniels' ability to stress defenses with his legs will be a huge factor in the quarterback competition with Myles Brennan and Garrett Nussmeier.
7. Ole Miss: TE Michael Trigg (USC): Athletic, fast and long, he'll be a matchup problem much like Kenny Yeboah was in 2020.
8. Tennessee: OT Gerald Mincey (Florida): Vols zeroed in on 2 transfers in the offseason: Wyoming WR Isaiah Neyor and Mincey. Neyor will start for Texas, and by the end of fall camp, Mincey will be one of Tennessee's best linemen and start somewhere (most likely RT).
9. South Carolina: QB Spencer Rattler (Oklahoma). He's talented, motivated, and South Carolina coach Shane Beamer landed critical transfer portal pieces around him to make the transition smoother.
10. Mississippi State: WR Justin Robinson (Georgia). Bulldogs need speed on the outside, and Robinson can run and is a big and physical target (6-4, 220).
11. Florida: OG O'Cyrus Torrence (Louisiana): A big, nasty mauler, he'll give the line much-needed attitude – and an All-SEC level performance.
12. Auburn: DT Jayson Jones (Oregon): the Tigers need run-stuffing heft on the interior, and Jones (6-6, 328) is expected to win a starting job – and provide pass rush push.
13. Missouri: MLB Tyrone Hopper (Florida): Hopper finally got on the field in 2021 with an injury to starter Ventrell Miller, and showed speed and athleticism. Must be more instinctual.
14. Vanderbilt: OT Jacob Brammer (North Texas): Two-time All-Conference USA selection, Brammer will take over at LT for Tyler Steen, who transferred to Alabama.
8. Ask and you shall receive
Matt: If Lane Kiffin is such a QB guru, why is he trolling around the transfer portal for quarterbacks? Shouldn't they want to play for him? — Conner Mayfield, Montgomery, Ala.
Conner:
Kiffin signed Luke Altmyer, a 4-star recruit, in 2021 – and he's currently competing for the starting job with USC transfer Jaxson Dart. In fact, Altmyer started with the 1s in the spring game.
But "recruiting" in the typical sense isn't what it used to be at the most important position on the field. Everyone wants to land an elite, 4- or 5-star talent and develop him. Sometimes it doesn't happen out of high school.
But it can happen out of the portal. Dart was a former 5-star recruit who played well last year at USC and left when Lincoln Riley was hired. So in that sense, Kiffin does have an elite quarterback who wants to play for him.
If you're not "trolling" the transfer portal for all positions, you're not doing your job. If you're not recruiting quarterbacks from the portal, you're simply not trying to get better.
It's the most important position, and you can never have enough bodies/talent on the roster. Some coaches now actually prefer to recruit quarterbacks from the portal instead of high school quarterbacks.
They've experienced college (on and off the field), they've been humbled and they want to work and get better. You're skipping a transition season, and more important, in some cases, you're getting a legitimate talent with experience.
So if that's "trolling," troll away, Lane.
9. Numbers
5. LSU added its 5th defensive back from the portal late last week, and this one – Ohio State CB Sevyn Banks – means all but 1 starter in the secondary will be from the portal.
Oklahoma State transfer Jarrick Bernard-Converse, an All-Big 12 selection in 2021, will start at one corner. Banks — who missed much of 2021 with injuries – will compete with Louisiana transfer Mekhi Garner for the other starting spot. Arkansas transfer Greg Brooks Jr., is the starting nickel, and another Hogs transfer (Joe Foucha) is the starter at strong safety.
More important, Banks' signing means LSU now has 3 corners loaded with experience after losing 2 elite corners from 2021 (Derek Stingley Jr., to the draft, Eli Ricks to Alabama).
10. Quote to note
Arkansas coach Sam Pittman on the impact of NIL: "The intention was for players to earn money, and I'm all for that. But (the process) is out of control. Now I'm going to get hit because, 'You just signed a new contract.' Hopefully, I've earned that in the college game."