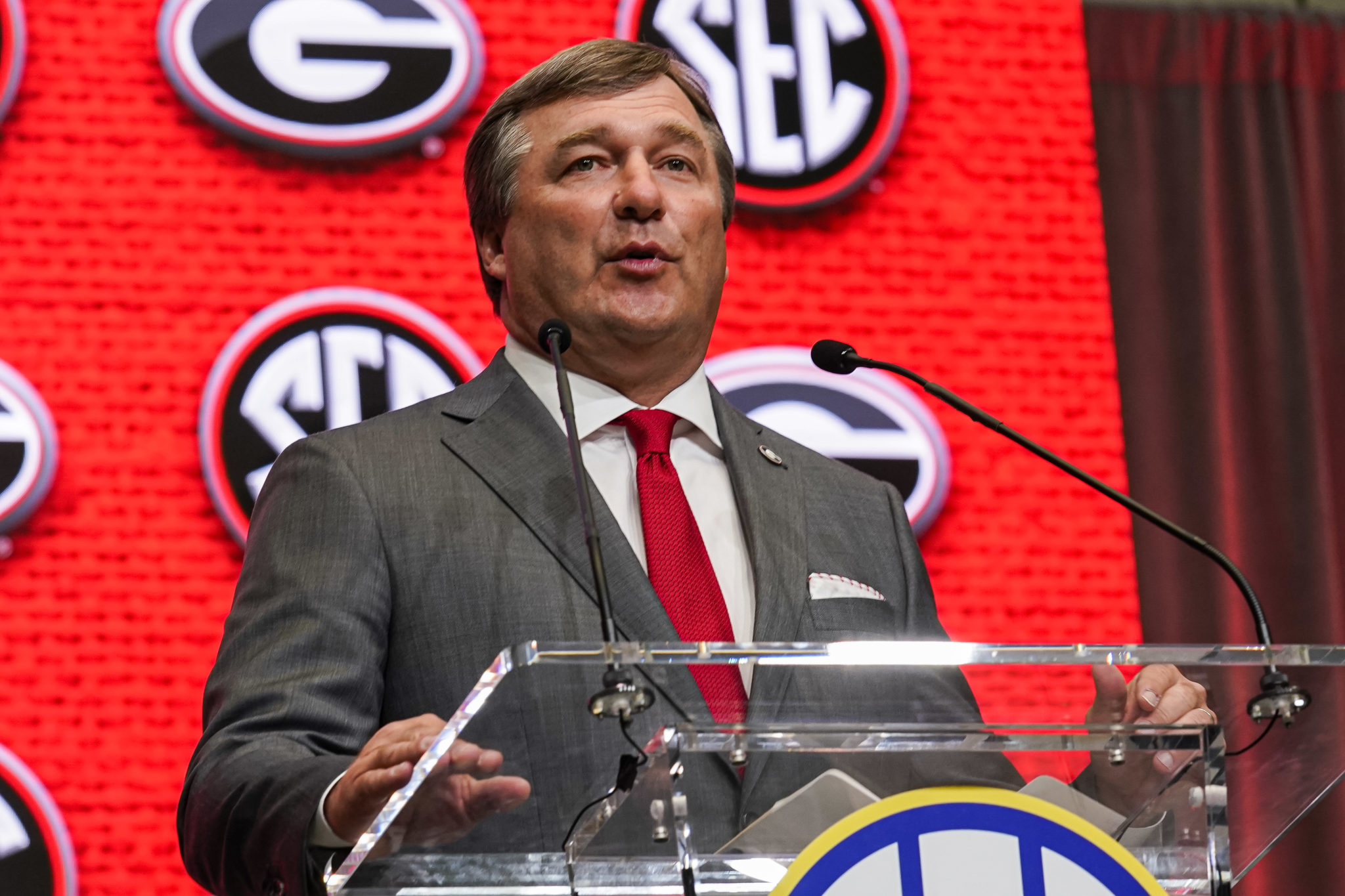 SEC
First and 10: If Smart has his way, Cocktail Party will have new address
1. I don't want to get on a soapbox, but …
He has joined the exclusive club, and with it brings a certain unique power that can't be quantified.
But it sure as hell can be felt.
Kirby Smart is on the big stage now, the national championship he won at Georgia last January opening pathways few coaches experience — and fewer can handle.
"This program was built to be here for a long time," Smart said.
With an impact that stretches far outside Athens, Ga.
When Nick Saban or Dabo Swinney speaks, the college football world stops to listen. When Pete Carroll had it going at USC, or Urban Meyer at Florida, his voice and statements carried.
Some never wanted the power (Jim Tressel, Gene Chizik), others never had the reach (Ed Orgeron, Larry Coker) because their careers didn't sustain.
Smart has it — and his sights are set on one of the biggest traditions in college football history: the World's Largest Outdoor Cocktail Party.
"Recruiting is the lifeblood of your program," Smart said on my radio show on 1010XL-Jacksonville. "I have to do what's in the best interest of the University of Georgia."
Smart believes this is a simple argument: Playing a neutral-site game against Florida in Jacksonville every year is detrimental to his ability to recruit.
Each SEC team has 4 home conference game weekends to bring recruits to campus and allow them to experience the program, the university and the campus on its best days. Except Florida and Georgia.
Because they play the Cocktail Party annually in Jacksonville, they lose a home game recruiting weekend.
"It would be like me saying in June, there's 4 weekends you can have prospects on campus — and at Georgia, you can only have 3," Smart said. "I'm self-sanctioning an opportunity to have the best prospects in the country fly into Atlanta and drive (to Athens) every other year to see Florida play Georgia."
Smart may not be alone in his desire to potentially move the game. New Florida coach Billy Napier, like Smart, has been adamant that there's 1 path to returning the Gators to the elite of college football: recruiting.
Napier was hired at Florida because the previous coach (Dan Mullen) wasn't exactly obsessive about the way he procured high school talent. Napier places the same value on recruiting that Smart does — that they both did as assistant coaches under Saban at Alabama.
So even though the game is in the state of Florida and clearly an advantage logistically for the Gators, Napier was noncommittal when I asked him about the Cocktail Party staying in Jacksonville.
"I think it's wrong for me to speak on that until I've experienced it," he said. "I've always been aware of some of that dialogue about making it a home-and-home (series). There are a lot of advantages of that. But there's tradition to the rivalry (in Jacksonville). I'll be better equipped to answer that once we experience Jacksonville."
But understand this: Florida's interest in playing the game in Jacksonville has nothing to do with Georgia. Smart wants a home game, and he doesn't care what happens to Florida's half of the series — if it moves back to Gainesville, or if it stays in Jacksonville.
"I understand it, I get it," Smart said. "It's traditional. I played there, I grew up in South Georgia. I have friends all over that area that want the game to stay."
The only difference is that Smart now has capital and power from the national championship. Now he can effect change.
2. Dollars and sense
Before Georgia won its first national championship in 41 years, Smart's talk of moving the game was more anecdotal than impactful.
Now he might have enough power to supersede the almighty dollar.
For years, the city of Jacksonville has made it too difficult for the universities to ignore the fiscal impact. The schools earn about $5.5 million each for the game, about $3 million more than they would for a typical home game.
But you don't make your football coach the highest-paid in the game — Smart last week signed a 10-year deal worth $112 million — and not listen to what he inherently believes will make the program better.
The contract with Jacksonville ends after the 2023 season, and the game is so important to the SEC media rights deal, CBS announces well in advance of the season — every year — that the Cocktail Party is locked in at the coveted 3:30 p.m. spot.
Or as one industry source told me last week, "You'd have to be crazy to not put that game in that spot, no matter what their records are. It's ratings gold."
Ultimately the decision to keep the game in Jacksonville will come down to money. Or as Jacksonville Mayor Lenny Curry told me, "That's probably 95 percent of it."
In other words, Jacksonville must overpay Georgia and Florida and force them to say no. If the payout moves to $7 million-plus per team, will Georgia say no to $14 million every 2 seasons to cash $5 million and keep 4 home games over the same span?
That's a big number ($9 million) to walk away from.
The universities could likely petition the NCAA — or make a rule after the current NCAA restructuring gives the Power 5 schools complete control — to allow both teams to host recruits at the game. The schools could then pass along the expense of doing so to Jacksonville.
There are numerous answers to keeping the tradition of the Cocktail Party alive, but it will ultimately come down to Georgia president Jere Morehead and deep-pocket boosters — who just made Smart the highest-paid coach in college football.
You're not doing that and ignoring something he feels is vital to avoiding 41 more years between championships.
3. Embracing power, The Epilogue
Nearly 40 years ago, after he was named head coach and athletic director at Auburn in 1981, Pat Dye told then-Alabama coach Bear Bryant that Auburn's home game in the Iron Bowl would move from Birmingham to Auburn as soon as the contract expired after the 1988 season.
Auburn played the game on campus in 1989, and upset No.2-ranked Alabama — and Auburn would never host the game in Birmingham again. Dye has said numerous times that he wouldn't have been able to move the game without university and board of trustees support.
Nearly 10 years later in 1998, Alabama hosted the Iron Bowl in Birmingham for the last time.
So there's precedent. There's also a new twist: the Red River Shootout.
If Florida and Georgia leave Jacksonville after the 2023 season, what happens to the annual neutral-site game between Oklahoma and Texas in Dallas?
All 4 schools are coached by men who learned early in their careers with 2 of the game's greats (Saban, Swinney) that recruiting is everything. Will Steve Sarkisian (Texas) and Brent Venables (Oklahoma) be willing to give up a recruiting weekend in the name of tradition?
The simple answer: They, and Napier, don't have the power. Yet.
Smart has the ability to effect change, especially with the looming restructuring of the SEC schedule. This is likely the last year of divisional play, and the conference — despite pushback from a handful of universities — seems destined to move to a 9-game league schedule when Texas and Oklahoma officially arrive (as early as next year).
"I love the tradition of (Jacksonville)," Smart said. "It's going to be interesting to see if that can hold with the new schedule and model."
It will be just as interesting to see how much power Smart now wields at Georgia — on and off the field.
4. The end of an era
The Cocktail Party isn't the only neutral-site game in danger of not making it.
The Southwest Classic (Texas A&M vs. Arkansas) and The Battle Line Rivalry (Missouri vs. Arkansas) are also likely on the way out.
The Southwest Classic was brought about because Dallas Cowboys owner Jerry Jones is an Arkansas alum and paid the schools a ridiculous amount of money for a 10-year contract that ends in 2024. No amount of money will likely bring that game back to Arlington because both schools want it at campus sites.
Likewise, no amount of money from Little Rock, Ark., will keep the Missouri game there. Arkansas has spent too much in facilities upgrades recently to ship an SEC home game to Little Rock.
That contract ends in 2023, and Missouri plays its home game in that series — and will continue to do so — in Columbia.
But those games don't have the history and tradition of the Cocktail Party and the Red River Shootout. While there are deeply ingrained feelings among the old guard at each school — and from deep-pocket boosters — who want to keep those games neutral, the younger fan base wants the game on campus.
All arguments are logical in each case, but how many really stand up to a financial offer that the schools can't turn down? Money will be the determining factor — unless the coaches at the 4 schools have the power to make it happen.
5. The Weekly 5
Five coaches facing the most pressure in 2022.
1. Bryan Harsin, Auburn: The Auburn board of trustees and boosters rarely lose power struggles.
2. Eliah Drinkwitz, Missouri: Tigers need November games that matter under Drinkwitz.
3. Brian Kelly, LSU: Forget about the fat contract, Les Miles and Orgeron won national titles. Nothing else matters.
4. Napier, Florida: No matter how it fell apart, Mullen brought Florida to 3 New Year's 6 bowls in 4 seasons, and it wasn't enough.
5. Mark Stoops, Kentucky: Set the bar with 2 10-win seasons in the last 4 years.
6. Your tape is your resume
An NFL scout analyzes a draft-eligible SEC player. This week: South Carolina CB Cam Smith.
"Long and athletic, and he's tougher than he looks. Just look at the numbers — quarterbacks had a 35 rating when throwing at him. He is a cover corner. He can lock down in man, he will thrive in zone. He's not at the Jaycee Horn level yet, but he could get there. I wouldn't be shocked in the least if he develops into a first-day pick. He needs to be more consistent in his effort. He has a really good hand punch at the point of attack, and he can run and chase."
7. Powered Up
This week's Power Poll, and one big thing: What I learned from SEC Media Days.
1. Georgia: OLB Nolan Smith is in the best shape of his career. He and Robert Beal Jr. will be a load to handle on the edge.
2. Alabama: QB Bryce Young believes Georgia transfer WR Jermaine Burton can have a Jameson Williams-type impact.
3. Texas A&M: A strange sense of unwavering confidence — almost a prove-it confidence — from coach Jimbo Fisher and the Aggies players.
4. Kentucky: QB Will Levis is loose and confident and embracing expectations and NFL talk.
5. Arkansas: Biggest area of improvement for 2022 will be intermediate passing. Hogs are deeper at wide receiver, and QB KJ Jefferson's accuracy is critical.
6. LSU: Kelly wants a quarterback who can extend plays. While Myles Brennan may start, Jayden Daniels and/or Garrett Nussmeier might be the long-term answer.
7. Tennessee: If Tennessee can improve on third-down defense (SEC opponents converted a whopping 53 percent last season), big wins will come.
8. Mississippi State: This will be DC Zach Arnett's last season at MSU. He's a rising star — and the Bulldogs' defense will be among the best in the SEC.
9. South Carolina: With all the attention on offense, the defense will be much better in the front 7 (specifically in pass rush).
10. Florida: Napier believes QB Anthony Richardson will have a big season. If he does, Florida will finish in the upper third of the conference.
11. Ole Miss: Don't count out QB Luke Altmyer, who didn't flinch when Jaxson Dart arrived from USC.
12. Auburn: Sounds like Harsin is counting on Texas A&M transfer QB Zach Calzada to win the job. (Fisher raved about Calzada, and said he wanted him back).
13. Missouri: MLB teams passed until the later rounds on QB Sam Horn, who was waiting for the perfect deal — and will now compete for the starting job at Missouri.
14. Vanderbilt: I'd love to see Clark Lea coaching an SEC blueblood. A dynamic, charismatic personality.
8. Ask and you shall receive
Matt: What's the difference between winning at the elite level of the SEC, and all the other teams that constantly change coaches. Phaedra Franklin, Nashville.
Phaedra:
The easy answer is players. No matter what anyone tells you, players win games. The better the players, the better chance to win. That said, the road to player procurement and development is another story.
Smart played and starred at Georgia and knows the value of the Florida-Georgia game in Jacksonville — yet still wants it moved to the Athens campus because of how it impacts recruiting. You can argue that Smart consistently recruits in the top 5 of the nation at Georgia, so how much better can it get?
When you're at that level, and one player can make a dramatic difference between winning a rematch with Alabama or losing it– a player like Nakobe Dean or Travon Walker or Jalen Carter — every recruiting weekend matters.
I've said this since last July when the NIL rule was enacted, and I'll continue to do so despite coaches saying otherwise: NIL will even the playing field. There's a reason Missouri and Kentucky had top-15 recruiting classes.
Stoops and Drinkwitz work hard at recruiting, but they're not landing the best recruiting classes in the respective history of each school without the help of what could be with NIL. Let those 2 hit top-15 classes for 3 straight years, and watch how much better those programs become.
9. Numbers
45. The narrative is that offense now wins games in football, both college football and the NFL. It's a quarterback-driven, vertical-passing sport. Well, maybe.
The top 4 scoring defense teams (Georgia, Texas A&M, Alabama, Kentucky) in the SEC in 2021 combined to win 45 games. The bottom 4 (Vanderbilt, Tennessee, Missouri, Florida) combined for 21.
The team that led the SEC in scoring defense won the national championship, and the team that finished third in scoring defense won a Playoff game and lost in the national title game.
10. Quote to note
Ole Miss coach Lane Kiffin on conference expansion: "When you go to places, you've been to USC, all these different places, you see how passionate fans are about certain things, what matters, rivalries. For those to be dismantled for money is kind of a shame."