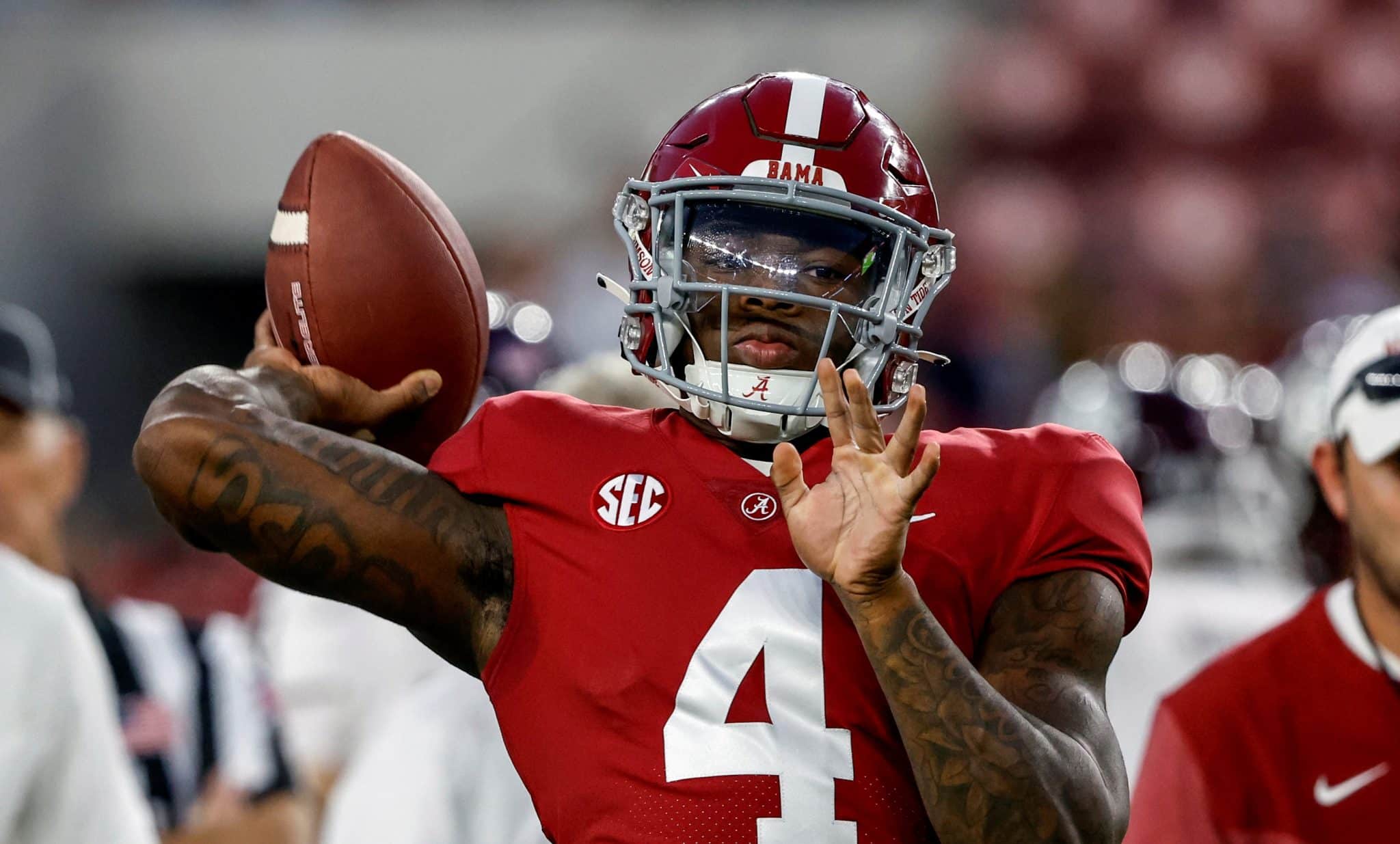 SEC
First and 10: Nick Saban douses expectations with humility he didn't seem to have just a few months ago
1. I don't want to get on a soapbox, but …
Something strange is happening here with this Alabama team. It's almost unrecognizable.
"I'm not here to create expectations for our team. Lots of people will do that," Alabama coach Nick Saban said during SEC Media Days. "But expectations in some way are a predetermined way to create disappointment."
If that didn't hit you like a punch to the gut out of the blue, the ridiculously successful and beautifully megalomaniacal coach followed up with yet another odd affirmation:
"If you have high expectations for what you want to accomplish, and it doesn't work out," Saban said, "it makes you focus on the outcome, and it doesn't work out and you're very disappointed."
OK, who is this man? And what have you done with my Nick Saban?
I half expected Saban to break out into Stuart Smalley, and tell everyone in the big room at Media Days that you're good enough, and you're smart enough.
And doggonit, people like you.
Fortunately, there was Alabama offensive tackle JC Latham, who, while he may not be as dominant as the rest of the elite Alabama left tackles of the last 17 years, did have the ability to turn this thing back down a familiar road.
"There are guys out there who don't think we are who we once were," Latham said. "I know this group. We're going to win it all. National championship, undefeated."
Well, well, well. Someone at Alabama finally has the stones to make a statement, and allow their talent and play to write the damn checks for it.
This is what we've waited for, what Alabama has needed over the last 2 seasons. Because no matter how good Bryce Young played (and he was the best player in college football the last 2 years), and how dominating Will Anderson performed, the Tide lost some swagger in the 2 years since Georgia has arrived.
The days of Alabama walking on the field and teams cowering when they see the Crimson helmets are long, long gone. The days of defensive turnovers igniting a 3- or 4-touchdown run, or receivers getting behind secondaries and strutting into the end zone untouched, are now pipe dreams.
Alabama lost 2 games last season, both on the last play of the game. Alabama also won 3 games by combined 11 points, and I don't have to tell you that means the Tide could have easily been — hushed tones, everyone — 8 and 5, Paaaawl!
I have no idea how Texas lost to Alabama in 2022, or how Texas A&M couldn't execute a final play at the 2 against the Tide, or how Ole Miss ran for 191 yards — but didn't score over the last 22+ minutes of the game.
But I do know this: Saban made sure everyone at Media Days knew about Grandma Saban. Made the best cakes ever.
She said, Brother (what everyone in West Virginia calls each other), if you take it out of the oven too soon, it will turn into mush and it won't be good cake.
Carrot cake, of course.
"So I think we have to sort of let this develop," Saban said. "Let the cake bake."
2. Look closer
Maybe we should just cut Alabama some slack. Because if this were the resume of any other team, we'd be talking about a season of regression.
Alabama has a new offensive coordinator, a young gun who wasn't exactly Saban's first choice. He wanted former Florida coach Dan Mullen or Washington OC Ryan Grubb, and got Notre Dame OC Tommy Rees.
Months later, Saban is calling Rees, 31, "one of the brightest young guys I've seen in a long time in this business."
OK, there's that.
Embattled DC Pete Golding left in the offseason for the same job at Ole Miss, and Saban tried to hire Georgia's Glenn Schumann — and even kicked the tires on former Alabama DC Jeremy Pruitt (that wasn't going to happen, if the SEC and NCAA had anything to say).
Saban ended up with longtime SEC assistant Kevin Steele to run the defense, and declared last week that Steele "has coached with us a couple of times before, and knows the system."
OK, there's that, too.
Alabama doesn't have a starting quarterback, and was rummaging around in the spring transfer portal for another arm — and landed Notre Dame backup Tyler Buchner.
Alabama doesn't have a starting running back remotely close to Mark Ingram or Trent Richardson or Derrick Henry or Josh Jacobs or Najee Harris. Or heck, Glen Coffee.
Alabama's leading returning receiver, Ja'Corey Brooks, wouldn't have gotten on the field from 2008-2020.
The offensive line has allowed 63 sacks in the last 2 seasons, and 167 tackles for loss. The Tide has committed an SEC-high 210 penalties in the last 2 seasons, and is only +6 in turnover ratio (35 gained, 29 lost).
So maybe we should listen to Saban when he says this team should worry more about the little things and less about expectations.
"You know, football is a great game, and it takes responsibility to do my job — but you also have a responsibility to the other 10 guys to do your job because they are all depending on you," Saban said. "So we are all depending on each other."
3. A new Alabama, The Epilogue
Give Saban credit, he can pivot like no other.
A month ago, he went on the Joel Klatt podcast and questioned why Alabama wasn't part of the 2022 Playoff field.
He asked this because Las Vegas oddsmakers had Alabama favored over everyone in the field except Georgia. If we're going to do this thing and get the best 4 teams in the field, Saban wandered (yes, wandered) aloud, shouldn't we put the best 4 teams in the field?
According to Vegas, anyway.
In 1 short month, Saban has gone from a petulant child, screaming and kicking about the mean man taking away his Playoff, to Stuart Smalley declaring his new offensive coordinator — whose scoring offenses were 41st, 19th and 30th in the nation in his 3 seasons running the show in Notre Dame — may as well be a young Andy Reid, dogonnit.
Here's what I think: Saban has no idea what to expect from this team, and it shows in his inability to find a comfort zone when speaking of them.
Jalen Milroe did beat Texas A&M with 3 TD passes last year, so why can't he develop into more of a thrower and take control of the quarterback position?
Who says JC receiver Malik Benson can't make an impact like Jameson Williams did in 2021, when he transferred from Ohio State and was the best receiver in the nation by the end of the season.
Who says Dallas Turner can't find the edge he had at the end of 2021 and become a dominant edge rusher. Or 5-star freshmen edges Keon Keely and Yhonzae Pierre can't emerge as disrupters.
It has happened every other year in Tuscaloosa. Why do we suddenly believe it can't happen again? Why are we all jumping off the Alabama train when, if history is any indicator, this is when Alabama plays its best — when it feeds off doubt?
"I never look back in the past," Saban said. "It's always about the future."
4. Competition heating up
Carson Beck seemed like a lock to be the next Georgia quarterback. Now, at the very least, there is pause.
And that's not the only quarterback battle in the SEC this fall.
Ole Miss coach Lane Kiffin says he wants to play 1 quarterback. So do Saban and Missouri coach Eli Drinkwitz, who both go 3-deep in their competitions.
While Ole Miss, Alabama and Missouri aren't surprising, Georgia is, at the very least, intriguing. It was 2 years ago when Beck won the backup job to JT Daniels heading into the 2021 season.
Daniels was hurt in camp prior to the season opener against Clemson, and tried to play through the injury. When it was obvious he wouldn't be available in Week 2, Georgia coach Kirby Smart began the week by saying Beck would move up from the No.2 spot.
Beck didn't prepare well, and Stetson Bennett did — and Bennett got the start, and eventually won 2 national titles as the starter.
From what could be seen from scrimmages and the G-Day game, Beck appeared this spring to have separated from backups Brock Vandagriff and Gunner Stockton. But Smart made it clear in Nashville that the competition is open, and anything is possible given Smart's history of dealing with quarterback competitions (see: Jacob Eason/Jake Fromm, Fromm/Justin Fields, Daniels/Bennett).
5. The Weekly 5
The 5 games that stress the Arkansas win total (6.5) for 2023:
1. Nov. 4, at Florida: The winnable SEC road games are always critical to outperforming your win total. This is the most gettable of the 4 roadies.
2. Sept. 30, Texas A&M: A game the Hogs should've won in 2022, and a game they've found too many strange ways to lose over the years.
3. Sept. 16, BYU: Can't slip up here against a physical and dangerous team with a talented QB in former USC/PItt starter Kedon Slovis.
4. Oct. 7, at Ole Miss: The last time they played in Oxford (2021), the teams combined for 103 points and 1,287 total yards.
5. Nov. 11, Auburn: Tigers will be playing their best ball by November. The first of 3 straight home games to finish November.
6. Your tape is your resume
An NFL scout analyzes a draft eligible SEC player. This week: Tennessee G Javontez Spraggins.
"He has improved every season. He's one of those classic mid-round guards that you pick up and develop because he's a physical mauler. He knows how to use his hands, and he's stout in the middle. He's not going to be pushed around. He has good explosion, and reach to the 2nd level. I'd really like to see more consistency in his pass blocking."
7. Powered Up
This week's Power Poll, and 1 big thing: SEC Media Day surprise.
1. Georgia: Dawgs C Sedrick Van Pran: "No one's job is safe. That's how you have to think and prepare every year."
2. LSU: This could potentially be LSU's best defense since the 2011 team.
3. Tennessee: The Vols are very close on defense. The key this season: get off the field on 3rd-and-long.
4. Alabama: Saban is pulling out all the motivational tricks to urge this team to play smart, and play tough.
5. Texas A&M: Forget about who's calling plays for a moment, and embrace the 2nd best defensive line unit in the SEC, including Shemar Turner, Shemar Stewart and Walter Nolan.
6. Ole Miss: Despite having 2 legit options (Jaxson Dart, Spencer Saunders), Rebels coach Lane Kiffin doesn't want to play 2 quarterbacks.
7. Arkansas: Before this spring, KJ Jefferson had never taken a snap under center — for his entire football career.
8. Kentucky: UK may have the best wide receivers room in the SEC with starters Barion Brown, Dane Key and Tayvion Robinson. That's not including TE/Flex Jordan Dingle.
9. South Carolina: Dakereon Joiner has gone from quarterback to wide receiver and now has finally found a home at running back — and might be the best one on the team.
10. Mississippi State: Bulldogs could've lost nearly double-digit starters to the portal, but spirited and emotional bowl practices kept team together.
11. Florida: Gators are playing the "no respect" card. How far will it take them?
12. Auburn: Auburn feels really good about its transfer portal-enriched offensive line.
13. Missouri: Tigers coach Eli Drinkwitz has given up play calling, but he'll be more involved in special teams — specifically the kickoff unit.
14. Vanderbilt: Even after losing RB Ray Davis to Kentucky, Vanderbilt still will focus on the run game to keep talented QB AJ Swann from having to carry the offense every week.
8. Ask and you shall receive
Matt: Did anything stick out for you at SEC Media Days beyond what was expected? — Thom Donald, Orlando.
Thom:
I was shocked at how openly coaches spoke of revenue sharing. If they're talking about it now, that means their administrations are, too.
There's little doubt when the new contract for the 12-team Playoff is complete — the new deal is expected to fetch at least $1.5 billion annually — there will be more movement toward a pay for play model and players getting a piece of the media rights revenue.
Numerous industry sources have told me that in exchange for revenue sharing, universities will want more stability with the product. In other words, the free player movement may be clawed back — or at least return to the previous rule of transfers costing a year of eligibility.
A majority of the coaches I've spoken to don't have a problem with the idea of NIL, just the execution. Specifically, that all rules aren't the same.
The bigger problem is the combination of free player movement and NIL, which has created defacto free agency and — here's the critical problem — tampering.
If you eventually get a pay for play model, there will have to be some form of collective bargaining so each side benefits.
9. Numbers
53.19. There were multiple problems with the Kentucky offense in 2022, beginning with shaky pass protection.
That shaky protection led to problems in the red zone. Specifically, getting in the end zone.
Kentucky was last in the SEC in red zone TD percentage (53.19) in 2022 — a year after leading the SEC by converting 72.22 percent of opportunities into touchdowns.
That near 20 percent drop is more dramatic in actual TD numbers. The Wildcats scored 39 TDs in the red zone in 2021, and only 25 in 2022. That average loss of 1 TD per game in 2022 cost Kentucky 2 games (3-point loss to Ole Miss, 3-point loss to Vanderbilt).
The difference between 7 wins and 9 wins is significant, especially in recruiting.
10. Quote to note
Missouri coach Eli Drinkwitz: "That is probably the most efficient roster update that I've ever provided, and I tried to kill as much time as I possibly could so that I would not answer any question too crazy today and trend on Twitter."