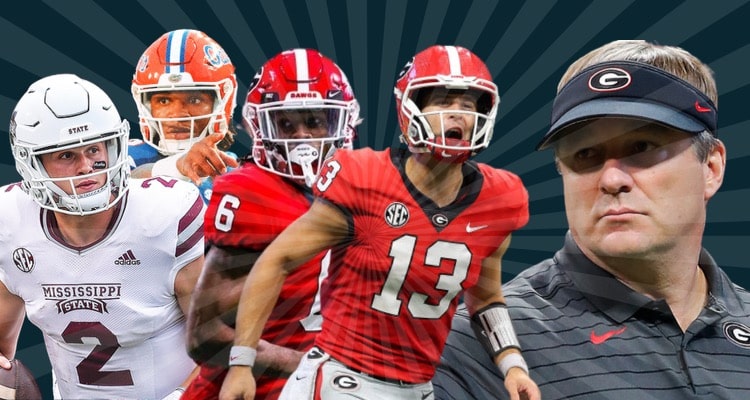 SEC
First and 10: Plan the parade. This Georgia team is better than last year's national championship team
1. I don't want to get on a soapbox, but …
Months ago, while every other team in the SEC was scouring the transfer portal and striving to improve at all positions, Georgia stayed put.
Now we know why.
This Georgia team, everyone, is better than last year's team that won a national championship for the first time in 41 years.
Moments after Georgia annihilated Oregon on the national stage, after coach Kirby Smart and the Bulldogs issued a definitive statement that can't be ignored, Smart embraced Oregon coach Dan Lanning — his defensive coordinator last season — and summed up what everyone in the SEC must be thinking.
Georgia has dudes. Everywhere.
"I told him he helped build this, he recruited a lot of these players," Smart said.
So many good players that Georgia didn't need what everyone else in college football embraced this offseason like a winning lottery ticket.
Alabama added 5 critical starters from the portal. Arkansas rebuilt its defense. Kentucky got another star receiver, and Florida got its best offensive lineman and an impact tailback. Hell, LSU and Ole Miss have double-digit players of significance (starters or top backups) from the portal.
What did Georgia do, you ask? It went after Oklahoma QB Caleb Williams — and even that failed attempt now looks fortunate considering the elevated play of QB Stetson Bennett III.
So while Jermaine Burton left Georgia to become Alabama's No. 1 receiver, and QB JT Daniels is the starter at West Virginia, and CB Ameer Speed (Michigan State), S Latavious Brini (Arkansas) and OT Owen Condon (SMU) all left for starting jobs elsewhere, Georgia — and this is what's crazy good about the offseason — didn't need the portal for impact starters or top backups.
Everything Georgia had on its current roster was everything it needed.
That revelation says two things specifically about what Smart has built at his alma mater: They don't miss often in recruiting, and they don't need guys they haven't recruited from high school trying to assimilate to the culture that's already built.
It doesn't mean Georgia won't use the portal in the future, or wouldn't have taken Williams had he not chosen USC. It says Georgia is in its best place right now — 8 months after winning the national championship.
Georgia lost starters or top backups from last season, and Smart decided what was on board was good for 2022. And now we know why.
Why the narrative all offseason was Georgia replacing the losses from a rare defense in 2021 (more on that later), it should have been about Georgia standing on its current roster and not needing the portal.
That should've been a massive indicator all along.
"A ridiculous display of talent," an NFL scout texted me Saturday afternoon. "Nobody beats them unless they get bored."
2. So many weapons, so many options
Georgia is better in 2022 because Georgia is better offensively. The Dawgs are more balanced, and more diverse in play calling because Stetson Bennett sees the field better and is playing with a tremendous amount of confidence.
The offense is impossible to defend when Georgia lines up in its own version of 11 personnel: 1 back, 2 receivers and 2 tight ends. When Georgia runs bunch sets with elite TEs Brock Bowers and Darnell Washington on the field, it stresses defenses to make game-defining choices.
If defenses defend the tight ends with a linebacker, Bowers and Washington will win nearly every play in the passing game on athletic ability alone. If they defend with a safety, Georgia audibles to run and Bowers and Washington become the 6th and 7th offensive linemen and overwhelm smaller defensive backs.
Late in the second quarter against Oregon and leading 21-3, Georgia lined up in 11 personnel at the Oregon 4. Moments after the snap and play action, Oregon had the play defended perfectly. Bowers and WR Adonai Mitchell were covered in the back of the end zone, Kenny McIntosh was open briefly in the right flat, but quickly covered.
Instead of throwing it away and playing another down, Bennett did what has crushed defenses since the second half of last season: He improvised. He went off schedule, scrambled back left and found Ladd McConkey — Georgia's own Hunter Renfrow — alone in the end zone for a touchdown.
Plays like that, important moments in big games, suck the life from opponents.
Meanwhile, the offense will get better with each game. OC Todd Monken is one of the best play callers in the game, but hasn't been pushed to go beyond his creative bounds because he has been trying to match quarterback ability and game plans over the last 2 seasons.
Now he has a quarterback who, after 2 seasons of developing in the same system, can do anything Monken wants. Watch how much better the Georgia offense becomes because of it.
3. Reloading, The Epilogue
Remember when Smart started this ride in July at Media Days, declaring Georgia would not be the hunted. It would be the hunter.
The hunter lost 15 draft picks to the NFL, including a whopping 5 from the defense in the first round. A year after the defense set a modern era record by giving up 6.9 points per game, it gave up 3 to Oregon.
The same Oregon team that returned its entire offensive line and upgraded at quarterback by signing Bo Nix from the portal. By the time the Ducks' offense got on the field for the last time, it had 224 total yards and then got 89 yards against the 2s and 3s on the Georgia defense.
Just when you think Georgia couldn't possibly play better defensively than it did last season, freshman S Malaki Starks leads the team in tackles and makes a spectacular interception.
MLB Jamon Dumas-Johnson, who couldn't get on the field last year, was one of the top 3 on it against Oregon. LB Smael Mondon made plays early, and joined preseason Al-SEC players Robert Beal and Nolan Smith to give the defense 4 fast and disruptive players at the linebacker spots — just like last season.
At one point during the emasculation of Oregon, one play was a microcosm of Georgia's rebuilt defense. DT Jalen Carter, the best player on the unit, bull rushed and tossed Oregon OT Malaesala Aumavae-Laulu — a 2-year returning starter — and nearly made the tackle for loss on a run play before sophomore S Javon Bullard (another young player with huge potential) made the stop.
The play went viral on social media as an SEC vs. Pac-12 meme. It should've been Georgia vs. everyone else.
"Different names and numbers," Nix said after the game. "Same Georgia."
That should scare the heck out of everyone.
4. The evolution of unique
The obvious question after Anthony Richardson's performance against Utah: How much better can it get moving forward?
One former SEC defensive coordinator who watched the game said Utah waited too long to push 8 and 9 defenders in the box, and force Florida to win on the outside with receivers who aren't dynamic or fast.
By the time Utah made the move in the 4th quarter, the defense was tired and a strong Florida offensive line was winning despite the numbers disadvantage.
Don't expect others in the SEC, he said, to make the same mistake.
"They were moving and scraping (to the next defender) and taking guys out of the point long enough to get positive plays," the former SEC defensive coordinator said. "My guess is you'll see Kentucky load it up from the first play. 'If you want to beat us, your guys not only have to be better than our guys, but they have to catch the ball, too.'"
Richardson was a completely different player against Utah than what he showed last season, when he hurried too quickly through progressions to get to a bail out, off-schedule scramble.
One NFL scout I spoke to Sunday said Richardson never looked comfortable last season, but played with "intent" against Utah.
"You can tell he has been really well-coached," the scout said. "His mechanics are more compact, the release is quicker, the ball just jumps off his hand and he can put it anywhere. Last year, he was constantly unframed, he was throwing off his back foot, winging it. You can't wing it at that position. I can't wait to see how he adjusts to everyone adjusting to him. That's what makes the great ones — no adjustment you make impacts what they can do."
5. The Weekly 5
Five picks against the spread. Lines from our friends at FanDuel.
Kentucky (+6.5) at Florida
Mississippi State (-9.5) at Arizona
Alabama (-18.5) at Texas
South Carolina (+9.5) at Arkansas
Missouri (+9.5) at Kansas State
Last week: 4-1.
Season: 4-1.

DRAFTKINGS SPORTSBOOK
21+ and present in participating states. Gambling problem? Call 1-800-GAMBLER.
NEW USER BONUS
BET $5
GET $150
IF YOUR BET WINS!
6. Your tape is your résumé
An NFL scout analyzes a draft-eligible SEC player. This week: South Carolina QB Spencer Rattler.
"I was never one of those guys 2 years ago who thought (Rattler) was the No. 1 overall guy. I'm not sure how many of our 32 (teams) thought it, either. It was more of a media thing because he was the next guy up on a program that had produced 3 exceptional college quarterbacks. He likes the off-schedule stuff, throwing on the run and making difficult throws. Might work at that level, it's not working here unless you're a rare talent. He's not a rare talent.
"It's fun watching guys that have a lot to prove, especially at that position. Does he press too much, does he have a special season? Physically, he has all the tools. Right now, and this could change, he tries to make too many throws that don't have to be made — I saw it against Georgia State, too — when a higher percentage throw is there to move the chains. I want to see a guy who works within the structure of the offense."
7. Powered Up
This week's Power Poll, and one big thing: Biggest surprise from Week 1.
1. Georgia: It may not be Bryce Young or Mac Jones, but Monken can call any play and Bennett can execute it. That's a mighty comfortable ace in your pocket.
2. Alabama: It's early and it's 1 game, but maybe Traeshon Holden is more than just a possession receiver.
3. Texas A&M: Two more interceptions from QB Haynes King. That's 5 interceptions in 2 complete starts as the Aggies' quarterback — both against wildly inferior opponents (Kent State, Sam Houston State).
4. Arkansas: Now we know why Trelon Smith left Arkansas. A quick, Week 1 prediction: Raheim Sanders will lead the SEC in rushing.
5. Kentucky: For all the hype around QB Will Levis (it's warranted), UK's offense revolves around TB Chris Rodriguez. It's not the same offense without him (26 carries 50 yards vs. Miami, Ohio).
6. Florida: The offensive line. Billy Napier said it was the strength of the team, but that was an experienced and physical Utah defense the Gators pushed around for 283 yards rushing.
7. Mississippi State: WRs Rara Thomas and Rufus Harvey, who did little in their freshman seasons, might be the Bulldogs' best receivers.
8. Tennessee: Ball State is one of the worst teams in the country and threw the ball 43 times. Tennessee didn't get 1 sack. While the Vols did affect the quarterback, the pressure must get home Saturday at Pitt.
9. Ole Miss: A pedestrian performance from QB Jaxson Dart and the offense against an overmatched defense (Troy). Up next: Luke Altmyer against FCS Central Arkansas — and a wide-open competition.
10. South Carolina: A revamped offense (minus injured RB Cristian Beal-Smith and WR Corey Rucker) looked sluggish, and more concerning, Rattler accuracy against an average Georgia State defense.
11. Auburn: I don't want to raise a red flag already, but if TJ Finley is Auburn's best quarterback, this could get ugly quickly — even with the magic TB Tank Bigsby and a nasty defense.
12. LSU: LSU can't run the ball. Let me write that again: LSU can't run the ball.
13. Missouri: Another iteration of a revamped defense, but this one looked solid after a shaky start. The 4 sacks and 3 interceptions are impressive, no matter the opponent (La. Tech).
14. Vanderbilt: Wake Forest is beatable without QB Sam Hartman. And you know what that means: a potential 4-0 Vandy (with another win at Northern Illinois) on the road against Alabama game later this month.
8. Ask and you shall receive
Matt: I was really worried about the Memphis game, and I don't really know why. Am I overthinking it with my Bulldogs? — Sandy Gellar, Atlanta.
Sandy:
There were numerous good signs from Mississippi State's relatively easy win over Memphis, including but not limited to staying focused through a weather delay and thumping a team you should (very underrated).
But the most impactful sign for 2022 is Will Rogers' response to a game in which he completed nearly 80 percent of his passes and threw 5 TDs. He wasn't happy. In fact, he said he was "— off" about the way he played.
This is good, Sandy. This is where you want your 3-year starting quarterback at the beginning of a season that could be much more than many believe. He's playing well, and it's not acceptable in his mind.
He wasn't happy about an interception he threw, or the 11 incompletions. Rogers and Leach have both talked all offseason about pushing the ball downfield and getting more explosion plays.
Coming into the season. Rogers' career average yards per attempt was 6.3. That's a low number; the SEC leader in 2021 was Bennett at 10.0. The number is generally measured in tenths of increase.
Against Memphis, Rogers averaged 9.2 yards per attempt — an increase of almost 3 yards per attempt, which is a huge jump. The ball is getting downfield just like he and Leach wanted, and the Bulldogs had 5 completions of 20-plus yards.
9. Numbers
9.3 Lost amid the Alabama shutout of a good Utah State team, and the focus on the receivers and pass protection (1 sack given up, protection was solid), was the brief performance of TB Jahmyr Gibbs.
Nick Saban knows what he has in Gibbs — he has raved about the Georgia Tech transfer all offseason — and once the game was obviously out of hand, he wasn't risking injury. Gibbs averaged 9.3 yards per carry in limited action, and when he did carry the ball, it was strictly vanilla isolation plays.
Tide OC Bill O'Brien showed very little with the Texas game looming. Expect Gibbs, who will be a focal point of the Tide offense this fall, to get double the carries (he had 9 vs. Utah State, including a 58-yard run), and be used more in the pass game (he had 1 catch for 5 yards vs. Utah State).
Saban wants to run between the tackles consistently, and the onus is on the rebuilt offensive line to pave the way. Gibbs is more than capable of handling 20-plus carries a game.
10. Quote to note
Florida coach Billy Napier: "I think what we're figuring out here is that this Anthony Richardson guy is pretty good."