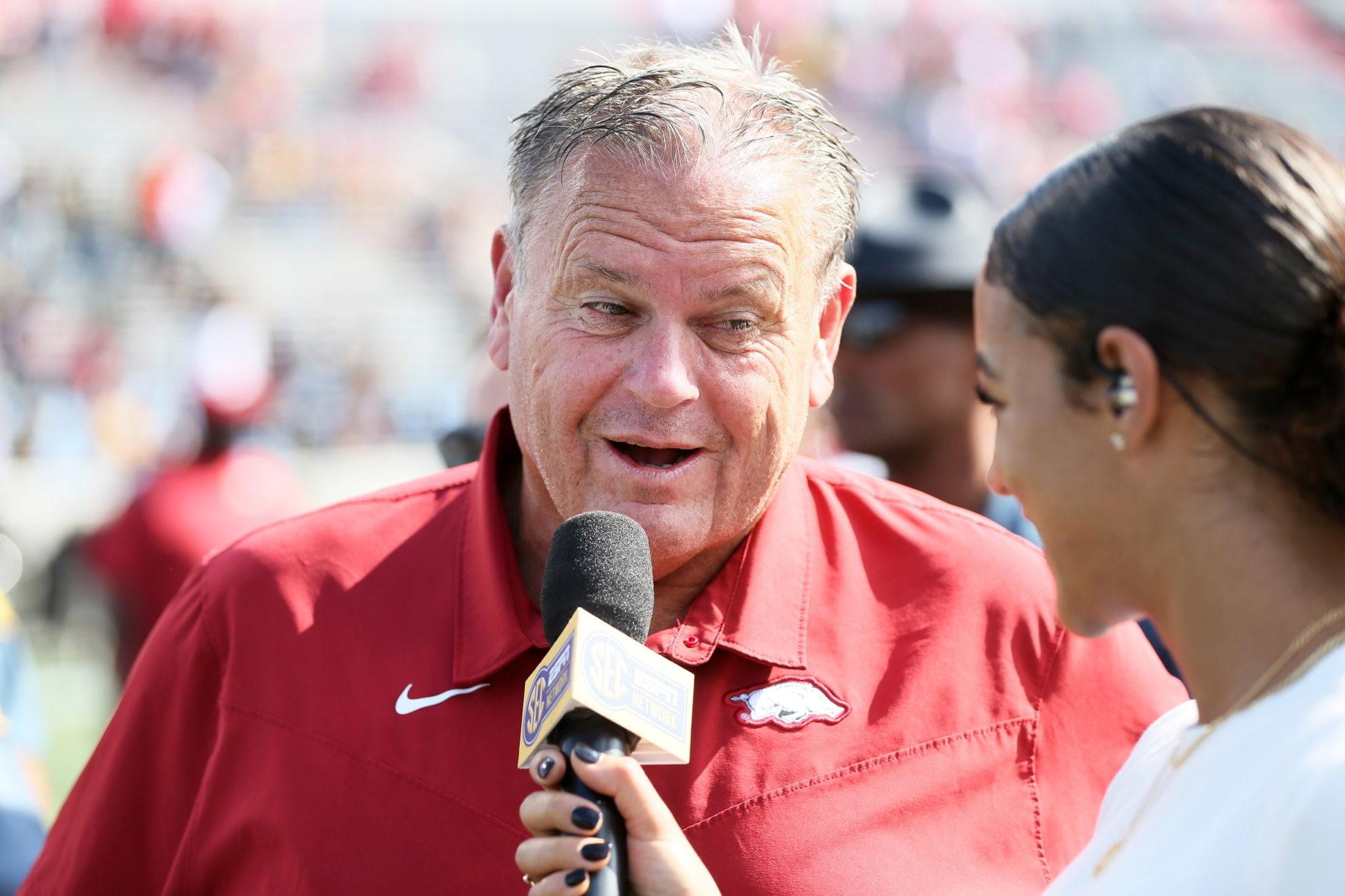 SEC
First impressions of every 2021 SEC bowl game
We know that SEC fans flex more than any conference in America. But honestly, can you blame them?
There are 13 SEC programs going to bowl games (a record), including 2 in the Playoff (tied for a record). With the ACC missing the Playoff, the SEC is the only conference in the sport to have earned a bid every year. For crying out loud, the league has more Playoff teams than the rest of the Power 5 conferences combined.
That's why the league flexes. Oh, and the whole "11 of the past 15 national championships" thing.
The SEC is also going to end up being favored in the majority of these bowl games (a few lines haven't come out yet). The opportunity to have an all-SEC national championship with a 9-4 bowl record seems fairly realistic.
Let's get to some early impressions of SEC bowl games (in order of when they're played):
Armed Forces Bowl — Mizzou vs. Army
When — Wednesday, Dec. 22
Where — Fort Worth, Texas
Network — 8 p.m. ET, ESPN
First impression — Oh, the irony. We spent all year talking about how bad Mizzou's run defense is and then it gets handed a service academy team in a bowl game. Fitting. Army has the No. 2 rushing attack in the country at 301.7 yards per game, which in theory, should be bad news for Steve Wilks' defense. It's worth noting, however, that while Mizzou finished No. 124 against the run, that group was actually No. 34 in the country in the month of November. Nothing will test your desire to play in a bowl game like having to tackle a service academy for 60 minutes.
Gasparilla Bowl — Florida vs. UCF
When — Thursday, Dec. 23
Where — Tampa, Fla.
Network — 7 p.m. ET, ESPN
First impression — Bravo to the parties involved for making this matchup happen, and in the Sunshine State, no less. There was no need to debate the merits of a 2-for-1. It's just too bad that these programs are playing each other at the end of each of their worst seasons in 4-5 years. It would've been better to see this matchup after 2018, but I digress. Gus Malzahn has had a roller-coaster first year in Orlando, though obviously, it didn't quite yield the motion sickness that Florida's year did. This is actually the perfect opponent for Florida to avoid the whole "lack of motivation" thing. A whole lot of bragging rights hang in the balance.
Birmingham Bowl — Auburn vs. Houston
When — Tuesday, Dec. 28
Where — Birmingham, Ala.
Network — Noon ET, ESPN
First impression — I don't really understand how Auburn is favored. Granted, it's only 3 points, but to me, this is a line that could move a lot if and when we hear that more Auburn players aren't playing in the bowl game. TJ Finley was noticeably limping in the Iron Bowl, Shaun Shivers entered the transfer portal and I wouldn't expect to see Bo Nix in this game with how uncertain his future now looks. Mike Bobo is out as offensive coordinator, so you'll have a new play-caller try to turn around a team who lost 4 in a row and is playing a bowl game in Birmingham. Call me crazy, but that doesn't sound like a group that will be all in to play an 11-win Houston squad.
Liberty Bowl — Mississippi State vs. Texas Tech
When — Tuesday, Dec. 28
Where — Memphis, Tenn.
Network — 6:45 p.m. ET, ESPN
First impression — The Mike Leach Bowl! Ah, what a juicy storyline that is. Leach didn't exactly leave Lubbock on the best of terms, and knowing him, we'll get plenty of reminders of that leading up to this one. Go figure that interim coach Sonny Cumbie was actually a grad assistant for Leach during his final year at Texas Tech in 2009. Cumbie will coach in the bowl game before he takes the Louisiana Tech head gig. Crazy it is that the Red Raiders will be on their 4th head coach since Leach's bizarre exit after the 2009 season, and it's someone (Joey McGuire) who was coaching high school football at the time. Leach would finally get his revenge on the Red Raiders.
Duke's Mayo Bowl — South Carolina vs. North Carolina
When — Thursday, Dec. 30
Where — Charlotte, NC
Network — 11:30 a.m. ET, ESPN
First impression — I love that we're getting a couple of in-state bowl matchups this year, including this one. Props to the Mayo Bowl for making this happen. If you close your eyes, who seems more likely to get dumped by a Gatorade cooler full of mayo? Is it Mack Brown or Shane Beamer? I don't know the answer to that question, nor do I know if Sam Howell will play in the bowl game. My guess is that he won't be active for the Heels. He was nursing an upper-body injury down the stretch, and the 3-year starter is expected to be one of the first quarterbacks off the board in the 2022 NFL Draft. If that's the case, suddenly a struggling South Carolina offense has a much better chance of pulling off the upset.
Music City Bowl — Purdue vs. Tennessee
When — Thursday, Dec. 30
Where — Nashville, Tenn.
Network — 3 p.m. ET, ESPN
First impression — I'm already pre-bummed about the opt-outs in this one. We could've had one of the best individual matchups of bowl season with Purdue star receiver David Bell vs. Tennessee lockdown corner Alontae Taylor. But Taylor already opted out ahead of his NFL Draft prep, and it wouldn't be surprising if Bell did the same. Purdue also has a first-round defensive end prospect in George Karlaftis, who could have a rich payday coming. If all 3 of those guys skip, that'd be disappointing. On the bright side, Jeff Brohm and Josh Heupel are both elite offensive minds who will empty the bag and keep us entertained for 3.5 hours. This game has the highest over/under (60) of any SEC bowl game, and understandably so.
Gator Bowl — Texas A&M vs. Wake Forest
When — Friday, Dec. 31
Where — Jacksonville, Fla.
Network — 11 a.m. ET, ESPN
First impression — If the Aggies have opt-outs galore on the defensive side of the ball, yikes. Against Sam Hartman and that Wake Forest offense, that'd be bad news. Real bad. Wake Forest missed out on a New Year's 6 bowl after having Playoff odds into November, but that offense can light it up. The No. 5 offense in FBS is more than capable of capitalizing against anyone. We know that DeMarvin Leal is off to the NFL. We don't know the bowl status of him, as well as upperclassmen like Tyree Johnson, Michael Clemons, Jayden Peevy, Leon O'Neal Jr., Demani Richardson and others. This could be a very different Texas A&M defense than the one who finished No. 3 in FBS. And if those guys do play in the bowl game? Well, this is one of the best matchups of bowl season.
Cotton Bowl — Alabama vs. Cincinnati (Playoff semifinal)
When — Friday, Dec. 31
Where — Arlington, Tex.
Network — 3:30 p.m. ET, ESPN
First impression — That John Metchie injury was significant in a couple of ways. Ask Georgia about defending multiple guys who can get separation downfield. It's not fun. Now, Jameson Williams gets a matchup against Sauce Gardner. Why is that significant, you ask? According to PFF, "the opposition collectively generated a 20.8 passer rating on throws into Gardner's coverage. Throwing the ball in the grass every play would net a higher passer rating — that's how good he is." He also allowed 96 yards in his 320 coverage snaps in the regular season. Williams could get that in a half against most corners. There's no doubt he'll see a whole lot of Sauce.
Orange Bowl — Georgia vs. Michigan (Playoff semifinal)
When — Friday, Dec. 31
Where — Miami, Fla.
Network — 7:30 p.m. ET, ESPN
First impression — If Kirby Smart doesn't start JT Daniels strictly because he thinks Stetson Bennett's mobility is better equipped to handle Aidan Hutchinson, I don't know, man. That's some backward logic. That's a brutal task for the Georgia offensive line, which actually performed adequately against Will Anderson. It feels like Smart's handling of the quarterback situation is going to determine how this Georgia team is remembered. Even if Bennett starts and leads a blowout win against the Wolverines, it'd be fair to question how that would suddenly change the outlook in a likely rematch against Alabama in the title game. But against that Michigan defense, I wouldn't bank on Bennett leading a UGA blowout. That group held Ohio State's No. 1 offense under 30 points, and Iowa was held out of the end zone. The Dawgs need offensive life, and it's up to Smart to make that call.
Outback Bowl — Arkansas vs. Penn State
When — Saturday, Jan. 1
Where — Tampa, Fla.
Network — Noon ET, ESPN2
First impression — I'm baffled that Penn State is favored. This goes to show why I don't do the handicapping because I would've had the Hogs as nearly a touchdown favorite instead of a 3-point dog. Penn State lost defensive coordinator Brent Pry to Virginia Tech, the Lions averaged 23 points per game against Power 5 competition and they went 2-5 to close the season with wins against Maryland and Rutgers. There's also the possibility that Jahan Dotson, AKA Penn State's lone offensive weapon, opts out of the bowl game ahead of the NFL Draft. Meanwhile, the Hogs have the better record, they've got upperclassmen galore playing in their final game (and first bowl game for many of them) with wins in 3 of the past 4 SEC games. What am I missing here? Unless it comes out that Treylon Burks isn't playing, which would be surprising, I truly don't understand the logic here. Put some respect on Sam Pittman's program.
Citrus Bowl — Kentucky vs. Iowa
When — Saturday, Jan. 1
Where — Orlando, Fla.
Network — 1 p.m. ET, ABC
First impression — Mark Stoops, facing his alma mater, should be licking his chops to face this Iowa "offense." It won't remind him of what he saw against Tennessee, Mississippi State or Georgia. Shoot, it won't even remind him of Louisville. Spencer Petras ain't it, and everyone but Kirk Ferentz seems to know that. This is a favorable matchup for a Kentucky defense that's had issues at times this year, but only against teams that could truly pick apart a secondary. The only thing that can prevent Kentucky from jumping out to and sustaining a lead? Turnovers. Iowa is No. 1 in turnover margin among Power 5 teams and Kentucky is second-to-last in FBS. As long as the Cats don't have multiple turnovers, this should be another Kentucky victory in Orlando.
Sugar Bowl — Ole Miss vs. Baylor
When — Saturday, Jan. 1
Where — New Orleans, La.
Network — 8:45 p.m. ET, ESPN
First impression — The first and only time that Lane Kiffin's offense faced Dave Aranda's defense, it was a 10-0 game. Granted, that was 2016 Alabama vs. LSU. Something tells me it'll be a touch different this time. Now, both are in different places as head coaches, and both should be in the National Coach of the Year discussion. In Year 2, both are showing that they know how to build a program up, which was why they both were linked to bigger job openings. That's why this game shouldn't feature a bevy of opt-outs. This is an opportunity for an on-the-rise program to have some major offseason momentum after avoiding their coach getting poached.
Texas Bowl — LSU vs. Kansas State
When — Tuesday, Jan. 4
Where — Houston, Texas
Network — 9 p.m. ET, ESPN
First impression — Your guess is as good as mine. That is, I have no idea what to expect from LSU. We know that Max Johnson is playing quarterback because he's the only guy left. We also know Brad Davis is the interim coach. Other than that? Good luck. Longtime strength and conditioning coach Tommy Moffitt wasn't retained by Brian Kelly, receivers coach Mickey Joseph is off to Nebraska and who knows what we're gonna get with opt-outs and transfer portal decisions. The Tigers defended extremely well down the stretch. Everything else was a bit of a mess. But now without Ed Orgeron, who is likely going to enjoy that $17 million on a beach for the foreseeable future, there's no guarantee that the defense plays at the level it did in November. This game is a total dart throw.