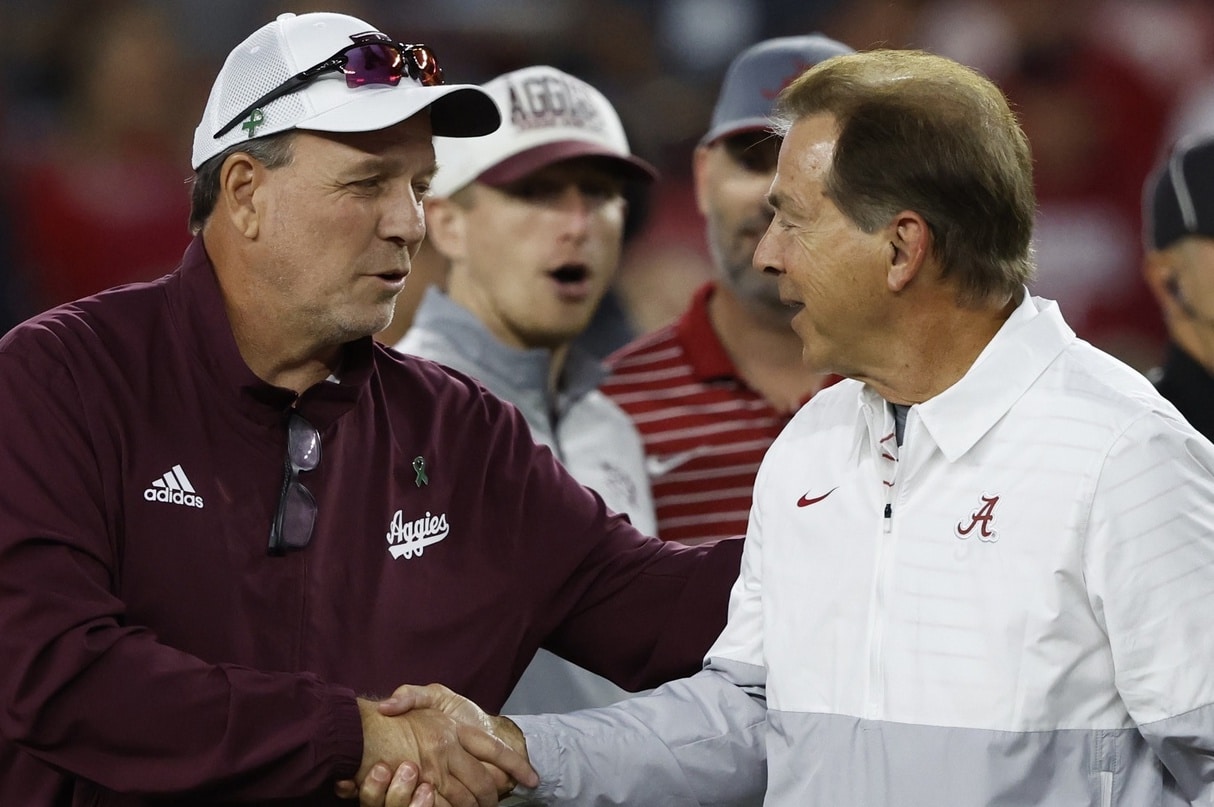 SEC
First impressions of every SEC game in Week 6
I don't know how time works, but the calendar tells me that somehow, we're already at Week 6.
Stunning, I know. July was 15 minutes ago.
Now that we've turned the calendar to October, certain things are real, and certain things aren't real. Colorado competing for a Pac-12 title doesn't feel real, nor does Brian Ferentz's chances of averaging 25 points and keeping his job as Iowa's much-maligned offensive coordinator.
But we'll save those non-SEC conversations for another time. Today, we'll just focus on the things that feel real in the SEC.
Here are early impressions of a condensed Week 6 SEC slate:
LSU at Mizzou — Luther Burden is not what the doctor ordered for the LSU secondary
If my defense just allowed over 700 yards of offense, I'd rather see an apocalypse than Burden. The Tigers were totally overmatched at Ole Miss, and now, they get to face the FBS leader in receiving yards. That's bad news bears for the Tigers' struggling secondary. In 3 games against Power 5 quarterbacks who could move the pocket (Jordan Travis, KJ Jefferson and Jaxson Dart), they allowed an average of 346 passing yards and 3.3 passing touchdowns. Brady Cook is absolutely a mobile quarterback, and while that offensive line hasn't been perfect, it only allowed 9 sacks through 5 games.
To make that matchup even more daunting, LSU is going to have to get creative in coverage because of how Burden is used. He's almost exclusively a slot receiver now (86% of his snaps) with 2022 slot receiver Dominic Lovett at Georgia. That means we'll probably see a lot of Sage Ryan on Burden. Advantage goes to the latter.
Western Michigan at Mississippi State — This game couldn't have come at a better time
For four 4 consecutive weeks, Mississippi State fans have left a game not feeling particularly good. Even the win against Arizona came after a blown 2-touchdown lead in Starkville, wherein it looked like Will Rogers wasn't trusted in the passing game. So what's a welcome sight for the Bulldogs? A Western Michigan squad that let Iowa score 41 points. That group ranks No. 125 in scoring defense. That struggling Mississippi State secondary will face a Western Michigan passing attack that sits at No. 99 in FBS having thrown just 5 passing touchdowns all season, only 1 of which came in those 2 Power 5 matchups.
Mississippi State needs a get-right game as much as anyone in the SEC. That should come as a 3-touchdown favorite at home.
Alabama at Texas A&M — If Bama does have a championship-level defense, it'll be clear by day's end
Quietly, the Tide defense has looked lights out the last 3 weeks after the Texas loss. In those games, Alabama averaged just 10 points allowed, and even more impressively, it surrendered just 4.1 yards per play. The passing defense looks significantly better, too. In those 3 games, Alabama allowed just 1 passing touchdown and 4.8 yards/pass attempt. The Tide did that even though breakout linebacker Deontae Lawson went down early against Ole Miss. Not too shabby.
But A&M will be a test that's closer to Texas than Ole Miss. Yes, even with Max Johnson at quarterback. Through 5 games, A&M is averaging 37.4 points per game, which is actually 1.4 points per game better than Texas. A&M is No. 30 in FBS in passing yards/game and it ranks No. 13 in FBS with 14 passing touchdowns. As Alabama saw in Tuscaloosa last year, Evan Stewart is a monster. With Ainias Smith back healthy, this A&M air attack is versatile and confident. Alabama is going to need an A+ effort to slow down Bobby Petrino's thriving offense.
Vanderbilt at Florida — This will be a bounce-back game for the Florida backfield
The Gators have been a pretty easy team to figure out so far. On the road, they're a sloppy mess. They're a more disciplined team at home that gets after it in the trenches. Specific to the rushing attack, it's likely that Trevor Etienne and Montrell Johnson Jr. shake off a rough afternoon in Lexington and tee off on Vandy. Why? In addition to Florida averaging 207 rushing yards in 3 home games, the Commodores rank No. 13 in the SEC in run defense, allowing an average of 178 rushing yards the last 4 weeks.
In a revenge game after Billy Napier inexplicably ditched the ground attack last year in Nashville, we should see a combined 35-40 touches for Etienne and Johnson. Etienne has looked like the better player in a limited sample size this season. They're only separated by 3 snaps per game, which is an improvement from last year. Call me crazy, but a repeat of last year's scrimmage touches in this game — Johnson had 12 and Etienne had 5 — seems extremely unlikely.
Kentucky at Georgia — Let's talk about Ray Davis against this Georgia run defense
What incredible timing this matchup has. Kentucky is coming off a game in which Ray Davis ran for more yards (280) than any FBS player this season while Georgia is coming off a game in which the masses realized that the run defense is a bigger problem than OC Mike Bobo. The idea of Kentucky's scrutinized offensive line hanging tough with that Georgia defensive line once seemed like an impossibility. That's no longer the case. Not after Auburn just racked up more rushing yards than any Georgia opponent since the 2018 LSU game.
The Dawgs struggled to set the edge. That has to be cleaned up against a shifty, patient runner like Davis. The good news for Georgia is that Kentucky's ground attack outside of Davis hasn't been particularly deep. The bad news is that Payton Thorne's 61-yard run in the first quarter was a reminder that you don't need to be Bo Jackson to light up this group. It's wild to think that entering October, the Dawgs aren't in the top half of FBS in yards/rush allowed (3.9, No. 67 in FBS), and they rank No. 47 in 10-yard runs allowed (19).
If gap discipline doesn't improve for that Georgia defensive front, Davis has all the ability to turn this into another long day defending the run. That is, assuming he gets some rest after his 27 touches.
Arkansas at Ole Miss — Another week, another bad matchup for the Arkansas O-line
I feel bad for KJ Jefferson and Rocket Sanders. Those guys deserve better protection, and in this Dan Enos scheme wherein there are more traditional dropbacks, they're going to be behind schedule a whole lot unless this offensive line undergoes a drastic turnaround. After allowing 15 (!) tackles for loss against Texas A&M, it'll travel to face an Ole Miss squad that has some holes defensively, but is also well-equipped to get into the backfield. There are 20 different players on Pete Golding's defense who have registered a tackle for loss through 5 weeks, and it ranks No. 17 in FBS in tackles for loss per game.
Mind you, that's not necessarily the byproduct of sending a bunch of unique blitzes from the second level. Ole Miss has been mostly good at getting downhill and disrupting backfields without having to blitz with defensive backs. Granted, as we saw with LSU, that group has also been gashed a bit. It ranks dead last in the SEC with 5 scrimmage plays of 50 yards allowed, and LSU and Vanderbilt are the only SEC teams who surrendered more scrimmage plays of 20 yards (26). This game could be reminiscent of what Arkansas did at LSU.
Alternatively, without LSU game star Luke Hasz — he's expected to miss the season after breaking his collarbone vs. A&M — we could just get endless reminders that Arkansas' offensive line is wasting an elite duo in Jefferson and Sanders.