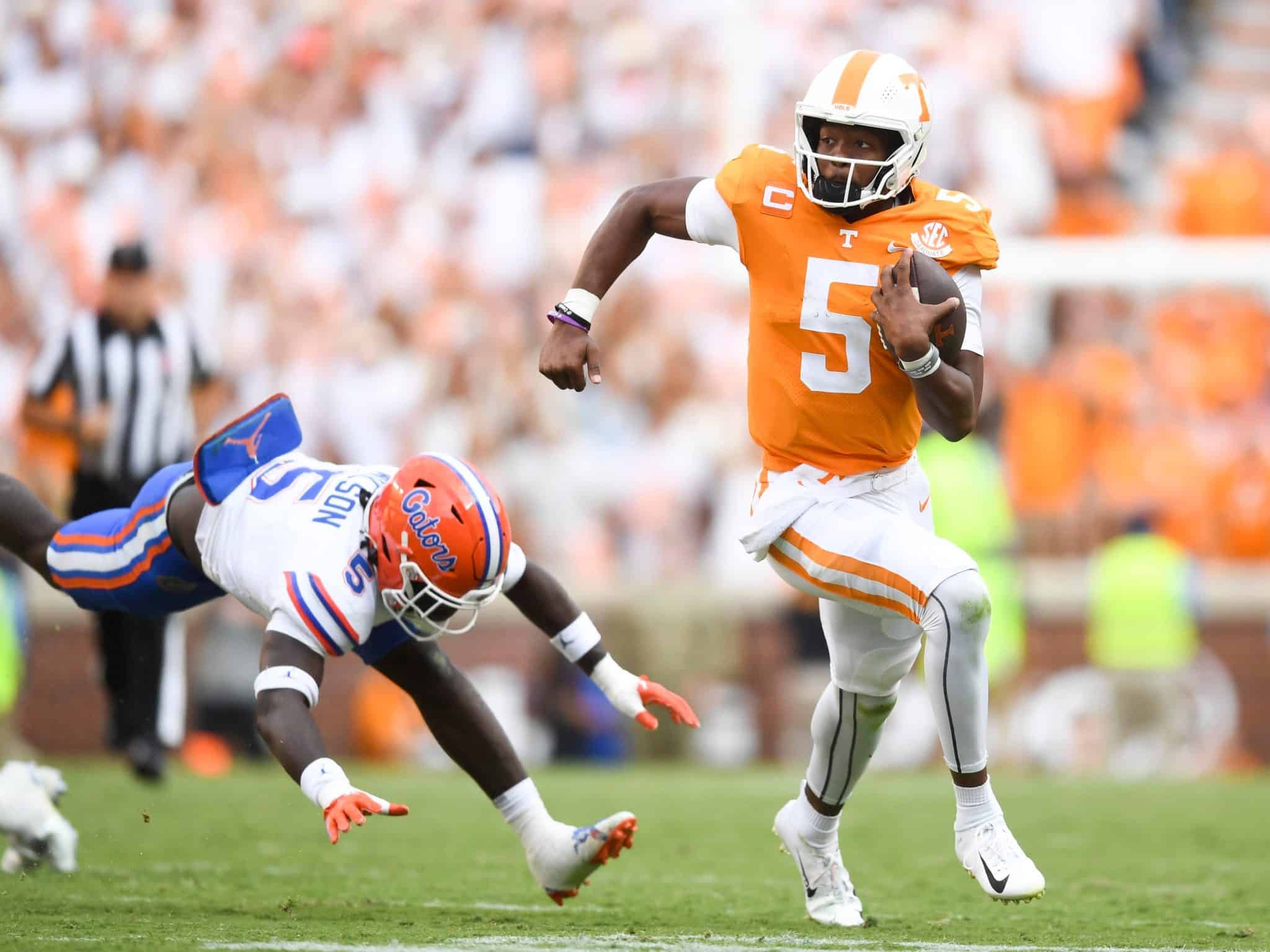 SEC
Georgia football: Just how worried should the Dawgs be about Tennessee?
Ah, can you feel that, Georgia fans? The bye week. A time to kick your feet back and relax.
Like an air passenger with noise canceling headphones, just take in the soothing tones of some soft music while the rest of the flight agonizes through screaming babies and disgruntled flyers.
But wait…
What's that music playing? Why is this on your playlist? What kind of sick person would sneak that onto the Spotify of a true red and black-blooded Georgia fan?
"Rocky Top, you'll always be
Home sweet home to me.
Good ol' Rocky Top
Rocky Top, Tennessee!"
It's enough to make the throngs of Georgia faithful shudder. And there can be no rest for the weary when a hard-charging train of Tennessee Orange and Smokey Gray is just around the corner.
The question was posed to me: Just how concerned should the Dawgs be about the Vols?
My answer: How concerned should a small animal be of the watchful falcon circling overhead? How concerned was that guy who narrowly escaped a bear while climbing a cliff in Japan? How concerned should the spider in my apartment be about the bottom of my shoe?
In short: No. 1 or not, undefeated or not, defending champs or not – Georgia should be very, very concerned about its SEC East rivals. What began as a nice feel-good story this season – ("Man, good for them, you know? College football is better when teams like Tennessee are back in the mix…") – has become a bona fide threat to the Bulldogs' title defense.
That's what happens when you knock off Nick Saban and his Alabama Crimson Tide. People who were applauding your success, laughing when Alabama's field goal sailed wide right, and high fiving when your knuckleball of a field goal attempt fluttered just over the crossbar suddenly aren't laughing anymore.
Now, they resemble more the wide-eyed emoji, silently asking if these guys are for real.
Well, these guys are for real.
And if Hendon Hooker and Co. keep playing like they have so far this season, there's no reason to believe they can't unseat Georgia and march right into Atlanta with a chance at the College Football Playoff and, by extension, a national title all on the table.
These are the three main reasons I believe Georgia has every reason to be very worried about their showdown with Tennessee in just over two weeks.
1. That offense may be the best around
And when I say "around," I don't mean just the SEC. I know we Southerners typically stop looking at teams once we get to the Mason-Dixon Line, but there are some pretty good offenses in college football this season.
Ohio State, Michigan, USC and others all come to mind.
But Tennessee is in the mix with all of them.
Let's just look at the surface-level numbers:
At 551 yards per game, the Vols are No. 1 nationally in total offense.
At 347.8 yards per game, they are No. 5 in passing offense.
Looking for balance? At 203.2 yards per game, they are 27th in rushing offense.
At 47.7 points per game, they're just a point behind the Buckeyes for the No. 1 scoring offense.
Now, how about some of the deeper-cut statistics?
The Vols are perfect inside the red zone, scoring on all 32 of its opportunities. Of those scores, 26 are touchdowns and 6 field goals. At 81.25 percent touchdown percentage in the red zone, they are ranked 5th in the country.
They are tied Ohio State for No. 1 in plays of 30 or more yards with 24 such plays. 40 or more yards? All alone in first with 16.
All of this is to say what we already know: The Tennessee offense is really, really good. Hooker is among the top 2 or 3 contenders in the 2022 Heisman Trophy race. Receivers Jalin Hyatt and Bru McCoy provide a devastating 1-2 punch in the passing game, as do Jaylen Wright and Jabari Small in the running game.
This is a complete unit, and relying on Georgia's top-tier defense may not be enough on its own. We've seen enough vulnerabilities to know that opposing offenses can have some success. The question will be, can Georgia match it?
Which brings us to the next point …
2. Tennessee's defense is weak … but it isn't incompetent
The overriding narrative about the Vols this year is that they are carried by that aforementioned offense in spite of a below-average defense. And, to a degree, I can see why they have that reputation.
Tennessee is 104th in the country in total defense, allowing 425.3 yards per game. It is nearly dead last, 129th, in passing defense at 332 yards allowed per game. Its scoring defense is so-so, ranked 47th in the country.
These aren't numbers of the typical national title contender in recent years.
But let's look a little deeper at this defense. Is it really as bad as it appears on the surface?
As poor as the pass defense is, the rush defense is ranked highly. The 93.33 yards the Vols allow per game is 10th in the country.
They are 39th in 3rd-down conversions allowed at 34.1 percent. Not terrible.
They are 13th in red-zone percentage allowed at 73 percent. For context, that is just 3 percentage points lower than the vaunted Georgia defense. Tennessee is also 19th in touchdown percentage allowed in the red zone at 46.15 percent.
Tennessee is 42nd in plays of 30 or more yards allowed with 11 and 27th in 40 or more yards allowed with 4. By contrast, Georgia's offense is just 66th in plays of 30 or more yards with 13 and 114th in 40 or more yards with 3.
None of this is to say Tennessee has a dangerous defense. Frankly, it doesn't. But it would be a mistake to assume that Georgia's offense will just be able to march into Sanford Stadium and throw it all over the field on Nov. 5.
Tennessee's defense is just a little better than that.
3. Tennessee is battle-tested
Many of you probably saw this incredible stat circulating on social media after Tennessee's win over Alabama last Saturday:
Teams in CFB History to Start 6-0, Beat 4 Top-25 AP Opponents, and score 30+ Points in each of the 1st 6 games in a single-season:

2022 Tennessee

That's it. pic.twitter.com/vPgtSn0hiC

— Greg Harvey (@BetweenTheNums) October 15, 2022
So far this season, the Vols have topped then-No. 17 Pittsburgh in overtime, then-No. 20 Florida by 5 points, then-No. 25 LSU in a 27-point romp, and then-No. 3 Alabama at the end of regulation.
There's an obvious caveat: Three weeks after its loss to Tennessee, Pitt lost to a Georgia Tech team that had just fired its head coach after a 1-3 start. Pitt is no longer ranked in the Top 25. Similarly, Florida, which looked like an early-season sleeper after opening its season with a win over No. 7 Utah, has now lost 3 games. It, too, is no longer ranked in the Top 25. LSU has slipped out of the rankings as well.
This is of no consequence.
These are still impressive wins and ignoring them would be a mistake.
Is any of this to say that Tennessee is now suddenly the best team in the conference and the Georgia Bulldogs are now the Georgia Underdogs in their own division?
Of course not. But concerned?
You better believe it.