SEC
Georgia vs. Mississippi State: 3 best player over/under picks for SEC crossover matchup
Georgia vs. Mississippi State is an SEC East-West crossover game set for Saturday in Starkville. The cowbells will be loud in Davis-Wade Stadium when the game kicks off at 7 p.m. Eastern time on ESPN.
The game features 2 of the best quarterbacks in the SEC in Georgia's Stetson Bennett and Mississippi State's Will Rogers.
Georgia is 9-0 and No. 1 in the College Football Playoff rankings. Mississippi State is 6-3 coming off a narrow win over Auburn.
Over at Underdog, there are ways to get in on the action by making fantasy picks for Georgia and Mississippi State players' over/under stats.
What is Underdog and why should SEC fans care?
Underdog is a new daily fantasy platform backed by investors such as Mark Cuban, Kevin Durant and Adam Schefter.
This isn't what you might think about fantasy sports though. Through Underdog's "Pick'em" contests, you can bundle a few selections of player prop picks similar to what you find at sportsbooks, and yes, you can put real money against these picks. Check out the screenshots below for Georgia and Mississippi State picks this week: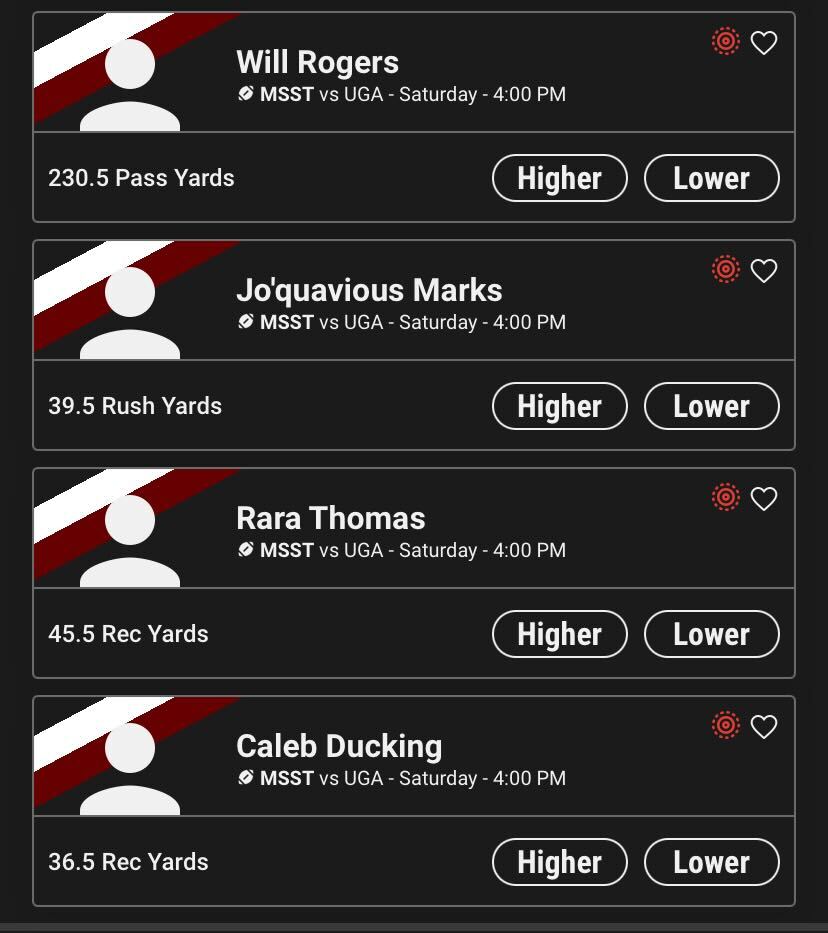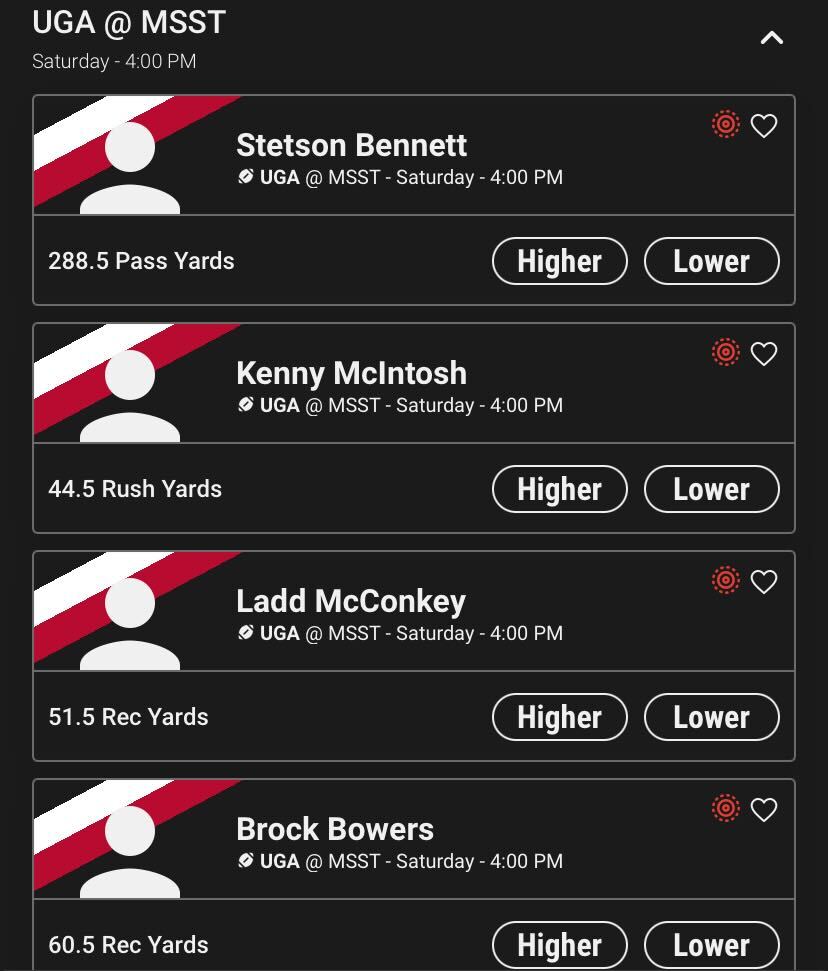 Underdog Fantasy is available in 41 states, so a lot of those southern "SEC" states where sports betting is not yet legal? Yep, you can do Underdog Fantasy picks for real money, as we're outlining here. It's really fun.
Underdog Fantasy is not available in the following states: CT, DE, HI, ID, IA, LA, MI, MT, NV.
Underdog is available in these states, but Pick'em contests as we outline here are not available: AZ, CO, MD, MO, NH, NJ, OH, PA, TN, WA, WV.
If you want to get started, Underdog will match your first deposit up to $100 by clicking here or using promo code SOUTH.
My picks for Georgia vs. Mississippi State
Let's start with Mississippi State. As you can see above, Will Rogers' higher/lower passing yards total is set at 230.5. Seems like an easy total for the SEC's leading passer to surpass, right?
Well, when you dive into Rogers' game-by-game stats, it reveals a different picture. Rogers struggles against top SEC defenses. Against Alabama, he threw for 231 yards. Against Kentucky, he threw 203 yards. Against LSU, he threw for 214 yards.
In those 3 games, he threw for a grand total of 2 touchdowns and 2 interceptions. And, none of those 3 teams have defenses that are at the same elite level as Georgia's.
Yes, all 3 of the aforementioned games were on the road, and this week's contest is at home. But, Georgia's defense is up for the challenge. I like the "lower" on Rogers' passing yards total.
Now, let's discuss Jo'Quavious Marks. The Mississippi State running back has a season-high rushing yardage total of only 54 yards. But, he's run for 50+ yards in 5 of his 8 games. Again, though, he hasn't faced a defense the caliber of Georgia's. I'm betting on the Georgia defense and taking the "lower" option on Marks' rushing 39.5 yards.
As for Georgia, I am focused on Stetson Bennett and his 288.5 passing yards over/under. I'm going to use last week's Tennessee game as an example. Georgia controlled the game from the opening kickoff, leading to more running in the second half. He finished that game with a total of 257 passing yards. I expect a similar outcome this weekend in Starkville.
Georgia takes a big lead early, then runs out the clock in the second half. I'm going with the "lower" option on Stetson Bennett's passing yards.
Here's a breakdown of my best picks for this week: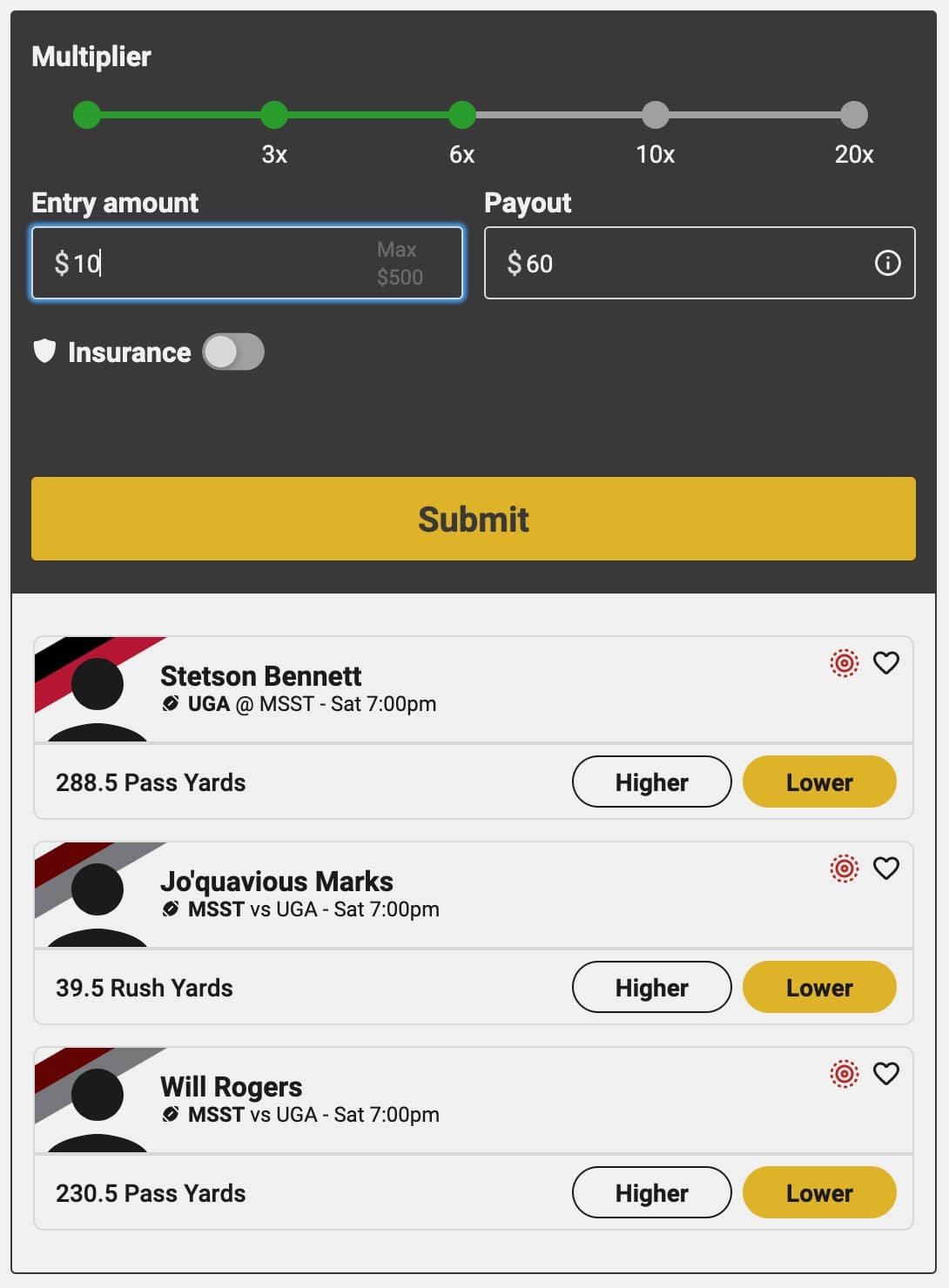 How many picks should you make?
The more picks you string together, the higher the "multiplier" or payout. Of course, the more you string together, the less likely you are to win because all of the picks have to hit in order for you to win.
This week, I'm going with the above 3-pick, 6X-multiplier option. But, if you want to try to play it safer and only go for a 2-pick, 3X-multiplier option, take both quarterbacks' passing yards and "lower." Expect a defensive showdown in Starkville!
Get started on Underdog by clicking here and make your picks for Georgia vs. Mississippi State or other CFB, NFL and NBA games. Using this link means Underdog will match your deposit up to $100. If you deposit $25, you'll get an extra $25 to start playing right away.