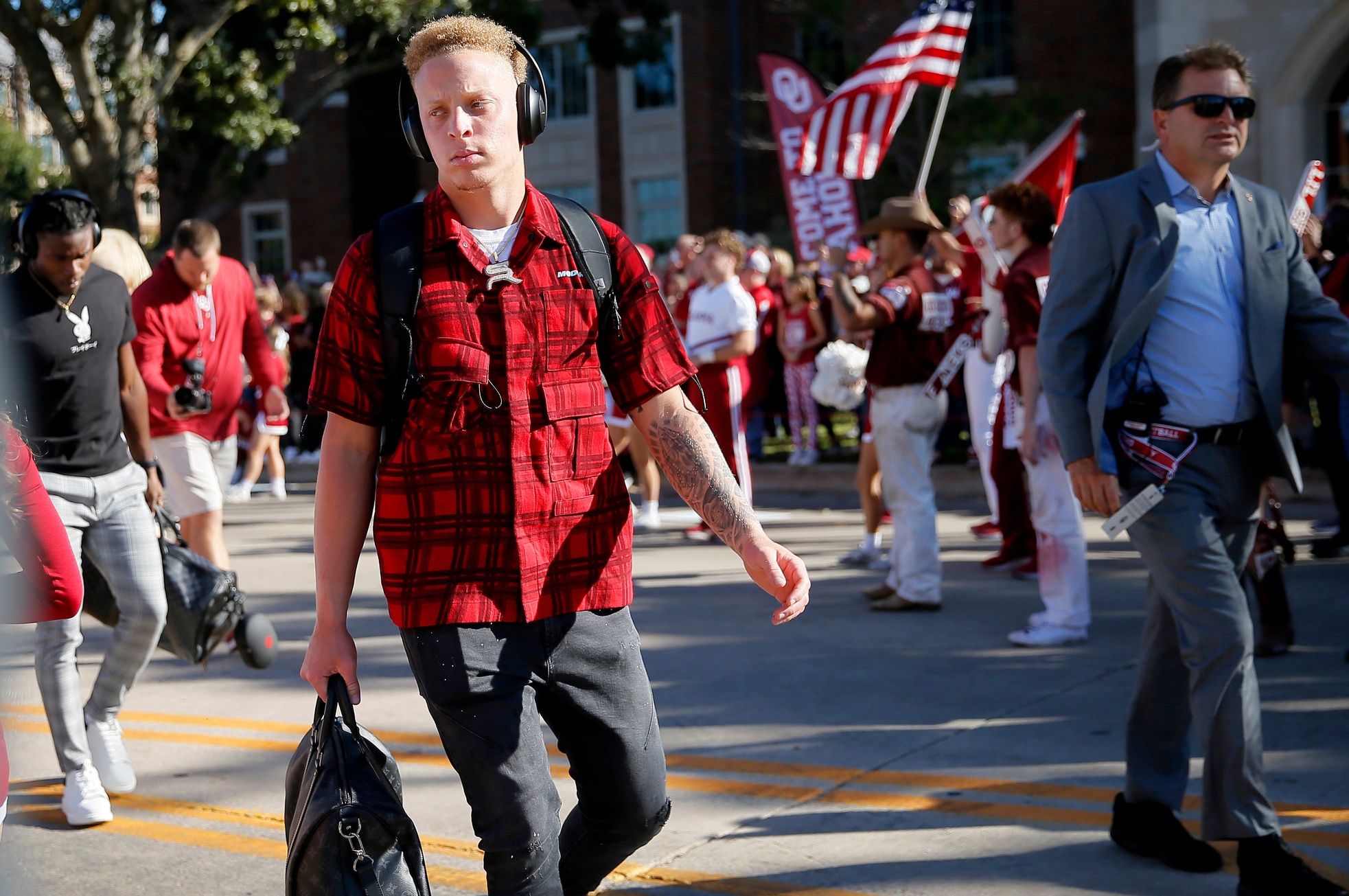 SEC
If Spencer Rattler transfers, these 3 SEC programs would make a lot of sense
In case you haven't heard, Caleb Williams is the man in Norman.
As in, Spencer Rattler, AKA the preseason No. 1 overall pick in several mock drafts, is no longer Oklahoma's starting quarterback. Given Rattler's high profile as a household name, one would think that he should be in position to transfer and have a significant market for his services.
That list should include SEC schools, who would love the chance to sign the former 5-star signal-caller. Rattler was a first-team All-Big 12 selection after a blistering finish to 2020.
Two things can be true at the same time.
Was he overrated entering 2021? Absolutely. Can he still be an elite college quarterback in the right situation? Definitely.
These are 3 SEC schools where Rattler could make a lot of sense if he were to transfer at season's end.
Ole Miss
Be honest, Ole Miss fans. On Saturday night when Corral went down late in that game and you realized that Luke Altmyer was coming in and it wasn't John Rhys Plumlee, you got worried. That's not a jab at Altmyer, who earned that No. 2 job as a true freshman, but you can't fake experience. Rattler has that, albeit in a different offense.
Still, though. Let's assume that Corral, who actually has 2 years of eligibility left after this year because he redshirted in 2018 and 2020 didn't count against anyone, leaves for the NFL at season's end. Rattler could play immediately in Lane Kiffin and Jeff Lebby's offense. Those Baylor principles with tempo and spreading defenses out would work with Rattler. He'd get an offense that has proven it can scheme open big throwing windows downfield against SEC defenses.
Rattler's downfall at Oklahoma was reading drop-8 coverage. What did Corral need to figure out this offseason? How to read drop-8 coverage. Needless to say, he's a master of it now. They're both extremely similar from a physical standpoint, as well, though I'd argue Corral's toughness as a runner is at a different level.
Whatever the case, the blueprint would be there for Rattler. Few situations would be more favorable for him to step into than the one in Oxford … as long as Kiffin doesn't bolt for LSU.
Tennessee
If I think Rattler can execute the Lebby/Kiffin offense, you know I think he can execute the Josh Heupel offense. Quick reads, downfield shots, up-tempo … these are all things that would work in Rattler's favor. We watched Hendon Hooker play exceptionally well as Tennessee's starter after he transferred from Virginia Tech. Rattler, I'd argue, is a more natural fit in the offense than Hooker, who doesn't have the downfield prowess that the Oklahoma quarterback has.
Technically, Hooker has 1 more year of eligibility left after this one. We'll wait and see what his post-2021 plans are. What seems unlikely, though, is that Joe Milton is QB1 next year. Plenty of Tennessee fans are still holding out hope for Harrison Bailey, but he's third string on the depth chart, so it's hard to imagine Heupel would hold off on recruiting Rattler because of him.
And just in case you were wondering — I should've also mentioned this for Ole Miss — Rattler's presence shouldn't impact Arch Manning's decision. Manning won't even enroll until 2023, which would be the start of Rattler's 5th year at the college level.
Georgia
Smart collects 5-star quarterbacks like childhood me collected baseball cards. No, I wasn't satisfied to just get 1 Ken Griffey Jr. card. I needed all of them.
That's the response to the question about why Smart would even pursue Rattler. We don't know JT Daniels' future beyond 2021, other than that he technically still has 2 years of eligibility left after this season (he got a medical redshirt in 2019 and 2020 didn't count against him). Former 5-star recruit Brock Vandagriff is waiting, as is 4-star 2022 pledge Gunner Stockton. Oh, by the way, so is 4-star redshirt freshman Carson Beck.
But again, this is Smart. This is the guy who brought Daniels on board even though he had Jamie Newman transfer to UGA a few months earlier. There really is no limit to the amount of potential options that Smart will recruit to play quarterback.
Rattler has all the tools to execute Todd Monken's offense. He could attack downfield and step into clean pockets behind an all-world offensive line (Oklahoma's offensive line play has quietly been a weakness). There would be no shortage of weapons, including the emerging Brock Bowers. And even better for Rattler, he could play against SEC competition while being in the more favorable division.
Never, ever, ever assume that Smart won't put the full-court press on to land a talented quarterback.
And I don't think LSU would happen, but …
Don't rule it out. At least not yet. There are a ton of moving pieces there. We don't know who takes over for Ed Orgeron. We also don't know if Orgeron's successor will be in favor of Max Johnson, who will have 3 years of eligibility left after this year. Johnson has hardly been at the root of LSU's struggles. I'd argue he's a reason it hasn't been a total dumpster fire.
But if LSU hires an elite offensive mind, there's no guarantee that Johnson will be the preferred choice if Rattler is an option. Imagine if Kiffin left Ole Miss for LSU and he had a chance to recruit someone with Rattler's skill set to run his offense. With all due respect to Johnson, that would be incredibly intriguing. We also don't know that Johnson, Garrett Nussmeier or Myles Brennan (don't forget about him) are all going to stay on board for the new staff.
Rattler could have the opportunity to throw to Kayshon Boutte — he could very easily be a preseason All-American in 2022 — as well as promising young wideouts like Brian Thomas Jr., Deion Smith and Malik Nabers.
LSU could be quite the wild card in the Rattler sweepstakes.