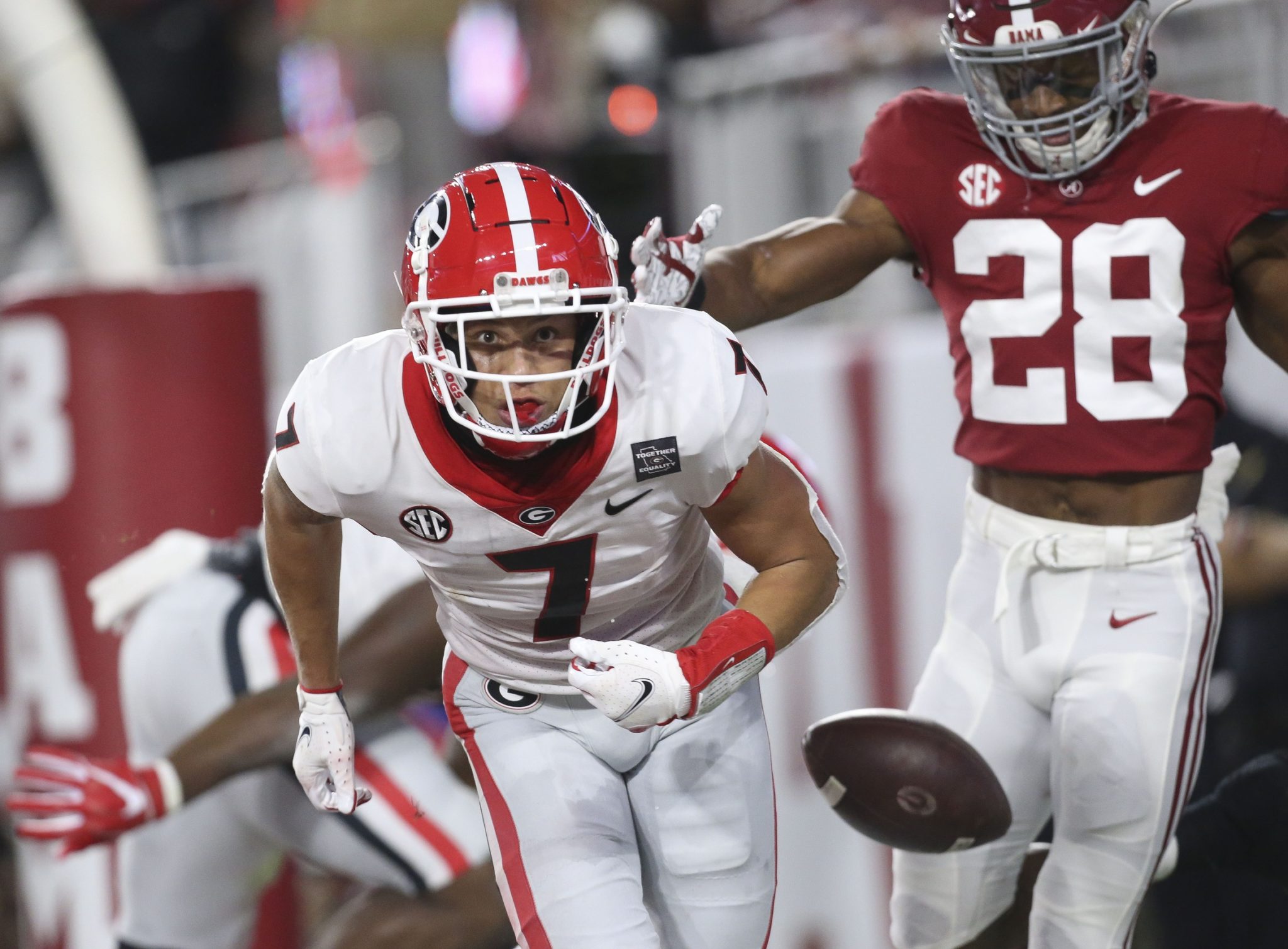 SEC
It stings, but as fans, there's a new transfer portal reality that everyone will be forced to deal with
Welcome to the new age.
Sorry. That's the last time in this column that I'll quote Imagine Dragons.
The new age of the transfer portal is here, and whether you like it or not, it doesn't really care about your fandom. The new age consists of undergraduates getting a 1-time exemption to transfer without sitting out a year, and perhaps of equal significance, it also consists of no more intra-conference restrictions.
Frustrating? For sure.
I imagine it stings to be a Georgia fan to watch Jermaine Burton play a pivotal role in winning a national championship, only to then watch him cross enemy lines and transfer to Alabama. I wouldn't assume that's Olivia Rodrigo levels of scorn, but it's hard not to have any emotional attachment to multi-year starters.
No matter who you're a fan of, you're being forced to deal with this reality. Alabama feels like it has a 1-way street when it comes to plucking talent from rivals with landing the likes of Henry To'o To'o (Tennessee), Eli Ricks (LSU) and most recently, Burton (Georgia). But even Nick Saban was forced to deal with Drew Sanders leaving for Arkansas, Marcus Banks leaving for Mississippi State and Jahleel Billingsley leaving for future SEC rival and 2022 opponent Texas.
But of course, when the rich get richer, that's what we focus on.
We saw former Georgia star Mecole Hardman call out Burton for that decision, which was met with a pretty straightforward response from the Tide's newest outside weapon:
Why it matter on who agree ? My career . Nobody else's.💯 https://t.co/kzPKVnc0Zt

— 🛸 (@NASAMAINE) January 24, 2022
That's pretty telling. Burton clearly doesn't care who signed off on his decision. It is his career.
It's the same thing we see with recruiting. A kid from Southern California isn't going to make a decision based on what Jim from Macon thinks of him. Traitor? You can call him that. Burton would take being called a whole lot worse if it meant he followed in Jameson Williams' footsteps.
For what it's worth, I think expecting Burton to deliver an All-American season like Williams is a bit too lofty. Regardless, I understand him deciding that he'd rather catch passes for Bryce Young than Stetson Bennett IV. One is a fine quarterback and a Georgia legend, the other just won the Heisman Trophy and potential No. 1 overall pick.
That's how so many of these decisions are being made. Yeah, we've seen guys with sentimental attachment return to their home state like Wan'Dale Robinson at Kentucky. We've also seen guys sprint to grab a rivalry trophy after a victory, only to then join the other side a few months later like Joe Foucha at LSU.
Foucha transferred from Arkansas to LSU less than 2 months after this happened:
Joe Foucha is all of us pic.twitter.com/wFjdFmnaBq

— Tye Richardson 🐗 (@TyeSportsRadio) November 14, 2021
Yeah, Arkansas fans felt bummed to lose Foucha and Greg Brooks, especially with both leaving for LSU. You know what probably didn't upset the Razorback faithful? Getting Latavious Brini from Georgia or getting the aforementioned Sanders from Alabama. Oh, that's right. Arkansas also got Dwight McGlothern … from LSU.
This is a 2-way street with a speed limit of 80 mph. No part of big-time college football is a walk in the park anymore.
And to be fair, just because the rules now allow for players to cross enemy lines doesn't mean that everyone will do it. I don't know this for sure, but I'm guessing Grant Morgan never would've left Arkansas for Texas A&M. A guy like Dameon Pierce transferring from Florida to Georgia seems about as likely as Steve Spurrier voluntarily wearing red and black.
Maybe that's more of a throwback approach. Some will have it, many won't.
Frustrating? For sure.
As fans, all we want is for players and coaches to care as much as we do. We'd all like to believe that the name on the front matters more than the name on the back, and it's a tough pill to swallow when that notion is debunked. Being a fan would be a whole lot easier if every player put themselves through physical and emotional hell for the good of the program like Rudy.
And so when we see that a player isn't wired that way, it's easy to default to narratives. "Ah, kids these days" or "NIL is ruining the sport." That's happening at a time when we have more access to players as recruits than ever before, which is why some of that emotional attachment builds, whether we realize it or not.
That doesn't mean fans should stop getting excited when a 5-star tweets at the end of a 2-year recruitment "110% committed to program 'X'." Maybe it's more like, I don't know, 87% committed? There's more freedom than ever to bolt if a better situation comes along.
Burton left Georgia because he felt like there was a better situation at Alabama than the one he would've been part of in Athens. We're not used to seeing multi-year starters leave days after a championship parade, but all signs suggest that cases like Burton are going to become more common. That's happening whether we like it or not, and even in the off chance that we see a transfer portal period instituted, that still won't prevent the possibility of any player changing sides in a rivalry.
Times have changed. So has the money. Exponentially. That's why we're at this point.
Rivalries will take on new meaning. Rosters will be more fluid than ever. Players will choose schools with less emotional attachment than ever.
My advice? Swallow that pill and let go of those Olivia Rodrigo levels of scorn.