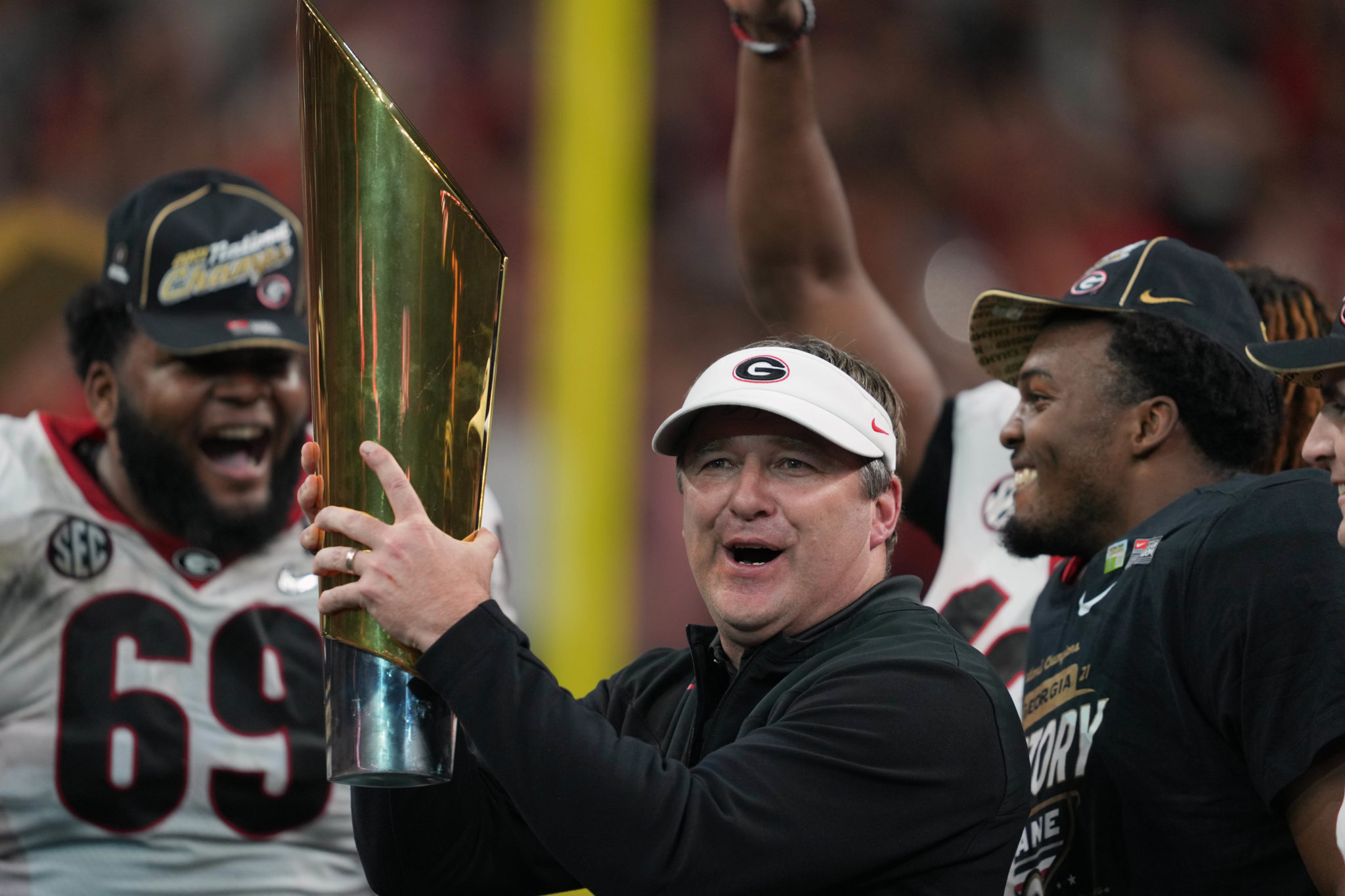 SEC
It's the SEC's world. The rest of college football is just losing in it
Take a good look at what played out Monday night in Indianapolis.
You're going to see it again next year in Los Angeles.
It's the SEC's world, everyone. You want some of it?
Come get it.
"It had to be this way," said Georgia quarterback Stetson Bennett. "It had to be against them."
Because Georgia beating anyone else other than Alabama in the College Football Playoff National Championship Game wouldn't have done it. Beating anyone other than your rival and nemesis – than the SEC king and college football standard — wouldn't have meant as much.
Beating Alabama on this stage, with all of college football watching and pondering the difficulty of the future chase, couldn't have been a more fitting finish to a surreal week in Indianapolis.
Hours before Georgia's heart-pounding, bare-knuckle brawl of a 33-18 victory, college football's 10 conference commissioners and Notre Dame athletic director Jack Swarbrick met in Indianapolis to iron out format change to the Playoff.
They couldn't agree on a change to 8 or 12 teams, and now they're left with the one thing they've desperately tried to avoid all along: the SEC controlling the 4-team format.
Now here they are, not even a day later, choking down the reality that the SEC has won 5 of the 8 Playoff championships – and more than likely will get the same two teams in the Playoff again in 2023.
It's bad enough that the SEC has won the past 3 national titles with 3 different teams (LSU, Alabama, Georgia). It's bad enough that the SEC had 12 teams in the top 25 of the latest 247Sports composite recruiting rankings, further underscoring future dominance.
It's bad enough that for the second time in 5 years, the SEC secured 2 of the precious 4 spots in the Playoff – then rolled into Big Ten country in Indianapolis (a mere 3 hours from the B1G offices in suburban Chicago) – and put on a college football show the likes they've never seen here.
The last time there was this much NFL talent on the field at Lucas Oil Stadium – the home of the Big Ten Championship Game — the Colts were wrapping up their 2021 NFL home schedule. A few years from now, and likely after Alabama and/or Georgia win another national title, we'll marvel at the number of players who went on to get drafted by the NFL and/or play in the league from this game.
This was nasty, athletic, physical football on both sides of the field, and both sides of the ball. It was the drama of a Heisman Trophy quarterback (Bryce Young) willing an injury-riddled offense to critical points, against an overachieving former walk-on (Bennett) bouncing back from a horrific mistake to throw 2 touchdowns on his final 2 throws of the game.
It was the greatest coach in the history of college football (Nick Saban) against his pupil and good friend (Georgia coach Kirby Smart), who had lost the previous 4 games against his mentor – including the 2017 National Championship Game and 2 SEC Championship Games.
It was the best defenses in college football punishing each other's offense, and turning the game into a 60-minute slugfest. Strongest, toughest and fastest man wins.
Or as one Big Ten coach texted me during the game: "We've got a long way to go."
That fun Rose Bowl game between Ohio State and Utah? There's a significant chasm between those teams and the teams that played in the National Championship Game.
Michigan, Baylor and Pittsburgh – the other Power 5 conference champions – were (or would've been) embarrassed by Alabama and Georgia.
Utah will get a shot at the SEC in 9 months, beginning the 2022 season in Gainesville against Florida.
Florida State plays against LSU in New Orleans. Oregon gets Georgia in Atlanta, and Texas plays host to Alabama in Week 2.
They'll all find out quickly where they stand vs. the big, bad SEC.
They're not alone. Hell, Georgia was in the same spot 2 years ago, on the heels of yet another loss to Alabama and for the first time under Smart, and potentially falling behind rival Florida.
Then it all turned in 2021, when a defense built on the back of elite recruiting classes of 4- and 5-star players overwhelmed everything in its path. Including mighty Alabama.
A defense that was so good, it allowed the Georgia offense to slowly build momentum with Bennett. Week after week, the defense suffocated opponents and Bennett kept finding ways to do just enough.
Then came the loss to Alabama in the SEC Championship Game, and a reset of sorts for a program and a group of players that seemed destined to win it all.
All it took was a second chance.
"We told them we're burning the boats," Smart said of his pregame speech, a reference to Hernán Cortés arriving in the New World in 1519 and destroying his ships.
Cortes' message to his men then was clear: There's no turning back.
The message from Smart to his team prior to the national championship game: "The only way is through (Alabama)."
There's no rescue boat. There's only us.
This, everyone, is life for the remainder of college football. The only way to the Playoff, or playing in the national championship game, is through the SEC.
The rescue boat, potentially, was a 12-team Playoff that could get more teams into the postseason. Now that hope, barring an 11th-hour miracle over the next couple of weeks, is at least 4 years away.
The SEC, meanwhile, is here to stay and stronger than ever.
LSU in 2019. Alabama in 2020. Georgia in 2021. And the future gets tougher with each passing season.
LSU hired Brian Kelly, the winningest coach in Notre Dame history, to replace Ed Orgeron, who won it all in 2019.
Florida hired Billy Napier to replace Dan Mullen, who was a touchdown away from beating Alabama in last year's SEC Championship Game.
Texas A&M, the only other team to beat Alabama this season, last month signed what could be the greatest recruiting class in college football history.
The chase never stops in the SEC. Not when your starting quarterback is injured in the first 2 weeks of the season, or when your 2 best receivers are injured in the 2 biggest games of the season.
Not when you're 41 years and 514 games removed from the last time you won it all.
"That loss to (Alabama) in the (national) championship game will be with me a long time," Smart said. "This (win) will be with me a lot longer."
You want some, college football?
Come get it.