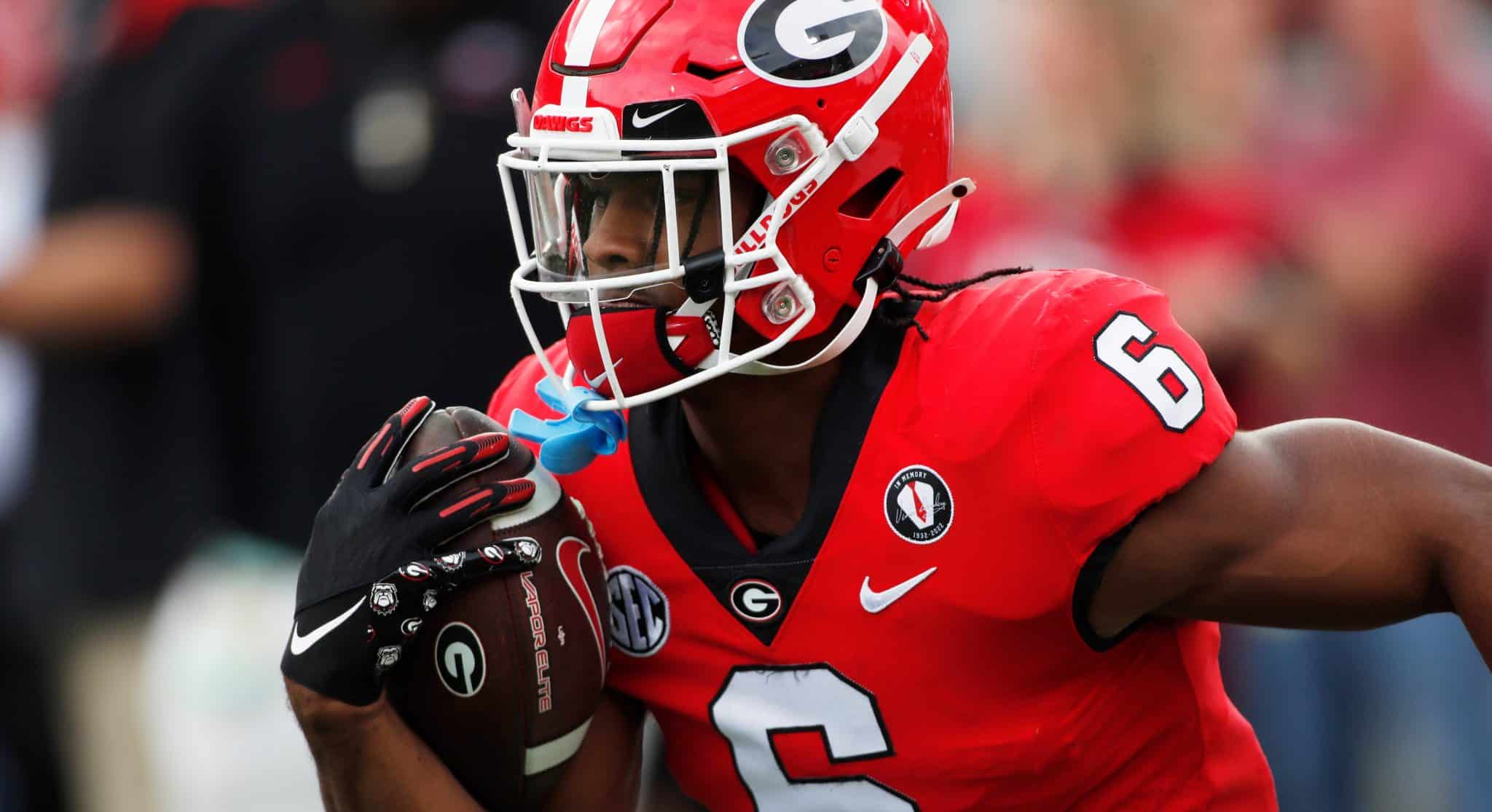 SEC
SEC Week 12 Primer: As Georgia rolls on, Kentucky breaks down
Breaking down the weekend's SEC slate, all in one place.
The stakes
Georgia, the consensus No. 1 team in the country, is exactly where it expects to be this time of year: Full speed ahead to the Playoff. The defending champs have already clinched the SEC East for the 5th time in the past 6 years, and with it a near-certain slot in the CFP even in the (highly unlikely) event of a loss in their last 3 games. They're balanced, healthy and not prone to random lapses: They've won 24 straight against unranked opponents, 21 of them by double digits. As the point spread in this one suggests, the Dogs aren't competing against a reeling division rival on Saturday so much as against their own championship-or-bust standard.
As for Kentucky, well, reeling just about covers it. The last time the Wildcats featured in the "Game of the Week" section, way back in Week 5, they were 4-0, ranked 7th nationally and looking forward to having something more than pride at stake this weekend themselves. Instead, they're limping in with 4 losses in their past 6 and the energy of a team ready for the season to be over. Each defeat has set off the sirens a little louder than the one before it. A 24-14 flop against South Carolina snuffed out Kentucky's chances of a dark-horse run in the East; a 44-6 beatdown at Tennessee made a mockery of the idea a dark-horse run was ever a possibility; and last week's 24-21 debacle against Vanderbilt — the Commodores' 1st SEC win since 2019 — was arguably the most demoralizing loss of Mark Stoops' tenure as head coach.
It's a testament to the job Stoops has done in his decade in Lexington that a 6-4 record in mid-November qualifies as a disappointment, but here we are. This year marked the Wildcats' 1st appearance in the preseason AP Poll (at No. 20) since 1978, which set the bar slightly higher than a 5th-place finish in the division and a perfunctory trip to the Music City Bowl. Realistically, rebounding from a loss to a doormat version of Vandy by upsetting a Death Star version of Georgia seems out of the question. But a competitive, 4-quarter game would at least offer the shivering crowd that shows up Saturday a glimpse of the team it hoped to see all along.
The stat: 14.7%
That's Georgia RB Kenny McIntosh's share of the Bulldogs' total yards from scrimmage this season, the smallest share of any current team leader in the SEC. Although the Bulldogs rank 3rd nationally in total offense — trailing only 2 offenses that have been choked out by Georgia's defense, Oregon and Tennessee — they've done it in uniquely democratic fashion: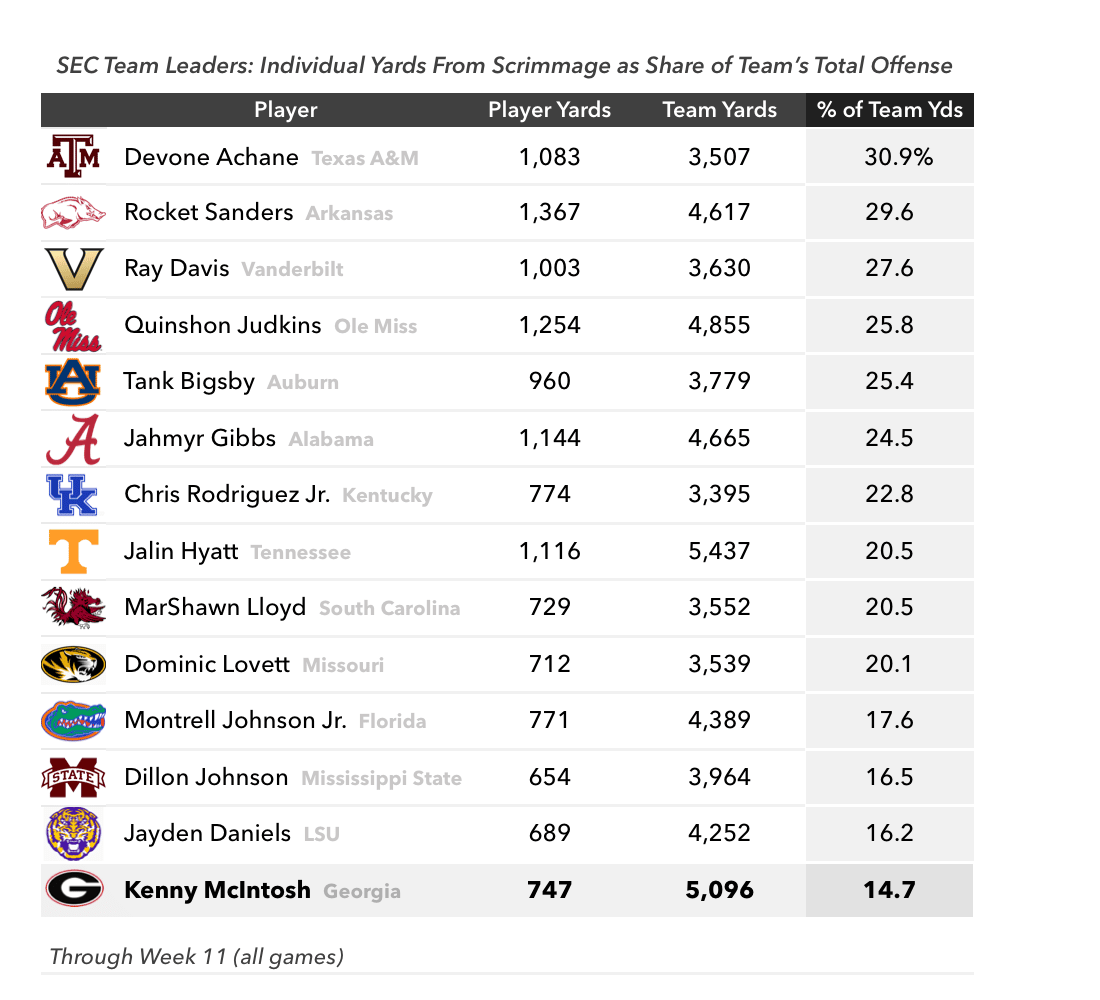 Three other players have accounted for a roughly similar share of Georgia's total output as McIntosh: Brock Bowers (13.8 percent), Ladd McConkey (13.4) and Daijun Edwards (11.6). Still, the Dogs are so deep at the skill positions that the combined production of all of the above, including McIntosh, comes out to only a little more than half of the whole pie. And most of the other half would likely be starting on any other offense in the league.
If you're looking to make a Heisman case for Stetson Bennett IV, start there: Amid an abundance of next-level talent, he's the guy at the center of the orbit who keeps everyone involved and the entire operation humming, week in, week out, on a prolific level. The Bulldogs are on pace to join a very short list of SEC offenses to average 500-plus yards and 40-plus points per game. Is it possible to pull off those kinds of numbers without a star? And if it's not, who other than Bennett fits the bill?
The big question: What's up with Will Levis?
The obvious answer is that Kentucky's much-hyped, much-maligned QB1 is not right physically. Although he has missed only 1 game, the Week 6 loss to South Carolina, Levis hasn't really been healthy at any point in conference play due to lingering foot and shoulder injuries, and his performance has deteriorated along with his team's. Over the past 3 games, he has averaged just 5.5 yards per attempt with more interceptions (4) than touchdowns (3), in addition to taking an alarming 14 sacks. He was overmatched against Tennessee, serving up 3 INTs in a performance that threatened to tank his draft stock, and off-target in the loss to Vanderbilt, connecting on just 2 of 8 attempts of 10-plus yards downfield against one of the most flammable secondaries in America. He has made no impact as a runner, a reliable positive of his game in 2021. And his issues cannot all be reduced to playing hurt.
What is Will Levis doing ?
pic.twitter.com/iYXI2khg3z

— Luke Sawhook ?? (@lukesawhook) November 12, 2022
Whatever is behind Levis' regression, it's a problem for mock drafters, who generally have not downgraded his projection as a likely 1st-rounder next spring but have started using words like "polarizing" and "controversial" to acknowledge that his raw talent has not amounted to much lately for a 23-year-old 5th-year senior. Meanwhile, the knives are out for offensive coordinator Rich Scangarello, who could be on the verge of getting shown the door in his 1st year on the job. Compared to last year under the departed Liam Coen (now serving as OC of the Los Angeles Rams), Kentucky's production vs. FBS opponents has declined by more than 11 points and 100 yards per game, and it has not fared any better with the return of workhorse RB Chris Rodriguez Jr. from an early-season suspension. Rodriguez has done his part, averaging 122.2 yards rushing in his 6 games back, but that hasn't been nearly enough to cover for the struggling passing game.
Anyway, to stand a chance against Georgia, the quarterback and receivers have to make plays. Between Tayvion Robinson, Barion Brown and Dane Key, Kentucky is not bereft at wideout. If Levis were anywhere close to 100 percent, it might be worth imagining him pulling out of his funk just in time to prove the draftniks right in his last SEC game. As it stands, that would qualify as a miracle. If he can put a couple plus throws on film, avoid catastrophe and make it off the field in one piece, it will go down as his best outing in weeks.
The key matchup: Kentucky OTs Jeremy Flax and Kenneth Horsey vs. Georgia DL Mykel Williams
The Wildcats' rebuilt O-line has come in for at least as much blame for the offense's problems as the quarterback and play-caller, if not more, and much of that angst has been directed toward the bookends. Flax, a former JUCO transfer who replaced All-American Darian Kinnard on the right side, and Horsey, a converted guard in his 1st season at left tackle, have made for easy targets, allowing a combined 33 QB pressures and 8 sacks, per Pro Football Focus. On the other side, they'll be working against Williams, the the highest-ranked player in Georgia's 2022 recruiting class, who is just beginning his emergence as the Bulldogs' next great pass rusher in the absence of injured OLB Nolan Smith.
Georgia true freshman edge rusher Mykel Williams is the next big thing.

A freak athlete with top-tier power and strength. He has Travon Walker caliber potential. Superstar in the making. pic.twitter.com/smnLeMD6G6

— Luca Sartirana (@SartiranaLuca) November 1, 2022
PFF credits Williams with 10 QB presses and 2 sacks in the past 3 games since UGA's open date, corresponding with both Smith's exit from the lineup and DT Jalen Carter's return from a knee injury that sidelined him for most of October. At full speed, Carter is arguably the most unblockable force in the college game on the interior, which Kentucky is no better equipped to handle than anyone else. With Williams coming on strong in Travon Walker's old role, the front line is rounding into its final Playoff form. Keeping Levis reasonably clean on passing downs is likely to fall largely on Levis himself to get rid of the ball as quickly as possible.
The verdict
It says all you need to know about the rest of this week's SEC slate that there's no honest way to spin the main event as anything but a laugher or a slog. It is possible, given Kentucky's competence on defense and Georgia's occasional tendency to sit on a comfortable lead, that the score will remain plausibly within reach well into the 2nd half — the kind of game that's just competitive enough to keep people from turning the channel, but not enough to keep them from spending most of the time scrolling on their phones. That's the best I can do here. Georgia is well on its way to another title shot, and Kentucky is a mere speed bump en route.
– – –
• Georgia 37 | Kentucky 13
Grim times for South Carolina, which has ruled out its leading rusher, MarShawn Lloyd, for the 3rd consecutive game, as well as backup Christian Beal-Smith. That leaves the task of keeping pace with the nation's highest-scoring offense almost solely in the hands of QB Spencer Rattler, who has not topped 200 yards passing vs. an FBS opponent since Week 2. In last week's 38-6 loss at Florida, Rattler didn't even attempt a pass 20-plus yards downfield in a game his team trailed 21-0 in the 1st quarter. When healthy, Lloyd was the best thing the Gamecocks had going for them during the 4-game winning streak that got them briefly ranked in the AP Poll in late October. Barely 3 weeks later, that already feels like a folk tale from the distant past.
– – –
• Tennessee 42 | South Carolina 16
In the Playoff era, Rebs-Hogs is as chaotic a rivalry as they come: The past 8 meetings have featured 3 games decided by a single point, 2 others decided in the final 2 minutes and another in which a future NFL Draft pick threw 6 interceptions. In 4 of those 8 games the offenses combined for more than 1,000 total yards, including last year's wild, 52-51 affair in Oxford, which came down to a failed 2-point conversion with no time on the clock. And that was not even close to the craziest ending in that span.
This time around, the pregame drama surrounds the availability of Arkansas QB KJ Jefferson, who was sorely missed in last week's 13-10 loss to LSU. Jefferson returned to practice this week and is expected to play on Saturday, although his status remains technically a game-time decision. (Sam Pittman said Jefferson initially expected to play against LSU, too, but soreness in his throwing shoulder increased over the course of the week to the point that he had to bow out.) With one of the SEC's most versatile QBs in the fold, the entire playbook is open in a way it isn't with 1-dimensional backups Cade Fortin and Malik Hornsby. That doesn't help the defense, which still ranks at or near the bottom of the conference in most major categories despite turning in by far its best performance of the season last week in a losing effort. But at least when things get weird, Jefferson should feel right at home.
– – –
• Ole Miss 34 | Arkansas 29
It has been a rocky year for UAB. The best coach in school history, Bill Clark, resigned over the summer due to chronic back pain, and the Blazers haven't been the same, posting a 5-5 record on the heels of 5 consecutive seasons of finishing at least 3 games over .500 since the program rose from the ashes in 2017. Last week's 41-21 win over North Texas snapped a 3-game conference losing streak.
OH, THE MOVES!
DeWayne McBride with an AWESOME touchdown run for @UAB_FB. pic.twitter.com/aZAjM7XcVD

— CBS Sports Network (@CBSSportsNet) October 29, 2022
One thing that hasn't changed: RB DeWayne McBride, who remains 1 of the most productive backs the rest of the country hasn't heard of. Last year, he ran for 1,366 yards and posted a top-10 PFF grade among all FBS backs. This year, he ranks 2nd nationally in rushing yards (1,407) and touchdowns (17) and 1st in runs of 20-plus yards (17). He has a future at the next level and would be right at home in the SEC. The rest of the lineup … well, soon they'll be able to say they once played on the same team with DeWayne McBride.
– – –
• LSU 41 | UAB 17
Florida's offense has found its rhythm the past 2 weeks, racking up a combined 665 yards rushing in wins over Texas A&M and South Carolina. Just as importantly from Billy Napier's point of view, it has been a team effort, with Anthony Richardson, Montrell Johnson Jr. and Trevor Etienne sharing the spoils in a fashion that recalled Napier's most efficient, explosive and egalitarian offenses at his last stop, UL-Lafayette. Vanderbilt is kicking off as a winner in SEC play for the 1st time under coach Clark Lea, but it hasn't suddenly evolved into an outfit capable of slowing down the Gators when they're on a roll.
– – –
• Florida 42 | Vanderbilt 20
No surprises in store from WKU: The Hilltoppers are going to come out throwing and keep throwing until the cows come home. This year's offense is not as prolific as the attack that smashed records in 2021 — a given, considering the exodus of core talent from that group — but it is still putting up numbers behind QB Austin Reed, a D-II transfer who ranks among the FBS leaders in passing yards per game (322.5) and touchdowns (31). In this system, it can be difficult to separate the quality from the quantity on paper. But the way Auburn's season has unfolded up to this point, the Tigers obviously can't afford to take anything for granted.
– – –
Auburn 29 | • WKU 24
The existence of these games is hereby acknowledged. If anyone outside of the interested fan bases has to think twice about them at any point on Saturday, something has gone very, very wrong (especially if it involves closeups of a desperate-looking Jimbo Fisher).
– – –
• Texas A&M 42 | UMass 6
Missouri 36 | • New Mexico State 13
Alabama 52 | Austin Peay 7
Mississippi State 54 | E. Tennessee State 10
SCOREBOARD
Week 11 Record: 5–2 straight-up | 4–3 vs. spread
Season Record: 64–17 straight-up | 39–39 vs. spread