SEC
Monday Down South: Florida's defense gives the Gators a fighting chance in the SEC East. Does Feleipe Franks?
Look: A win is a win. And an opening-day triumph over an in-state rival is a satisfying win. There's no way to describe it — sloppy, stupid, strange, exhausting, slurring its words, falling-down drunk — that makes it count any less, style points be damned. An ugly 1-0 is still 1-0. The rest is overreaction.
In Florida's case, there was plenty in Saturday's wild, 24-20 win over Miami to feel genuinely good about aside from the final score. The defense was in vintage form. The pass rush, one of the Gators' most pressing question marks coming in, owned the night, relentlessly hounding the Hurricanes' first-time starting quarterback, Jarren Williams, from the first whistle to the last; as a unit, UF's front seven racked up 9 sacks, had 5 players credited with multiple tackles for loss, and generally looked like a group capable of serving as the cornerstone of a championship season. (Cornerback Trey Dean added to that total with a pair of sacks from his nickel role.) The Canes broke one long touchdown run in the second half but otherwise failed to sustain anything after the break, and didn't run a single play in the red zone.
For all of its issues, Florida's offense generated multiple big plays and took advantage of its opportunities, scoring on 3 of its 4 trips in the red zone (2 touchdowns, 1 field goal). The Gators were 4-for-4 on 4th downs, including a successful fake punt on the opening series that immediately paid off with a touchdown on the following play. And on paper, at least, junior QB Feleipe Franks managed to significantly improve on last year's season averages in terms of completion percentage (63.0), yards per attempt (9.4), and overall efficiency (151.6) — all at the expense of a defense that led the nation in 2018 against the pass.
Against an unranked opponent in Week Zero, great. Good enough, anyway. But — here comes the promised overreaction — as far as Florida's potential to win the SEC East and justify its top 10 ranking is concerned, the glass-half-full spin feels deeply misleading. Who watched his performance Saturday night and came away impressed by Franks' ongoing maturation into reliable asset as a junior? On the field, the numbers were easily eclipsed by the issues.
Take the positives. Franks' first touchdown pass, a 66-yarder to the electric Kadarius Toney in the 1st quarter, was a short screen pass that Toney gathered in 4 yards behind the line of scrimmage and took the rest of the way entirely on his own initiative and that of his blockers. His second, an 8-yard strike to Lamical Perine, was the direct result of a muffed punt that set up Florida's offense at the UM 11-yard line, at a point in the second half when it seemed nearly impossible for the Gators to get there on their own.
The big mistakes, on the other hand, were much more revealing and much less reassuring. An early red-zone opportunity in the 1st quarter was thwarted by a botched exchange with Perine, the last time Florida would threaten until well into the second half. Franks' first interception, with Florida trailing 20-17 early in the fourth, was a bad overthrow that set Miami up at the UF 24-yard line with a chance to extend its lead. (The defense bailed him out by forcing a stop, followed by a missed field goal.) His second pick, with Florida clinging to a 24-20 edge with a little more than 4 minutes to go, was as inexcusable as they come.
Interception de DB Romeo Finley ! ?
Quelle erreur de QB Feleipe Franks ! The U récupère le ballon et peut reprendre l'avantage. Quelle fin de match !#MIAvsFLA pic.twitter.com/LacAe4uew4

— TBP College Football (@thebluepennant) August 25, 2019
That was the first play following another crucial 4th-down stop, a potential game-clincher if the offense was able to respond by grinding out a couple of first downs to put the clock and the evening out of its misery. Instead, the defense was called right back out to save the Gators' bacon again. Which it dutifully did, albeit not without some drama. (See below.)
The random meltdowns at the worst possible time are doubly frustrating because Franks has clearly come a long way from the depths of his chaotic redshirt-freshman season in 2017. At this time last year it was easy to suspect that Franks was a permanently broken quarterback. The 2017 Gators had lost 6 of their last 7 and their head coach in the process; Franks' morale seemed to sink with the ship, bottoming out in a 4-turnover fiasco against Florida State. At that point, it was an open question whether the new staff under Dan Mullen would even bother with a reclamation project when they could just as easily opt to start fresh with a guy they'd actually recruited.
So the fact that Franks remains entrenched as the starter on a winning team with high expectations is testament enough to his resilience (and to Mullen's renown as a QB coach) all by itself. He has grown. Where he fell apart down the stretch in 2017, Franks ended last year on a tear, rebounding from a midseason benching against Missouri to account for 12 touchdowns with 0 turnovers in the Gators' last four games, including convincing wins over South Carolina, Florida State and Michigan. That stretch was the basis of the preseason hype that followed them into this season and cast them as ascendant challengers to Georgia's dominance in the SEC East.
And when he puts it all together Franks still looks every bit the part:
Josh Hammond gets the separation and makes a big play! #Gators #Pass #BIGPlay
#MIAvsUF pic.twitter.com/McZpelUavs

— Benjamin Cure (@bennycurestud) August 25, 2019
That beauty to Josh Hammond was Franks' best throw of the night, by far, setting up a short go-ahead touchdown run a few plays later that turned out to be the difference in the game. It's the reason he was a blue-chip recruit, the reason he's the starter, and the reason he's going to remain the starter for the foreseeable future. Eventually, it will be the reason the NFL takes a chance on him regardless of his lapses. It's the reason that, opposite what looks like a legitimately killer defense, Florida has a chance in every game it plays.
It was also the only pass he completed that traveled more than 15 yards in the air. If they're going to maximize their potential against a schedule that still includes Auburn, LSU and Georgia — not to mention Tennessee, South Carolina, Missouri and Florida State, all of which project to be as good or better than Miami — the Gators are going to need less "work in progress" and more straight up progress.
Notebook
Around the conference.
Miami breach
Fittingly for a weird, often disheveled game, Miami's final drive of the night was a surreal comedy of errors. It opened with Franks' jaw-dropping 2nd INT (embedded above), which UM's Romeo Finley returned to the UF 25-yard line; the Hurricanes were promptly penalized 15 yards for taunting, moving them back to the 40. It got weirder from there.
Here's the complete play-by-play, with plays that involved penalties shaded in red, sacks and negative plays in yellow, incomplete passes in gray, and positive gain(s) in green: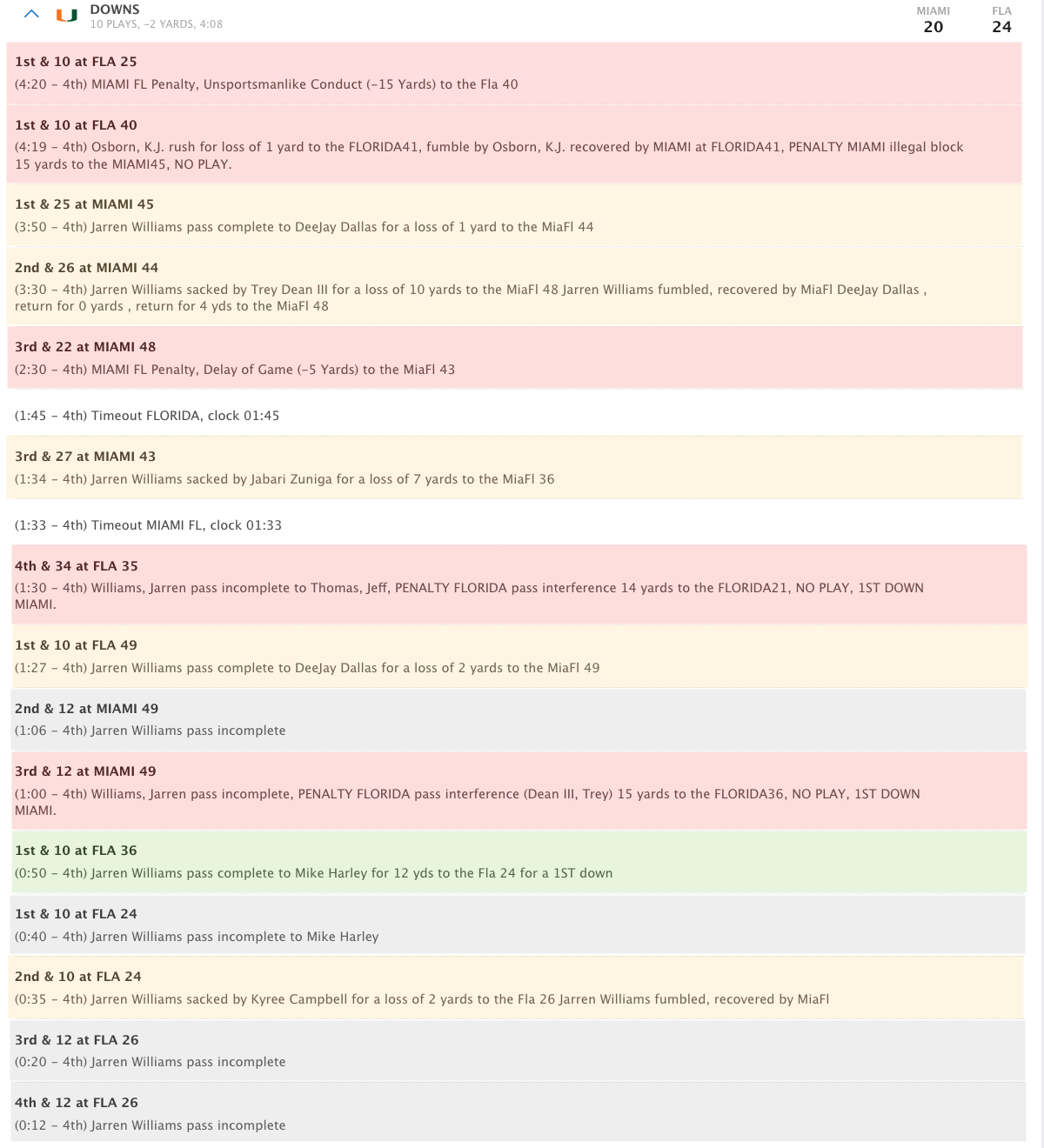 Miami lined up to snap the ball 9 times before managing its first and only positive play of the series not involving a penalty; those 9 entries on the ledger yielded 5 flags (2 on Miami, 2 on Florida, 1 declined on the final play), 2 sacks, 2 completions for negative yardage, 1 incomplete pass, 1 fumble, minus-14 yards of total offense, and a grand total of 4 yards' worth of field position. The Canes converted a 4th-and-34 via pass interference, and once it was assessed they were still 24 yards in the hole from the spot where Finley had returned the interception.
Something like half of the players involved in this sequence are going to be at least briefly playing on Sundays. If you can't appreciate enormously talented humans flailing down the hill from time to time, maybe college football's not really for you.
Special K
TOUCHDOWN!

Kadarius Toney takes it 66 yards to the ? pic.twitter.com/bmx5x7wLzE

— ESPN College Football (@ESPNCFB) August 24, 2019
Kadarius Toney's long touchdown reception in the first quarter was, surprisingly, only the 3rd TD of his college career. How is that possible? Toney established himself immediately in Gainesville as a fearless, hyper-elusive home-run threat every time the ball is in his hands, and he's backed that up the past 2 years by averaging more than 10 yards per touch – exactly 10.3 yards per catch and per carry, in fact — over both seasons. Saturday night only reinforced his dynamic rep.
So it remains a bit mystifying that he's yet to graduate from gadget player to full-time weapon. After his breakaway run against Miami, he only touched the ball 3 more times on offense (all runs) for just 3 yards; that's consistent with his role last year, when he averaged just shy of 4 touches per game, and in 2017, before his promising freshman campaign was derailed by injury.
He has been used only sparingly as a kick returner (8 career returns) and hardly at all on punt returns (just 1). Of course Florida has a lot of weapons at its disposal, but as far as the wide receivers go, the corps is made up almost entirely of lanky vertical threats (Hammond, Van Jefferson, Trevon Grimes, Tyrie Cleveland) in an offense that has generally preferred playing it safe to attacking downfield. More than any of them, Toney gives the Gators a game-breaking option without asking Franks to make pro-style reads or throws from the pocket. No one is going to complain if Mullen makes a concerted effort to get him more involved.
Superlatives
The best of the week.
1. Florida's defensive line
The bookend combo of Jabari Zuniga and Jonathan Greenard thoroughly terrorized Miami's freshman tackles, to the extent that they regularly met at the quarterback or the ballcarrier in the backfield; Zuniga and Greenard combined for a dozen total tackles, 5 TFLs, 4 sacks, and an endless supply of heat on poor Jarren Williams. (Pro Football Focus credited Greenard alone with 7 pressures on 42 rushes.) Inside, junior DT Kyree Campbell was credited with 6 tackles, 2 TFLs, and a forced fumble on the final possession. Off the edge, "Buck" linebacker Jeremiah Moon added 2 TFLs and another pair of QB hurries. As a unit, they made a strong case to join the ranks of the SEC's elite fronts.
2. Florida P Tommy Townsend
FIRST FAKE PUNT OF THE SEASON! pic.twitter.com/EW1tjGqrHg

— ESPN (@espn) August 24, 2019
Townsend supplied one of the highlights of the night, an impressive display of Terrified Punter Speed in the first quarter that proved vital; his successful sprint for a first down set up Toney's touchdown catch on the next play. But he was equally effective at his day job, dropping all 3 of punts inside the Miami 20-yard line, including a perfect pooch in the first half that pinned the Canes at their own 5.
Format notice: This year we're going to try to do something a little different with the Superlatives section. As usual, I'll still award the players and/or units responsible for the best or most noteworthy performances over the previous weekend, but with an added flair: I'll also be awarding points and tracking the standings throughout the season. Most weeks, that will be 5 players, with the No. 1 player being awarded 5 points, No. 2 4 points, etc. The player with the highest total at year's end will be the Superlatives Player of the Year, soon to be recognized across college football as the sport's most prestigious honor.
Because Florida was the only SEC team in action to kick us off, I'm going to divvy up this week's allotment like so: Greenard and Zuniga, 4 points apiece; Campbell and Moon, 3 points; Townsend, 1 point. Next week I'll introduce the full scoreboard, and the race will begin in earnest.