SEC
Monday Down South: Sooner or later, Florida's McElwain era was never going to end any other way
Short of an outright scandal, it's hard to recall the end arriving for another coach as abruptly as it did this weekend for Jim McElwain at Florida. But who could watch Saturday's 42-7 bloodbath against Georgia and argue that his time hadn't come, that there was somehow a brighter future on the horizon? The loss was Florida's third in a row, amid increasingly sketchy circumstances in the public relations realm, and its most humiliating in recent memory. What difference did it make that the deluge had seemed further off in the distance when the entire program was suddenly taking on water?
The fact is that despite his record in his first two seasons in Gainesville — 13-5 in SEC games, good for two East Division titles, back-to-back Top-25 finishes, and a Coach of the Year nod in 2015 — McElwain never really managed to set the program on an even keel after the debacle of the Will Muschamp era, and the superficial success was never emphatic enough to erase the feeling that, at its core, the Gators were still defined by the same Muschampian mediocrity.
To begin with, McElwain was the kind of nondescript hire whose arrival in December 2014 was met with a collective shrug, which also turned out to be a fair description of the way his teams played — or at least, how his offenses played. McElwain is an offensive coach, but the wins tended to be boring by design; Florida was 17-0 on his watch when it held opponents to 14 points or less, compared to 5-12 when it allowed any more. They tended to be ugly, regardless of the opponent. A fan base raised during the high-scoring Spurrier/Wuerffel and Meyer/Tebow years was notoriously skeptical of an identity that seemed built around not losing to Georgia Southern.
The losses, on the other hand: The losses were definitive. In their four year-end dates with Florida State and Alabama, Mac's Gators were outscored by almost 100 points, 141-46. In two games against Michigan, to close the 2015 season and open the current one, they were outscored by a combined 50 points. The wipeout against Georgia was bad enough on its own, in any context, and worse for falling where it did on that trend line. It turns out that it is possible for a Saban protégé to build a burgeoning, defensive-oriented powerhouse in Alabama's image; it's just that the two ex-Saban assistants who have pulled it off, Jimbo Fisher and Kirby Smart, happen to have done it at Florida's two biggest rivals, and increasingly at the Gators' expense.
In the end, what does Florida have to show for the last two-and-a-half years, aside from a negotiable buyout? McElwain is leaving the program in the same quagmire where he found it. It's more likely than not that, five years from now, the only aspect of his tenure everyone is certain to remember vividly is the infamous picture of a random guy who is definitely not Jim McElwain getting cozy with a shark. (It's not him. You know it's not him, right? If the memes are any indication, the distinction is already irrelevant.) His teams won the SEC East, twice, and still never did anything on the field that caused as much of a stir as McElwain did last week when he alleged, dubiously, that he'd received death threats from disgruntled fans.
It's possible to play the what-if game with Will Grier, whose abbreviated run as the starting quarterback in 2015 was the high-water mark of McElwain's tenure, by far, and who has resurfaced this year as an emerging star at West Virginia; after starting 6-0 with Grier in the lineup, Mac was 16-12 thereafter, and never came close to resolving the post-Grier void behind center.
But that assumes Grier would have been able to escape the cycle of disappointment that claimed John Brantley and Jeff Driskel before him and Feleipe Franks after, all of whom arrived with the same premature hype and fell woefully short. And anyway, that would be beside the point: The emphasis now is on the future, whether it's under Scott Frost or Dan Mullen or someone else. Florida remains one of the most coveted coaching jobs in college sports, and if first-year AD Scott Stricklin gets this hire right, the prospect of Florida and Georgia returning to relevance at the same time stands to energize the entire conference.
As Stricklin said on Sunday, the Gators' best teams over the years have also been the most fun — the offense that put the program on the map was literally dubbed the "Fun 'n Gun" — in contrast to Alabama's machine-like efficiency, and the widespread Saban-ization of the conference, in general. Stricklin's predecessor, Jeremy Foley, went down that road twice, with steadily diminishing returns. There are no sure things in this business, but this time around finding someone committed to making Florida fun again would be an encouraging start.
NOTEBOOK
Around the conference.
Georgia 42, Florida 7: Florida is bad, clearly. But on an afternoon that saw three other undefeated teams bite the dust in the same time slot, the fact that Georgia showed up to (ostensibly) one of its biggest tests looking like exactly the same, dominant outfit it's been in every other SEC game this year speaks volumes. The Bulldogs scored early, controlled the line of scrimmage on both sides of the ball, and generally dispatched the Gators in routine fashion. The inevitable, winner-take-all collision course with Bama in Atlanta is right on schedule, full speed ahead.
If anything, the biggest concern from Georgia's standpoint might in fact be that its surge to the top of the polls has come a little too easy. Specifically, it's allowed the Bulldogs to be extraordinarily easy on their true-freshman quarterback, Jake Fromm, who continues to post the league's best pass efficiency numbers while putting the ball in the air significantly less often than any other full-time SEC starter. Against Florida, Fromm attempted just seven passes, hitting four for 101 yards with one touchdown and one interception. Only one of those completions (the TD pass, a 17-yard strike to Javon Wims) found its way into the hands of a wide receiver; the other three all went to freshman RB D'Andre Smith (below) out of the backfield. The downfield passing game didn't even qualify as an afterthought.
Which is fine, as long as UGA continues to roll over everyone in its path to the East Division crown with minimal resistance. As the stakes begin to escalate, though, it's natural to wonder how well Fromm will continue to hold up if he's forced to carry more than a token share of the offense in support of the ground game. What if they roll into Atlanta and find that Bama's defense (being Bama) is its usual, domineering self against the run, forcing Fromm out of his comfort zone in a way no one else has been able to do. Before Saturday, I thought Florida's front seven had a fighting chance of making that happen; instead, Fromm enjoyed his most stress-free outing yet.
For now, that's exactly the kind of "problem" most teams aspire to have, especially teams starting a freshman quarterback. Eventually, though, it's almost certain he'll find himself in a situation that reduces Georgia's viable options on offense to his right arm, and his response if and when that happens is still a question. At this point, it may be the only one left.
Mississippi State 35, Texas A&M 14: While Texas A&M stares down the prospect of another November collapse, suddenly Mississippi State is beginning to look like a very serious candidate for a New Year's Six bowl: Taken with last week's 45-7 romp over Kentucky, the win in College Station was another decisive step away from the Bulldogs' late-September flops against Georgia and Auburn and toward a banner finish — they still have to play Alabama, but otherwise the November schedule sets the Bulldogs up as solid favorites down the stretch against UMass, Arkansas and Ole Miss. At 6-2, MSU arguably has a better chance of finishing the regular season with nine wins than any other SEC team behind Bama and Georgia, and of landing one of the open slots in the Cotton or Peach bowls as Dan Mullen-to-Florida speculation reaches a fever pitch.
A&M's prospects are exactly the opposite: After an encouraging run in September, the Aggies have dropped two of three, falling to 5-3 overall, and head into the final month as certain underdogs against Auburn and LSU. (Ole Miss in Oxford is no gimme, either.) The offense was a wreck against Mississippi State, failing to gain any kind of traction until the game was well out of hand, just as it was for a large portion of A&M's 19-17 win at Florida two weeks ago; freshman QB Kellen Mond left the game with an apparent injury, at which point backup Nick Starkel — the opening-day starter against UCLA, if you can still remember that far back — punctuated the evening by throwing a ghastly pick-six for the Bulldogs' final touchdown. If 8-4 is the benchmark for Kevin Sumlin returning in 2018, it looks like a much more precarious situation today than it did 72 hours ago.
Kentucky 29, Tennessee 26: As of this writing, Butch Jones is still employed as Tennessee's head coach, which could change at any moment: The Volunteers are 0-5 in SEC play and somehow found a way to lose a game on Saturday in which they …
• Outgained Kentucky overall, 445 yards to 371 …
• Gained 27 first downs to UK's 17 …
• Amassed a nearly 17-minute advantage in time of possession …
• Snapped a month-long touchdown drought with two offensive TDs in the first half …
• Forced four turnovers while committing none …
• No, seriously, the Vols finished plus-4 in turnover margin …
… and still lost. They actually completed a Hail Mary as time expired, reversing their terrible last-second luck in their loss to Florida … and still lost. You couldn't script a scenario that more perfectly embodies this doomed season.
In this case, the specifics came down to a familiar litany of missed opportunities: Before coming up a few yards short on the last play, Tennessee settled for four field goals in scoring position and missed two others, an ideal combination for letting a win slip through the fingers.
But UT also yielded 289 yards rushing on a staggering 8.0 yards per carry, which has nothing to do with the vagaries of red-zone efficiency or special teams — for the season, the Vols rank next-to-last in the SEC against the run, exposing the front seven again as one of the many persistent, every-down issues that could keep them out of a bowl game.
PLAYOFF REALPOLITIK
Each week for the rest of the season, Playoff Realpolitik will reorganize the Top 10 according to each team's chances of actually making the playoff field in December, regardless of its ranking on a given weekend — not what should happen, but will happen. Projections take future schedules and multiple possible scenarios into account to determine the true pecking order, with the understanding that the real winner in the end will be chaos. Always chaos.
The Playoff committee will release its first set of rankings Tuesday night, to much intrigue: With two-thirds of the regular season in the books, the fields is as convoluted at this point on the calendar as it's been in the fledgling Playoff era. Admittedly, without a glimpse at the "official" pecking order, this is just a guess. But it's not too soon to make a few assumptions about how the season is likely to play out over the final month.
First, the teams that control their own destiny, in order of their chances of winning out (per ESPN's Football Power Index, including conference title games):

There are four potential elimination games in that group: Alabama vs. Georgia for the SEC title, Ohio State vs. Wisconsin for the Big Ten, Miami vs. Notre Dame on Nov. 11, and — if Miami beats Notre Dame — Miami vs. Clemson for the ACC. If they take care of business against everyone else, the winners of those four games will be your four Playoff teams — a big if, obviously, but that's the basic outline.
To keep things from getting too unwieldy, I've imposed a few more ground rules:
1. Alabama and/or Georgia can afford a loss before the SEC Championship Game, but not in the SEC Championship Game. That could change as the field is thinned over the coming weeks, but for now the assumption is that the SEC champion (whether it's at 13-0 or 12-1) will make the cut, no questions asked, while the runner-up will need some help. Conference championships do factor into the committee's decision-making, which will likely give a 12-1 Clemson or Ohio State (or Oklahoma, in the Big 12) a decisive edge over a second SEC team if it comes down to that.
2. No other team can afford a loss at any point. Pretty cut-and-dry. There are too many contenders packed too tightly together to imagine any of them being able to overcome a loss at this point. That includes Miami or Wisconsin if either should happen to drop a game en route to winning its respective conference — there are scenarios that would work out in their favor, but they're too convoluted to unspool.
3. Georgia's win over Notre Dame does not function as a head-to-head tiebreaker. Sorry folks: It was in Week 2, it was by one point, and Notre Dame has dominated a significantly tougher schedule in the meantime. The specific circumstances will matter, but if both teams finish with one loss the advantage in the final rankings will not automatically go to Georgia.
It might, given that Notre Dame doesn't have the benefit of padding its résumé in a conference championship game, and that the committee protocol specifically mentions head-to-head results as a factor. But it's not a foregone conclusion by any means. Brace yourself.
4. Oklahoma's win at Ohio State doesn't function that way, either. We'll see how the committee handles this situation on Tuesday night, but the Buckeyes are decisively ahead of Oklahoma in both traditional polls and in every major analytical/advanced-stat poll, as well. The fact that the Big Ten (and the Big Ten East, in particular) is generally more respected than the Big 12 probably also works in OSU's favor.
Which brings us to the teams on the outside looking in:

As the remainder of the season unfolds the specific scenarios for each team on the bubble will come into focus. For now, the Sooners have a marquee non-conference win and a chance to add a couple more high-profile skins to their wall en route to a third consecutive Big 12 title. That would certainly be a Playoff résumé, if they bring it to fruition — in retrospect, even their out-of-nowhere loss to Iowa State doesn't look so bad — and if it's not then we're in for the first real, bared-teeth controversy in the Playoff's brief existence. If it comes down to OU at 12-1 vs. the loser of the SEC title game, my guess is the committee will favor the conference champs. Fortunately we're still a long way off from that scenario.
Penn State is an interesting position in that the Nittany Lions' relatively weak November schedule gives them the best chance of running the table, but Saturday's 39-38 loss at Ohio State will make it almost impossible for them to play for the Big Ten title. (Even if the Buckeyes were to drop a game down the stretch, they'd still own the tiebreaker edge in the B1G East.) It doesn't help that their toughest non-conference test came against typically mediocre version of Pitt. The Lions may be legitimately one of the top four outfits in the country, but there was only one game on the schedule they absolutely could not afford to lose and they just lost it.
SUPERLATIVES
The best of the week…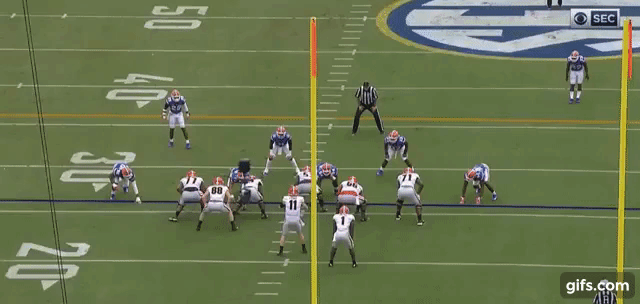 1. Sony Michel, RB, Georgia. Michel logged six touches against Florida, scored on two of them — from 74 and 45 yards out, respectively — and called it a day with 137 yards to his credit. That boosted Michel's season average to 8.5 yards per carry, better than all but three other backs nationally with at least 50 attempts: Stanford's Bryce Love (10.3), Notre Dame's Josh Adams (8.9), and Alabama's Damien Harris (8.6).
2. Benny Snell Jr., RB, Kentucky. Snell fumbled on his first carry of the game against Tennessee, then proceeded to atone for it by racking up season highs for yards (180) and touchdowns (3) to spark a rare Kentucky win in the series. On a night when passing game was nonexistent — QB Stephen Johnson was severely limited by a shoulder injury, finishing 6-of-15 for just 46 yards — Snell's output on the ground accounted for nearly half of UK's total offense, not including the two-point conversion that extended the Wildcats' lead to 29-26 with less than a minute to play.
3. DeMarquis Gates, DE, Ole Miss. Gates was a bright spot in the comedy of errors that was Rebels-Razorbacks, finishing with a career-high 15 total tackles (10 solo, three for loss) and two QB hurries in the midst of Ole Miss' second-half collapse. In keeping with the general theme, he was also inexplicably credited with a fourth-quarter fumble recovery on a loose ball that he never actually controlled.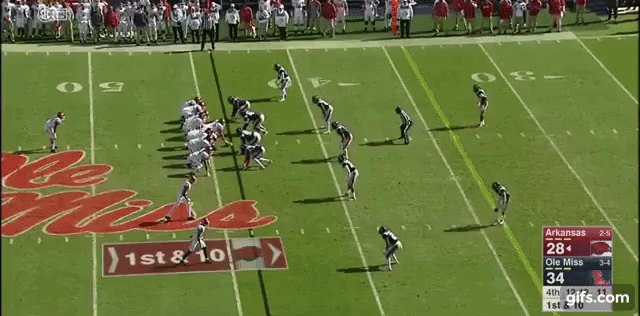 That one's included for entertainment purposes only; the rest of the stat line was legit, in a game that was anything but.
4. Drew Lock, QB, Missouri. Lock wrapped up the best month of his career with another gem of a performance against UConn, bombing the Huskies for 377 yards and five touchdowns in a 52-12 massacre in Storrs, Conn. (Before you dismiss the competition in this case, recall that the last time Missouri played UConn, in 2015, the Tigers barely got on the board at all.) On paper, Lock was the SEC's most productive passer in October by a mile, easily leading the league in yards, yards per attempt, touchdowns, and overall efficiency. Not coincidentally, Mizzou's offense as a whole has rebounded from a rock-bottom effort in September to score at least 28 points in four straight games.
Catch of the Year of the Week: Kalija Lipscomb, Vanderbilt
The Commodores' 34-27 loss at South Carolina was defined mainly by penalties — Vandy was hit with nine flags in the first half alone, including a pair of targeting ejections that left both the Carolina crowd and Vanderbilt coach Derek Mason fuming for opposite reasons. But it also included this one-handed beauty by Lipscomb, who turned in a career day for catches (7), yards (128), and spectacle.
That grab held up on replay and set up a Vandy touchdown; a little later, Lipscomb hauled in an acrobatic TD reception of his own from 47 yards out, cutting the Gamecocks' lead to 24-20 midway through the third quarter. That's as close as the Dores would get en route to their fifth straight defeat.
DEMERITS
… and the worst.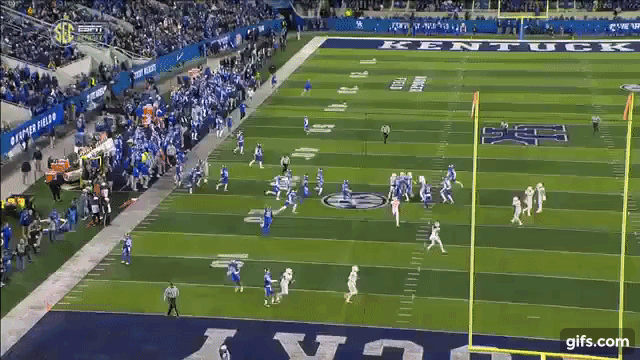 Team Game, Team Shame. For no apparent reason, a minor scuffle broke out between Kentucky and Tennessee after a first-quarter kickoff — a touchback, no less — that left officials so flummoxed they just went ahead and assessed an unsportsmanlike foul against every player on both teams. That sounds like an exaggeration, so just to be clear: Literally, they assessed an unsportsmanlike foul against every player on both teams, whether they were involved in the shoving match or not.
That's one way to assert your authority, I guess, although tensions continued to flare: Following the larger confrontation, the zebras wound up tossing two players on each team (DB Davonte Robinson and WR Tavian Robinson for Kentucky; LB Daniel Bituli and DB Rashaan Gaulden for Tennessee) in separate incidents, on the grounds that, technically, their second personal foul triggered a mandatory ejection.