SEC
QB Curve: Feleipe Franks has the tools. How long will Florida wait for results?
Quarterbacks: There are a lot of them! Each week, QB Curve will keep you up to speed on the game's most important position by putting a different SEC signal-caller in the spotlight and putting the rest of the field in perspective. Previously: Jalen Hurts • Drew Lock • Nick Fitzgerald • Kyle Shurmur • Jake Bentley • Danny Etling • Shea Patterson • Stephen Johnson
QB of the Week: Feleipe Franks
Typecasting: The Project. For sheer hype, Franks was overshadowed as a recruit by 2016 classmates Shea Patterson and Jacob Eason, whose accolades made them two of the most coveted quarterback prospects of the past decade. But Franks was plenty touted in his own right: At 6-6, 210 pounds, he rivaled Eason for raw size and arm strength, and generally had "NFL future" written all over him before he ever set foot on a college campus. Late in his senior year, Franks also threw recruitniks for a loop when he backed out of a longstanding commitment to LSU, a move that left the Tigers without a notable QB signee for the second year in a row — with Franks' early commitment in hand, Les Miles had passed on taking a top QB in the 2015 cycle, too — and cost them the title of No. 1 recruiting class in the country.
Given all that, it was a little mystifying that Franks never seriously entered into the conversation to play as a true freshman, even as Florida's offense continued to founder behind the veteran placeholders in front of him, transfers Luke Del Rio and Austin Appleby. This year, the concern has only deepened: Given every opportunity to anoint Franks as the starter, coaches opted instead to bring in a graduate transfer, Malik Zaire, to foster competition in fall camp, and apparently resigned themselves to living with Del Rio's limitations after watching Franks (and Zaire, briefly) struggle through the first two-and-a-half games. The question was only settled after Del Rio subsequently suffered a broken collarbone in the Gators' Week 4 win over Vanderbilt. To the extent that Franks is entrenched at midseason, it's only by default.
That can change quickly this weekend against No. 3 Georgia, a game that (on top of its usual ramifications in the SEC East standings) carries extra urgency in the wake of the Gators' skin-of-the-teeth losses to LSU and Texas A&M — setbacks that offset their skin-of-the-teeth September wins over Tennessee and Kentucky. In each of those games Franks' passing output has steadily declined, from mediocre against the Vols to borderline disaster in the loss to A&M. In that sense, the Cocktail Party looms as a moment of truth, both for Franks and the coaches invested in his progress. But what happens next if the truth continues to hurt?
The Good. Given the chance, Franks has a cannon on par with any other active college passer. Kid can throw it a mile. With most young players, "arm strength" tends to be the kind of vague, eye-of-the-beholder attribute (along with 40-yard dash times and "poise") that it's usually wise to take with a grain of salt, or a pound. Sometimes a next-level arm is inferred by next-level size, whether it actually exists on film or not; sometimes it's just made up. With Franks, there's no need for skepticism, because the evidence has already exceeded exaggeration.
He didn't throw the ball out of the stadium. (Contrary to my own hyperbole, it traveled about 68 yards in the air, not a mile.) It didn't register on military satellites. In terms of distance, accuracy, and magnitude, it merely stands as the single most impressive pass by a college quarterback this season.
Beyond that … well, frankly this is going to be a short section. There's no question that Franks is capable of highlight-reel, NFL-caliber throws; two weeks after dropping the Hail Mary into Tyrie Cleveland's lap to beat Tennessee, he hit Cleveland in stride again for a 49-yard gain against Vanderbilt that set up a tying field goal just before the half: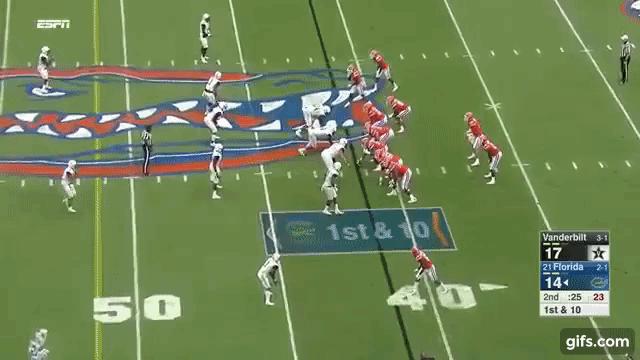 Otherwise the search for successful downfield attempts yields slim pickings. To his credit, Franks has been relatively efficient, posting the SEC's best completion rate (64.2 percent) against FBS defenses. As we'll see in the next section, though, that number says a lot about the kind of throws he's being asked to make than it does about his accuracy, consistency, or decision-making. For now, his arm is clearly an asset; that's all we know.
For his size, Franks has also flashed some respectable mobility, most notably on a 16-yard scramble against Michigan in the season opener — moving the chains on 3rd-and-15 — and an epic, 79-yard sprint against Texas A&M that was as effective as it was hilarious. (Awkwardness notwithstanding, the A&M run is Florida's longest gain of the season, run or pass.) Again, though, Franks is rarely involved in designed runs of any kind, and aside from the 79-yarder he's taken more negative yardage on sacks than he's gained.
The Not-So-Good. Florida's passing game has been painfully conservative, by any measure, and given the talent on hand almost inexplicably so. As pretty as his best throws have been, it's obvious that his coaches do not trust their young quarterback to consistently challenge defenses downfield:
Those numbers are far more indicative of Franks' limitations at this stage than the highlights are of his strengths. Prior to hitting the Hail Mary against Tennessee, he didn't complete a single pass that traveled more than five yards beyond the line of scrimmage. Against Kentucky, his only downfield completion came when the Wildcats literally forgot to cover Tyrie Cleveland, leaving Frank's best receiver to run wide open down the sideline. Against LSU, his longest completion covered just 18 yards; against Texas A&M, just 20.
If you were wondering how it's possible to lead the league in completion percentage and still come in well below average in almost every other category, there you go. The vast majority of the Gators' attempts have come on screens, hitches, and other short, safe throws, and considering how similarly close to the vest they played it prior to this year, every indication is that's just how it's going to be for the foreseeable future.
And maybe that's for the best. Although Franks has only thrown three interceptions, two of those picks have come at the worst possible time, in end-of-game situations that either cost Florida the game or very nearly did. Against Tennessee, his late heroics wouldn't have been necessary if not for the tipped-ball INT he threw on the previous possession, with Florida clinging to a 20-17 lead with a little over four minutes to play: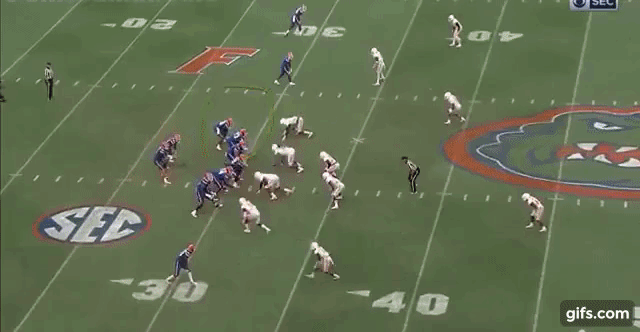 That set up a UT field goal to tie the game at 20, at which point overtime seemed inevitable in a game that Florida had led throughout. While the throw itself in that case wasn't terrible, it was just off the mark enough to make tight end Cyontai Lewis work a little harder than he needed to, resulting in the deflection. And in retrospect, it was eerily similar to the decisive pick against Texas A&M, which sealed a 19-17 loss in the final minute, a game in which the Gators hadn't trailed until a few moments before: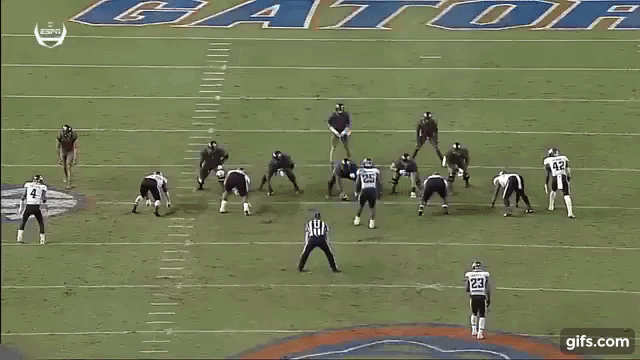 Florida can live with conservative: The defense consistently leaves the offense with enough margin for error to compete with a bare minimum of fireworks, and the offense is constructed accordingly. But there's not nearly enough room in that equation to get away with turnovers in crucial situations.
The Takeaway. Technically, Florida is still alive enough in the SEC East race that Saturday's date with Georgia is meaningful beyond bragging rights: An upset would move the Gators within a game of UGA in conference play, and give them the head-to-head tiebreaker if the Bulldogs should happen to drop one of their next three against South Carolina, Auburn or Kentucky. Stranger things have happened in this rivalry, and this division.
Realistically, it's more likely to be a bloodbath. Even if the defense manages to hold Georgia's prolific ground game in check, the prospects of Franks leading sustained drives against the same D that held Mississippi State and Tennessee to three combined points sounds like a fantasy. The Gators will need a solid, sustained effort from every other unit on the team just to put Franks in a position for one or two big plays to pay off — and then pray that he can actually make them.
If the Cocktail Party goes the way it's expected to go, Florida will be officially eliminated from any larger goal beyond a middle-tier bowl game and it will be time to begin taking stock of what the rest of the season means for the future. As a highly recruited redshirt freshman, Franks should be a no-brainer to hold down the job in 2018; his ongoing lack of progress and the coaches' willingness to turn to a stopgap option like Del Rio suggest otherwise. The Gators already have a verbal commitment from one of the top QB prospects in the 2018 class, Matt Corral, who's expected to arrive next spring with even more hype than greeted Franks last year. Unless Franks makes a dramatic leap forward over the next six weeks, the competition will be open, and there won't be any question who fans will be rooting for to win it.
QUICK OUTS.
Injury Update, Part 1. Ole Miss was already resigned to playing without a full-time head coach or the possibility of a bowl game, and just to ensure that the rest of the season is as pointless and depressing as it can be, now the Rebels will have to play out the string without face-of-the-program QB Shea Patterson as well. Before Saturday's loss to LSU, Patterson had accounted for nearly 77 percent of Ole Miss' total offense through six games, one of the largest shares of any individual player in the nation; even accounting for his diminished output against the Tigers, he still leads the SEC in yards per game. If that holds up it will be the third straight season a Rebel quarterback has earned the distinction, following Chad Kelly in 2015-16, and the second straight that will end with said QB watching the stretch run from the sideline.
With five games to go, most of the discussion around Ole Miss now will be about the next head coach, the pending NCAA fallout, and how those two variables stand to shape the program long-term, including whether Patterson opts to return in 2018. Short-term, the offense is in the hands of Jordan Ta'amu, a native Hawaiian who joined the team in the spring as a three-star JUCO transfer from the New Mexico Military Institute. Ta'amu didn't play at all in Ole Miss' first five games, and hadn't attempted a pass prior to going 7-of-11 for 78 yards Saturday in Patterson's absence.
The silver lining: Although Ta'amu was only on the field for two possessions against LSU, both yielded points — the Rebels drove 66 yards for a field goal to close the first half and 66 yards for a touchdown to end the game. He's functional, at least. But at this point he would have to be almost unfathomably good for anyone outside of Oxford to notice.
Injury Update, Part 2. Have Arkansas fans seen the last of Austin Allen? A bad shoulder kept the fifth-year senior from suiting up in blowout losses to Alabama and Auburn, and he remains notably absent from the depth chart for this weekend's must-win trip to Ole Miss. Last week coach Bret Bielema told reporters Allen was "still a couple weeks away" from returning to the lineup, which still appears to be the case. But with only five more weeks to go in the regular season — and with rapidly diminishing bowl hopes for a team sitting at 2-5 — the window is closing fast. Bielema's status notwithstanding, there's no good reason to rush Allen back before his shoulder is 100 percent, for his sake or the team's.
Meanwhile, injuries continue to take their toll on the rest of the offense, too: Regardless of who's taking snaps, the Razorbacks will play the rest of the season without All-SEC interior lineman Frank Ragnow, whose college career is over due to an ankle injury, and emerging freshman tailback Chase Hayden, whose campaign was cut short on Saturday by a fractured leg. Recall also that last year's leading rusher, Rawleigh Williams, was forced to retire in the spring after multiple neck injuries, while the leading receiver, Jared Cornelius, was never at full speed before suffering a season-ending Achilles injury in Week 4. It's been that kind of year.
QB CURVE POWER HOUR!
Ranking the league's starting quarterbacks heading into Week 9.
1. Jalen Hurts, Alabama. There's not really any chance of Hurts being passed on the depth chart by freshman backup Tua Tagovailoa, but the way Bama is handling the dynamic certainly lends itself to more intrigue than most of Bama's games. (Last Week: 1)
2. Jarrett Stidham, Auburn. I mean, I can't be the only one who watched Tagovailoa's second-half turn against Tennessee and wondered if this spot should really be reserved for him. (LW: 2)
3. Nick Fitzgerald, Mississippi State. Fitzgerald has rebounded from back-to-back flops against Georgia and Auburn with a pair of equally reassuring outings against BYU and Kentucky; his overall passing production remains absolutely dismal. He's still the most productive, indispensable running QB in the league, but the Bulldogs will need more than the option game to survive Saturday at Texas A&M. (LW: 5)
4. Jake Bentley, South Carolina. The raw numbers are a little disappointing, but with Shea Patterson done for the year, no SEC player is carrying a larger share of his team's output than Bentley. (LW: 4)
5. Jake Fromm, Georgia. Last week I promised that a big game against Florida would vault Fromm into contention with Hurts at the top of this list, and I'll stick by that. The Gators will pose a much stiffer test for Georgia's ground game than it's faced to date. (LW: 6)
6. Drew Lock, Missouri. Mizzou may not win an SEC game, but Lock has been quietly stellar over the past three weeks and will likely wind up as the league's only draftable quarterback if he decides to leave after this year. (LW: 8)
7. Stephen Johnson, Kentucky. Last week I praised Johnson's consistency, and he responded by delivering the worst performance of his career in a 45-7 debacle at Mississippi State. Maybe he'll be back to his usual, steady self against Tennessee now that he's dropped off the radar. (LW: 7)
8. Kellen Mond, Texas A&M. I'm much more enthusiastic about Mond when I'm watching him play than when I'm reviewing his numbers, which are pretty much exactly what you'd expect for a true freshman who's been thrown into the fire against the like of UCLA, South Carolina, Alabama and Florida. At least there's no hint (yet) of another November fade on the horizon. (LW: 9)
9. Danny Etling, LSU. Etling is great in a supporting role like the one he got to play Saturday in LSU's romp over Ole Miss, which consisted mainly of him handing off to Derrius Guice and Darrell Williams and getting out of the way. Next up: Alabama, where that most certainly will not be the case. (LW: 10)
10. Kyle Shurmur, Vanderbilt. Last week Derek Mason declared every starting job "up for grabs" after Vandy's loss to Ole Miss except for Shurmur's and Ralph Webb's. We'll see if that's still the case by Thanksgiving. (LW: 13)
11. Feleipe Franks, Florida. The gap between Franks' obvious talent and his meek output is one of the stranger running subplots of the season, and having said exactly the same thing about all of his immediate predecessors at Florida, I'm not convinced he deserves much of the blame. (LW: 12)
12. Jarrett Guarantano, Tennessee. Only six of Guarantano's 16 attempts against Alabama went for positive yardage, with a long gain of 12 yards. It's still a safe bet that no one else on Tennessee's roster would have fared any better. (LW: 14)
13. Cole Kelley, Arkansas. The main takeaway from Kelley's first two career starts is that he's freaking huge. Now that he appears to be settling in for the long haul, maybe he'll give us something else to discuss. (LW: NR)
14. Jordan Ta'amu, Ole Miss. The new guy will start out on the bottom, but based on his brief appearance against LSU I don't expect him to stay here for long. (LW: NR)