SEC
QB Curve: For once, Stephen Johnson gives Kentucky a chance
Quarterbacks: There are a lot of them! Each week, QB Curve will keep you up to speed on the game's most important position by putting a different SEC signal-caller in the spotlight and putting the rest of the field in perspective. Previously: Jalen Hurts • Drew Lock • Nick Fitzgerald • Kyle Shurmur • Jake Bentley • Danny Etling • Shea Patterson
QB of the Week: Stephen Johnson II
Typecasting: The Dark Horse. At 6-2, 185 pounds, Johnson doesn't fit the mold of a typical SEC quarterback, physically, and neither does the route he took to become one. As a recruit, he was ignored by FBS schools, eventually picking up a scholarship offer from Grambling; there, he started a handful of games as a redshirt freshman, in 2014, before losing the job to injury and transferring to a junior college in his native California.
When he signed with Kentucky last January, it was primarily to serve as a backup to presumed starter Drew Barker, one of the most decorated Kentucky signees in recent memory. By contrast, according to 247Sports' composite rating Johnson arrived in Lexington with the lowest grades from recruiting sites of any QB currently listed on an SEC two-deep.
Even now, nearly two years and 17 starts later, Johnson remains nondescript enough that most fans outside the state of Kentucky — SEC fans included — would probably have a hard time coming up with his name if you spotted them the school he played for and his initials. At the same time, though, with each passing week he continues to cement his status as the best UK quarterback of the past decade. (And not only because the most memorable UK quarterback of the past decade barely played quarterback.)
Since replacing Barker as QB1, Johnson has quietly presided over a 12-5 record as a starter, tied for second among active SEC starters behind only Jalen Hurts. That includes a 6-4 mark in conference games and a season-defining upset at Louisville last November, a win that secured a winning record in a campaign that, before Johnson's promotion, looked like it was on the brink of disaster.
This year, his steady presence as a senior is one of the main reasons the vibe around the program has graduated from survival to opportunity. At midseason, Kentucky (5-1) is the only SEC outfit behind front-runners Alabama and Georgia with fewer than two losses, and if not for a 28-27 heartbreaker against Florida — a game the Wildcats led by two touchdowns in the fourth quarter and had a chance to win on a last-second field goal — would be 6-0 and squarely on the national radar. (Largely as a curiosity, but still.)
The next four games are imminently winnable, beginning with this weekend's trip to Mississippi State. Beyond that, the potential stakes in season-ending dates against Georgia and Louisville matter less right now than the fact the opportunity exists at all: The Wildcats are playing for relevance well past the start of basketball season, and for that alone Johnson has a chance to leave a lasting mark.
The Good. On paper, Johnson's numbers are fine — so far this season he ranks between third and sixth among SEC passers terms of total offense (4th), completion percentage (3rd), yards per attempt (6th), TD-to-INT ratio (4th), and overall efficiency (6th). Not great, not bad, just fine. Where he manages to transcend the numbers is in his consistency:

By themselves, each of those stat lines is the embodiment of "just fine," which is part of what makes them easy to ignore. Taken together, though, that's a remarkably even-keel string of performances by a college passer against a range of opponents. (Given that Kentucky is making a habit of winning close, relatively low-scoring affairs, Johnson's aversion to interceptions especially stands out: In two years he's yet to throw two INTs in the same game.) Not a lot of guys come up in this feature who are capable of playing essentially the exact same game against South Carolina, Florida and Eastern Michigan in consecutive weeks.
For a truly eye-opening performance, we have to go back to the 2016 stunner at Louisville, Johnson's best game by far, in which he delivered career highs for passing (338 yards) and rushing (83) and generally outdueled Lamar freakin' Jackson in a 41-38 shootout. On top of the raw yardage, Johnson also generated the best efficiency rating of his career against a Power 5 opponent (193.7), and flashed some legitimate arm strength on a pair of long touchdown passes to his top receiver, Garrett "Juice" Johnson.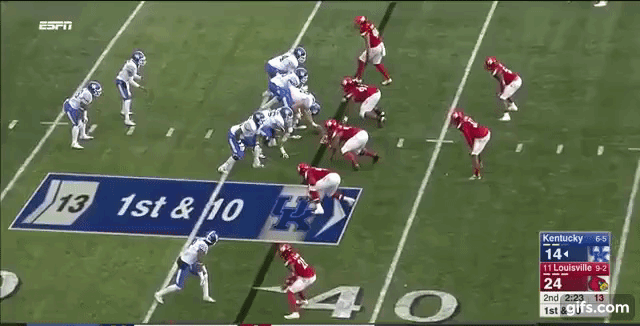 He's not asked to do that often; on the whole, Kentucky's passing game under coordinator Eddie Gran is about making the right read on run-pass options, not challenging secondaries deep. But clearly Johnson is capable of the latter if the opportunity arises.
And while he's not remotely in the class of a Lamar Jackson athletically, he has more than adequate wheels — see his 75-yard run against Tennessee last year on a zone-read play, good for Kentucky's longest gain of 2016, or his clutch, 54-yard scramble against South Carolina earlier this year, which effectively sealed UK win's over the Gamecocks in the closing minutes: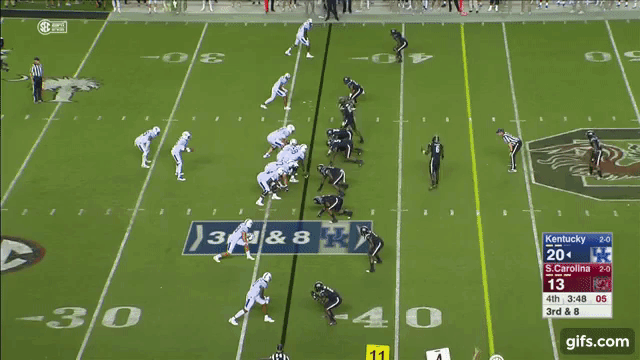 … and produced this Jordan-esque photo, in which D.J. Smith plays the role of scouts everywhere: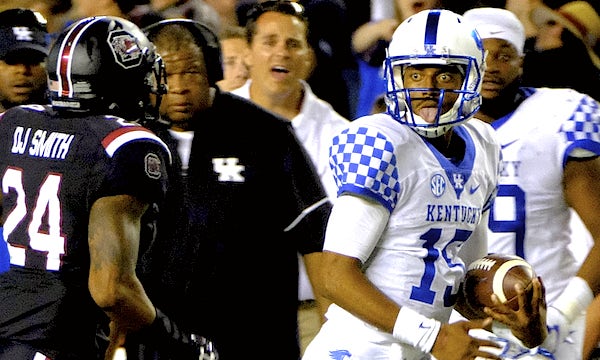 If nothing else, Johnson has slammed the door on any hint of controversy involving Barker, who might have been a candidate for significant playing time coming into the season — technically, he only ceded the starting job last year due to a season-ending back injury — but certainly is not anymore as long as Johnson is healthy. Barker hasn't attempted a pass since a brief appearance against Eastern Kentucky in Week 2.
The Not-So-Good. Pro scouts aren't going to bother with a 185-pound prospect, and although he's been durable to date, Johnson's size must be a concern as the season slogs on. That could be one reason the Wildcats are hesitant to employ him more often as a runner (he averages about a half-dozen carries per game, not including sacks), and likely factors into the steep decline in his production beyond roughly 25 yards.
So far this year, Johnson has connected on 51 passes that gained at least 10 yards (fourth in the SEC) and 21 that gained at least 20 yards (tied for third); on passes covering at least 30 yards, his ranking plummets to 12th, with just five. And that number includes shorter passes that turned into big gains after the catch.
More to the point, what big plays the Wildcats have been able generate through the air have been largely extension of the respect defenses have for Kentucky's ground game — all but one of Johnson's 20-yard completions have come on first and second down, i.e. running downs, when he's best able to exploit the middle of the field on play-action and run-pass options. (Tight end C.J. Conrad is averaging nearly 22 yards per catch exclusively on first- and second-down RPOs.) On third downs, Johnson's conversion rate as a passer drops from 61 percent on 3rd-and-6 or less, a very good number, to a paltry 23 percent on 3rd-and-7 and up.
The bottom line is Game Manager 101: Johnson is risk-averse, efficient enough on short and intermediate throws, and capable of connecting deep to an open receiver, but doesn't have the arm to reliably challenge secondaries deep or drop NFL-style throws into tight windows. He can be counted on to take what the offense creates, and what the defense gives him, and not much else.
The Takeaway. The opportunity in front of Kentucky is very real: Survive the upcoming trip to Starkville, with Tennessee (0-3 in SEC play), Ole Miss (1-2), and Vanderbilt (0-3) on deck, and suddenly it will be hard for UK fans not to imagine the Nov. 18 trip to Georgia looming as a potential winner-take-all for the East.
A lot has to happen between now and then, some of which will likely have to involve Johnson making a handful of plays in the vein of his tongue-wagging, dagger of a scramble against South Carolina — outside of the structure of the offense, against superior talent, in a critical situation. But nothing about that scenario is farfetched. And if not now for the Wildcats, with a competent senior quarterback and one of the SEC's most veteran lineups from top to bottom, then when?
MATTHEW STAFFORD ARM OF THE WEEK: Drew Lock.
In its first six games, Georgia's defense only allowed one play — run or pass — that gained more than 40 yards, and even on the one the Bulldogs still came out ahead by recovering a fumble at the end of it. No one had successfully challenged them deep … until they ran into Lock, who hooked up with wide receiver Emanuel Hall on Saturday on a pair of back-to-back, 63-yard touchdown passes on consecutive series.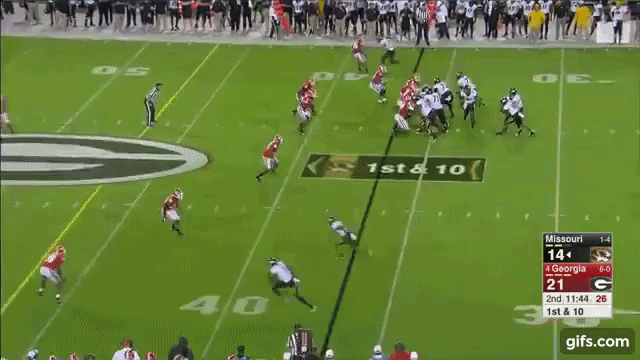 Mizzou's offense achieved almost nothing else en route to a predictable, 53-28 loss, but if Lock proved going forward that UGA's secondary is vulnerable against an NFL-caliber arm then that's a lot more than can be said for any other quarterback who's faced them this year.
QB CURVE POWER HOUR!
Ranking the league's starting quarterbacks heading into Week 8.
1. Jalen Hurts, Alabama. Arkansas snapped Hurts' streak of 206 consecutive passes without a pick – all of us in the media are shocked and appalled on Nick Saban's behalf – but didn't come close to threatening Bama's insane run of 71 consecutive wins over unranked teams. (Last Week: 1)
2. Jarrett Stidham, Auburn. Stidham had a great first quarter against LSU and a rotten rest of the game. All that kept the afternoon from becoming Clemson redux was that Auburn managed to score touchdowns on its early opportunities in Baton Rouge and avoided giving up a late barrage of sacks. (LW: 2)
3. Shea Patterson, Ole Miss. Patterson lit up Vanderbilt for 351 yards and four touchdowns, snapping a three-game skid and reviving the flagging YOLO Miss meme in the course of a few hours. When they're on the Rebels still look like the most terrifying passing attack in the conference, and maybe the nation. (LW: 4)
4. Jake Bentley, South Carolina. The Gamecocks are 5-2, and Bentley continues to account for an almost unhealthy share (67.7 percent) of the team's total offense. But at some point their ongoing failure to score points since Deebo Samuel left the lineup has to be a reflection on the quarterback. (LW: 3)
5. Nick Fitzgerald, Mississippi State. Fitzgerald accounted for 344 yards and four touchdowns against BYU, a much-needed return to form after the Bulldogs' wipeouts against Georgia and Auburn. He also threw two interceptions for the third game in a row. (LW: 5)
6. Jake Fromm, Georgia. For a true freshman, Fromm's league-best efficiency rating (170.4) remains off the charts. For now, I'm still chalking that up to a combination of ideal circumstances in Georgia's loaded offense and bad defenses on the other side. If it's still the case in two weeks, after the Cocktail Party date with Florida, he'll be making another big move toward challenging Hurts at the top of this list. (LW: 6)
7. Stephen Johnson, Kentucky. They're not a threat to Georgia, but as long as the defense holds up, Johnson really doesn't have to be much better than he's been to give the Wildcats a legit shot at their best season in 40 years.  (LW: 7)
8. Drew Lock, Missouri. The league's best pure passer might never turn the corner at Mizzou, but he does a couple things every week that make me wish he were in a better situation. (LW: 11)
9. Kellen Mond, Texas A&M. Mond has a long way to go, but I love his athleticism, and the fact that he's held his own in four intense, down-to-the-wire SEC games in as many weeks — leading fourth-quarter rallies in all four — is very encouraging. (LW: 8)
10. Danny Etling, LSU. The Tigers' come-from-behind win over Auburn moved Etling's record at LSU to 12-5, too, tying him with Johnson for the best record among active starters behind Hurts. Somehow that stat doesn't carry quite as much cachet in Baton Rouge as it does in Lexington. (LW: 10)
11. Austin Allen, Arkansas. I'm not going to concede Allen's job to his gargantuan backup just yet, but the longer the senior's throwing shoulder keeps him on ice the less likely it seems Razorbacks fans will see him throw another pass. (LW: 9)
12. Feleipe Franks, Florida. I'm still laughing at the plodding awkwardness of Franks' breakaway run against Texas A&M, which in fact may still be in progress. (LW: 12)
13. Kyle Shurmur, Vanderbilt. In three non-conference games Shurmur completed 71 percent of his passes at 10.2 yards per attempt. In four conference games, he's hitting 45 percent at 5.5 per. (LW: 13)
14. Jarrett Guarantano, Tennessee. Guarantano looked like an upgrade over Quinten Dormady athletically in his first start, but as a passer he was a nonentity against South Carolina until the Gamecocks shifted into prevent mode on the final possession of the game. (LW: 14)