SEC
Alabama picking spots wisely to use Tua Tagovailoa
Alabama has truly rolled like the tide so far this season. The Crimson Tide is 8-0 and Texas A&M was the only opponent to hang close, and even then not really. This has been an easier schedule for Alabama than usual in the SEC West, but the Tide still have LSU, Mississippi Stat and Auburn on the schedule so coach Nick Saban's crew has bigger challenges ahead.
One result of their easier early slate is that freshman backup quarterback Tua Tagovailoa has played a fair bit, particularly in the Tide's 45-7 blowout win Saturday over hapless Tennessee. The Hawaiian 5-star recruit has thrown for 385 yards with five touchdown passes and one interception; Tagovailoa also has rushed for 95 yards and two scores. In a sad twist of fate for second-year starter and sophomore Jalen Hurts, Tagovailoa has already exhibited skills which portend a higher ceiling in the current Alabama offense. It's possible that 2018 could feature a quarterback controversy in Tuscaloosa. Here's what the freshman signal-caller has shown so far.
Still a strong runner and improv artist
New OC Brian Daboll has largely de-emphasized the role of the QB run game in Alabama's offense, with many of Hurts' runs coming more from his proclivity for scrambling than by design. The QB run elements aren't gone though and Tagovailoa has demonstrated some real proficiency in that dimension of the offense.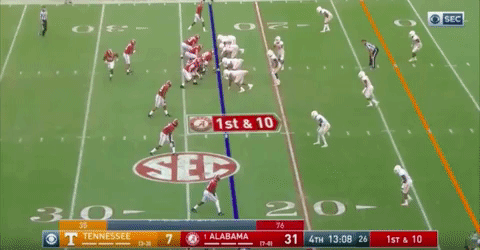 The Tide made heavy use of quick swings to the running back against Tennessee, which plays a lot of man coverage. In man coverage, one of the linebackers has to chase the RB, leaving only one LB in the box to handle a QB run. It was all too easy to mix in some draws for Tagovailoa against the Vols and this 23-yard score the the prime example.
Tagovailoa also showed he can keep his head up when scrambling, a skill Hurts hasn't exhibited to the same degree, and threw a touchdown pass when he found his man on the move.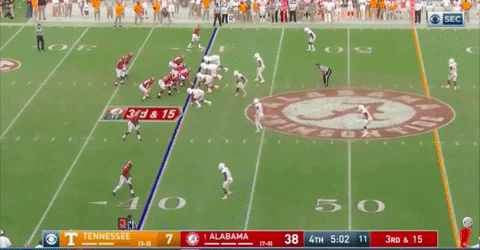 Tennessee had dropped into Tampa-2 coverage on this play but Tagovailoa kept his eye on a crossing route by freshman Henry Ruggs III and hit him between conflicted zone defenders for a 60 yard score.
He's not making a progression here but his ability to keep his receivers in mind and throw on the run, combined with his running ability, adds up to a greater overall threat than Hurts presents on broken plays.
The more accurate passer dropping back?
The best Alabama teams under Saban have been led by QBs who could push the ball down the field. Having a quarterback who can add another dimension to the running game is nice, but Alabama has never needed that to have a great rushing attack. They consistently develop fantastic offensive linemen and tight ends to block and recruit freakishly large and athletic backs to run wild behind them. The most valuable thing for their QB is getting the ball to playmakers on the perimeter like Calvin Ridley.
At some point, Tagovailoa will offer this more than Hurts. Here's Tagovailoa executing one of the curl-flat passing concepts that Daboll has made a major focus in the Alabama offense.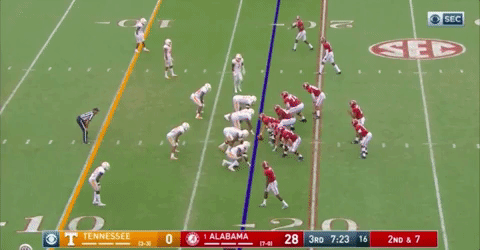 Tennessee plays man coverage on the three receivers and is punished for it by the classic curl-flat combination. Tagovailoa reads the single deep safety and knows where to find a receiver, then confidently gets the ball out on time on the curl route. When an offense can frequently guarantee two-on-two on that route combo — as Alabama does here with the combination of their run game threat and the H-back's hunt route over the middle — this play becomes easy money when done well.
Tagovailoa also was deadly accurate on even quicker, easier reads designed to create opportunities for gains off the threat of the run game.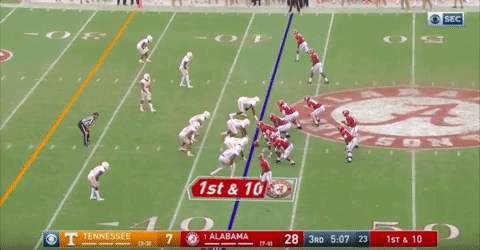 This is a quick and easy read for the QB. He checks the flat to survey the deep routes; if they are not there he immediately takes the easy candy with the flat route to the tight end. Tennessee has a guy in coverage but Hale Hentges breaks a tackle and it's a 14 yard gain.
Saban is all about found money in the passing game and his teams don't turn it over either — Alabama has averaged 7.8 interceptions a year in 10 full seasons since Saban took over in 2007 and has just two this season. Saban's preference is clearly for veteran QBs who inflict damage off of the threat of the run game while protecting the ball. Tagovailoa isn't quite there yet, despite his accuracy in their normal passing game and extra play-making abilities, and threw a bad pick early against Tennessee.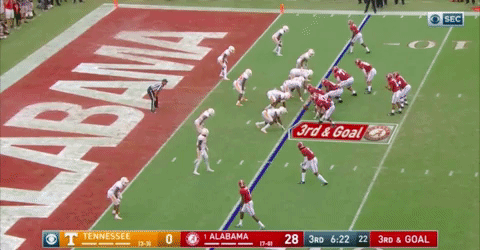 The RB stayed in to block so Tennessee gained an extra man to play over the two-man route combination. Tagovailoa didn't see the shallow Tennessee spy lurking underneath and threw a score to the wrong team. Those sorts of mistake are unacceptable to Saban they will make it hard for Tagovailoa to win the starting job.
Nevertheless, Tagovailoa has really strong skills, more closely suited to the ideal for Saban's Alabama and this new offensive scheme in particular. Tagovailoa will be one to watch in Tuscaloosa in coming years