FLORIDA
Film Study: Florida has one chance to beat Georgia. Can its run defense hold up?
If we know anything about the Florida-Georgia rivalry in its current incarnation, it's that the game is almost certainly going to won on the ground: The side with the most rushing yards has won 11 consecutive in the series dating to 2006, so long ago now that Georgia was the defending SEC champ and Tim Tebow and Matthew Stafford were but mewling freshmen. And if we know anything at all about the two teams ahead of the 2017 Cocktail Party, it's that the run-to-win trend — along with almost every other conceivable factor — overwhelmingly favors the Bulldogs on both sides of the ball.
Offensively, Georgia emerged over the first half of the season as one of the few clearly dominant rushing outfits in the country, arguably rivaling Alabama in terms of both depth and production; as a team, UGA has outrushed Florida so far by more than 100 yards per game. Defensively, the Bulldogs have been even better, also turning in Bama-esque numbers in a category that had marred Georgia's statistical résumé for years.
In Week 2, they held Notre Dame, an attack that's averaged an incredible 362 yards rushing in its other six games, to 55 yards on 1.5 per carry; their last three SEC opponents have fared almost as bad. For the year, Florida ranks 47th in rushing D (Georgia ranks fourth) and has given up more than a full yard more per carry.
And yet. The Gators have taken three straight over Georgia, owning the line of scrimmage in all three, and the basic premise holds as true as ever: If there's any glimmer of hope for an upset in a game they enter as two-touchdown underdogs, it must be up front, on the defensive line, which for all its youth and inconsistency to this point remains the strength of the team.
In fact, despite a two-game losing streak at the hands of LSU and Texas A&M, there's some evidence the front four is getting stronger — in their past three games, the Gators have held their own against some of the most prolific backs in the league, effectively throttling Vanderbilt's Ralph Webb (29 yards on 2.6 per carry, with a long gain of 11), LSU's Derrius Guice and Darrell Williams (85 yards combined on 4.5 per carry, with a long of nine), and Texas A&M's Trayveon Williams and Keith Ford (40 yards on 2.1 per carry, long of six). As they've grown into their roles, the new faces along the line have looked less like the unit that gave up big yards to Michigan and Tennessee in September and more like the kind of blue-chip, NFL-bound front Florida fans have come to take for granted.
Against this particular edition of Georgia, it's hard to image any plausible route to an upset that doesn't involve stuffing the run, forcing the Bulldogs' precocious freshman QB, Jake Fromm, into situations he hasn't faced yet, and applying enough pressure to generate a couple of turnovers that can be turned into points. Lord knows the Florida offense can't be counted on to score on its own. If the Gators have any chance at all, it's only as good as the d-line's capacity to grind the game to an unwatchable halt. The uglier, the better.
Bryan Damage. What the Gators lack in experience up front they make up for in depth, especially at end, where the top four players in the rotation — Cece Jefferson, Jordan Sherit, Jabari Zuniga, and Jachai Polite — are on more or less equal footing. (On paper, they're interchangeable, with all four having accounted for somewhere between 18-23 total tackles, 5-7 tackles for loss, and 5-9 QB hurries, for whatever that last stat is worth.) Inside, the production is closer to a one-man show: It begins with Taven Bryan, ends with Taven Bryan, and in between mostly involves Taven Bryan.
In August, Bryan began to emerge locally as the subject of absurd headlines that bore no resemblance to his bio — he arrived in Gainesville as an obscure, 3-star recruit from Wyoming, of all places — or his modest output in his first three years on campus. By midseason, he was being touted as the SEC's best interior pass rusher and a likely first-round pick in next year's draft.
Most of that attention has come in the wake of Bryan's breakout performance against Texas A&M, which yielded career highs for tackles (7) and TFLs (1.5) and turned out to be even more impressive on tape than in the box score. Even when he didn't get the credit, Bryan was a persistent, disruptive force in the Aggies' backfield, using his explosiveness at the snap to turn A&M's guards into oversized turnstiles from start to finish.
Literally, from the start: On the first play of the game, Bryan blew past A&M's left guard (No. 77 Ryan McCollum), cut off RB Trayveon Williams 5 yards behind the line of scrimmage, and spilled the run directly into the arms of Cece Jefferson for a 4-yard loss.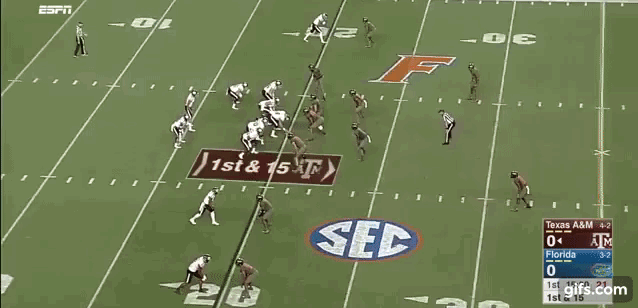 Jefferson earned the TFL, but the play was made by Bryan's immediate presence in the backfield — the penetration redirected the ballcarrier, preventing Williams from turning his shoulders upfield before the pursuit could track him down; it also cut off his lead blocker, RG Connor Lanfear (No. 70), whose path around the left end was detonated almost before he was out of his stance. This will be a recurring theme.
Later in the first quarter: Again we'll see Bryan lined up in the A gap between the LG, McCollum, and center Erik McCoy; again the Aggies will attempt to run left with Williams following his pulling RG, Lanfear. And again, Bryan will singlehandedly wreck all of the above, stringing out the run until LB David Reese can arrive to drop Williams for a 2-yard gain.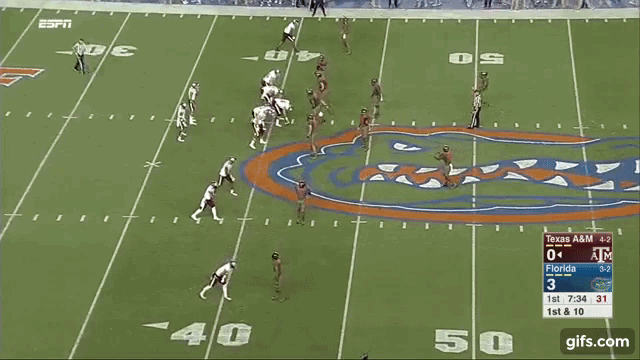 In fact, that play probably should have gone for a 2-yard loss: With Lanfear caught up in the trash, the linebacker he was supposed to block, Vosean Joseph, had a clear path to bring Williams down behind the line. He just missed the tackle, leaving it to Reese to clean up.
Still in the first: This time A&M will attempt to handle Bryan (still lined up in the A gap between the center and LG) with a combination reach block by the LG, McCollum, and LT Koda Martin, No. 75, opening up a cutback lane for RB Keith Ford. Again, Bryan isn't in position to make the tackle, but he does prove strong enough to fight through the double team and get a hand on Ford, knocking him off-balance until safety Chauncey Gardner can arrive to finish off the tackle for another minimal gain.
Here's a better view of the same play, from an angle I like to refer to as TrenchCam: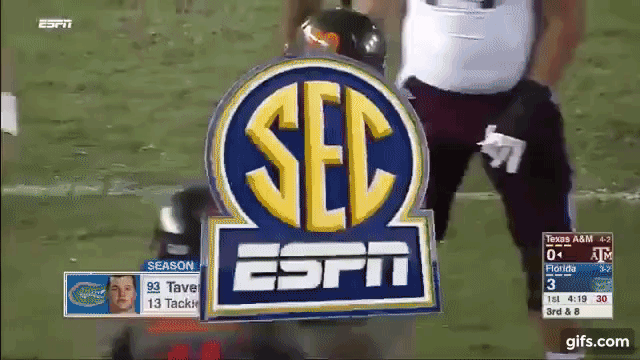 (Frankly ESPN could stand to feature more TrenchCam. Make a stream available that's nothing but TrenchCam.)
Second quarter now: Backed up inside their own 5-yard line, the Aggies will keep it close to the vest on a simple inside zone play; the blocker assigned to Bryan this time is RT Keaton Sutherland (No. 78), whose attempt to reach block Bryan goes predictably awry. Again, Williams is forced to sidestep immediate penetration in the backfield and make do on his own until DB Duke Dawson is able to track him down in the open field: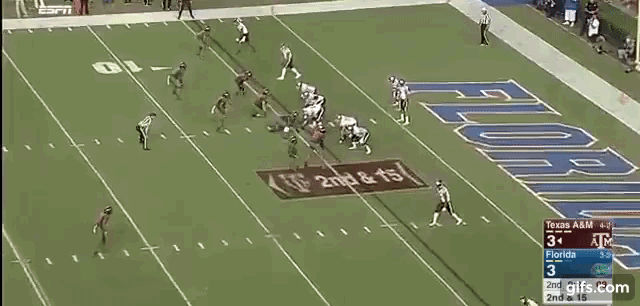 Next possession: Same spot on the field, same prohibitive down and distance, same result. This time Bryan will get partial credit for a tackle on Ford after thoroughly abusing the right guard, McCollum, and threatening to drop the play for a safety if Ford felt like trying to make something happen rather than cutting his losses; fortunately for A&M, he made the right call to settle for two yards and a punt.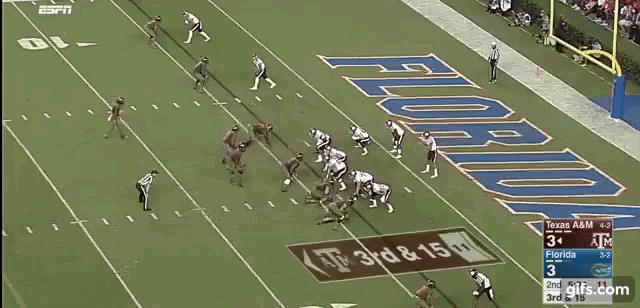 Still in the second quarter, just before the half: This time the Aggies will neglect to block Bryan altogether on a "pin and pull" outside zone play, betting that either a) He'll be forced to respect QB Kellen Mond as a legitimate running threat, creating enough indecision at the mesh point to give Williams the edge, or b) Even if he ignores Mond, as a 293-pound defensive tackle Bryan will be too slow to lay hand on A&M's fastest back, anyway. Neither of those bets will pay off: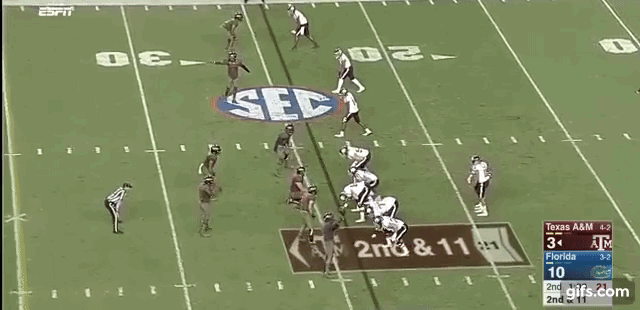 That's an heroic effort by the running back for a 4-yard gain. The Aggies subsequently came up short on 3rd-and-7 and punted.
Jumping ahead to the third quarter, with A&M enjoying its best field position to that point at the Florida 22-yard line. Here the Aggies will go back to the inside zone, which will unfold like a replay of the first play of the game: Penetration by Bryan (at the expense of the center, No. 64 Erik McCoy), forcing Williams to bounce the play wide into the waiting arms of Cece Jefferson for a 5-yard loss. TrenchCam: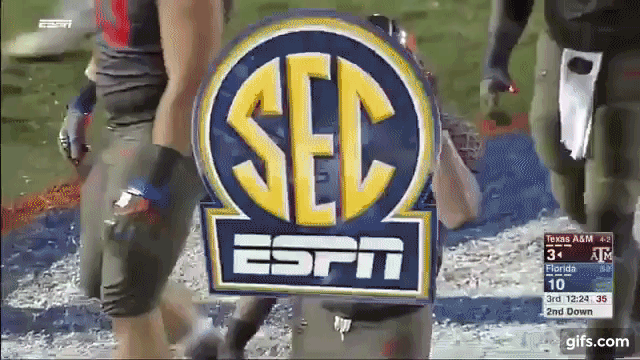 Onto the fourth quarter, with A&M trailing 17-13 and on the doorstep of a potential go-ahead touchdown: Again the Aggies will go back to their bread-and-butter, the inside zone, again leaving poor Ryan McCollum (77) to attempt to block Bryan one-on-one despite the overwhelming evidence at this point advising against it. The inside-out move Bryan deploys on this play is unreal for a man his size and may be his nastiest of the game: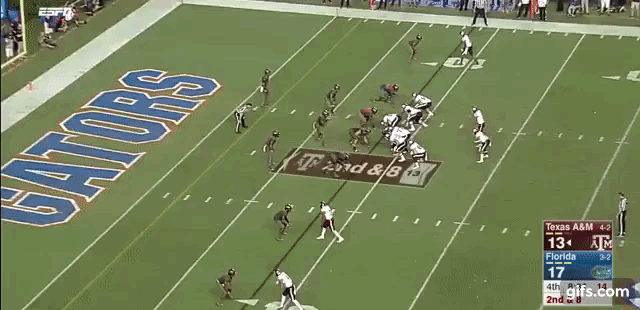 That move cries out for TrenchCam! Alas — no replay. A&M subsequently went the end-zone fade route on third down, unsuccessfully, and settled for a field goal to cut the deficit to one point.
Same score, next possession: The Aggies are within range of a go-ahead field with 1st-and-10 at the Florida 14. This time they'll opt for a straight-ahead power approach behind a pulling guard, Lanfear (70), with Bryan targeted for a combo block by McCollum (LG, 77) and Martin (LT, 75), who'll scrape off the down block and onto a linebacker at the second level. For all his explosiveness, this is a matchup Bryan wins with sheer power, holding his ground against the initial double team before tossing McCollum to the ground and joining unblocked LB Vosean Joseph to stuff Ford for no gain: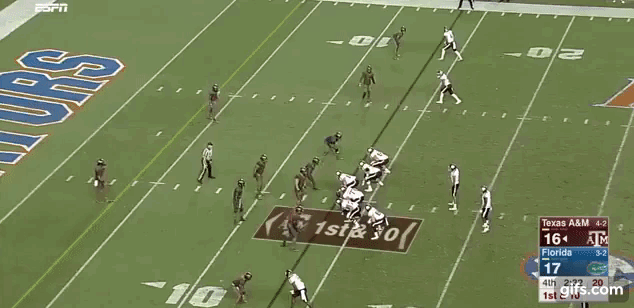 Add to that Bryan's pass-rushing production in the second half — see here, here, and here, all in the span of just a few plays — and the result is most dominant individual performance by an SEC defensive lineman this season, if not by any defender, period. Nor was it a fluke: For the season, Bryan has the best overall grade of any Florida player, offense or defense, according to Pro Football Focus, and ranks fourth against the run among all draft-eligible DTs nationally. On film, he has a knack for making opposing linemen look ridiculous; because he makes life so much easier on his teammates, his relative absence on the stat sheet hasn't stopped draftniks from gushing over his explosiveness or projecting him as a top 10 talent.
For a guy whose draft stock barely existed two months ago (and who still has a fifth year of eligibility in 2018, if he wants it) that speaks volumes. The "Wyoming Wild Man" is not so obscure anymore. The question now is whether he can continue to carry all that potential to fruition over a full season, with offenses likely to begin game-planning around him and scouts dissecting his every move. Georgia will represent a major test of his consistency, adaptability, and staying power.
The Inconstant Gardner. If Bryan counts as a known commodity on the interior, the X-factor in Florida's run defense is safety Gardner, whose sophomore campaign has had a Rorschach-test quality as he adjusts to his first season as a starter. On one hand, Gardner very quickly earned a reputation among some parts of the fan base as a shoddy tackler prone to finding himself on the wrong end of open-field collisions. (That may be in part because, at just a shade over 200 pounds, he's more of a natural cornerback forced to play out of position due to a preseason injury to Florida's veteran leader in the secondary, senior Marcell Harris.)
One the other hand, he currently ranks second on the team in total tackles, behind sophomore linebacker David Reese, and sits just one off Reese's team lead in solo stops. Against a less spread-oriented offense like Georgia's, especially, his presence as the eighth man in the box against the run will be indispensable to the Gators' chances of keeping the Bulldogs behind the chains on second and third downs and the score within reach.
Contrary to his early rep, Gardner was outstanding in run support in Florida's 17-16 loss to LSU, finishing with a team-high 12 tackles (seven solo, none coming on pass plays) and two TFLs on a bad ankle. That number included a couple of fine open-field takedowns of Guice, who was playing at less than 100 percent against the Gators himself but remains one of the most elusive backs in the nation. If nothing else, Gardner has enviable range as a nickel/contain player on the edge, along with the speed and willingness to close the deal: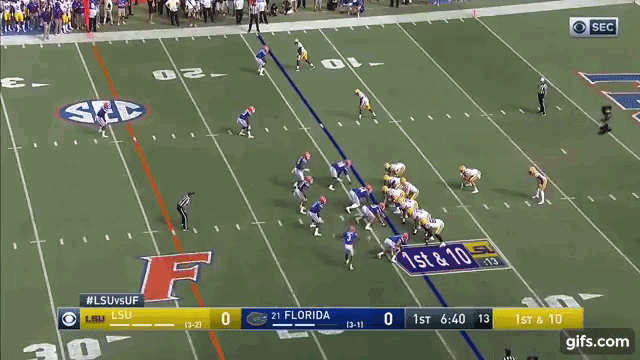 That was on 1st-and-10 in the first quarter; here, we'll see Gardner track down Guice on a nearly identical play in the fourth, with another assist from penetrating DE Jachai Polite (99) on an obvious run down: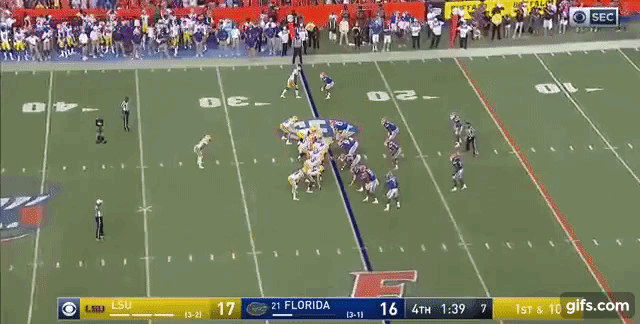 And while he's by no means in the class of a Matt Elam, Keanu Neal, or Marcus Maye in terms of big, downhill, enforcer-style hits, Gardner can hold his own in that department, as he demonstrated by stopping 230-pound Darrel Williams dead in his tracks on a backside run fit: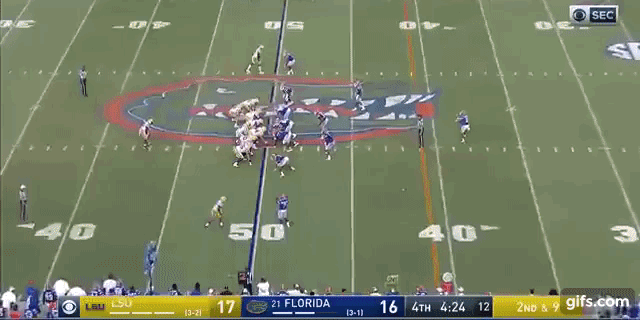 Tellingly, Gardner wasn't on the field for LSU's biggest run of the game, a 30-yard jet sweep touchdown by WR Russell Gage in the first quarter. (While Guice and Williams were held in check, a solid majority of LSU's 216 rushing yards in Gainesville were the result of wide receivers carrying on jet sweeps, a staple of Matt Canada's offense and almost no one else's.) Altogether, nine of Gardner's dozen tackles against the Tigers were within five yards of the line of scrimmage, which is exactly the kind of ratio he needs to replicate against Nick Chubb and Sony Michel if Florida has any chance of holding Georgia to 17 points, too.
To Saturday and Beyond. In a very narrow, technical sense, the outcome on Saturday will play a decisive role in determining who winds up atop the SEC East, as it always does in this series, but only if you believe the outcome is really in doubt. As I've suggested a couple times already, it takes an extreme optimist — or pessimist, depending on where your loyalties fall — to gin up a realistic scenario in which the Georgia team we saw over the first half of the season might somehow lose to the Florida team we saw over the first half of the season.
Even if the Gators play lights out defensively (which is realistic), they still have to figure out a way for the nation's 96th-ranked scoring offense to put up points against the 4th-ranked scoring defense, which frankly is not likely. And if the Bulldogs do make any hay on the ground, as they have against every other defense they've faced, Fromm's efficiency in the play-action game has been off the charts. The two-touchdown spread is justified and might be conservative.
That said. Stranger things have happened in this rivalry, and it's not like there's a massive talent gap Florida has no chance to bridge. The Gators will have to keep Chubb and Michel (and D'Andre Swift, and Brian Herrien …) in check, certainly, and that will be easier said than done. Get it done, though — with consistent penetration by Bryan and his blue-chip linemates, or with safeties crowding the box and daring Fromm to back them up, or with some combination thereof — and we've seen enough tense, down-to-the-wire slugfests under Jim McElwain to know that Florida knows its way around those situations. We don't know that about Jacob Fromm. At least, not yet.
If it winds up being the kind of game that hinges on weird, random plays, Florida's defense is well-adapted to making those kinds of plays. Whether it's good enough to put itself in a situation for one or two plays to matter is a much tougher question.