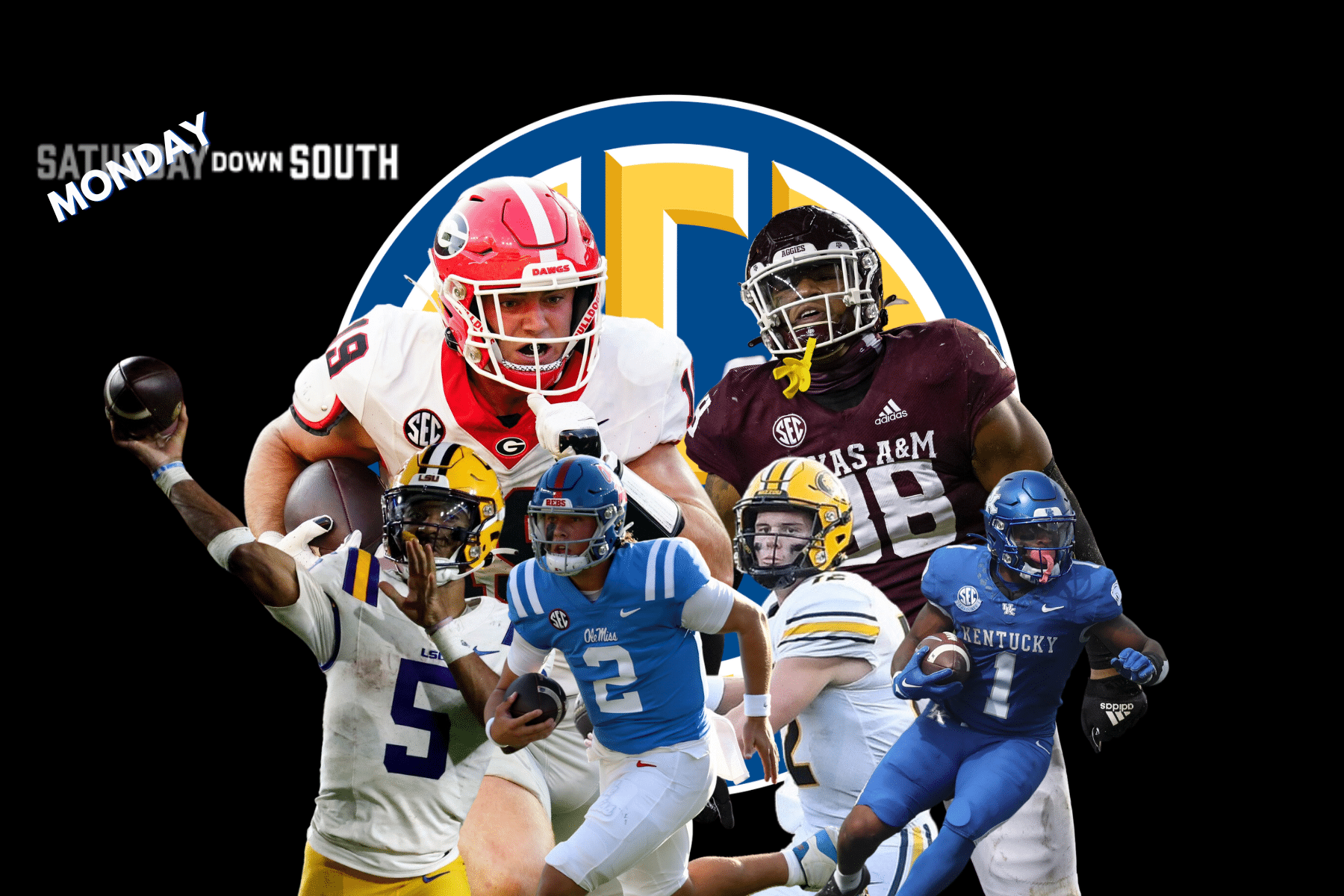 SEC
Monday Down South: Georgia is still finding its way, but Brock Bowers shows the path forward
Weekly takeaways, trends and technicalities from the weekend's SEC action.
In this week's deflationary edition of Monday Down South …
Texas A&M turns up the heat
Ole Miss and LSU let it rip
Superlatives and updated power rankings
… and much more. But first!
No one's No. 1
A long September is officially in the books. One-third of the way through the 2023 season, who's the best team in college football?
According to the consensus — or the closest thing the sport has to a consensus, anyway — it's still Georgia, and it's still not all that close. Through some combination of reputation, inertia, and a freshly polished 5-0 record, the Bulldogs are No. 1 in the updated AP poll for the 16th consecutive week, with 35 out of a possible 62 first-place votes; that's down from 60 out of 62 in the preseason, but still comfortably ahead of any other contender. In the Coaches' poll, they're still pulling 59 of a possible 64 first-place votes, barely down from 61 in the preseason. Only about 1 out of 5 voters across both polls who put the defending champs on top in August have seen fit to change their minds.
After their come-from-behind, 27-20 win at Auburn, though, the case for the Dawgs as de facto frontrunners has started to spring a few leaks against the shallow end of the schedule. More than a few, in fact: In their first 2 SEC games, against South Carolina in Week 3 and Auburn on Saturday, Georgia uncharacteristically played down to the competition in both, sleepwalking into a couple of early, double-digit deficits in the first half before engineering a closer-than-expected but ultimately not-too-threatening final score in the second.
In their back-to-back championship campaigns, the 2021-22 Bulldogs trailed after halftime in a regular-season game just once, in a 26-22 nail-biter at Missouri last October that doubled as their only victory decided by single digits. This year, they've trailed after halftime twice in a span of 3 weeks, and just eked out a victory over an unranked opponent that was still in doubt all the way down to Auburn's final possession.
There were other red flags, if you were looking: Georgia committed 2 turnovers in its own territory that set up both of the Tigers' touchdowns; the offense finished with its fewest team rushing yards against a Power 5 opponent (107) since 2020; and the defense allowed 200+ yards rushing for the first time since 2018, to an Auburn offense that posed no threat whatsoever through the air.
But then, it's hard to say what's characteristic and what isn't for a supremely talented, quasi-rebuilding outfit that has yet to be tested by an above-the-fold opponent, and which has the luxury of remaining in cruise control until well into November.
Last year's team responded to the close call at Mizzou by blowing the doors off the rest of the schedule. The Bulldogs don't have to be perfect to run the table, or lucky, or anywhere near their final form before the weather turns. In the meantime, the search for the One True Contender is not close to settling on an obvious candidate to replace them.
When subjected to the same level of scrutiny all of the would-be usurpers in the polls come with plenty of red flags of their own. Michigan, an experienced outfit with Playoff experience, has yet to play a four-quarter game, but has faced an even more suspect schedule than Georgia's. Ohio State has a quality win at Notre Dame, but only escaped South Bend by the narrowest possible margin, and anyway remains doomed to Michigan's coattails until the Buckeyes retake command of the rivalry. Texas and Florida State have been impressive, including landmark road wins over Alabama and Clemson, respectively, but haven't quite shed the baggage that comes with years of perennial underachieving. Penn State toils in the shadow of OSU and Michigan in the Big Ten East; USC, Oregon, and Washington and their brilliant quarterbacks cancel each other out in the Pac-12; Oklahoma is a wild card coming off a 6-7 season in 2022.
Is it any wonder the polls have opted to settle for the status quo? When the smoke clears, how many of them are more likely to still be standing than the champs?
Of course, Georgia does possess one crucial asset that no one else does: Brock Bowers. There are a lot of great players in college football, many of them playing more conventionally valuable positions with more conventional Heisman credentials than a "move" tight end. But Saturday was a reminder that there are no better players than Bowers, and that when his team really needs someone to make plays in the clutch, there's no one in the college game they'd rather have making them.
With the Bulldogs trailing Auburn 17-10 late in the third quarter, Bowers took over, hauling in 6 catches for 148 yards in the final 20 minutes, including the longest gain on all 3 of Georgia's subsequent scoring drives. Twice, he extended possessions on 3rd-and-long: The first, a 28-yard gain on a 3rd-and-12 early in the third quarter, set up a subsequent field goal that even the score at 20; the second, a leaping, one-handed grab that gained 16 yards on 3rd-and-12 midway through the fourth, set up his own game-clinching, legacy-burnishing stampede through the Tigers' secondary 2 plays later.
BROCK BOWERS PUTTING THE TEAM ON HIS BACK. pic.twitter.com/l53cIIQ0xR

— CBS Sports (@CBSSports) September 30, 2023
When it's getting late and the offense is in need of a spark, the ability to say, the hell with it, we're throwing it to Bowers potentially solves a lot of problems — problems that, again, could prove to be persistent issues as the season unfolds, or fleeting blips on the road back to the Playoff.
Carson Beck is a work-in-progress behind center who's still months away from facing a Playoff-caliber defense for the first time. The backs and wideouts have more injury casualties right now than difference-makers. The defensive line does not (yet) have a decorated, first-round specimen who stacks opposing o-linemen a half-yard behind the line of scrimmage, much less an entire rotation's worth of them subbing in and out. It's easier right now than at any point the past 2 years to imagine the ways the sport's reigning Death Star might be vulnerable in the brief window before it gets all the pieces it needs in place to be fully operational again. But with a talent like Bowers filling the breach, it's still more likely to amount to wishful thinking.
Ole Miss 55, LSU 49
There are plenty of recriminations to go around for the failures of the respective defenses in one of the most high-octane games in SEC history — particularly on the losing side, where LSU blew not only a late lead, but also a huge opportunity to seize control of the SEC West. First, some quick accounting from one of the wildest box scores on record:
1,343 yards of total offense
65 first downs
15 touchdown drives, all covering 65+ yards apiece
5 touchdown drives of two minutes or less
6 touchdown drives of six plays or less
3 100-yard rushers, plus a fourth with 90 yards
4 100-yard receivers
18 players with at least 1 gain of 12+ yards rushing/receiving
9 (!) defensive stops
A $100,000 fine from the league office for storming the field.
There's a tendency beyond a certain threshold to shift credit/blame for an offensive bonanza like the one that unfolded in Oxford to the failures of the defenses, as if the offenses were playing on a dorm room PlayStation with the defensive sliders turned all the way off. Which, hey, fair enough on a night when it was obvious early on that scoring was urgent and every defensive stop would qualify as a dramatic shift in momentum.
But that's really just another way of saying the offenses, and the quarterbacks in particular, made it look a lot easier than it actually was. Ole Miss' Jaxson Dart and LSU's Jayden Daniels were both dialed-in and dealing, combining for 803 yards and 8 touchdowns on 10.7 per attempt, plus another 149 yards and 2 more TDs rushing. They were both pressured, took some hits, and made stuff up on the fly.
Dart fully hurdled a dude in the open field; Daniels, in between dropping big, pillowy marshmallows into his receivers' hands on slot fade routes, broke off a career-long 55-yard gain on a QB draw. They dug deep to sustain a gonzo pace for 60 minutes. Even his final, failed desperation heave into the end zone as time expired somehow managed to hit his receiver in the hands.
Ultimately, every shootout is decided by a crucial defensive stop. Ole Miss got 3 of them in the 4th quarter, forcing LSU to punt twice before fending off the Tigers' last gasp. When you land on the winning side, it's to focus on the positive, rather than the fact that you just gave up 637 yards in one night.
When you land on the losing side, well, recriminations time: The gap between the apparent talent on LSU's defense and the box scores in the Tigers' losses to Florida State and Ole Miss is appalling — all the more so opposite an offense channeling the ghosts of 2019. At least the Seminoles looked like they had to work for their numbers in the opener; the Rebels slashed and burned virtually at will, pulling off the rare of piling up 300 yards rushing and passing.
LSU's offense did everything it could to salvage what amounted to the team's remaining CFP hopes going up in smoke. Jayden Daniels is in the midst of a Heisman-caliber campaign. His mind meld with WRs Malik Nabers and Brian Johnson might be unmatched in the college game, Notre Dame transfer Logan Diggs is finally emerging as the every-down workhorse the Tigers have been missing the past 2 years. They set the bar for the defense about slow as it will go, and the defense proceeded to crawl under it. If one of the best offenses in school history winds up in the Cheez-It Bowl because defensive coordinator Matt House's unit can't be trusted to hold decent opponents under 40, it's going to be a bitter pill.
Texas A&M: On schedule?
Three weeks ago, Texas A&M's defense was dragged across the Internet (this space included) following a 48-33 debacle at Miami. After Saturday's 34-22 beatdown of Arkansas, the D is the cornerstone for surging optimism heading into arguably the biggest game of Jimbo Fisher's tenure against Alabama.
Don't be fooled by Arkansas' 22 points: The Razorbacks' only touchdowns against the Aggies came courtesy of a pick-6 by the defense and a late, garbage-time heave that served only to cut a 3-score margin of defeat to a 2-score margin of defeat. Otherwise, they failed to gain a 1st down on 8 of their previous 11 offensive possessions.
Late TD notwithstanding, in most other respects Arkansas fared just as badly as Auburn in its 27-10 loss in College Station in Week 4: The Aggies held both offenses to 3.1 yards per play, recorded 7 sacks and 15 tackles for loss in both games, and allowed a combined 8-for-30 on 3rd-down conversions. Auburn QB Payton Thorne finished with a dreadful 23.4 Total QBR rating in Week 4; Arkansas' KJ Jefferson turned in a 20.7 in Week 5, a career low.
Surprisingly (well, to some of us, anyway), Texas A&M did not crack the updated AP poll, landing in "also receiving votes" purgatory. Oddsmakers extended slightly more respect, installing the Aggies as 3.5-point underdogs Saturday against Alabama in College Station — a critical game for both sides in an absolutely wide-open SEC West race, but especially for Fisher, who is desperate to put last year's debacle behind him and make good on one of the nation's most talented rosters while the opportunity is ripe.
A&M is 2-0 in SEC play for the first time on Fisher's watch, and 4-1 for only the second time since 2017. Given how quickly the Aggies have tended to be bounced from the West race, the prospect of a 3-0 start and sole possession of first place is an enormous opportunity to advance the project. And given the enormous investment in the d-line over the past few recruiting cycles, if a breakthrough is in the cards it will be front seven on defense leading charge.
Superlatives
The week's best individual performances.
1. Georgia TE Brock Bowers. Like all the great ones, even Bowers' best stat lines rarely capture the visceral impact of his best performance. He is (still) who we thought he was: A specimen whose combination of size, speed and skill continues to inspire awe long after it's been established as a settled fact.
2. Kentucky RB Ray Davis. Davis, a 5th-year journeyman with previous stops at Vanderbilt and Temple, seized the national spotlight against a lethargic Florida defense, exploding for 280 yards and 3 touchdowns on 10.8 per carry in the most prolific individual rushing game by an FBS back this season. Among the many, many highlights of his afternoon, don't overlook Davis' lone reception — an apparently doomed screen pass on which he made 2 Gators miss in space and took another on a piggyback ride for the final 6 yards into the end zone:
BEAST MODE TD @Ray_Davis07

? – @ESPN https://t.co/wBIloVVbzL pic.twitter.com/wombL4jFK0

— Kentucky Football (@UKFootball) September 30, 2023
On the ground alone, PFF credited Davis with 10 missed tackles forced and 189 yards after contact, both season-highs for an SEC back. He's just the 5th player since the turn of the century to top 200 rushing yards against Florida, joining Tennessee's Travis Stephens (2001), Miami's Willis McGahee (2002), South Carolina's Marcus Lattimore (2010) and LSU's Tyrion Davis-Price (2021).
3. Ole Miss QB Jaxson Dart and LSU QB Jayden Daniels. Half the players who touched the ball in Oxford are getting rung up for Honorable Mention points in this week's Superlatives Standings, a few of whom (especially Ole Miss RB Quinshon Judkins and LSU WR Brian Thomas Jr.) would likely command the full spotlight here if they'd delivered identical stat lines in a normal game. But the QBs were the engines that made their respective machines go, and together they put on the show of the year.
4. Missouri QB Brady Cook. The question mark that's followed Cook's name for most of his tenure as Mizzou's QB1 continues to evolve into an exclamation point. Coming off a couple of career-best outings against Kansas State and Memphis, he raised the bar again at Vanderbilt, setting career highs for passing yards (395), touchdowns (4) and completion percentage (80.6) in a 38-21 win that improved the Tigers' record to 5-0. In the process, he also set a new SEC record for consecutive attempts without an interception, with 347 straight dating to last October.
Even better: It's not just the Luther Burden III show on the other end. Yes, Burden was his usual, explosive self against Vandy, hauling in 11 catches for 140 yards — his 4th consecutive game in triple digits— and 2 of Cook's 4 TDs. But he shared the spotlight on Saturday with former 4-star, Oklahoma transfer Theo Wease Jr., who had easily his best day as a Tiger with 10 catches for 118 yards and a high-flying touchdown; and true freshman Marquis Johnson, whose first 5 career receptions have yielded 36.4 yards per catch and 2 TDs in the past 3 games. Throw in Mookie Cooper, another former blue-chip transfer by way of Ohio State, and Mizzou arguably boasts as lethal a rotation as any in the SEC. The doubts about whether Cook is good enough to make it count are getting quieter by the week.
5. Tennessee Edge James Pearce Jr. Pearce has one job in the Vols' outside linebacker rotation and one job only: Get after the quarterback. Playing almost exclusively in a pass-rushing role against South Carolina, he made Spencer Rattler's life miserable, recording 9 QB pressures (per PFF) and 3 of Tennessee's 6 sacks in a 41-20 win. (The official box score says 2 sacks — 1 solo plus 2 half-sacks shared with teammates — but I'm not under any obligation to make all the columns add up so I'm giving him credit for all 3.) Even in a time-share at the position, Pearce is on pace to be the first Vol with double-digit sacks in a season since Derek Barnett in 2016.
Fat guy of the week
Auburn DT Marcus Harris was a recurring force in the upset bid against Georgia, leading a front that battled UGA's decorated o-line to a stalemate. On paper, he turned in a career day, finishing with a team-high 7 tackles, 2 TFLs and a forced fumble that set up the Tigers' short-field, go-ahead touchdown drive to open the second half. On film, his overall PFF grade (92.6) was the best of any SEC defender for the weekend. And as a unit, Auburn's D held the Bulldogs to 31 yards rushing between the tackles on just 1.8 per carry.
— — —
Honorable Mention: Texas A&M DL Walter Nolen, who had a hand in 3 of the Aggies' 7 sacks against Arkansas. … Texas A&M WR Ainias Smith, who accounted for 202 all-purpose yards against the Hogs, including an 82-yard punt return TD in the 4th quarter that put the game on ice. …Texas A&M RB Le'Veon Moss, who set a career high for the second week in a row with 107 yards on 6.3 per carry. …Tennessee RB Jaylen Wright, who headlined a big rushing night for the Vols with 123 yards and a touchdown on 7.7 per carry against South Carolina. … South Carolina DB Jalon Kilgore, who had 15 tackles and an interception in a losing effort. … Alabama DB Caleb Downs, who recorded 13 tackles and an INT in the Crimson Tide's 40-17 win at Mississippi State. …Georgia DB Javon Bullard, who had a team-high 10 tackles at Auburn along with a pair of passes broken up. … Auburn DB Jaylin Simpson, who pulled down a key interception against Georgia while allowing just 11 yards on 4 targets in coverage. … And Auburn punter Oscar Chapman, who averaged 51.2 yards per punt while dropping 4 of his 5 attempts inside the UGA 20-yard line.
– – –
The scoring system for players honored in Superlatives awards 8 points for the week's top player, 6 for 2nd, 5 for 3rd, 4 for 4th, 3 for 5th, and 1 for honorable mention, because how honorable is it really if it doesn't come with any points? The standings are updated weekly with the top 10 players for the season to date.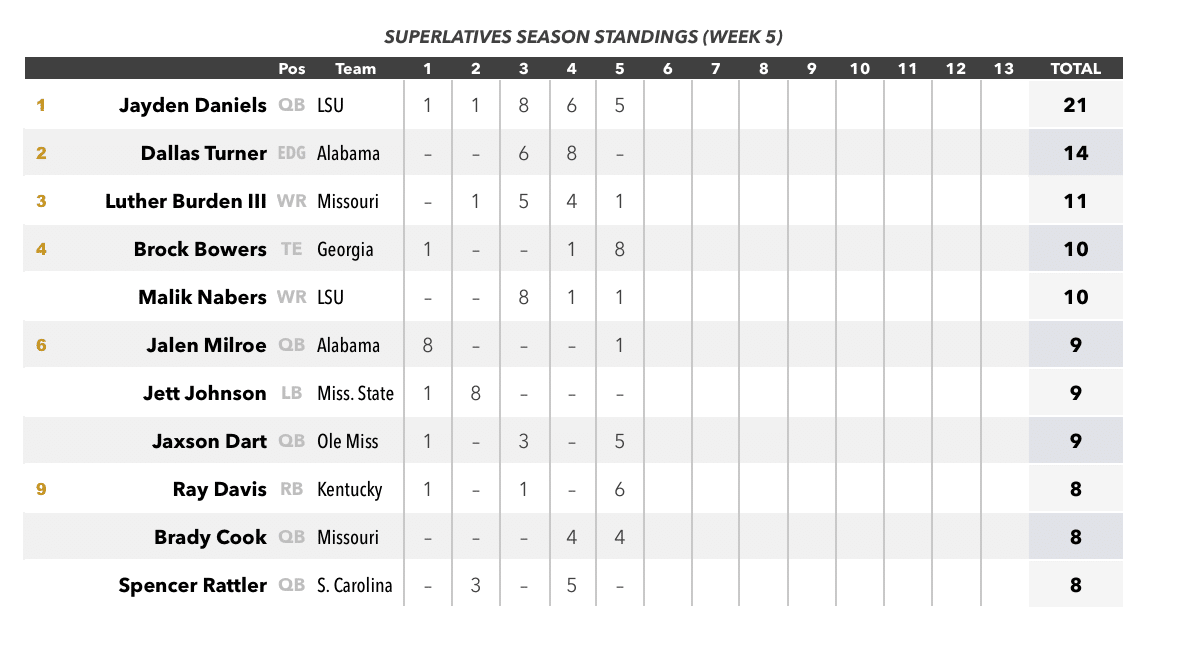 Catch of the year of the week
Who else? Brock Bowers' leaping, one-handed grab on a crucial 3rd-and-12 conversion in the 4th quarter extended what would turn out to be the game-winning touchdown drive in Georgia's win over Auburn … and it was matched moments later by a grab that didn't even make it into his official stat line due to a penalty:
Back-to-back unbelievable catches from #Georgia TE Brock Bowers. pic.twitter.com/SrbZ1YN8Xj

— Jordan Reid (@Jordan_Reid) October 1, 2023
Bowers' targets were slightly up in September, from 5.5 per game last year to 8.0 per game in the early going. Close calls or not, for the offense to reach its potential they need to stay up.
Obscure stat of the week
Mississippi State QB Will Rogers' lone touchdown pass against Alabama, the 89th of his career, moved him into a tie with Peyton Manning for 4th place on the all-time SEC list. Congrats! It also represented Rogers' first career TD against Bama in 172 attempts, compared to 8 interceptions and 3 pick-6 touchdowns at his expense by the Crimson Tide defense.
Power rankings
Resetting the pecking order after Week 5.
1. Georgia (5-0). Bowers' brilliance notwithstanding, the Dawgs' top priority between now and the postseason is identifying a second difference-maker among an injury-plagued and (so far) underwhelming group of skill players.
2. Alabama (4-1). There wasn't as much offense in the Tide's 40-17 win at Mississippi State as the score implies: Half of those points came directly or indirectly off takeaways by the defense, including a pick-6. Meanwhile, Jalen Milroe's 12 pass attempts represented the fewest by a Bama starter vs. an FBS opponent since Greg McElroy went 6-for-12 for 58 yards in the 2009 BCS Championship Game.
3. Ole Miss (4-1). There's something fitting about Ole Miss rebounding from a boring, low-voltage loss in Week 4 in which the defense played relatively well with a dramatic, shootout win in Week 5 in which the defense spent the entire night engulfed in flames. The Rebels are too inconsistent to be good, but they know who they are at their best, and the league is more fun when they're playing like it.
4. Texas A&M (4-1). Three giveaways by Max Johnson (2 fumbles, 1 INT) were the only blemishes in an otherwise highly encouraging performance. If that keeps up, at some point the sight of an opposing defender taking a turnover to the house is actually going to matter.
5. Tennessee (4-1). The Vols' Week 3 loss at Florida was a bad one at the time, and it's only going to get worse as the Gators fade further from relevance. The outlook for a 4-1 team with no remaining margin for error vs. a tough schedule is very different than it would be for a team hitting its open date at 5-0.
6. Missouri (5-0). Let's wait for this weekend's visit from LSU before we get too carried away, but if nothing else Mizzou is already most of the way to justifying the bewildering raise the school approved for Eli Drinkwitz last November. The prospect of riding into Georgia on Nov. 4 with an 8-0 record is well within the realm of possibility.
7. Kentucky (5-0). A monster day on the ground vs. Florida obscured a dismal outing for QB Devin Leary and his receivers, who are much too talented to settle for 69 yards on 19 attempts. That won't cut it this week in a major prove-it date in Athens.
8. LSU (3-2). The Tigers have too many opportunities over the next 2 months to lay out their CFP candidacy on the autopsy table just yet. But it is in hospice, awaiting a miracle … uh, transplant … of defense? Let's pull the plug on this metaphor.
9. Florida (3-2). As I've pointed out here before (and no doubt will again), the baseline talent level in Gainesville is not as dire as it's often made out to be: The Gators are 15th in 247Sports' Team Talent Composite, just 1 spot below Michigan — and well ahead of the likes of Utah and Kentucky.
10. South Carolina (2-3). The Rattler-ssaince began with a flourish against Tennessee last November, and ended with a thud against Tennessee on Saturday. Welcome back to the long, tedious schlep toward bowl eligibility.
11. Auburn (3-2). The Tigers put up a much more valiant effort against the defending champs than they had any right to for an outfit that almost literally cannot complete a pass. In 3 games vs. Power 5 opponents, Auburn has a grand total of 238 yards passing on 4.0 per attempt — nearly a full yard per attempt worse than Iowa.
12. Arkansas (2-3). KJ Jefferson came back to school for this? His senior campaign is going to waste in an offense that can't run, can't protect him in the pocket, and doesn't have any difference-makers in the passing game. The Razorbacks are in desperate need of an identity before the current 3-game skid reaches the point of no return.
13. Mississippi State (2-3). The offense hasn't given them much help, but the Bulldogs' secondary remains a weekly wildfire risk. Over the past 3 games opposing quarterbacks have completed 84.3% of their passes for 11.7 yards per attempt.
14. Vanderbilt (2-4). The cautiously optimistic vibe Clark Lea cultivated in his first 2 years in Nashville has run headlong into reality. Halfway through Year 3, Vandy's odds cracking the win column in SEC play are beginning to feel as distant as ever.
Moment of Zen of the week
Security or LSU's defense? pic.twitter.com/fNbf6JC0b0

— Bunkie Perkins (@BunkiePerkins) October 1, 2023
• • •