SEC
Monday Down South: Is there light at the end of LSU's lost year or is it only the beginning of a steeper decline?
Weekly takeaways, trends and technicalities from the weekend's SEC action.
LSU's championship hangover is more severe than anyone thought
Auburn 48, LSU 11. Remember when this was supposed to be, you know, a chill season for LSU? When the Tigers had the luxury of taking a step back, basking in the glow of the most triumphant campaign in school history, and not sweating the obligatory rebuilding year? Yeah, no. Halfway through the revised conference schedule, the rebuild is looking more like an outright collapse.
It's true that Hangover Year expectations were significantly diminished from the start. This team was never going to be good – at least not on anywhere near the level of last year's national championship group, which lost the Heisman Trophy winner, both coordinators, and an unprecedented 14 draft picks – and whatever slim chance it may have had took another serious blow when most of its few returning starters opted out of the season. But certainly it wasn't supposed to be anywhere near this bad. Attrition notwithstanding, LSU opened at No. 6 in the preseason AP poll (the same starting position as last year) and was at least tentatively favored by ESPN's Football Power Index in every regular-season game except Alabama. When the locals conceded to the inevitability of taking a step back, the implied step was from national contender to, say, the Outback Bowl.
Play Underdog For Heat-Celtics Game 6! Who ya got?
...
What they have instead is a team that, as of Saturday, is 2-3 against the lighter half of the schedule and on the verge of going fully in the tank. The 37-point margin against Auburn was the most lopsided defeat for either side in the history of the series, fitting on a day when LSU was outgained by 156 yards (including garbage time) and committed three turnovers that led directly to three Auburn touchdowns. And while it's possible to chalk up the offense's failures to the limits of a true freshman quarterback in his first road start, the defense under first-year coordinator Bo Pelini is out of excuses.
In addition to taking full advantage of LSU's miscues, Auburn's middle-of-the-pack offense turned in season highs for total yards (506) and yards per play (7.2). That came on the heels of losses to Mississippi State and Missouri that looked bad in real time and keep looking worse as the season unfolds – MSU and Mizzou are a combined 1-7 in their other eight games, failing to top 20 points in any of them despite hanging 44 and 45 points, respectively, on LSU. In a subpar year for SEC defenses in general, the Tigers rank among the league's bottom 3 (alongside Ole Miss and Vanderbilt) in total defense, scoring defense, yards per play allowed and pass efficiency D; they're dead last in plays allowed of 20+ yards. This with 3 veteran players in the back 7 (DBs Derek Stingley Jr. and JaCoby Stevens, LB Jabril Cox) who began the season as aspiring first-rounders.
Schwartz and Auburn are running away with this one. pic.twitter.com/eheR2AVd6r

— CBS Sports (@CBSSports) October 31, 2020
Even a mass exodus of talent on the order of what LSU experienced over the course of the offseason doesn't quite do justice to just how dramatic the drop-off from the championship season has been. The post-Burrow Tigers have often been compared to the post-Cam Newton Auburn team that immediately fell off the map following its championship season in 2010; the 2011 team regressed to 8-5 and remains the only team in the last 3 decades to finish unranked the year after winning a national title.
But the current LSU team has actually sunk further, faster. Based on Sports Reference's Simple Rating System, the most useful tool available for comparing teams across different eras, the 2020 Tigers are on pace to become the first team in the AP poll era to post a negative rating (where 0.0 represents average) the year after claiming a national title and are currently sitting on the largest year-over-year decline per SRS of any defending champ in the past 70 years: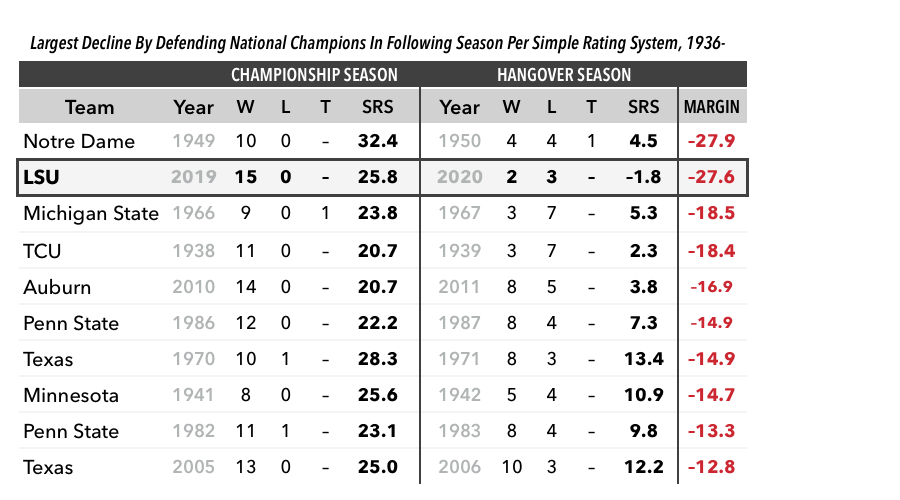 Again, in LSU's case that number only represents half of a shortened regular season, and with an open date this Saturday the Tigers expect to have starting QB Myles Brennan back at full strength over the second half. But Brennan isn't exactly the second coming of Joe Burrow – his presence didn't prevent the shootout losses to Mississippi State and Missouri, and prior to Saturday's meltdown it seemed as likely as not that he'd be relegated to permanent clipboard duty by true freshman TJ Finley. That's not going to happen now (Finley and fellow freshman Max Johnson were responsible for all 3 turnovers and inspired little confidence while the score was still plausibly within reach), but Brennan's return doesn't necessarily make beating Alabama, Texas A&M or Florida down the stretch any more likely, either. At the rate the defense is going, it could take his best effort just to keep the margins in those games respectable.
Already LSU is essentially doomed to fall short of 8 wins for the first time since 1999, its last season under Gerry DiNardo, which was also the last time the Tigers finished below .500. (Technically 8 wins is still possible if they run the table through a bowl game, but … like I said, essentially doomed. FPI sets the odds of that happening at less than 1%.)
Losses to the Crimson Tide, Aggies and Gators would seal a losing record, and that's without factoring in the not-that-farfetched possibility of an upset at the hands of Arkansas or Ole Miss. Barring a dramatic turn of events, LSU is spiraling toward its worst season in most of its current players' lifetimes.
That can always change, of course, and quickly, especially for a team with LSU's baseline talent level. But this season was always going to be less about the results than about laying the foundation for the next serious run in 2021 or '22, and an open date after having the door officially slammed shut on any higher goals in 2020 is as good a time as any to hit reset. Brennan will return to the lineup more entrenched than when he left it. Blue-chip freshmen Arik Gilbert, Kayshon Boutte, BJ Ojulari and Eli Ricks are already mainstays with bright futures. Stingley, still arguably as NFL-ready athletically as any DB in the country, has another year before he can cash in. Ambitious defensive coordinators are no doubt maneuvering to fill Pelini's lucrative, white-hot seat as we speak. Win or lose, tangible steps forward over the next six weeks can go a long way toward restoring the sense that LSU remains relevant for the foreseeable future and restore faith that Ed Orgeron isn't going to go the way of Gene Chizik anytime soon.
In the meantime, the only solace is that the bar for what qualifies as "progress" at this point can hardly be set any lower. A 48-11 loss vs. a division rival – in a game that LSU entered as a slight favorite, no less – is inevitably the kind that people remember for a long time. But whether it goes down as an outlier in a lost year or as a warning sign that Orgeron's tenure is in danger of becoming a one-hit wonder is a wide open question.
Bo Nix breaks out
The flip side of LSU's dismal afternoon was easily the best afternoon of Nix's season, if not his career: 18-of-24, 300 yards, 3 TDs, zero turnovers, zero sacks, plus a career-high 81 yards rushing with a high-effort touchdown on the ground. That was good for season highs in both pass efficiency (221.3) and QBR (92.8), both by wide margins.
Again, it's worth taking eye-opening stat line against LSU's defense with a couple of additional grains of salt — in shredding the Tigers Nix joins a not-so-exclusive club that so far this season includes the likes of KJ Costello and Connor Bazelak. So let's hold off for the time being on proclaiming any corners turned. But for all the skepticism he's endured (including in this space), a high-profile outing that served to bridge the gap between the 5-star recruiting hype and the reality on the field was long overdue.
At his best, Nix has tended to look better suited to the role of sidekick to freshman RB Tank Bigsby, who has quickly emerged as a main-course type of back in the mold of Kerryon Johnson, and supremely gifted WR Seth Williams, who has made a career out of making Nix look good on some very dubious heaves into coverage.
In high-volume situations like Auburn's losses to Georgia (40 attempts) and South Carolina (51), Nix has been more likely to struggle. On Saturday, though, he was the main attraction without sacrificing anything in the way of efficiency, accounting for more than 75% of Auburn's total offense, his highest share of the season, despite serving as a passer or rusher on just 50% of the Tigers' offensive snaps.
With that, he's also on a narrow but clear upward trajectory compared to his freshman season, outpacing his 2019 output in terms of completion percentage, yards per attempt, and overall efficiency for the first time while taking on a more significant role in the ground game. That's not guaranteed to continue on the other side of an open date, but it does serve as a kind of proof of concept for Nix's all-purpose potential that had been sorely lacking. This was the version of Nix Auburn fans have been waiting a year-and-a-half to see.
Florida's defense has logged on
Florida 41, Missouri 17. After a slow start, Florida's offense was … well, Florida's offense, finishing with 514 total yards on 7.2 per play. The Gators actually trailed for most of the 2nd quarter, 7-6, following a fluke pick-6; that changed just before the half, when they hit the gas and proceeded to rip off four consecutive touchdowns in a little under 17 minutes' worth of game time in the late 2nd and 3rd quarters. But the expectations for the offense against an overmatched opponent like Mizzou were already well established over Florida's first 3 games. The defense, on the other hand, took a huge step forward.
Not that Missouri's offense is a powerhouse, by any means. But it's not chopped liver, either, which is more or less how the Gators treated it: Prior to a pair of extended garbage-time scoring drives, the Tigers' first 9 possessions yielded 5 3-and-outs, 7 punts, 2 3rd-down conversions, a lost fumble, a missed field goal and no points. Half of Mizzou's first downs and a majority of its total offense for the night came on the garbage-time possessions alone.
For a defense that gave up at least 24 points in each of its first 3 games and 500+ yards in 2 of them — and which was playing Saturday without 3 regular starters in the secondary due to ongoing COVID-19 issues — that's a significant statement at exactly the right time, just ahead of this weekend's season-defining date against Georgia. As reliably explosive as the offense (and QB Kyle Trask, specifically) has been to date, a version of Florida that can hold its own defensively in meaningful games is one that can go a long way even if the offense isn't perfect. One game's not nearly enough to claim that Todd Grantham's unit has arrived at that point, but if nothing else it's a lot closer than it was prior to Saturday night.
Superlatives
The best of the week.
1. Alabama WR DeVonta Smith. Smith read the Jaylen Waddle takes and responded with an all-time "I'm Still Here" performance against Mississippi State, effortlessly incinerating the Bulldogs for 130 yards, 2 touchdowns and a pass interference penalty on 10 targets … in the 1st quarter.
Two touchdowns within three minutes …

DeVonta Smith isn't playing around ? pic.twitter.com/dHIcVIka6s

— ESPN College Football (@ESPNCFB) October 31, 2020
Did I mention that was just the 1st quarter? Over the next 3, Smith tacked on 5 more catches for 73 yards and 2 more TDs, ultimately accounting for 70% of Mac Jones' 291 passing yards on the night and all 4 of his touchdown passes in a 41-0 Alabama romp. At times it looked so easy Smith almost looked embarrassed. (Almost.)
2. Auburn QB Bo Nix. Nix put it all together with his arm and legs in Auburn's blowout win over LSU, finally fulfilling visions of the quarterback Auburn expected when it brought him to campus. Now the hard part: Sustaining that level amid even higher expectations.
3. Ole Miss QB Matt Corral and WR Elijah Moore. Corral rebounded from a couple of rough outings against Arkansas and Auburn by coming as close to a flawless afternoon against Vanderbilt's largely hypothetical secondary as you can get, connecting on his first 19 passes — an Ole Miss record — en route to finishing 31-of-34 for 412 yards, 6 TDs and no turnovers in a 54-21 Rebel win in Nashville. He's the first QB in SEC history to throw for 6 TDs with a 90% completion rate in the same game. The lion's share of that output went to Moore, who set career highs for catches (14), yards (238) and touchdowns (3), all 3 of them coming in the first half.
Elijah Moore TD #Devy pic.twitter.com/gr1TLfEGxY

— Greg Brandt (@devywarehouse) October 31, 2020
For the season, Moore leads the FBS with 61 catches, ranks 2nd in receiving yards and is tied for 1st in receptions of 30+ yards.
4. Georgia DB Richard LeCounte III. LeCounte finished with 13 tackles (6 solo), 3 passes broken up and a fumble recovery in Georgia's mind-numbing, 14-3 win at Kentucky, a game that both teams looked like they wanted to be over with as soon as possible. (From opening kick to final gun it officially clocked in at 2 hours, 56 minutes.) Kentucky finished with just 229 total yards on 3.6 per play and didn't come close to scoring a touchdown despite amassing a 10-minute advantage in time of possession.
Later on Saturday, LeCounte was hospitalized with unspecified injuries after his dirt bike was struck by multiple cars in a traffic accident back in Athens; among other cuts and bruises, he reportedly suffered a shoulder injury that will likely keep him out indefinitely, beginning with this weekend's grudge match against Florida. A very costly loss for the Bulldogs' defense.
5. Florida WR Kadarius Toney. Toney was greased lightning as usual in the Gators' win over Missouri, accounting for 83 scrimmage yards (23 rushing, 60 receiving) and 3 touchdowns — covering 18,30, and 16 yards, respectively — on just 7 spectacular touches.
Slid through the defense like butter ?? pic.twitter.com/eSQetHH7ZG

— ESPN (@espn) November 1, 2020
Through 4 games he's up to 7 touchdowns on just 30 touches, or 1 TD every 4.3 times he gets his hands on the ball on offense. It remains an eternal mystery why that's not more often.
Honorable Mention: Florida QB Kyle Trask, who showed no signs of rust against Mizzou, going 21/26 for 345 yards and 4 TDs while tacking on another 47 yards rushing. … Florida DE Brenton Cox Jr., who led the defensive push with 5 tackles, a TFL and 3 QB hurries. … Alabama DB Malachi Moore, who continued his stellar freshman campaign with 8 tackles, a TFL and a pair of PBUs in the Tide's shutout win over Mississippi State. … Alabama RB Najee Harris, who churned out a very Najee-esque 119 yards on 5.7 per carry vs. MSU with 36 yards receiving. … Georgia RB Zamir White, who finished with a career-high 136 yards on 5.2 per carry in the Bulldogs' win over Kentucky. … Georgia LB Nakobe Dean, who was credited with 14 tackles and a QB hurry in a dominant effort for the D. … Texas A&M QB Kellen Mond and his counterpart, Arkansas QB Feleipe Franks, who combined for go 44-of-57 for 499 yards, 6 TDs and 123 yards rushing in the Aggies' 42-31 win over the Razorbacks. … Arkansas WR Treylon Burks, who added to his quietly outstanding sophomore campaign with 117 yards and 2 TDs on 7 catches vs. A&M. … Arkansas LB Bumper Pool, who racked up 14 tackles with 3 TFLs. … And Ole Miss DB A.J. Finley, who finished with a team-high 12 tackles with an interception and a fumble recovery in the Rebels' lopsided win at Vandy.
– – –
The scoring system for players honored in Superlatives awards 8 points for the week's top player, 6 for 2nd, 5 for 3rd, 4 for 4th, 3 for 5th and 1 for honorable mention, because how honorable is it really if it doesn't come with any points? The standings are updated weekly with the top 10 players for the season to date.