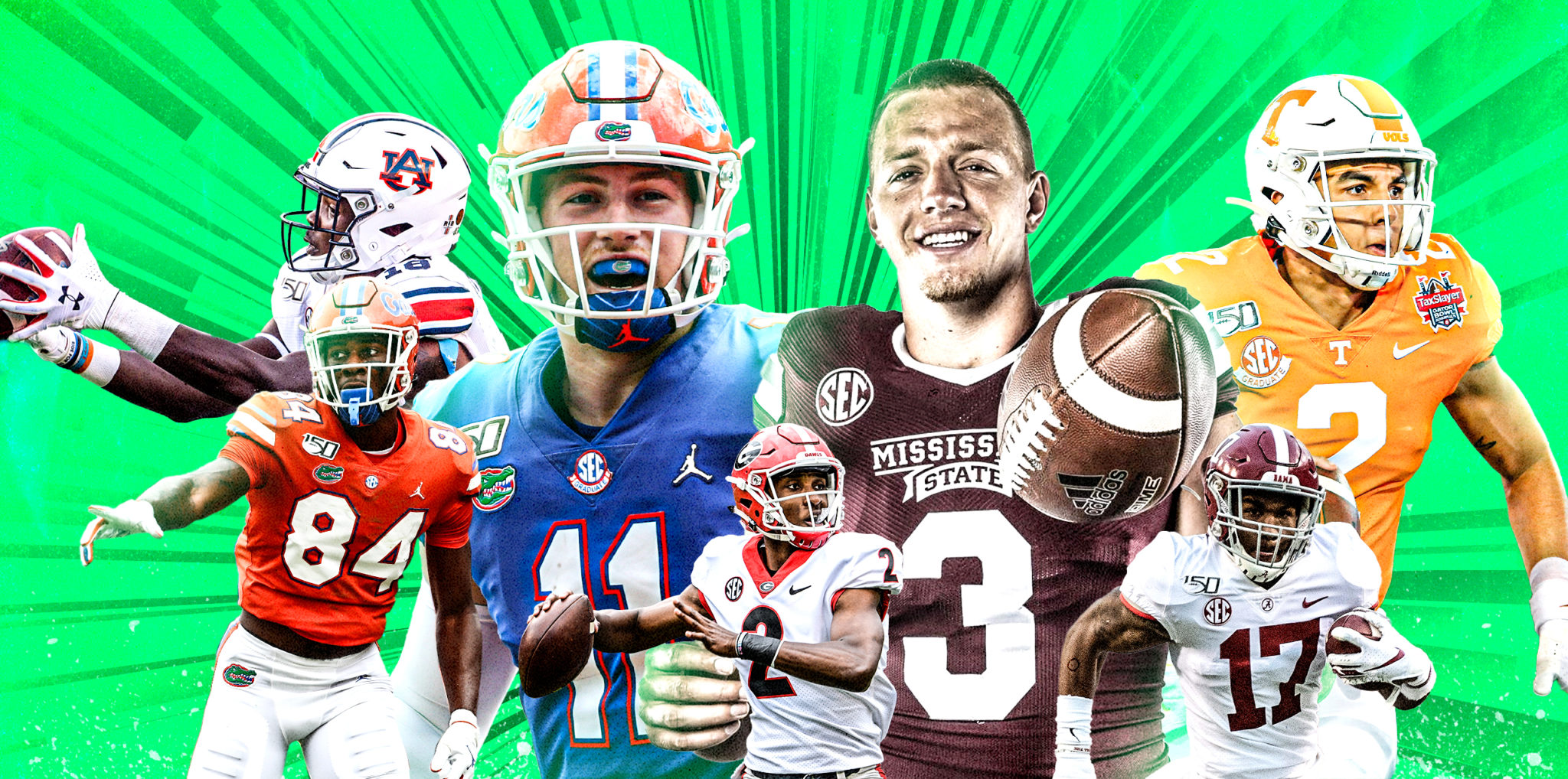 SEC
Monday Down South: Florida's offense has arrived. Its defense is still en route
Monday Down South provides weekly takeaways, trends and technicalities from the weekend's SEC action.
Florida is a contender
Wuerffel. Tebow. Trask?
OK, sure, blasphemy, I know. And premature at that: Florida's 51-35 romp over Ole Miss was only one game, against a revamped defense whose prospects for the rest of the season range from mediocre to burnt toast. The Rebels were overwhelmed from the start, athletically and otherwise. For Florida fans, though, a group still adjusting to the light after a decade in quarterback purgatory, the sense of futility radiating from the opposing secondary was the whole point. When was the last time a Gators QB made it look so easy?
It's been a good long while, as the numbers attest. Trask's 416 passing yards in Oxford were easily the most by a Florida QB in any game since Tim Tebow's 482-yard finale in the January 2010 Sugar Bowl. As a team, the Gators' 642 total yards set a school record vs. an SEC opponent – a significant milestone at a school that has laid waste to more than its fair share. Trask's 6 touchdown passes were the most by a Florida QB since Chris Leak in a 2004 win over South Carolina; his overall passer rating (201.8) was the best vs. a major-conference opponent since Will Grier's 206.8 rating vs. Ole Miss in 2015, the only other post-Tebow entry in the category.
In all, the Gators scored on 9 of 11 offensive possessions, including touchdown drives covering 77, 82, 78, 81, 75 and 75 yards, and punted just once. (The only other possession that failed to yield points was a 1-play "drive" in the first quarter on which backup QB Emory Jones replaced Trask and promptly served up an interception on his first attempt of the season.) They averaged more than 8 yards per play, earned first downs on more than 40% of their total snaps, and finished 6-of-10 on 3rd-down conversions. For sheer efficiency, it was a borderline perfect offensive outing.
But no one builds statues to efficiency, and if the numbers are exciting, it's only to the extent that they confirm what everyone saw with their own eyes. Trask, who quietly established himself over the course of last season as a plus starter in the "game manager" mold, shattered that pedestrian rep, looking more like an emerging first-rounder with consistent accuracy and touch to all levels of the field. He reveled in his chemistry with tight end (or "tight end") Kyle Pitts, who made a mockery of the distinction by making plays all over the field against a steady diet of double coverage. In the red zone …
Ball placement by Trask and the catch from Pitts was perfect. pic.twitter.com/FT3kWdGpkh

— Eric Elizondo (@EIizondo) September 26, 2020
… down the seam … with two defenders in his hip pocket …
The Kyle Trask and Kyle Pitts combo is going to cause a lot of headaches this year. #GoGators | #UFvsMiss pic.twitter.com/Yd14Ihagvs

— Jamie Gatlin (@JamieGatlin1217) September 26, 2020
… Pitts was uncoverable, hauling in 8 of 9 targets for 170 yards and generally exceeding the preseason hype. At 6-6, 240 pounds, he's a size-speed-skills mismatch against anyone who might line up across from him – literally anyone; go back and watch last year's 5-catch, 108-yard performance at LSU, much of it at the expense of Derek Stingley Jr. – in any situation.
But just as frightening was the fact that Pitts was only the biggest piece of a well-balanced attack that got solid production from every facet. Outside receivers Trevon Grimes and Jacob Copeland, both former top-100 recruits with NFL futures, combined for 103 yards on 17.2 per catch. In the slot, the always electric but often injured/ignored Kadarius Toney added 114 yards on 7 touches, both career highs, and made big plays as a rusher and receiver. Even the running backs, who took a backseat to the air show, made the most of their opportunities, with Dameon Pierce, Malik Davis and Emory Jones (in the Wildcat role) piling up 140 yards on 7.0 per carry.
In the context of a big opening day against a bad defense, that's an encouraging start. In the context of an ascending program on the verge of national relevance in Year 3 under Dan Mullen, it's a statement. The offense took modest but tangible steps forward in each of Mullen's first 2 seasons as head coach, and every starter at Ole Miss is in at least his third year in the system. (That included the lone newcomer in the lineup, RG Stewart Reese, a grad transfer from Mississippi State who played 2 years under Mullen in Starkville.) Saturday looked like the finished product.
Of course, the same could hardly be said for the defense, which was eviscerated for 600+ yards itself and gave up chunks even when it ultimately held the Rebels off the scoreboard. (Ole Miss came up empty for various reasons on 4 trips inside the UF 25-yard line.) And although the outcome was never in doubt after halftime, the numbers were hardly distorted by garbage time – 5 of Ole Miss' 8 completions of 25+ yards came in the first 3 quarters. Clearly, the secondary looked like an issue with the potential to become a full-blown liability if it doesn't round into form.
But the defense has been a strength under coordinator Todd Grantham, finishing in the top 10 nationally in 2019 in both yards and points allowed, and the track record and baseline talent level on the back end point to stability, not panic. (Plus here's guessing Lane Kiffin and QB Matt Corral are going to make a lot of opposing secondaries look bad – out of necessity, if nothing else; give that Florida doesn't face Alabama or Mississippi State, the Rebels may turn out to be the most high-octane passing team on the regular-season schedule by a decent margin.)
At any rate, with a point-spread-covering win in the books, that's a question for another week. For now, the offense has proven that, for the first time in a long time, it has the firepower to keep pace with the league's most explosive attacks and the quarterback to ignite it. Trask is obviously a long way still from justifying any over-the-top comparisons to the great ones. But he's on the right track.
Georgia's offense is (still) a work in progress
Georgia's 37-10 win at Arkansas was like a photo negative of Florida's: Solid defense, alarming offense, misleadingly comfortable final score. Given the margin, it's too soon to jump to any conclusions about the implications of an ultimately routine road blowout over the league's reigning doormat. (In fact, depending on when you placed your bet and with whom, the point spread more or less hit the bullseye.) But it would be just as wrong to pretend anyone in red and black came out of the afternoon feeling better about their prospects than they did coming in.
There was something darkly ironic about watching a team that invested so much in upgrading its quarterback situation via the grad-transfer market struggle in exactly the way it was hoping to avoid. The presumptive starter since January, Jamie Newman, opted out at the start of the month; his presumptive understudy, JT Daniels, has yet to be cleared for full contact on the knee that cost him the entire 2019 season at USC. That left redshirt freshman D'Wan Mathis as the last-minute starter against the Razorbacks, with predictably shaky results: He started just 5-of-13 for 32 yards and a pick before getting the hook in the second quarter. The next man up, former walk-on Stetson Bennett IV, eventually fared better, finishing 20-of-29 for 211 yards and 2 TDs, but didn't do much to move the needle (and arguably couldn't have, under the circumstances) in terms of his viability as the full-time starter.
Before the tide turned midway through the third quarter, the Bulldogs' first 10 offensive possessions yielded 6 punts, 2 turnovers, a turnover on downs and a solitary field goal on the final play of the first half, as well as a mounting sense of dread.
The ground game was anemic; penalties piled up; 3rd downs were a disaster. The downfield passing game, the most urgent issue that first-year offensive coordinator Todd Monken was brought on to address, was almost non-existent against as vulnerable a secondary as the Bulldogs are likely to see this season. Even the abrupt, 29-point burst that sealed the game in the 3rd and 4th quarters was aided by a short field that set up a touchdown and a subsequent pick-6 by the defense.
Eric Stokes with a pick 6 for #GoDawgs. GA 27 ARK 10. pic.twitter.com/P4zI6d8EXH

— The CHT: On CFB (@TheCHTOnCFB) September 26, 2020
At the end of the day, a 27-point conference win is a 27-point conference win, even if it's at the expense of a team riding a 20-game conference losing streak, and even if you trailed that team by the unlikely score of 10-5 at the half. There are worse problems to have. But the unexpected void behind center isn't the same as quibbling over style points: The passing game was the recurring issue that derailed last year's Playoff pursuit, and that was with a proven, draftable veteran at the wheel in Jake Fromm.
It's still possible at this point that Daniels, once he gets the green light, will turn out to be the game-changing talent he was brought on board to be; it's also possible his knee injury will continue to linger longer than anyone bargained for, leaving the choice between the very pedestrian Bennett and the very raw Mathis as the schedule ramps up with Auburn, Tennessee and Alabama on deck. If that's the case, it doesn't necessarily mean the Bulldogs' Playoff hopes are doomed. But it might mean they're no longer the de facto favorites in the East.
Mississippi State is going to be a lot of fun (as long as you don't have to stop them)
There are a lot of apt words to describe Mississippi State's 44-34 upset at LSU – wild, stunning, historic – but above all else it was fun. After years in the offensive doldrums, the Bulldogs' gamble on the Air Raid has already paid off in the biggest and most satisfying possible way. And unless you happen to be rooting for the opposing defense on a given Saturday, it's already well on its way to fulfilling its potential as the league's most reliable weekly spectacle.
It didn't look that way early on – the first quarter was sleepy, and KJ Costello's first touchdown pass as a Bulldog was a pick-6 by LSU linebacker Jabril Cox early in the second. From that point on, though, it was Costello's show: Mississippi State hit paydirt on each of its next 2 possessions and only punted once more en route to the most prolific passing day ever recorded by an MSU quarterback – his 623 passing yards eclipsed Dak Prescott's single-game record by 115 yards – or against an LSU defense.
As always when Mike Leach is involved, the numbers were partly a result of sheer volume; Costello also shattered the school record with 60 attempts. (Factoring in negative yardage on sacks, Mississippi State finished with a grand total of 9 yards rushing.) But by no means was it an exercise in drinking and dunking. Costello connected on an astounding 15 completions that gained 20+ yards, to 5 different receivers. His primary targets, Osiris Mitchell, JaVonta Payton and RB Kylin Hill, combined for 463 yards on 22.1 per catch, including 3 long touchdowns. Remember a while back, when Hill went out of his way to refute the notion that he's a one-dimensional workhorse while proclaiming himself a perfect fit for Leach's system?
If you say this offense not for my game .. obviously you don't know my Game .. but you will

— Kylin Hill (@H_Kylin) August 7, 2020
Well … yeah:
NOBODY'S CATCHING KYLIN pic.twitter.com/VgKEUEdxkz

— CBS Sports (@CBSSports) September 26, 2020
It remains to be seen just how much of that output is replicable against the rest of the schedule and how much falls on a rebuilt LSU secondary playing without arguably the best cover corner in the country. Derek Stingley Jr.'s absence for as-yet unspecified health reasons was a critical factor in the Tigers' collapse; to just what extent is to be determined. They'd prefer to welcome him back as soon as possible rather than find out.
For once, though, the defending national champs being laid low by an unranked double-digit underdog didn't register as a seismic event – in large part because LSU is such a fundamentally different team from last year's title run, and in even larger part because the Air Raid announced its arrival so spectacularly. Until we have a better sense of where the post-Burrow Tigers fall in the pecking order, it will be difficult to gauge how much of Mississippi State's performance is likely to carry over to the rest of the schedule, and vice versa.
But we've certainly seen enough to count the Bulldogs as a serious threat every time they take the field, if not yet as serious contenders in the West, and as a team that's almost always worth watching. For that alone, the Leach era is already well ahead of schedule.
Tennessee: Beacon of stability?
Fun fact: With the end of LSU's 16-game winning streak, which team now boasts the SEC's longest active streak? That's right, none other than the Vols.
With Saturday's 31-27 win at South Carolina, Tennessee extended its run to 7 consecutive wins dating to last year, the 2nd-best active streak of any Power 5 outfit behind only Notre Dame and a remarkable reversal for a team that was languishing at 2-5 and on the verge of firing coach Jeremy Pruitt when the run commenced against the Gamecocks last October.
It was also Tennessee's 4th victory in that span by 4 points or less, one of the main reasons (along with the marginal strength of schedule) the streak doesn't quite register as emphatically as it might otherwise. The Vols have managed to turn the corner without necessarily looking at any point like an appreciably different team.
They have one more chance to pad that number this weekend vs. Missouri before the real tests arrive, beginning with an Oct. 10 trip to Georgia in which Tennessee will almost certainly be a heavy underdog, streak or no streak; Bama's on deck 2 weeks later, with Texas A&M, Auburn and Florida waiting down the stretch.
Since 2008, the Vols' collective record against those 5 opponents stands at an incredible 6-36. Real momentum in Year 3 under Pruitt means adding at least one more W in that column.
Superlatives
The best of the week.
1. Florida QB Kyle Trask and TE Kyle Pitts. The Kyles looked like they shared the same brain at Ole Miss, hooking up 8 times for 170 yards and 4 touchdowns. This is the premiere pass-catch combo in the SEC until further notice.
2. Mississippi State QB KJ Costello. Costello was far from perfect in his MSU debut, committing 3 turnovers including a pick-6. Once he found his rhythm against LSU's depleted secondary, though, it may as well have been target practice — especially on 3rd down, where he was 7-of-11 for 194 yards and 3 scores. Honorable mention nods to his top targets, Osirus Mitchell (7 for 183 yards, 2 TDs), JaVonta Payton (6 for 122 yards), and Kylin Hill (8 for 158 yards, 1 TD).
3. Alabama WR Jaylen Waddle. Even by his own impossible standards, Waddle was electric in the Crimson Tide's 38-19 win at Missouri, posting career highs for receptions (7) and receiving yards (121) with a pair of touchdowns in the first half alone. (He added another catch for 13 yards in the 4th quarter.)
Jaylen Waddle good god pic.twitter.com/qWDk7zPy8z

— Abdul Memon (@abdulamemon) September 26, 2020
Ultimately, the most enduring evidence of just how absurd Bama's receiving corps has been over the past 2 years is going to be that Waddle was the fourth man in the rotation.
4. Florida DE Brenton Cox Jr. Florida's defense was nothing to write home about against Ole Miss, but the Gators did get a hugely promising effort from Cox, a former 5-star signee at Georgia who sat out all of 2019 after transferring from Athens. In his UF debut, he accounted for 8 total tackles, 3 tackles for loss (including a sack) and a deflected pass that resulted in a red-zone interception by teammate — and fellow 5-star recruit — Gervon Dexter. The reemergence of that kind of talent on the d-line is another sign that the arrow in Gainesville is pointing up.
5. Auburn WR Seth Williams. His stat line in Auburn's 29-13 win over Kentucky doesn't exactly leap off the page (6 catches for 112 yards, 2 TDs), but Williams himself nearly leapt out of the stadium on both of his touchdown receptions, skying to ridiculous heights to bring down an 11-yard TD in the 3rd quarter …
Bo Nix with a beautiful strike to Seth Williams for an Auburn TD pic.twitter.com/0TguFgaCn1

— Power of Dixieland (@Power_Dixieland) September 26, 2020
… and straight-up posterizing poor Kelvin Joseph in the 4th:
Oh. My. God. Seth Williams. pic.twitter.com/YkluMFh1pg

— Cam Mellor (@CamMellor) September 26, 2020
If Auburn's red-zone offense consists entirely of lobs to Seth Williams, it will be fully justified and quite possibly unstoppable.
Honorable Mention: Alabama CB Josh Jobe, who turned in 7 tackles with a sack, a PBU, and a forced fumble vs. Missouri while allowing no big plays in his first career start. … Georgia DB Richard LeCounte III, who had 2 interceptions and a PBU in the win over Arkansas, and OLB Nolan Smith, who had 6 tackles and 2 sacks off the bench. … Ole Miss QB Matt Corral, who finished 22-of-31 passing for 395 yards and 3 TDs in the loss to Florida, and WR Elijah Moore, who accounted for 227 of those yards on 10 receptions. … Florida LB Ventrell Miller, who racked up a career-high 15 tackles vs. the Rebels with 2 TFLs, including a sack and an emphatic stop on 3rd-and-1. … Tennessee LB Deandre Johnson, who had 3 sacks and a forced fumble in the Vols' win over South Carolina. … Texas A&M DB Leon O'Neal, who logged 7 tackles, 2 TFLs, and an INT in a defensively driven win over Vanderbilt. … Auburn DB Roger McCreary, who forced a fumble and intercepted a pass in the end zone in the Tigers' win over Kentucky. … And Auburn QB Bo Nix, who finished 16-of-27 for 233 yards and 3 TDs without a pick vs. the Wildcats, added 50 yards rushing, and dropped a pair of pooch punts inside the UK 10-yard line.
– – – — — — —
The scoring system for players honored in Superlatives awards 8 points for the week's top player, 6 for 2nd, 5 for 3rd, 4 for 4th, 3 for 5th and 1 for honorable mention, because how honorable is it really if it doesn't come with any points? The standings are updated weekly with the top 10 players for the season to date.