SEC
Monday Down South: Jahmyr Gibbs is where he belongs. Bryan Harsin? Not so much
Weekly takeaways, trends and technicalities from the weekend's SEC action.
Home sweet home
One of the more common (and valid) complaints about the transfer portal is that it makes it easier than ever for the rich to get richer at the expense of the sport's Have Nots. The outflow of talent up the ladder is a real concern among programs on the lower and middle rungs, and there's no more prominent example of that dynamic this season than Georgia Tech-turned-Alabama RB Jahmyr Gibbs — a dynamic playmaker who, from Georgia Tech's perspective, left his old teammates in Atlanta last winter to go down with an obviously sinking ship. But how about from Gibbs' perspective?
It was a minor miracle that a player with hs gifts ever became a Yellow Jacket in the first place. As a recruit, Gibbs was the first top-100 prospect to sign with Georgia Tech in more than a decade, sticking with his commitment there despite a late surge in interest from the heavy hitters (including Alabama) in the course of a monster senior season in 2019. As a freshman, he led the Jackets in all-purpose yards; as a sophomore, his production more than tripled the output of any other player on the team. Meanwhile, said team finished 3-9 and got outscored 100-0 in its last 2 games, snuffing out the last embers of hope for the rebuilding effort under then-embattled, now-former coach Geoff Collins.
Under the old rules, Gibbs would have been doomed to spend his final college season languishing in an obviously dysfunctional situation, struggling for marginal national exposure at best on a dismal team. Instead, the portal represented an opportunity: To play in an offense where his Kamara-esque skill set could flourish, to compete for a championship, to be a real star. After his first month in a Bama uniform, it's safe to say he's seizing it with relish.
GIBBS. IS. GONE.

Note: he is very, very fast. pic.twitter.com/tAMfzPvkc4

— CBS Sports (@CBSSports) October 1, 2022
With Bryce Young on ice for most of the afternoon, Gibbs fulfilled the prophecies in Saturday's 49-26 win over Arkansas, ripping off a couple of late, breakaway touchdown runs en route to a career-high 226 scrimmage yards on a national stage. Through 5 games, he's averaging an electric 8.8 yards per carry — a little more than half of them coming after contact, per PFF — and he's 1 of only 2 players nationally with at least 200 yards rushing and receiving despite averaging barely a dozen touches per game. (The only other player currently in the 200/200 club, Northwestern's Evan Hull, has 128 touches; Gibbs has just 62.) That includes a season-high 20 touches against Arkansas, which as Gibbs continues to settle in as the feature back should become the norm against the meat of the conference schedule.
Is a system where blue-chip programs routinely cherry-pick stars from further down the food chain what we want football to be? Sorry, that horse is several miles out of the barn. For players like Gibbs and Bama's starting left tackle, Vanderbilt transfer Tyler Steen, though, the answer is obviously yes. Their talent was too big to be relegated to a list of "Best Players on Bad Teams," and now it isn't. Good for them.
The Milroe Doctrine
As of this writing, there's no word on the severity or duration of the shoulder injury that sidelined Young in the second quarter. Initial reports indicate the injury is a relatively routine sprain, which is "not considered to be serious," and Young's very visible, engaged presence on the sideline in full uniform in the second half was reassuring after the season briefly seemed to hang in the balance in the first. Nick Saban was nonchalant after the game, describing his franchise QB's status as "day-to-day."
Based on that, it seems plausible that Young could be back as soon as this weekend against Texas A&M, or, if not, at least in time for next week's larger-looming trip to Tennessee. If so, crisis (probably) averted.
Even more reassuring: Indisputable evidence in Young's absence that, if nothing else, redshirt-freshman backup Jalen Milroe can fly.
JALEN MILROE. CLUTCH. pic.twitter.com/emNhuOGkRT

— CBS Sports (@CBSSports) October 1, 2022
In the moment, that play marked a significant momentum swing: Arkansas, down 28-0 in the first half, had just pulled within 28-23, and with a stop on 3rd-and-long would have given its offense a chance to take the lead; instead, Milroe's escape set the Tide up for a deflating touchdown that kicked off a 21-3 run to end the game. Looking ahead, it also singlehandedly put a lot of minds at ease about Alabama's depth at the position. Milroe, being a 6-2, 212-pound dual-threat type from the greater Houston area, inevitably draws comparisons to Jalen Hurts, who arrived at Bama as a 6-2, 208-pound dual-threat type from the greater Houston area, and it's easy to see why. Obviously, there's no doubt about the Hurts-worthy threat he poses with his legs.
As a passer, the jury is still out. In the first meaningful action of his career, Milroe was 4/9 passing for 65 yards with 1 touchdown, a perfectly cromulent stat line for a fledgling QB, albeit with a couple of caveats: One, he came into the game with a 21-0 cushion, largely eliminating the need for him to put the ball in the air at all; and two, none of those completions came on an attempt more than 10 yards downfield. In fact, 3 of Milroe's 4 completions against the Razorbacks were thrown behind the line of scrimmage, including the touchdown, a 22-yard screen pass to Jojo Earle. In a hypothetical scenario that called for him to go the full 60 minutes against A&M and/or Tennessee, the downfield sections of the playbook might be largely off-limits.
Of course, that was often the case for Hurts as an underclassman, too — roughly a third of his freshman attempts in 2016 fell behind the line, which didn't stop him from winning SEC Offensive Player of the Year. With Milroe's mobility and a typically stacked surrounding cast, the Hurts package can serve as a blueprint for adapting Bill O'Brien's essentially pro-style offense to a much more option-friendly skill set for as long as necessary.
And assuming Milroe is safely on track to emerge as the heir apparent in 2023 (although 5-start freshman Ty Simpson will have something to say about that, eventually), every chance he gets will also serve as a glimpse into the post-Young future.
Tigers can't change their stripes
Bryan Harsin's fate at Auburn was already pretty well cooked before Saturday, so the final score of the Tigers' 21-17 loss to LSU in itself amounted to just one more log on the fire. Auburn kicked off as a 9.5-point home 'dog, and wasn't embarrassed nearly as badly as it was the last time that happened against Penn State. And yet, even for a fan base fully aware and mostly resigned to the fact that it's in the throes of a lost season, the experience of actually watching another flop unfold still managed to bring frustrations to a boil.
Mostly, that's because of just how familiar it was. For the first quarter-and-a-half, Auburn looked … kinda great. The Tigers drove for a touchdown on their opening possession, marched 99 yards for another score a few drives later, and went up 17-0 midway through the second quarter. QB Robby Ashford, starting in place of the injured TJ Finley, made plays with his arm, and the defense forced punt after punt — 5 in a row on LSU's first 5 possessions. Auburn looked better in the first 20 minutes than it has against a real opponent all season. Then, as if activated by a monkey's paw, disaster struck right on cue:
What. A. Play.
TOUCHDOWN TIGERS

? ESPN pic.twitter.com/tihmFnoFIq

— LSU Football (@LSUfootball) October 2, 2022
Jay Ward's fumble return to cut the margin to 17-7 flipped the script instantly. Auburn's offense didn't score again, blowing 4 separate trips inside the LSU 40-yard line via missed field goal, turnover on downs and 2 interceptions, one of them coming on a trick play gone horribly wrong in the red zone. Auburn outgained LSU by 168 yards (438 to 270) but finished minus-3 in turnover margin. For its part, LSU's offense pieced together 2 extended touchdown drives, did nothing else in between punts, and dove into the getaway car with a conference road win in which it finished with a grand total of 5 yards passing after halftime. Five yards.
Frankly, this is Auburn football under Bryan Harsin.
The record is grim enough: 1-6 vs. Power 5 opponents dating to last November, the lone win in that span coming in last week's fluky, skin-of-the-teeth overtime escape vs. Missouri. But the fact that most of those losses have taken the same basic shape — Auburn builds double-digit lead, proceeds to blow lead in the course of an anemic second half — elevates the pattern to pathology. The Tigers have led by at least 10 points in 4 of those 6 losses, as well as the OT win over Mizzou, but managed just 18 total points after halftime across the entire span: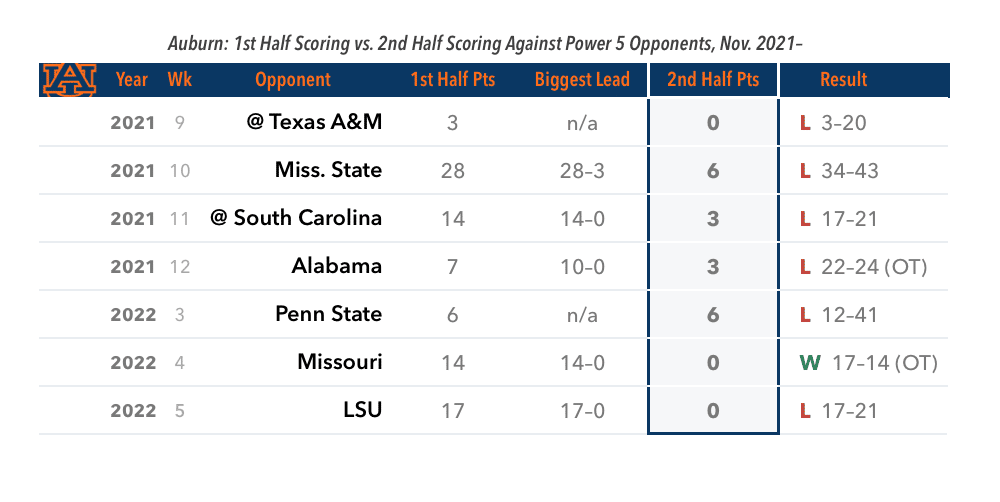 The trend has held across 3 starting quarterbacks, 2 full-time coordinators (not counting the one who bailed last February after 6 weeks on the job), and a full offseason. It's held against the best teams on the schedule and some of the worst. It's held at home and on the road. It's held against Bryce Young and Brady Cook. And it's not about to get any easier.
At some point, it just is what the Tigers are on Harsin's watch.
For most of the fan base, that point has long passed. For the few still clinging to any shreds of hope, Saturday night should have served as a wake-up call. Even when they offer a glimpse of what they're capable of when it all comes together, they're never more than a quarter or two from it all coming apart. One way or another, the next collapse is always just around the corner. Which is why it's plain to see that the end of Harsin's ill-fated tenure is, too.
Turning point of the week
Georgia's last stand. The Bulldogs trailed Missouri in the second quarter, 13-3, with the Tigers on the verge of turning an upset alert into a full-blown alarm. Mizzou RB Cody Schader, a walk-on transfer from Truman State, had just ripped off a career-long 63-yard run straight up the gut of the UGA defense, leaving him just short of paydirt thanks to the effort of UGA's Malaki Starks to track him down at the 1-yard down line.
Cody Schrader turns on the jets down the middle of the field for a season-long 63-yard scamper. Tigers knocking on the door.

? @SECNetwork #MIZ ?? pic.twitter.com/deqeiUAGkf

— Mizzou Football (@MizzouFootball) October 2, 2022
From there, facing 1st-and-goal with the crowd at full tilt and a chance to extend its lead over the nation's No. 1 team to 17, Mizzou began the slow, deflating process of turning back into a pumpkin. The Tigers promptly committed a false start on first down, moving the ball back to the 6-yard line; they failed to punch it in from there, settling for a field goal to push the score to 16-3 instead, and the comeback was officially on.
Georgia's offense, a mess up to that point, subsequently scored on 5 straight possessions, all extended drives that collectively put 23 points on the board via 3 field goals and (finally) 2 touchdowns in the fourth quarter. Missouri's offense, predictably, didn't get within sniffing distance of the end zone again, settling for a couple of long-distance field goals by kicker Harrison Mevis in a vain attempt to hold off the inevitable. The Bulldogs didn't put the winning points on the board until roughly the 4-minute mark, courtesy of a 1-yard plunge by Daijun Edwards; by then, it felt like the track had already been laid. Final score: Georgia 26, Missouri 22. Business as usual, nothing to see here.
Superlatives
The week's best individual performances.
1. Alabama RB Jahmyr Gibbs. We've covered Gibbs' breakout performance against Arkansas already, so instead of continuing to wax rhapsodic about his home-run speed let's use this space to honor this week's Fat Guy of the Week, Alabama center Seth McLaughlin. Gibbs owed much of his success specifically to McLaughlin, who made his first start of the season count by executing key blocks at the point of attack on both of Gibbs' long touchdown runs. He was responsible for walling off Razorbacks LB Bumper Pool on the first TD, creating a huge cutback lane (see above), and for supplying a textbook kick-out block on the second TD (also against Pool) that opened up just enough of a crease for Gibbs to hit the accelerator:
Jahmyr Gibbs goes off again and then hits them with the "Night, Night." pic.twitter.com/u3hN9uu6Ze

— CBS Sports (@CBSSports) October 1, 2022
Earlier, McLaughlin also got on his horse to make one of two key blocks (along with right tackle JC Latham) that sprung WR Jojo Earle for a touchdown on a second-quarter screen pass. He was only in the lineup in the first place due to an injury to regular starter Darrian Dalcourt, and at 6-4/295, he's not exactly a prototype Bama specimen in terms of size or length. But he might turn out to be the kind of guy who once he gets on the field simply refuses to get taken off.
2. Mississippi State QB Will Rogers. Rogers torched Texas A&M for the second year in a row, finishing 31/45 for 329 yards, 3 TDs, no INTs, and no sacks in a 42-24 win, arguably his best performance of the season. After a rocky and uncharacteristically run-oriented first quarter (3 consecutive punts to open the game), he led scoring drives on 4 of the Bulldogs' next 5 possessions, capped in the fourth quarter by a career-long, 75-yard dagger to his top receiver, Rara Thomas, for emphasis.
Rara Thomas @rodarius_thomas went OFF in the Bulldogs win against the Aggies ?‍??

5 Rec.
134 Yrds
1 TD pic.twitter.com/PjLjHfKgXt

— Kenneth Kelly (@KennethKellyII) October 2, 2022
Rogers was extraordinarily well-protected against the Aggies, even by the quick-release standards of the Air Raid, facing pressure on just 5 of his 45 dropbacks, per PFF. They barely laid a hand on him, and the numbers reflect it.
3. Alabama CB/PR Kool-Aid McKinstry. Arkansas tested Kool-Aid early and often, and he responded with the best performance of his young career in multiple phases. As a corner, he was targeted 10 times — more than twice as often as any other Alabama defender — but effectively shut down his side of the field, allowing just 1 reception for a positive gain (17 yards) while breaking up 3 passes and recording a hard-hitting TFL on a bubble screen. (He was also flagged once for pass interference, for the record.)
As a punt returner, he came within a hair's breadth of breaking a big one, ripping off gains of 31 and 45 yards in the first half. At this rate, the likelihood that McKinstry takes a pick or a punt (or both) to the house by season's end feels close to 100% until opposing teams decide to stop giving him the chance.
4. Kentucky WR/KR Barion Brown. Wildcats fans were already well acquainted with Brown, a big fish in Kentucky's 2022 recruiting class who hit the ground running against the likes of Miami (Ohio) and Northern Illinois. After Saturday, the rest of the SEC is about to be, too. He leapt off the screen in the Wildcats' 22-19 loss at Ole Miss, accounting for their two longest plays from scrimmage (run-after-catch receptions covering 51 and 30 yards, respectively) as well as another 164 yards in the return game.
Kentucky true freshman WR Barion Brown is an explosive special team weapon. All of his plays from his game against Ole Miss. Enjoy! ? pic.twitter.com/8ccVRdEgyI

— Brandon Lejeune (@DevyDeepDive) October 1, 2022
Brown currently leads the nation in kickoff return average at just shy of 50 yards a pop — a small sample size on just 6 returns, sure, but clearly an accurate reflection of what's likely to happen any time he gets his hands on the ball. His scouting report already reads "avoid at all costs."
5. LSU Edge BJ Ojulari. Ojulari has been in and out of the lineup with a nagging injury (LSU held him out of the Southern U and New Mexico games mainly as a precaution), but when he's been on the field he's been among the most productive edge rusher in the country. He added 2 more sacks to his total against Auburn, including the biggest play of the night on the strip sack that flipped the needle permanently in LSU's direction.
Honorable Mention: Missouri DB Jaylon Carlies, who was constantly around the ball in the Tigers' loss to Georgia, finishing with 13 tackles and 3 TFLs. … Mississippi State DB Emmanuel Forbes, who picked off 2 passes vs. Texas A&M and returned 1 for a game-icing touchdown. … Alabama edge rushers Will Anderson Jr. and Dallas Turner, who combined for 15 tackles, 9 QB pressures and 4 TFLs in the Tide's win over Arkansas. … Arkansas RB Rocket Sanders, who churned out 101 yards and a touchdown against Bama, his 4th 100-yard game in 5 games. … Auburn d-linemen Derick Hall and Colby Wooden, who combined for 8 QB pressures and 4 TFLs in a typically sweltering effort against LSU. … Ole Miss RB Quinshon Judkins, who continued his impressive freshman campaign with 106 yards and a TD on 7.1 per carry in the Rebels' win over Kentucky. … And Missouri kicker Harrison Mevis, who rebounded from the worst miss of his career in Week 4 by connecting on 5/5 field-goal attempts against Georgia, including boots from 41, 49, 52, and 56 yards to keep Mizzou's upset bid alive well into the fourth quarter.
– – –
The scoring system for players honored in Superlatives awards 8 points for the week's top player, 6 for second, 5 for third, 4 for fourth, 3 for fifth and 1 for honorable mention, because how honorable is it really if it doesn't come with any points? The standings are updated weekly with the top 10 players for the season to date.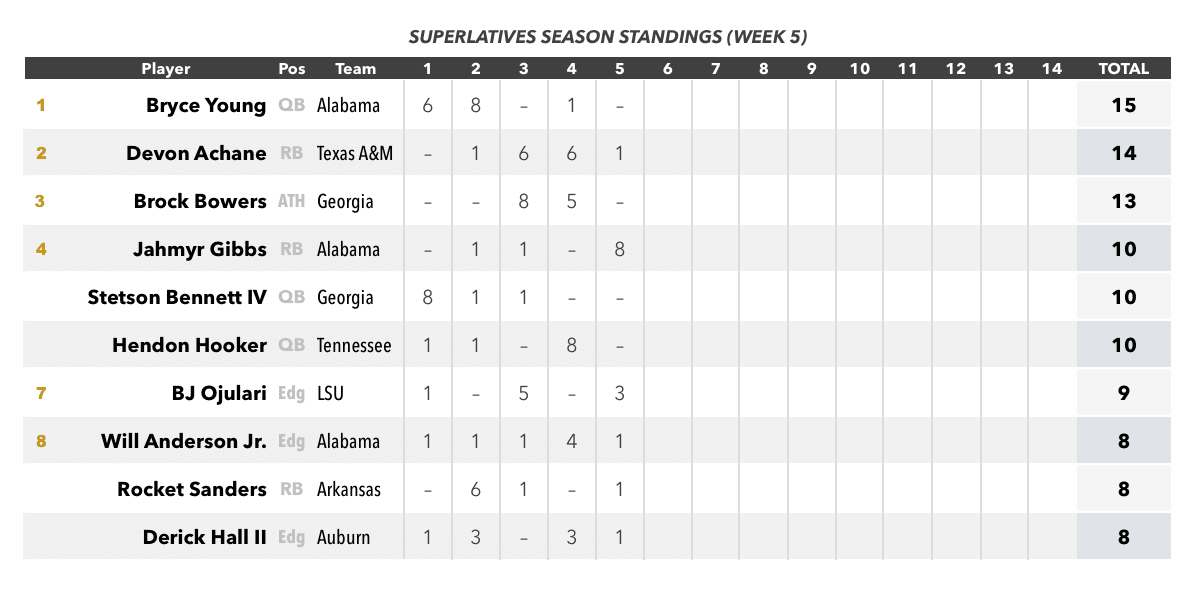 SEC Power Rankings
Updating the food chain.
1. Alabama (5-0). The Tide lost the reigning Heisman winner in the first half, watched their lead dwindle to five points in the second, and went on to win by 23 (as a 17.5-point favorite) in a fairly hostile environment. There are a lot of different ways to win football games, and they're fluent in almost all of them. (Last week: 2⬆)
2. Georgia (5-0). Every good team has One of Those Nights when everything seems out of sync on the road, and there's a lot to be said for how methodically Georgia slogged its way through what could have been a season-defining funk at Missouri. There's more to be said for crushing your opponent's spirit before halftime, which remains the baseline expectation for the rest of the season.
(LW: 1⬇)
3. Ole Miss (5-0). This team isn't necessarily better than last year's (which also got off to a good start), but with the influx of defensive talent via the portal it is more balanced: The Rebels rank 7th nationally in scoring D and 12th in yards per play allowed. Bracing for shootouts on a weekly basis is so 2020. (LW: 5⬆)
4. Tennessee (4-0). The Vols had the weekend off between dates against Florida and LSU. Not to take anything for granted, but with Alabama looming on Oct. 15, it can't be ignored that a win against the Tigers would set up arguably the biggest Bama-Tennessee game since Peyton Manning was an underclassman. (LW: 3⬇)
5. Kentucky (4-1). The Wildcats had a real opportunity to get out of Oxford 5-0, but the miscues added up: A missed field goal; a blocked PAT; an intentional grounding penalty that resulted in a safety after allowing an Ole Miss punt to roll to the 1-yard line; an illegal motion penalty that nullified the would-be go-ahead touchdown with just under a minute to play; back-to-back fumbles inside the Rebels' 20-yard line on their last two offensive possessions. That most of those were self-inflicted only makes it easier to dwell on. (LW: 4⬇)
6. LSU (4-1). The Tigers got away with a shockingly dormant passing game at Auburn thanks to some timely takeaways and Auburn shooting itself in its own foot, but that's not sustainable. The much-touted wideouts finished with four catches for 32 yards … as a group. (LW: 8⬆)
7. Mississippi State (4-1). Somehow the Bulldogs are ranked ahead of LSU in both major polls this week despite a head-to-head loss in Baton Rouge in Week 3. Those pollsters, always cutting corners to boost the prestige brands. (LW: 9⬆)
8. Texas A&M (3-2). Jimbo Fisher isn't getting fired, and there's very little new to add about the Aggies' woes on offense after another thudding outing at Mississippi State that hasn't been said after their previous thudding outings. Devon Achane is the only spark, the starting QB is in flux again, and the stakes are significantly lower with all of the big goals either already out of reach or fading fast. This is the point on the schedule where A&M abruptly turned it around last year, coming off a disappointing loss to Mississippi State to stun Bama in College Station. Don't hold your breath this year. (LW: 6⬇)
9. Arkansas (3-2). The Hogs needed just 2 weeks to rise from 19th in the preseason AP poll into the top 10, and just 2 more to fall out of the Top 25 entirely — all while delivering wholly predictable, Vegas-approved results in each of the first 5 games. There's still plenty of time for opinions to change again, even if their baseline performance from one week to the next largely does not. (LW: 7⬇)
10. Florida (3-2). The Gators dropped 52 points on Eastern Washington on Sunday, a much-needed gimme win but their last one for a while. Billy Napier's mission now is to get them bowl-eligible and not get too embarrassed against Georgia.
(LW: 10⬌)
11. Auburn (3-2). The Tigers' remaining conference games are against Georgia, Ole Miss, Arkansas, Mississippi State, Texas A&M and Alabama, each of whom either is currently or has recently been ranked in the top 10. Sundays this fall are for observing the Harsin Vigil. (LW: 11⬌)
12. Missouri (2-3). Taking Georgia to the wire is enough of a moral victory to temporarily quiet the buzz around Eli Drinkwitz's job security, but let's face it: In the current climate, almost no one is safe. (LW: 13⬆)
13. South Carolina (3-2). The most interesting thing about this team is the controversy surrounding the mascot. Kentucky's up next. (LW: 12⬇)
14. Vanderbilt (3-2). Vandy didn't play this week, and as always we'll chalk that up as a win. (LW: 14⬌)
Moment of Zen of the week
Need a wedding planner?@Coach_Leach had ALL the wedding advice for @AlyssaLang ? pic.twitter.com/jifRCv5sPg

— SEC Network (@SECNetwork) October 2, 2022
• • •