SEC
Monday Down South: The end is here for Bryan Harsin. All that's left is the press release
Weekly takeaways, trends, and technicalities from the weekend's SEC action.
Harsin doom watch
As of late Sunday night, Bryan Harsin was still employed as Auburn's head coach, meaning he survived the critical first 24 hours after his team's 41-12 flop against Penn State on Saturday. He'll face the media at his regular Monday press conference, deflect questions about his job security for the umpteenth time in the past 9 months, and insist the Tigers are looking forward, not backward, to this weekend's SEC opener against Missouri. Meanwhile, the entire state will be busy memorizing the number it will take to buy out his contract.
It's a grim ritual, these Sunday vigils, especially so early in the season, and for a coach still so early in his tenure as Harsin, who has coached just 16 games on the Plains. Usually it takes until at least Year 3 for the situation to deteriorate to that point, or at least until, you know, November of Year 2. But such is life in big-time college football in 2022, where the stakes (and the salaries) only keep going up and patience only keeps getting thinner.
Already this September 2 embattled head coaches, Nebraska's Scott Frost and Arizona State's Herman Edwards, have been shown the door following embarrassing, last-straw home losses on consecutive Saturdays. That followed the trend set last year by USC, which fired Clay Helton after just 2 games, and LSU, which sent Ed Orgeron packing at midseason. (Both of the guys Helton and Orgeron replaced, Steve Sarkisian at USC and Les Miles at LSU, were also fired in September.) In fact, the head start on pursuing their successors may have been part of the reason the Trojans and Tigers succeeded in announcing two of the splashiest hires in recent memory within hours of the end of the regular season. The shift in the primary signing window for incoming recruits from February to December added another layer of urgency. The days of letting a doomed coach linger until the weather turns once his fate has already been decided are fading faster all the time.
Harsin's fate may not be decided yet, but by all appearances that yet is doing a lot of work. Like Frost and Edwards, he came into the season with baggage and bad vibes after narrowly surviving a turbulent offseason. Auburn's 5-game losing streak to close the 2021 campaign was only the beginning of Harsin's trouble. His defensive coordinator, Derek Mason, left for the same title and less money at Oklahoma State. His incoming offensive coordinator, Austin Davis, bailed out for no apparent reason in January after less than 6 weeks on the job. (Davis is currently doing color commentary on ESPN+ broadcasts for his alma mater, Southern Miss.) Harsin's first full recruiting class was underwhelming by Auburn standards, ranking 9th in the SEC per 247Sports' composite rating without a single top-100 signee in the fold.
In the meantime, 19 players portaled out, enough of whom complained about Harsin's style along the way to initiate an investigation that boosters feeling buyer's remorse hoped would gin up an excuse to fire him without leaving them on the hook for his full buyout. They didn't find it. But they certainly did convey the message that there is no margin for error in Year 2.
Against that backdrop, Saturday's debacle was the nightmare scenario. At home, in a prime national TV time slot, Auburn was thoroughly outclassed in a game that, by the end, arguably felt worse than the 4-touchdown gap on the scoreboard indicated. The defense gave up 477 yards on 7.7 per play, the majority of it coming on the ground, at the expense of a front that was supposed to be the Tigers' strength. The offense committed 4 turnovers – 2 strip sacks sandwiched by 2 interceptions. The running game never gained traction, and the quarterbacks, TJ Finley and Robby Ashford, never settled into a rhythm, taking 6 sacks in addition to the giveaways. Auburn settled for 2 field goals in goal-to-go situations in the first half and didn't threaten to score again until the game was out of reach.
ANOTHER TURNOVER.
Penn State's defense forces the third turnover of the day. pic.twitter.com/7ST7C1Kh00

— CBS Sports (@CBSSports) September 17, 2022
The script could not have unfolded any worse for Harsin, whose best defense against last year's November slide – at least all of the losses were close – does not apply to a wholesale beatdown. The 29-point margin of defeat was Auburn's worst at Jordan-Hare Stadium since 2012, when the Tigers went 0-8 in SEC play under soon-to-be fired coach Gene Chizik. The free-floating quarterback situation is a decided downgrade from Bo Nix, who was never exactly a beacon of stability himself. The defense, based on Saturday, looks like a downgrade from last year's inconsistent unit under Mason. The handful of positives on the afternoon were nearly all negated by the setbacks.
Does that spell the end? If the project is even remotely salvageable, it will probably require Auburn to at least break even in SEC play. On that note, this weekend's conference opener looms larger than any mid-September game involving Missouri ever should. Mizzou, which was crushed by Kansas State in its only notable game to date, represents the most winnable SEC game on the schedule, by far: On the other side, Auburn faces an October gauntlet against LSU, Georgia, Ole Miss and Arkansas, with Mississippi State, Texas A&M and Alabama still waiting in November. Beyond the long-term calculations, it's also an opportunity to defuse the negativity surrounding the program rather than intensify it.
Without meaningful fixes, though, even a reassuring rebound win will only be delaying the inevitable. (A loss to Mizzou – not out of the question – would almost certainly spell the end.) I've written before that on some level every head coach at Auburn understands he's hired to ultimately be fired, whether it takes 2 years or 10. Bowden, Tuberville, Chizik, Malzahn: They all lived to some extent on the hot seat and crashed and burned in the end. But all of them also won big before they did, and the residual heat of their success tended to add to the spectacle of the crash.
The Harsin era has generated no heat and given no indication that it's on track for success. Barring a dramatic, overnight turnaround, its trajectory is headed straight for a crash on takeoff.
The future is Bowers
It wasn't that long ago that the tight end as a concept seemed to be well on its way to becoming a casualty of the spread revolution, doomed for the endangered species list alongside its obsolete cousin, the fullback. What's happened instead is that "tight ends" have gradually adapted to their new habitat by evolving into full-service athletes who are shockingly comfortable in space without sacrificing any of their traditional bulk. And no one playing the position right now is a more highly evolved athlete than Brock Bowers.
Even at this relatively early stage of his career, there's not a whole lot about Bowers' game left to be said that hasn't been said already. His talent was obvious enough last year as a true freshman, when he landed in Athens more or less fully formed: A Day 1 starter with a rare combination of old-school blocking chops and spread-friendly versatility at 18 years old. In the absence of a go-to wideout, Bowers filled the role easily, setting Kirby Smart-era highs for receptions (56), yards (886), and touchdowns (13) while flashing advanced ball skills, home-run speed and grown-man power in the process. In that context, his role in Saturday's 48-7 annihilation of South Carolina was akin to a velociraptor who has figured out how to unlock the door.
Bowers touched the ball 6 times against the Gamecocks, accounting for 126 yards and 3 touchdowns that flaunted the full range of his skill set at 6-4, 230 pounds. End around from the slot? Sure, he can do that.
Brock Bowers doing Brock Bowers things?

— PFF College (@PFF_College) September 17, 2022
Jump ball to the back pylon? Just lay that sucker up where he can get his hands on it.
YOU CAN'T GUARD BROCK BOWERS?

— PFF College (@PFF_College) September 17, 2022
Effortlessly dusting a couple of much smaller safeties in the open field? Just give him the dang ball.
Brock Bowers = elite at footballing pic.twitter.com/avu83OSE8C

— Cam Mellor (@CamMellor) September 17, 2022
Before the season, there were reasonable doubts whether a player as maxed out as Bowers appeared to be as a freshman had any room to grow on a depth chart that featured two other blue-chip prospects, Darnell Washington and Arik Gilbert, vying for snaps and touches after being limited in 2021 by injury (Washington) and personal issues (Gilbert), respectively.
If anything, though, Georgia's offense is even more committed to blurring exactly where on the depth chart he belongs. The "tight" part is increasingly arbitrary: Through 3 games, Bowers has lined up wide or in the slot on 62.9% of his offensive snaps, per Pro Football Focus, up from 53.4% last year. (Compare that to the quintessential SEC "move" tight end of the past few years, Kyle Pitts, who lined up in a conventional inline or H-back position on nearly two-thirds of his snaps in 2020. Or to Washington, a much bigger presence at 6-7/270, who has played almost exactly the same number of snaps as Bowers this season but lines up tight nearly three-fourths of the time.)
If we're really being accurate, he's more like an all-purpose weapon whose versatility allows OC Todd Monken to deploy him as needed without conceding size or play-making juice — a reliable blocker on the perimeter, a dynamic YAC threat on screens and reverses, a size/speed mismatch from just about anywhere, all in one player.
What have we not seen Bowers do? The only box he hasn't checked (yet) is as a true vertical threat a la Pitts, which frankly might say as much about Stetson Bennett IV's limitations as a downfield passer as it does about Bowers' field-stretching capacity given the chance. He's the rare non-quarterback to effectively secure his status as a future first-rounder years in advance, arguably with the potential to challenge Pitts' status as the highest-drafted tight end ever. If there's still another level to Bowers' game left to unlock, the sky is the limit.
So long, divisions
For several years now this space has endorsed proposals for the SEC (and every other conference) to eliminate divisions, an idea whose time seems to have finally come. Earlier this year the ACC announced it was planning to scrap the Atlantic/Coastal format beginning in 2023. On Saturday night, SEC commissioner Greg Sankey not-so-subtly hinted to reporters covering Texas A&M's win over Miami in College Station that his league is next:
SEC commish Greg Sankey on future scheduling setup: "The focus in football is on a single division right now. The real debate is 8 or 9 (conference) games. That doesn't mean divisions are completely erased from our consideration but they're not at the forefront of our thinking."

— Sam Khan Jr. (@skhanjr) September 18, 2022
Thumbs up! The expansion to 9 conference games was already a safe bet, and eliminating divisions is the next step toward the optimal format with 16 members:
•  9 conference games
•  No divisions
•  Assign 3 permanent annual rivals per school
•  Home-and-homes with the remaining 12 teams across a 4-year window
•  Two best records in the conference championship game
•  Profit
Of course, before any of that can fall into the place in the SEC, the league still has to finalize the logistics of Oklahoma and Texas' defection from the Big 12. Historically, once a school has agreed to leave its existing conference the divorce gets done ASAP, and conventional wisdom for most of the past year-and-a-half since that move rocked the sport has anticipated an expedited process that allows the Sooners and Longhorns to play under the SEC banner in 2023. In the same conversation in College Station, though, Sankey also made it plain that OU and Texas won't be on board until 2024, at the earliest, and possibly not until the Big 12's current media contracts — which are based largely on the presence of the league's two most valuable brands — expire in 2025. In the meantime, the long-term shape of the league they're set to (eventually) call home is slowly but surely beginning to come into view.
Turning point of the week
Mississippi State's muffed punt. Mississippi State led LSU, 16-10, with the clock ticking under a minute to go in the third quarter and LSU's Jay Bramblett lining up to launch his 6th punt of the night from midfield. The Bulldogs' most experienced and sure-handed return man, 6th-year senior Austin Williams, waited inside his own 10-yard line for a routine fair catch. It was the last time they would feel like they were in control.
SPECIAL TEAMS FUMBLE RECOVERY

? ESPN pic.twitter.com/VNua9fID7m

— LSU Football (@LSUfootball) September 18, 2022
From there, the Tigers took over at the MSU 9-yard line, score the go-ahead touchdown three plays later, and never looked back. Mississippi State went 3-and-out on its next 2 offensive possessions, both of which were followed by extended LSU touchdown drives covering 85 and 59 yards, respectively, to push the score to 31-16. A late LSU interception made it official, clinching Brian Kelly's first SEC win in Baton Rouge by a comfortable margin on a night that was anything but.
Superlatives
The week's best individual performances.
1. Georgia TE Brock Bowers. Five targets, five catches, zero remaining doubts about Bowers' status as the premier tight end-shaped weapon in the college game.
2. Texas A&M RB/KR Devon Achane. For the second Saturday in a row, Achane was the candle in the darkness that is Texas A&M's offense, accounting for 130 of the team's 264 total yards in a low-octane, 17-9 win over Miami. Last week, he scored both of the Aggies' touchdowns against Appalachian State on a 26-yard run and a 96-yard kickoff return, respectively; this week, he set up their first TD against Miami on a 22-yard run to the 1-yard line in the first quarter, and took the second in himself on a careening, 25-yard catch-and-run that doubled as A&M's longest gain of the night.
?️⛓

? ESPN | #BTHOmiami pic.twitter.com/1JyDhS54Ih

— Texas A&M Football (@AggieFootball) September 18, 2022
All told, Achane's share of the team's all-purpose output as a rusher, receiver, and return man the past two weeks comes to 59.3 percent.
3. LSU Edge BJ Ojulari. Mississippi State's quick-release passing game tends to frustrate opposing rushers, but the Tigers' resident sack specialist refused to be denied. Ojulari was a relentless presence in the backfield, registering 7 QB pressures, 2 sacks and an 88.9 PFF grade in the course of a mostly dominant outing by the LSU defense as a whole. The Bulldogs finished with just 289 total yards, a significant chunk of that number coming on an 87-yard TD drive to open the game. From that point on, their longest possession covered just 48 yards and they crossed midfield just twice.
4. LSU DB Jay Ward. On the back end, the Tigers got a career performance from Ward, a safety by trade who looked right at home in a nickel role, finishing with a team-high 11 tackles, 2 TFLs, and the game-clinching interception. His 7 stops — defined by PFF as tackles that constitute a "failure" for the offense — led all SEC defenders in Week 3.
5. Vanderbilt QB AJ Swann. Admittedly, the true freshman is being graded on a bit of a curve here, but all things considered, Swann's first career start was a gem: 18/28, 255 yards, 4 TDs and zero turnovers in a come-from-behind, 38-28 win at Northern Illinois. Down 28-14 in the third quarter, Vandy rallied to score 24 unanswered, sparked by a Manziel-ian connection from Swann to RB Ray Davis:
AJ SWANN ARE YOU SERIOUS?!?

The freshman QB somehow escapes and throws a dime for the @VandyFootball TD pic.twitter.com/E4e5n9lCUA

— CBS Sports Network (@CBSSportsNet) September 17, 2022
Davis (116 yards, 1 TD rushing in addition to the receiving score) had a day in his own right, as did WR Will Sheppard, who accounted for the lion's share of Swann's output with 171 yards and 2 TDs on 10 catches. One game against a MAC team is just one game against a MAC team, but who are we to rain on the 'Dores' parade? At 3-1 with Alabama on deck, this is the moment to enjoy a faint glimpse of light at the end of the tunnel while they still can.
Fat Guy of the Week: Florida OL O'Cyrus Torrence
At his previous school, Louisiana, Torrence was a Day 1 starter as a true freshman and an All-Sun Belt pick in 2020 and '21. At Florida, he hasn't missed a beat: Through 3 games, the 6-5, 347-pounder has played every snap at right guard and graded out as PFF's top o-lineman nationally with a 93.7 run-blocking grade and a 92.0 overall. Saturday's 38-21 win over USF was his best game of the season on both counts, including a key block to spring former Ragin' Cajuns teammate Montrell Johnson Jr. on a 62-yard TD run in the second quarter. Watch No. 54:
With his massive size and credentials in the Sun Belt, Torrence was already squarely on draftniks' radars coming into the season. (He also checked in at No. 73 on my preseason list of the top 100 players in the country, which I knew would turn out to be too low. Trust me, I knew it.) But with his smooth transition to an SEC uniform, he's quickly firming up his place at the top of the list of interior o-linemen in the 2023 class. If his stock holds, All-America notices and first-round buzz awaits.
Honorable Mention: Georgia QB Stetson Bennett IV, who was his usual, hyper-efficient self in a 320-yard, 3-TD outing at South Carolina. … Arkansas RB Rocket Sanders, who accounted for 242 scrimmage yards and 2 TDs in a come-from-behind, 38-27 win over Missouri State. … Arkansas LB Drew Sanders, who continued to look like a rising star with 12 tackles, 9 QB pressures and 3 sacks in an otherwise sketchy effort by the Razorbacks' defense. … Ole Miss RB Zach Evans, who went off for 134 yards and 2 TDs in a 42-0 win over Georgia Tech. … Tennessee WR Jalin Hyatt, who set career highs for yards (166) and touchdowns (2) on 5 catches in the Vols' 63-6 romp over Akron. … Florida DB Jalen Kimber, who came up with a crucial pick-6 in the Gators' win over USF despite a clubbed left hand. … Alabama RB Jahmyr Gibbs, who racked up 158 all-purpose yards with a receiving TD in a 63-7 massacre of UL-Monroe. … And Alabama edge Will Anderson Jr., who recorded 2 TFLs against ULM and scored his first career touchdown off a tipped screen pass.
– – –
The scoring system for players honored in Superlatives awards 8 points for the week's top player, 6 for second, 5 for third, 4 for fourth, 3 for fifth, and 1 for honorable mention, because how honorable is it really if it doesn't come with any points? The standings are updated weekly with the top 10 players for the season to date.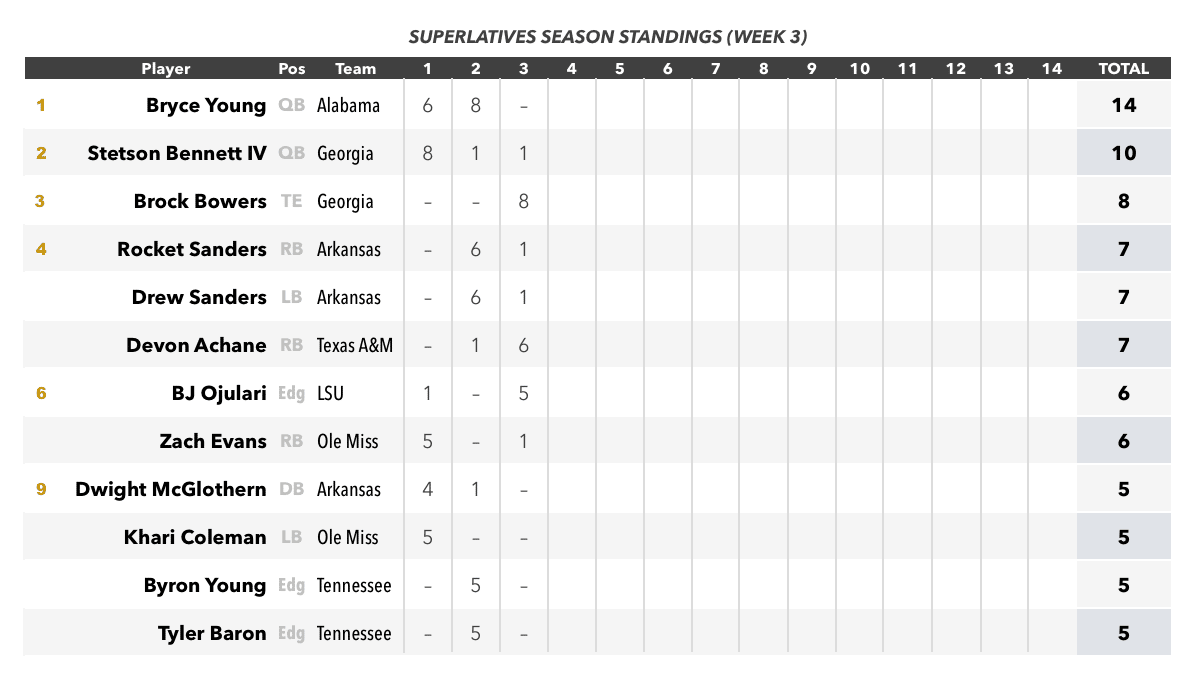 Catch of the year of the week: Florida's Justin Shorter
Injuries and inconsistency have prevented Shorter, a 5th-year transfer from Penn State, from living up to the 5-star billing that preceded him. But there has never been any doubt about his talent, on full display Saturday on this acrobatic, 30-yard grab in the fourth quarter of the Gators' win over USF:
Justin Shorter ?? pic.twitter.com/rGUJaWYNi9

— Cam Mellor (@CamMellor) September 18, 2022
After the way last season ended, Shorter is fortunate in the grand scheme of things to be back on the field at all. Still, like his quarterback, the occasional 5-star plays only make the lack of production (6 catches on 16 targets for the season) that much more frustrating.
Obscure stat of the week
In 2 games against FBS opponents, LSU has been outscored 33-20 though the first three quarters and outscored its opponents 34-7 in the fourth.
SEC Power Rankings
Updating the food chain.
1. Georgia (3-0). The same Oregon offense Georgia held to a field goal in the season opener has subsequently put up 111 points the past 2 weeks, including 41 on Saturday against BYU in a game that saw the Ducks score on each of their first 6 possessions. (Last week: 1⬌)
2. Alabama (3-0). Crimson Tide rang up touchdowns in all 3 phases against UL-Monroe … in the game's first 15 plays. The offense scored easily on its opening possession, the defense ran an interception back, and the punt team housed a blocked punt in a span of a little more than 6 minutes.
Ja'Corey Brooks blocks the ULM punt and Malachi Moore scoops & scores for the Tide's 3rd TD of the game

21-0 Tide#ULMvsALA #ULMvsBAMA #RollTide pic.twitter.com/8exx7bzykJ

— Pete Brown (@pjb_media) September 17, 2022
Bama added a second special teams touchdown in the fourth quarter — why not? — on a 68-yard punt return by Brian Branch, which Nick Saban analyzed in detail. (LW: 2⬌)
3. Arkansas (3-0). Razorbacks fell into a quick, 17-0 hole vs. Missouri State and its head coach, Bobby Petrino, setting off a brief flurry of eyeball emojis and motorcycle memes on Twitter before they rallied to outscore the Bears 38-10 over the game's final 40 minutes. In Twitter's defense, a well-timed neck brace photo is always a winner. (LW: 5⬌)
4. Tennessee (3-0). Vols showed no mercy against Akron, throwing 2 long touchdowns passes with the game well in hand in garbage time: The first, a 57-yard bomb from backup QB Joe Milton III to Ramel Keyton on the last play of the third quarter, extended Tennessee's lead to 49-3; that was immediately followed by a 38-yard strike from Milton to WR Walker Merrill to open the fourth that pushed the margin to 56-3. (With that, the Vols officially covered the 47.5-point spread — strictly a coincidence, of course.) At least their last TD of the day, capping a clock-killing, 12-play drive later in the fourth, looked more like one they were trying to give the Zips every opportunity to prevent. (LW: 4⬌)
5. Kentucky (3-0). Wildcats piled up 480 total yards against Youngstown State despite some general sloppiness in the process (3 turnovers, 4 sacks, 2.9 yards per carry) of a 31-0 cruise. Meanwhile, the UK defense held the Penguins to 0-for-10 on 3rd-down conversions and leading receiver Tayvion Robinson pancaked a dude in the open field.
WR big block – @RobinsonTayvion on the @will_levis run!

? – @SECNetwork ? – https://t.co/KlLaJXWxFv pic.twitter.com/pJx1WOBwpU

— Kentucky Football (@UKFootball) September 17, 2022
Very satisfying. (LW: 5⬌)
6. Ole Miss (3-0). Rebels met with no resistance whatsoever from Georgia Tech, which has apparently given up hope in coach Geoff Collins and dispatched a recon team into the mountains to locate and convince a heavily bearded, off-the-grid Paul Johnson to come out of retirement for one last job. We're still a couple of weeks from learning about Kiffin's boys in an Oct. 1 date against Kentucky. (LW: 6⬌)
7. Texas A&M (2-1). Max Johnson behind center didn't look appreciably different against Miami from Haynes King, with the notable exception that he didn't commit a turnover. (King threw 2 INTs in the opener against Sam Houston and fumbled once in the Aggies' loss to Appalachian State, leading directly to an App. State touchdown.) As narrow a margin for error as this team seems to have right now, that might be the difference in 8 wins and 10. (LW: 7⬌)
8. LSU (2-1). Tigers have a long way to go offensively, but as long as the defense holds up its end it should keep them in every game. (LW: 10⬆)
9. Florida (2-1). When the team is struggling, the quarterback's issues are front and center, especially when he's as gifted as Anthony Richardson. But as costly as Richardson's 2 INTs were in a close call against USF, the defense also deserves plenty of scrutiny for giving up 300 yards rushing on 6.7 per carry. (LW: 8⬇)
10. Mississippi State (2-1). QB Will Rogers is a reliable manager of a system he knows at this point like the back of his hand. But he doesn't compensate for the Bulldogs' talent disadvantage against the LSUs of the world, especially along the line of scrimmage. (LW: 9⬇)
11. Auburn (2-1). On a positive note, I dig the orange facemasks. (LW: 11⬌)
12. South Carolina (1-2). Gamecocks were thoroughly demoralized against Georgia, but at least they pulled off the "punter throws the ball 20 yards downfield" play.
South Carolina punter Kai Kroeger threw for a big first down on a fake punt, then immediately looked to the sideline after the play and called for Shane Beamer to give him the keys to the offense ? pic.twitter.com/5wsEPXfBEJ

— Grayson Weir (@GsonJW) September 17, 2022
In fairness to Kroeger, the offense would hardly have been worse off if he'd gotten another snap or two. (LW: 12⬌)
13. Missouri (2-1). Tigers fans have been waiting for a glimpse of 5-star freshman Luther Burden III in the open field, and they finally got in Saturday's blowout win over Abilene Christian.
To the house! Luther Burden III!#MIZ ?? pic.twitter.com/rnSjAAODFH

— Mizzou Football (@MizzouFootball) September 17, 2022
Burden finished with his first 100-yard all-purpose game, finishing with 177 as a rusher, receiver, and return man, but certainly not his last. (LW: 13⬌)
14. Vanderbilt (3-1). Commodores' comeback win at NIU guaranteed a winning record in September, their first month in the black since November 2018.
(LW: 14⬌)
• • •