SEC
Monday Down South: Bo Nix never deserved the hype – or the pressure that came with it
Weekly takeaways, trends and technicalities from the weekend's action.
Let's start with the obvious: Playing quarterback at the D-I level is very, very hard. So hard sometimes it seems like a miracle anyone actually succeeds. Of the 200 or so quarterbacks who sign FBS scholarships every year, maybe half of them will ever see the field in any meaningful capacity, and out of that half, only a few dozen will settle in as full-time starters for a significant stretch of time. Among the starters, a handful of them might turn out to be long-term solutions who play out their careers for the school that recruited them. Exceedingly few — the small fraction with the talent, intelligence, instincts, coaching, good health, and good luck to thrive on a consistent basis — will ever become stars or have a realistic chance to move on to the next level.
For Bo Nix, though, none of that was supposed to apply. In his case, the odds were as stacked in his favor as they could get. Recruitniks touted him as a 5-star prospect, 1 of only 2 in the 2019 QB class, citing his creativity, accuracy and pro potential. At Auburn, he was anointed as the franchise QB almost from the moment he stepped on campus and fast-tracked to the top of the depth chart as a true freshman. He didn't bide his time, hasn't been seriously pushed by any new arrivals and hasn't suffered any setbacks due to injury. He started from Day 1, led a dramatic comeback in his first game, and has taken almost every competitive snap for the Tigers since — 1,841 in all, far and away the most of any active SEC quarterback.
So, again, with that context in mind and 28 career starts' worth of evidence at our disposal, let's state the obvious: As an SEC starter, Bo Nix is just a guy and probably always will be.
Not that we really needed to see him benched in the course of Saturday's harrowing, come-from-behind win against Georgia State to arrive at that conclusion, which most Auburn fans seemed to reach at some point last year. (The South Carolina game, to be specific.) They watched him stagnate as a sophomore and the head coach who recruited and invested in him sent packing as a result. They watched him struggle with the same issues in his first test this year, a winnable trip to Penn State that he was unable to pull out in the end. They've seen enough of his game at this point that they sometimes find themselves contemplating the internal fight in his brain between maintaining pocket discipline and reverting to his natural state as a scrambler.
But there was something about his own coaches finally conceding to reality in the face of an unfolding disaster that made the verdict official. When Nix got the hook against Georgia State, Auburn trailed by double digits late in the third quarter, 24-12, having failed to score a touchdown despite 5 trips inside the GSU 30-yard line. (The Tigers settled for 5 Anders Carlson field-goal attempts, the last one a miss.) He'd been loudly booed by the homecoming crowd at Jordan-Hare Stadium and seemed rattled by it, completing just 13-of-27 attempts and finishing with a career-low passer rating for a home game (96.7). In many ways, it was the culmination of 2-plus years of frustration boiling over in the worst possible scenario against a 26-point underdog from the Sun Belt Conference.
Except that with Nix on the bench, the Tigers came alive. A special teams touchdown kicked off the rally, cutting the deficit to 24-19 late in the third quarter. The defense, a liability in the first half, forced its 4th, 5th and 6th consecutive punts since halftime. And with 3:23 remaining and the ball at the Tigers' 2-yard line, it was Nix's understudy, LSU transfer TJ Finley, who came on to lead a 98-yard, go-ahead touchdown drive that entered instantly into Auburn legend.
TOUCHDOWN!! @shedrickj85

The First of his Career!#WarEagle | #AuburnMade pic.twitter.com/QTAK3nQmDc

— Auburn Football (@AuburnFootball) September 25, 2021
Just for the heck of it, the defense tacked on a pick-6 to push the final score to 34-24, a relatively routine-looking number on a day that was anything but.
There was some irony in Finley, the losing quarterback in LSU's 48-11 flop at Auburn in 2020 — the best game of Nix's career — returning to the same field to steal the show for the rival Tigers a little less than a year later. Partly for that reason, the question of whether he stole Nix's job in the process remains technically TBD: After the win, coach Bryan Harsin emphatically declined to elaborate on either QB's status for this weekend's trip to Baton Rouge. ("That's not how it works. I don't have to tell anyone what the game plan is.") The Auburn hive mind, of course, has demonstrated no such restraint. Finley mania is well underway.
Whether he still has a future on The Plains, the baggage that led to Nix's benching and pending demotion is inescapable. To the extent his fading rep is tied up with the expectations that preceded him, it's also a little bit unfair. Looking back, it's clear the 5-star label was wildly misleading, and not just for the usual intangible reasons that elite prospects sometimes wind up flaming out.
At the end of the day, Nix is just fundamentally not that kind of talent — not especially big, not unusually fast or shifty, not in possession of a cannon for an arm. It's difficult to square the initial hype with the fact that nothing about his athletic profile in terms of size, speed, or arm talent fits the blue-chip mold. His alleged strengths in the scouting reports, creativity, accuracy and technical polish, have been among his biggest weaknesses on campus. The elusive "it factor" the scouts saw in high school has remained, well, mostly elusive.
Under different circumstances, it's possible to imagine Nix benefiting from a more patient, less anointed route to the starting lineup: A redshirt, a developmental year or two, some legitimate competition for the job. Under the actual circumstances, Auburn under Gus Malzahn offered him none of the above, counting on him to show up more or less fully formed. And in a way, he did. Nix is essentially the same player in Year 3 he was in Year 1. That's not all bad. But the more we see, the more obvious it is that's all he was ever going to be.
Notebook
Around the conference.
Arkansas 20 • Texas A&M 10. You can call it an upset — strictly speaking, Arkansas came in as a 5-point underdog — but you can't call it a surprise. The Razorbacks beat the Aggies the same way they beat Texas in Week 2: By controlling the line of scrimmage, generating consistent pressure on the opposing QB with basic 3- and 4-man rushes, and forcing the ostensibly more talented team to play from behind. Texas A&M, with a roster built largely from 3 consecutive top-10 recruiting classes over the past 3 years, looked outmanned from start to finish. (More on that point in the "Superlatives" section below.)
Just how seriously are we taking the Hogs, now? Once again they were the week's biggest movers in both major polls, leaping 8 spots in the AP poll (from No. 16 to No. 8) and 7 spots according to the coaches (from No. 18 to No. 11). The analytics are more circumspect. ESPN's Football Power Index rates Arkansas' remaining schedule as the nation's toughest, which is hard to argue with back-to-back road dates at Georgia and Ole Miss on deck and trips to LSU and Alabama looming in November. The Razorbacks' updated odds of winning the conference, per FPI: 0.6%. Odds of winning out: 0.0%.
Still, the fact that we're thinking big about top-10 Arkansas is a testament both to how good this team has been over the season's first month and how far it's come from the Dark Ages of the Chad Morris era in a little over a year. It's also a testament to the team's surprising depth and balance in the absence of individual star power. Aside from freakish WR Treylon Burks, who had a huge day against A&M, this is a lineup still largely introducing itself to the outside world. The defensive line, arguably the team's best position group so far, is still introducing itself to Arkansas fans — all 3 starters up front (Tre Williams, Markell Utsey and John Ridgeway) are first-year transfers, with both Williams and Utsey defecting from Missouri and the highly disruptive Ridgeway coming from Illinois State.
If nothing else, the Razorbacks absolutely look the part, up to and including massive 6-3/245-pound QB KJ Jefferson. We'll see how far that gets them Saturday in Athens.
Florida 38 • Tennessee 14. It's about time to put any lingering doubts about Emory Jones' staying power atop the depth chart out of their misery. Jones went wire-to-wire against the Vols for the second week in a row, and for the second week in a row he looked like the ideal combination of athleticism and efficiency for Dan Mullen's tastes, finishing 21/27 for 209 yards with 2 TDs, no turnovers, and 147 yards rushing as Florida's primary ball carrier — the first 200/100 outing for a Florida QB since Tim Tebow in 2009. The Gators ate up more clock on their 6 scoring drives alone (25:51) than all 11 of Tennessee's offensive possessions combined (24:31).
Combined with the better half of last week's down-to-the-wire, 31-29 loss to Alabama, the template for what this offense looks like when it's working is starting to come into view. Predictably, it's a much more balanced picture than we saw last year, when Mullen tailored the play-calling to Kyle Trask's arm and limited mobility with explosive results. Jones doesn't have Trask's pocket presence or his weapons in the passing game. But his skill set is better suited to Mullen's instincts, which have always tended to favor a quarterback who can effectively double as a workhorse tailback, a role where Jones is obviously right at home.
Remember last week, when the home crowd in The Swamp broke out in a chorus of boos with Florida trailing Alabama 21-3 midway through the second quarter and the offense flailing? From that point on, the Gators have been brutally efficient, scoring on 10 of their subsequent 15 offensive possessions (9 touchdowns, 1 field goal) with the ground game — and Jones, specifically — doing most of the work on sustained, methodical drives: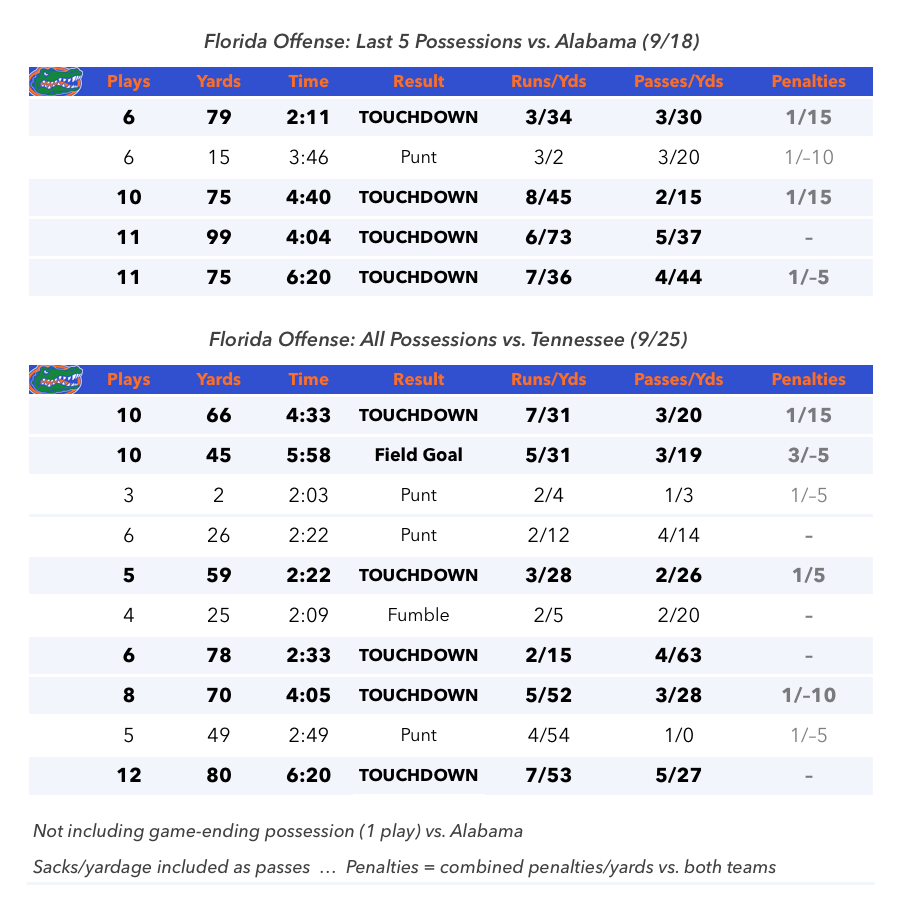 That's not quite as entertaining in real time as Trask to Kyle Pitts or Kadarius Toney, and it doesn't lend itself as easily to the highlight reels or the record books, either. (Not with redshirt freshman phenom Anthony Richardson still on the shelf, anyway.) But it is a formula that this team can ride to 10 wins against this schedule, with room to spare.
Anything beyond that hinges, as usual, on the Cocktail Party showdown vs. Georgia on Oct. 30, by which time Richardson is expected to be fully recovered from the hamstring injury that's sidelined him the past 2 weeks and back to generating demands that his role expand beyond the handful of snaps he was allotted in the first 2 games. His presence against a defense like Georgia's — a unit that's allowed 1 touchdown in 4 games — might be necessary to get the Gators over the top. Until then, though, this is Emory Jones' offense, and if it's going to get close enough to the top for Richardson to make a difference it's going to be on Jones' shoulders.
Turning point of the week
Caylin Newton's blocked punt. Auburn trailed Georgia State, 24-12, late in the 3rd quarter. The score hadn't budged in more than an hour, the Tigers' offense was stuck in neutral, and the home crowd was getting restless. With disbelief mounting and the energy in Jordan-Hare at low ebb, Cam's little brother took it upon himself to supply the jolt:
AUBURN BLOCKED PUNT ‼️

(via @AuburnFootball)

— 247Sports (@247Sports) September 25, 2021
The touchdown didn't give Auburn the lead, but it was a dramatic swing in momentum, pulling the Tigers within one score and breathing life into what was beginning to seem like a dire situation. (Georgia State's odds of winning immediately plunged below 50% per ESPN's win probability metric, despite the lead.) Without it, the switch from Bo Nix to TJ Finley on their next offensive possession likely would have been too little, too late. If Auburn manages to salvage a respectable season, Newton will deserve his share of the credit.
Obscure stat of the week
Georgia's defense held Vanderbilt to 77 yards of total offense on 1.7 per play en route to a 62-0 massacre that, incredibly, was worse than the final score suggests. (The Bulldogs could have named their number after running out to a 35-0 lead in the first quarter.) That was just the 4th time since 2000 that an SEC team has come in below 100 total yards on less than 2.0 yards per play.
Superlatives
The week's best performances.
1. Arkansas DE Tre Williams. On a dominant afternoon for the defense as a whole, Williams leapt off the screen, turning up the heat on Texas A&M's Zach Calzada early and keeping it up at the expense of multiple A&M linemen over the course of the game. By the fourth quarter, the Aggies were desperate enough to curb the abuse as the offense shifted into comeback mode that they moved their only returning OL starter, aspiring first-rounder Kenyon Green, from right guard to left tackle specifically to protect Calzada's blind side, to no avail whatsoever.
Tre Williams absolutely BEASTING for this @RazorbackFB defense pic.twitter.com/nCuER3ImDr

— SEConCBS (@SEConCBS) September 25, 2021
Regardless of who lined up across from him, the Missouri transfer lived in the backfield, ending with 2 sacks, 8 QB pressures, and the best individual grade of any Arkansas defender (85.0) per the film eaters at Pro Football Focus. In the process, he may have himself into an overnight All-SEC candidate — a fitting representative for the team's trajectory as a whole.
2. Florida QB Emory Jones. The notion of a QB controversy in Gainesville may not be officially dead, but it has lost consciousness after Jones' second plus solo performance in as many weeks. Between the goodwill he's earned against the Tide and Vols and a favorable schedule over the next few weeks, he should be fully entrenched through the Georgia game on Oct. 30, at least.
3. Arkansas WR Treylon Burks. Feral as the defense has been, Burks and his extraterrestrial athleticism at 6-3/225 may be the most obvious symbol of Arkansas' rise from the ashes. Against Texas A&M, he set season highs for catches (6) and yards (167), none of them routine.
Treylon Burks is unfair ? pic.twitter.com/ayKlKbe2tt

— Cam Mellor (@CamMellor) September 25, 2021
In fact, his most impressive catch — a full-extension, toe-tapping grab along the sideline in the second quarter on a ball he had no business getting a hand on, much less hauling in — was too good to stand: It was ultimately ruled incomplete, wiped from the record when the verdict came back that his toes tapped down slightly out of bounds. When even the plays that don't make it into the box score are as memorable as the ones that do, you're talking about a special player.
4. Texas A&M DB Antonio Johnson. Johnson, a true sophomore who plays almost exclusively from the slot, capped a highly productive September with another ball-hawking effort against Arkansas, finishing with team-highs for tackles (8), TFLs (2) and passes defended (2) in the nickel role; in coverage generally, he didn't allow a reception in his direction on 4 targets. For the season he leads the Aggies in solo and total tackles while yielding just 30 receiving yards on 19 targets.
5. Alabama WR/KR Jameson Williams. Williams only touched the ball 4 times in Bama's blowout win over Southern Miss, but he squeezed every last drop of juice out of them, taking 2 kickoffs to the house with an 81-yard touchdown catch in between.
TOUCHDOWN ALABAMA

100 yards to the house! #SouthernMiss #Alabama

— Sideline CFB (@SidelineCFB) September 25, 2021
With that, the Ohio State transfer became the first SEC player with 2 kickoff returns for touchdowns in the same game since the turn of the century (regardless of opponent) and joined Treylon Burks as the only FBS players this season with 2 plays from scrimmage covering 80+ yards. Among players with at least 10 touches in all phases, Williams leads the nation at 31.0 yards per touch.
Honorable mention: Arkansas LB Grant Morgan, who was his usual hyperactive self vs. Texas A&M with 5 tackles, 4 QB pressures and a TFL. … Florida DB Trey Dean III, who had a team-high 11 tackles and allowed just 1 reception (for 9 yards) on 5 targets vs. Tennessee. … Alabama QB Bryce Young, who turned in a nearly flawless line vs. Southern Miss (20/22, 313 yards, 5 TDs) save for his first career interception. … Alabama OLB Will Anderson Jr., who was credited with 3 TFLs and 2 QB pressures on just 34 snaps vs. the Golden Eagles. … Auburn d-linemen TD Moultry and Colby Wooden, who combined for 17 tackles, 9 QB pressures and 4 TFLs in the Tigers' come-from-behind win over Georgia State. … Texas A&M DE Micheal Clemons, who generated 5 QB pressures vs. Arkansas, including a forced fumble on his only sack. … LSU WR Kayshon Boutte, who accounted for 85 yards and 2 TDs on 4 catches at Mississippi State. … Kentucky RB Chris Rodriguez Jr., who carried the Wildcats' struggling offense with 144 yards on 26 carries in a 16-10 win at South Carolina. … South Carolina DB Jaylan Foster, who had 12 tackles and an interception vs. Kentucky while allowing a meager 7 yards on three targets. … And Georgia DB Kelee Ringo, who allowed no receptions on 4 targets in the Bulldogs' shutout win over Vanderbilt while turning in the highest individual PFF grade for the week (83.2) on a dominant UGA defense.
– – –
The scoring system for players honored in Superlatives awards 8 points for the week's top player, 6 for second, 5 for third, 4 for fourth, 3 for fifth, and 1 for honorable mention, because how honorable is it really if it doesn't come with any points? Standings are updated weekly with the top 10 players for the season to date.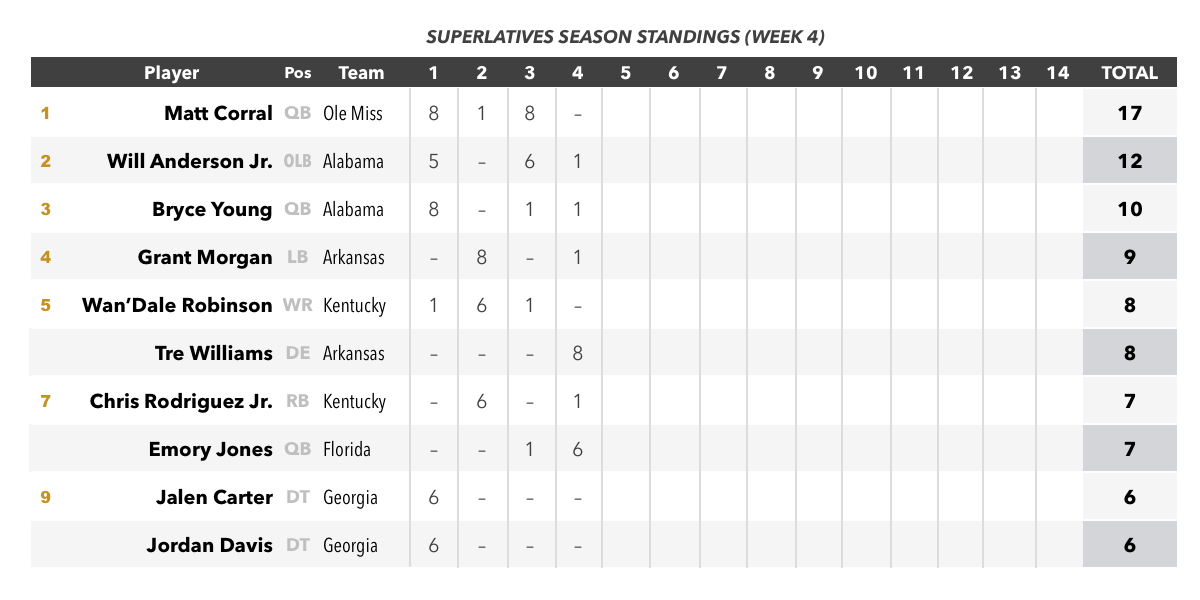 SEC Power Rankings
Updating the food chain.
1. Alabama (4-0). The Tide's blowout win over Southern Miss was their 100th in a row over unranked opponents dating to Nick Saban's first season in 2007, still the most impressive streak in sports. For some context, the second-longest streak prior to Saturday belonged to Clemson, which had won 36 in a row vs. unranked teams dating to 2017. With the Tigers' overtime loss at NC State, that title transfers to Notre Dame, winner of 35 in a row since 2016 — only 9 years and 65 games off Bama's pace.
2. Georgia (4-0). How do you score 62 points with a long gain of just 29 yards? Merciless efficiency on one hand, outstanding field position on the other: Six of the Bulldogs' 10 scoring drives vs. Vanderbilt started at the 50-yard line or better.
3. Arkansas (4-0). The last team to pull off a worst-to-first run in a major conference: Auburn, which won the SEC in 2013 off an 0-8 conference record in 2012. But the Tigers at that point were only a couple of years removed from a national championship — the 2012 collapse was the outlier for a program more accustomed to winning. The Razorbacks pulling it off after a decade in the wilderness would be a truly monumental turnaround.
4. Florida (3-1). You know these are good times when a 24-point win over Tennessee feels routine. Even the walk-ons are feeling it.
THE JUICE BOYS pic.twitter.com/MwS6snT1X7

— Gators Football (@GatorsFB) September 26, 2021
5. Ole Miss (3-0). This is the kind of season when sitting on the couch is great for your reputation. The Rebels moved up 1 spot in the updated AP poll after their open date, from No. 13 to No. 12 heading into a much-anticipated trip to Alabama.
6. Texas A&M (3-1). It's tempting to wonder what might have been with a healthy Haynes King, but a sketchy offensive line and nondescript receiving corps should put a swift end to that conversation.
7. LSU (3-1). The win in Starkville was a solid "call off the dogs" kind of effort, but of course in Baton Rouge the hounds of the hot seat are never more than a loss or two away. The next 2 weeks vs. Auburn and Kentucky are big with 5 of the last 6 over the back half of the schedule coming against teams ranked in the top 15.
8. Kentucky (4-0). The sputtering passing game is a concern, given the offseason investment, but certainly not a new one here. At their core, the Wildcats are still built for slugfests like Saturday's 16-10 win at South Carolina.
9. Auburn (3-1). Say what you will about Bo Nix: When Georgia State racks up 267 yards rushing, there's plenty of angst to go around.
10. Mississippi State (2-2). Somebody has to finish in last place in the West, and at the moment the arrow is pointing to the Bulldogs: FPI projects them as underdogs in 5 of their remaining 7 conference games.
11. Missouri (2-2). The Tigers had a chance to win at Boston College in an overtime game that could have gone either way, but giving up 41 points and 450 yards to an offense led by a former walk-on in place of its usual starting QB is definitely not a moral victory situation.
12. Tennessee (2-2). The offense finished with 423 yards on 6.2 per play against Florida, didn't commit a turnover, and scored … 14 points. If the baseline for optimism in Josh Heupel's debut season is bowl eligibility, the Vols are facing an uphill climb.
13. South Carolina (2-2). The Gamecocks have apparently settled on redshirt freshman Luke Doty at quarterback, for what it's worth, but right now this offense has nothing to hang its hat on.
14. Vanderbilt (1-3). A miserable performance vs. Georgia, and suddenly even this week's date with a zombie version of UConn is looking like a toss-up. Lose that game and it might be time to start sizing the 'Dores up against the worst teams in SEC history.