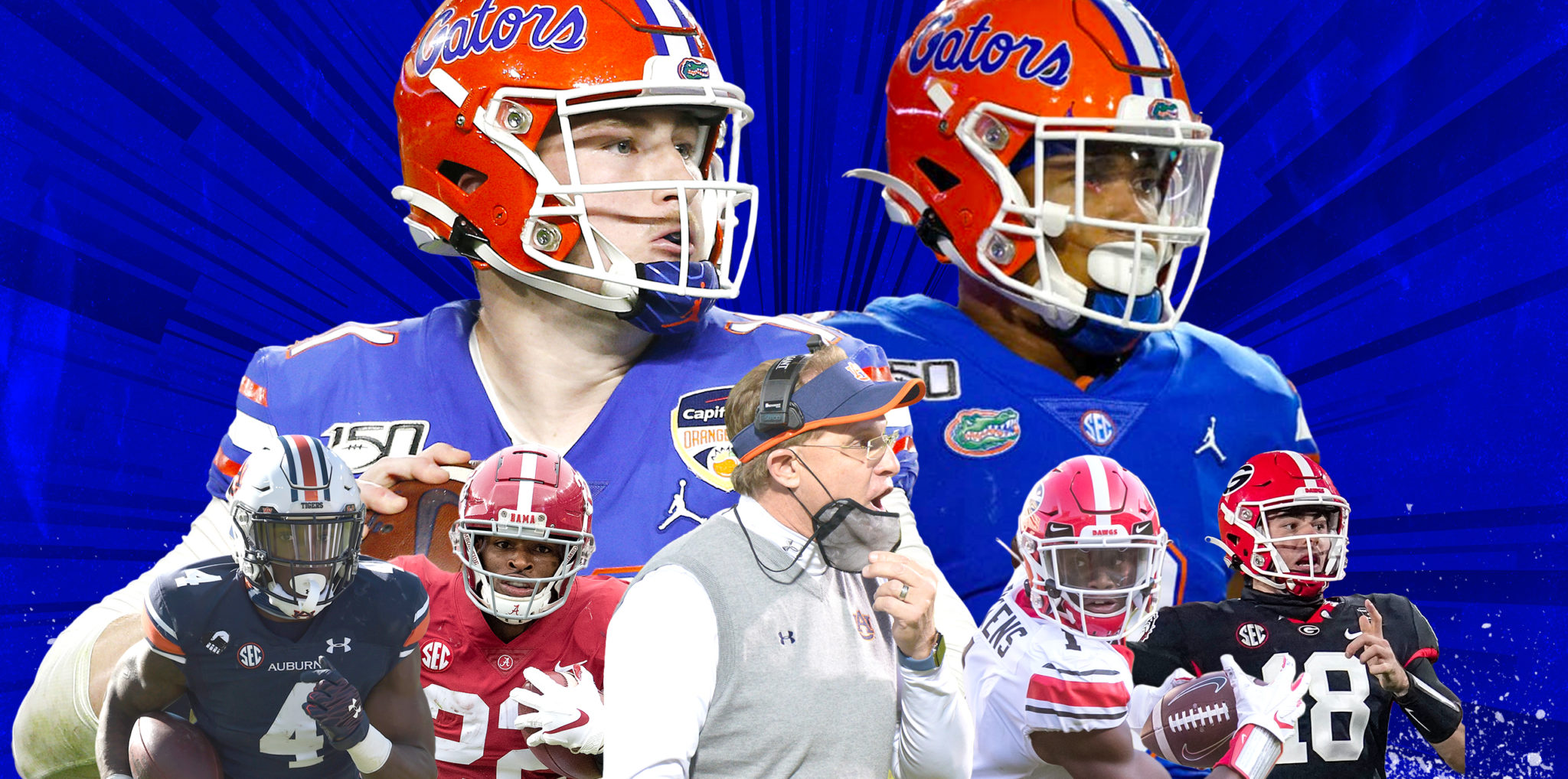 SEC
Monday Down South: Moving on from Gus Malzahn is Auburn's biggest gamble yet
Weekly takeaways, trends and technicalities from the weekend's action.
Gus' last dance
Auburn 24, Mississippi State 10. When you agree to be the head football coach at Auburn, you understand on some fundamental level that you're signing up to be fired. Not right away – maybe it takes 4 years, maybe it takes 10. Maybe you enjoy enough success along the way that, for a fleeting, optimistic summer or two, the ending doesn't seem so obvious. Maybe this time will be different. But then even for the winners, the track record speaks for itself.
Terry Bowden: Best winning percentage in school history, undefeated record in 1993, 3-2 record vs. Alabama. Fired. Tommy Tuberville: 8 consecutive winning seasons, undefeated record in 2004, 6-game winning streak vs. Bama. Fired. Gene Chizik: National championship in Year 2, fired in Year 4. And now, inevitably, Gus Malzahn: 8 straight winning seasons, a wildly improbable run to the national championship game in 2013, 3 wins over Bama in an era of historic Tide dominance under Nick Saban. Officially fired Sunday, just a few hours after wrapping up a 6-4 regular season at Mississippi State. With that, he's the 5th consecutive Auburn head coach sent packing with an overall winning percentage of at least .635.
Still, somehow, for a guy who spent most of the past decade squarely on the hot seat, the end was hardly a foregone conclusion. Besides consistently finishing in the black, Malzahn's position was fortified by an infamous $21.5 million buyout and a pandemic that ostensibly took long-term, big-picture moves off the table. "Fire Gus" sentiment was swelling on the heels of back-to-back losses vs. Alabama and Texas A&M, but nowhere near high tide. And there were no signs that he'd "lost the locker room," or anything like that. Does this look like a man on the cusp of unemployment?
We win..

WE DANCE, BABY! pic.twitter.com/pBDrHIrTbj

— Auburn Football (@AuburnFootball) December 13, 2020
When it's time, it's time. And for the segment of the fan base that expects Auburn to contend for SEC championships and Playoff berths on a regular basis – the deep-pocketed members of that faction, especially – Malzahn's time had long passed. Since his miracle debut in 2013, the Tigers have won the SEC West just once (in 2017), played in 2 major bowl games (losing both in '16 and '17), and posted at least 4 losses every year. Three times in that span ('14, '15 and '18), the Tigers opened in the top 10 in the preseason AP poll only to finish outside of the top 20 and 4th or worse in the division standings.
Nothing about going 6-4 with blowout losses at the hands of Georgia and Alabama amid the weekly chaos of COVID-19 protocols altered that trajectory. Bo Nix, arguably the most prized recruit of Malzahn's entire tenure, made no discernible progress from Year 1 to Year 2. (Nor, for that matter, did Malzahn's last prized QB get, Jarrett Stidham.) His reputation as an offensive innovator grew stale over time, to the point that he was finally compelled to give up play-calling duties to first-year coordinator Chad Morris; Auburn tied for 8th in the SEC in scoring offense, matching its worst finish on Malzahn's watch. The Tigers went 0-3 vs. top-10 opponents, dropping their record in that column to 2-8 over the last 3 years. They didn't beat a team with a winning record.
As always when it comes to canning a winning coach, though – especially one who's broadly liked and respected, and whose tenure hasn't generated a whiff of scandal at a place that has seen its fair share – the bid to raise the bar at any cost is accompanied by a warning to be careful what you wish for. Bowden, Tuberville and Chizik all went out on meltdowns. Malzahn's exit is a statement: "Good enough," as defined by a steady run of 8- and 9-win seasons that top out in a noon kickoff in the Peach Bowl, isn't good enough.
The mandate for the next guy is championships, plural, or bust. And at the going rate, the busts are only going to keep getting more expensive.
https://twitter.com/AyeyoKEJO/status/1338287525752926210?s=20
To some extent, Malzahn's legacy will depend on whether that gamble pays off: If the story of the next few years is Auburn successfully leveling up to the point that November rivalry dates with Georgia and Bama are consistently arriving with Playoff implications, the last 9 years may be remembered as frustrating ones when the program never quite realized its full potential. If not – if it's more of the same old cycle of fleeting success and eventual disappointment for the 4th consecutive decade and counting, or worse – Malzahn could just as easily go down as a winner for whom expectations (yet again) outran reality.
In the meantime, all the recognition he's due is contractually obligated to land in his bank account within the next 30 days and in equal installments thereafter. When his successor arrives, the debate over the gap between where Auburn football is and where it potentially could be will rage on as intensely as ever around a new locus. Exactly where the Malzahn years fall on that spectrum is in the eye of the beholder.
The agony of de-cleat
LSU 37, Florida 34. For an aspiring Playoff team, an inexcusable loss every level: LSU limped into the Swamp as a 23-point underdog with a hopelessly depleted roster, a true freshman quarterback making his first start, and nothing to play for after getting ritually slaughtered by Alabama its last time out. Above and beyond all of that, though, it was a dumb loss. Objectively, historically dumb, joining the ranks of the dumbest losses on record. A first-ballot entry into the Dumb Loss Hall of Fame.
Florida was flagged with unsportsmanlike conduct after this play: pic.twitter.com/BBsmOu64j9

— ESPN (@espn) December 13, 2020
How else to describe that instantly edible moment in SEC history? The official play-by-play entry – Max Johnson pass complete to Kole Taylor for 4 yds to the LSU 29 FLORIDA Penalty, Unsportsmanlike Conduct (Marco Wilson) to the LSU 44 for a 1ST down – doesn't even try. Florida coach Dan Mullen made a feeble attempt on Sunday to classify Wilson's impulsive, dead-ball cleat toss as "part of a football move," which, seriously, come on. No one who watched it would ever convey it that way to someone who didn't. They'd call it what it was: Dumb as hell.
In fact, of all the conceivable ways to lose in American football, a defender needlessly extending a do-or-die drive in the final 2 minutes of a tie game by randomly flinging an opponent's shoe 20 yards downfield following a crucial 3rd-down stop might be the dumbest. It's certainly in the running, right up there in the top 2 or 3 with the peeing dog celebration that cost Ole Miss the 2019 Egg Bowl – all the more so given that the cost for Florida, a relatively healthy team with everything to play for, was so much higher. It effectively eliminated the Gators from the Playoff.
Now, in fairness to Wilson, the eternal goat of what was likely his last home game at UF, getting to the point where the season hinged on a moment of irrational exuberance was a total team effort. Although Florida gained 609 yards of total offense against a severely shorthanded LSU defense, in many other ways it seemed determined to give the game away: The Gators finished –3 in turnover margin, including a pick-6 in the first half, and came away empty on 4 trips inside the LSU 35-yard line, including a goal-line stand on the game's opening possession. During a critical stretch in the late 3rd and 4th quarters, the offense went 3-and-out on 3 consecutive possessions, ceding the lead in the process. And even following Cade York's 57-yard, go-ahead bomb through the fog to put LSU up with 23 seconds to play …
57 yards.
In the fog.
For the win.

Cade York's 57-yd FG was the longest in @LSUfootball history‼️ pic.twitter.com/EAO0Q9zdmW

— SEC Network (@SECNetwork) December 13, 2020
… Florida still managed to put itself in position to force overtime on a 51-yard attempt by the usually reliable Evan McPherson. Right up to the end, almost everything that could have gone wrong enough for the Gators to offset a career-high 474 yards passing from Kyle Trask did, much of it self-inflicted.
At this point, it's hard to say which is less likely: The prospect of Florida managing to sneak into the Playoff with 2 losses by virtue of an upset over Alabama in the SEC Championship Game, or the prospect of the Gators beating Bama in the first place. The Crimson Tide are 17-point favorites in Vegas and boast an 89% chance of winning according to ESPN's Football Power Index, up substantially on both counts since Saturday night. Suddenly the vibe is less "winner take all" and more "keep it respectable" – less dramatic, but probably closer to reality.
– – –
I have just one more observation about this game: The full-time Madden Cam angle from behind the offense that ESPN switched to out of necessity due to the surreal fog that descended in the second half?
More of that, please! This is a common replay angle, but in real time it was an eye-opener. It captured the violence in the trenches, offered a much fuller view of receivers downfield, and put the audience in the quarterback's point of view in a way the conventional live sideline angle can't come close to approximating. It was a key component of what made the end of this very strange game so intensely compelling. I'm sold — the more Madden Cam going forward, the better.
DeVonta does it all
Alabama 52, Arkansas 3. You wouldn't know it from the score, but Arkansas actually succeeded in its primary objective of limiting explosive plays through the air – Bama's receivers as a group turned in season lows for yards (227) and yards per catch (8.4) with no touchdowns and a long gain of just 23. DeVonta Smith, who's spent the entire season blazing a trail of destruction through SEC secondaries, finished with a grand total of 22 yards on 3 receptions and was held out of the end zone as a receiver for the first time since Jaylen Waddle's injury in mid-October. And yet …
Devonta Smith with his first punt return TD in his career! pic.twitter.com/ouUlqK2zGP

— CBS Sports HQ (@CBSSportsHQ) December 12, 2020
It's a testament to the Tide's unmatched balance that holding them relatively in check on paper can still yield a 38-3 halftime deficit, and it's a testament to Smith's balance that his most pedestrian stat line of the season didn't stop him from advancing his case as a legitimate Heisman contender.
For any wideout who manages to play his way into that conversation, one of the major challenges is establishing himself as a playmaker independent of his quarterback, who (like Mac Jones) is often a contender in his own right, and usually a more conventionally viable one. Making a splash in the return game is a tried-and-true way of emerging from that shadow. And for a receiver as prolific as Smith, who leads the entire FBS in receiving yards and the Power 5 in touchdowns, frankly it shouldn't take much more convincing.
According to the conventional Heisman wisdom, the SEC title game sets up as a decisive showdown between the quarterbacks, Trask and Jones, who have topped the straw polls for most of the second half the season. If the game turns into a Bama runaway, though – again, a very real possibility now – the actual debate could come down to Jones and Smith and how voters value their respective roles. The status quo favors the QB by default, but in this case Smith and his week-in, week-out explosiveness may be just special enough to hold up as the exception to the rule. Another convincing night on the biggest stage of the season could put him over the top.
Superlatives
The best of the week.
1. LSU LB Jabril Cox. Cox, the touted transfer from North Dakota State, delivered his best game as a Tiger in the upset over Florida, finishing with 6 tackles (including 1 for loss), 3 QB hurries and 2 passes broken up. If he winds up as a first-rounder next spring, Saturday may have been the performance that propelled him there.
2. Florida WR Kadarius Toney. Toney asserted himself in the absence of injured (?) TE Kyle Pitts, finishing with career highs for catches (9) and receiving yards (182) while also adding 56 yards rushing in a losing effort. For the season, he's accounted for nearly as many yards from scrimmage (977) as in his first 3 years on campus combined.
3. Auburn RB Tank Bigsby. Bigsby roared back from injury in the Tigers' win over Mississippi State, ripping off a career-high 192 yards on 7.4 per carry against a typically stout MSU run defense — his total on the ground was easily the best individual effort of the season against the Bulldogs, and surpassed the team totals for each of their first 8 opponents except Alabama. The next coach will have an All-SEC workhorse to build around.
4. Georgia's Offensive Line. The Bulldogs' massive front paved the way for UGA's second consecutive 300-yard rushing effort as a team in a 49-14 blowout at Missouri, with the RB rotation of Zamir White, Daijun Edwards, Kenny McIntosh and James Cook collectively racking up 331 yards and 4 TDs on 8.3 per carry. In their first 7 games, the Bulldogs topped out at 215 yards, and bottomed out with just 8 yards on 0.4 per carry vs. Mississippi State on Nov. 21.
5. Alabama DEs Christian Barmore and Byron Young. Barmore and Young led a dominant effort from Bama's front 7 at Arkansas, combining for 10 tackles, 3 sacks and a fumble recovery that set up a short-field touchdown.
https://twitter.com/AlabamaDieHards/status/1337839043795709953?s=20
Honorable Mention: LSU QB Max Johnson, who had a breakthrough night in the Tigers' upset at Florida, finishing 21-for-36 for 239 yards with 3 TDs and 0 INTs in his first career start. … LSU Kayshon Boutte, who continued his emergence as the Tigers' next great wideout with 108 yards and 1 TD on 5 receptions. … Georgia WR George Pickens, whose 126 yards and 2 TDs vs. Missouri reminded UGA fans that when healthy he's still the elite downfield target he's supposed to be. … Tennessee WR Velus Jones Jr., who hauled in 7 catches for 127 yards and 2 TDs in the Vols' 42-17 win at Vanderbilt. … Auburn LB Owen Pappoe, who finished with 9 tackles and 2 sacks in the Tigers' win at Mississippi State… Florida LB Ventrell Miller, who turned in a team-high 16 tackles with 2 TFLs vs. LSU. … And LSU kicker Cade York, who hit all 3 of his field-goal attempts against the Gators and connected on the Kick of the Year to win it through a hellacious fog.
– – –
The scoring system for players honored in Superlatives awards 8 points for the week's top player, 6 for 2nd, 5 for 3rd, 4 for 4th, 3 for 5th and 1 for honorable mention, because how honorable is it really if it doesn't come with any points? The standings are updated weekly with the top 10 players for the season to date.