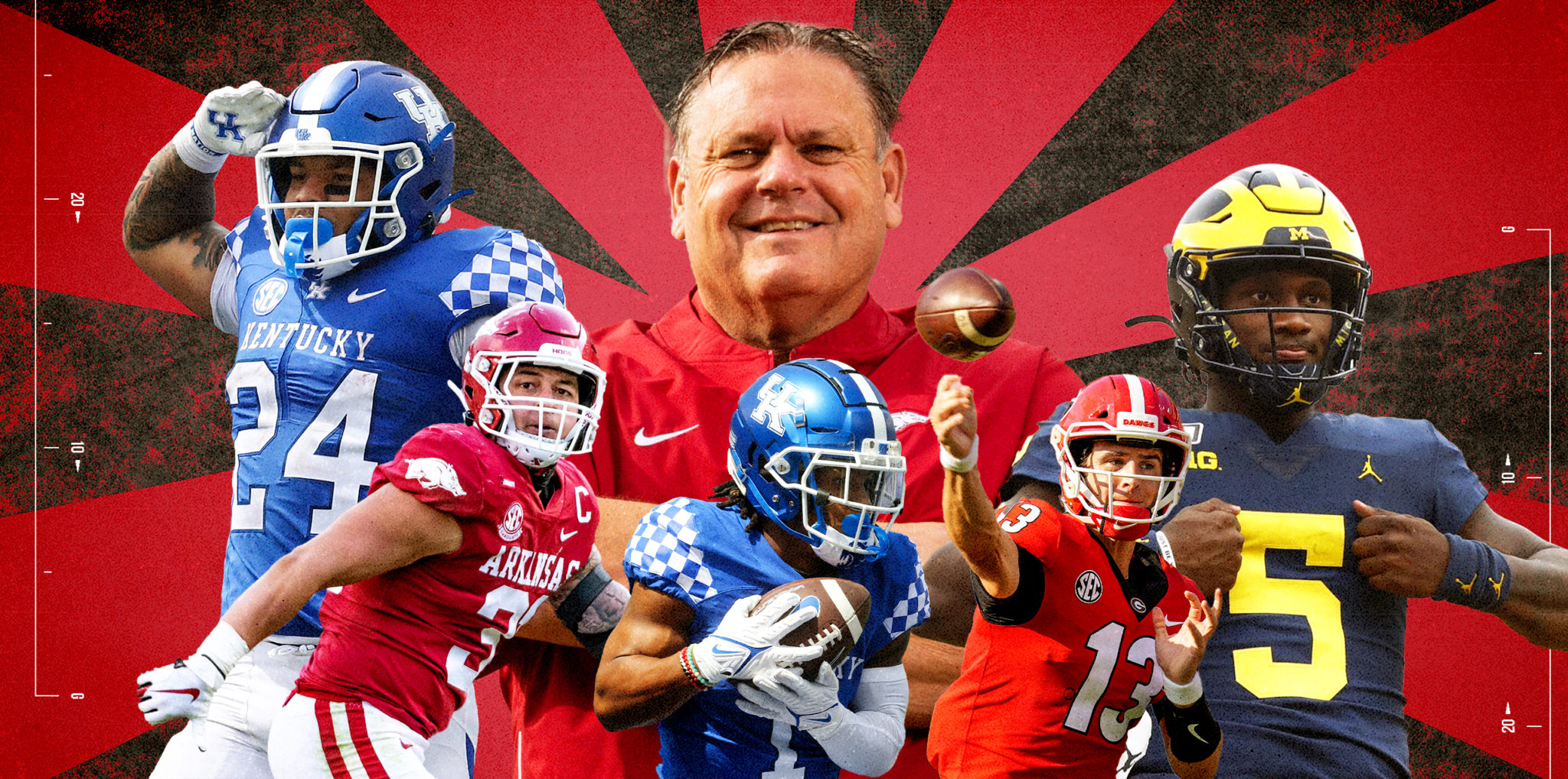 SEC
Monday Down South: Arkansas is back! (Just ask Texas.) How high can Hogs climb in West?
Weekly takeaways, trends and technicalities from the weekend's action.
Every offseason, when the coaching carousel stops and the grades come in for the new hires, guys like Sam Pittman tend to come in at the bottom of the list.
No previous experience as a head coach at the college level. No previous experience as a coordinator at the college level. Approaching 60 years old after nearly three decades as a journeyman position coach. Maybe a little rough around the edges as a public figure. Nobody's idea of a home run or a big splash, or even the first choice for the job. For a job like Arkansas — a program whose previous six hires since joining the SEC brought a combined 49 years of head-coaching experience with them, as well as a national championship (Danny Ford), multiple appearances in the Rose Bowl (Bret Bielema), and a stint in the NFL (Bobby Petrino) — probably not the second or third choice, either. As an SEC head coach, went the joke, Pittman is a heck of an offensive line coach.
Only a dozen games into his tenure, though, it's Arkansas' fans laughing. If Pittman's first season, a 3-7 finish amid the chaos of the pandemic, was a wobbly step out of the dark ages, Saturday's 40-21 romp over Texas was a bold stride into the light. It was more than an upset over a ranked opponent, an old rival, or a national brand. (Although it was all of those things.) It was a blowout, a celebration, a milestone. It was a statement: After 4 years at the bottom of the SEC West, the Razorbacks' doormat days are over.
Not this time. pic.twitter.com/tWRzlZuFh8

— Arkansas Razorback Football (@RazorbackFB) September 12, 2021
For the record, although the 19-point margin represented Texas' most lopsided loss since 2016, it was also a lot worse than the final score indicated. In the box score, the Razorbacks outgained UT by more than 200 total yards, largely on the strength of a dominant outing in the trenches. (Offensively, Arkansas' 333 rushing yards represented its best output on the ground in nearly 5 years, and was truly a team effort: Four players finished with between 50 and 75 yards, none with more.) In reality, what few positives the Longhorns managed to put on paper at all came largely on a pair of meaningless, garbage-time touchdown drives after falling behind 33-7 late in the third quarter. Up to that point, in the ostensibly competitive portion of the evening, Steve Sarkisian's offense went 3-and-out 5 times, turned it over twice, and crossed midfield just once.
Starting QB Hudson Card averaged 4.1 yards per attempt; all-everything RB Bijan Robinson, who came in averaging 8.6 yards per touch for his career, was held to just 3.6. The Longhorns' only touchdown prior to the garbage-time possessions came on a short field as a result of Arkansas' only giveaway, which set up the UT offense at the 26-yard line. Otherwise, they were physically outmanned along the line of scrimmage, out-schemed on both sides of the ball, and out-hustled by a team that fed off the energy of the home crowd. Texas never stood a chance. Against Arkansas, an outfit still a little less than a year removed from the end of a 20-game conference losing streak.
Whatever the calendar says, as of Saturday night the Razorbacks' status as laughingstocks feels like another era. In July they were picked to finish 6th out of 7 teams in the SEC West by conference media; on Sunday, they landed in both major polls – 24th in the Coaches' poll, 20th in the AP – for the first time since October 2016, snapping the league's longest Top 25 drought aside from Vanderbilt. (Yes, Missouri, South Carolina and Tennessee have all appeared more recently.) Bowl eligibility, a long shot before Saturday, suddenly looks like a decent bet.
Of course, in the SEC West there is no guarantee the good vibes will last. Texas, clearly, is not the team its No. 15 ranking suggested and might be flat-out bad. The conference gauntlet arrives in force later this month with four consecutive games against teams that are also ranked this week, including Texas A&M and Georgia. Trips to LSU and Alabama loom in November, not to mention toss-up dates with Mississippi State and Missouri. It's entirely possible for a legitimate Top-25 (or at least top 40-ish) team to finish 6th or even dead last in this division; one, maybe two, very likely will.
But it's not a foregone conclusion anymore that Arkansas is doomed to be one of them, which marks the triumph of the first phase of the project: The graduation from a scrappy but typically overmatched team that takes its moral victories where it can get them in Year 1 to an ascendant team that looks capable of competing in almost every game it plays in Year 2. Based on Saturday night, this team can expect to win its fair share, well ahead of schedule.
Maybe that will prove to be too much optimism, too soon, based on too little. At the end of the day, 2-0 is just 2-0. Maybe Texas was even more overrated than usual, or the beatdown was a mirage, or the food chain in the West remains too crowded to climb. Maybe all of the above. But here we are, in the front end of Pittman's second season talking about Arkansas and optimism without a hint of irony. The real joy that came with demolishing Texas – besides, you know, demolishing Texas – was the promise that it was only the beginning. Whatever happens next, the mood in Fayetteville today is what it feels like when a coach is getting the job done.
Notebook
Around the league…
Florida 42, USF 20. How much can you tell about a quarterback based on three passes? As a rule, not much. In Anthony Richardson's case, though, his abbreviated afternoon against USF was highly informative.
Richardson's first attempt, with Florida already leading 7-0 in the first quarter, went the distance for a 75-yard touchdown. His second attempt: A 41-yard touchdown. His third attempt: A high-arcing, on-the-money rocket as he drifted to his left, against the grain of his natural windup, that gained 36 yards and made the touchdowns look routine by comparison.
Bro…HOW did Anthony Richardson make this throw? #Gators pic.twitter.com/7STewvTqXn

— Kenny Morales (@KennyMoralesTV) September 11, 2021
The next time he saw the field, he followed that up with an 80-yard touchdown run, on which he flattened one would-be tackler, stiff-armed another, and outran the rest to the end zone — his second breakaway TD run in as many weeks, coming on the heels of a 73-yard touchdown run in garbage time of Florida's Week 1 win over Florida Atlantic.
In all, Richardson was on the field for 11 snaps vs. the Bulls, put the ball in the air or ran it himself on 7 of them, and accounted for 267 total yards, an average of 38.1 yards per play. Oh, and he's listed at 6-4, 236 pounds. What else do you need to know?
That's the question facing Dan Mullen this week with Alabama looming and the legend of his backup quarterback growing exponentially by the week. Mullen insisted following the USF game that he plans to stick with Emory Jones as the starter, to the disbelief of just about everyone who has laid eyes on Richardson the past two weeks. That says much less about Jones, who has paid his dues and handled the vast majority of snaps vs. FAU and USF with mixed results, than it does about his understudy, who has come off the bench as a looking like Cam Freakin' Newton. But it also speaks to how Mullen views the situation and its potential impact on the rest of the season.
There's something to be said for a ride-or-die commitment to the vet. Mullen himself has made explicit comparisons to the successful timeshare between then-senior Chris Leak and then-freshman Tim Tebow in Florida's 2006 national championship season, when Mullen served as offensive coordinator and the initial pangs of Tebow-mania threatened to overshadow the steadier Leak despite the vast majority of snaps going to the latter. And Alabama week, of all weeks, is not the ideal moment to promote a redshirt freshman with 13 career passes to his name.
Unlike Leak then, though, Jones isn't a long-tenured starter — prior to this year he'd been limited to occasional cameos in a Wildcat role, and his early interception issues (4 in 49 attempts) are reminders that he's still on the raw side himself in his fourth year in the program. And unlike Richardson today, there are some doubts about whether Jones' upside can transcend the learning curve. Put it this way: Which one of them is more likely to keep Nick Saban awake at night? At this point the answer to that should be obvious.
Texas A&M 10, Colorado 7. It's probably best to hold off smashing the panic button on Texas A&M's offense until we know more about the status of starting QB Haynes King, who left in the early going with an apparent ankle injury and spent the rest of the afternoon on crutches. As of Sunday night, there was still no update on his availability going forward. But if he's out for an extended period of time, oh boy.
The King-less Aggies did not inspire confidence against a 17-point underdog, to say the least. In his absence, backup Zach Calzada looked very much like the backup, averaging a meager 4.8 yards per attempt on 18/38 passing. With little to fear from his arm, Colorado prioritized stopping the run, limiting Isaiah Spiller, Devon Achane and Ainias Smith to a combined 4.0 yards a pop on 18 carries. Six of Calzada's first seven drives following King's injury went 3-and-out; the seventh yielded a field goal just before halftime.
To his credit, Calzada pulled out of the funk with A&M still trailing in the fourth quarter, managing a couple of extended drives that together covered 151 yards on 24 plays and drained more than 11 minutes from the clock. In the process, they may have also knocked a year or two off the life of some Aggies fans. The first march ended on a goal-line fumble by Calzada that wiped out what initially looked like the go-ahead touchdown and with it A&M's best chance of reaching the end zone up to that point, by far.
The second march also came close to ending in disaster, when a potential interception whizzed through the fingertips of a Colorado defender; instead, the ball found its target, Achane, for an improbable 25-yard gain into CU territory. From there, Calzada finished off the comeback with arguably his best throw on a crucial third down.
Zach Calzada to Isaiah Spiller for the first touchdown of the game for Texas A&M! pic.twitter.com/2XAftddpQX

— SEC Mike (@MichaelWBratton) September 11, 2021
That drive and that play, specifically, salvaged what was shaping up to be a season-defining flop – at the end of the day, a road win under less-than-ideal circumstances is obviously better than the alternative. But for a team with championship aspirations, the alternative came a little too close to becoming a stone-cold sober reality. If not for the defense, which held up more than its end of the bargain, the season would be on red alert before it even got off the runway.
Depending on King's prognosis, it might be anyway. A&M has three more hurdles between now and its season-defining date with Alabama, two of which (vs. Arkansas and Mississippi State) look a lot steeper at the moment than they did 48 hours ago. If the offense looks like it did in Denver vs. Bama, already long odds of an upset plummet to decimal points. But then, as little information as we have on King at this point in his career, it's impossible to say whether his presence changes that equation even if he's healthy. Which is the scarier thought: That Saturday's performance was primarily a reflection of Calzada's limitations, or that it wasn't?
Pittsburgh 41, Tennessee 34. The good news for Tennessee: Joe Milton's arm strength is as advertised. The not-so-good news: Joe Milton's accuracy? Also as advertised.
Joe Milton summed up in one pass. pic.twitter.com/5LJqta1vKe

— Greg Brandt (@devywarehouse) September 11, 2021
Yeah. Milton was 0/4 on attempts of 20+ yards against Pitt, all of them coming in quick succession in the first quarter and all but one of them — a catchable heave that WR Velus Jones couldn't come down with in the end zone — clanging to the turf well out of the reach of the intended target. Through two games, Milton is just 1/10 on attempts of 20 yards and beyond, and just 3/15 beyond 10 yards.
Despite their best efforts to overhaul the depth chart this offseason, the new administration under Josh Heupel is already back where the last administration spent most of its term: In quarterback purgatory. Following his erratic start, Milton was knocked out of the game in the second quarter by a full-impact sack right up the middle, leaving Virginia Tech transfer Hendon Hooker to assume the role the rest of the way. He fared a little better on paper, finishing 15/21 for 188 yards and 2 TDs. But he didn't fare any better throwing downfield (his longest completion, a 44-yard TD pass to Jimmy Calloway, was all YAC on a throw behind the line of scrimmage) and committed 2 turnovers, including a back-breaking, dare I say Guarantano-esque interception on the Vols' last possession.
Perfectly played by Brandon Hill ?

Tennessee never got the ball back.#H2P » @BrandonHill_6 pic.twitter.com/hMD7aQI8pV

— Pitt Football (@Pitt_FB) September 11, 2021
Heupel declined to update Milton's status going forward or to update the depth chart. Despite the decisive pick, Hooker played well enough in relief to emerge as the consensus favorite among the fan base whether Milton is available or not. But Heupel may be more invested in Milton, having recruited him out of high school, pursued him in the transfer portal after getting a good look at Hooker and redshirt freshman Harrison Bailey in the spring, and subsequently anointed him QB1 shortly after he arrived on campus. The Vols have one more tune-up this weekend vs. FCS Tennessee Tech before the SEC opener at Florida, as ever the bellwether game for the rest of the season. Whoever gets the nod against the Gators, if there's any fan base that knows better by now than to get too attached at this point in the season, it's Tennessee's.
Turning point of the week
Damani Staley's pick-6. The first half of South Carolina's trip to East Carolina could not have gone worse. The defense gave up a 75-yard touchdown pass on the first play of the game. The offense, on the cusp of evening the score late in the first quarter, instead fumbled the ball out of the end zone for a touchback. Another fumble on South Carolina's next possession set up a short-field ECU touchdown that extended the deficit to 14-0.
At their lowest point late in the second quarter, ESPN's win probability metric pegged the Gamecocks' chances of winning at less than 15%. Senior linebacker Damani Stanley, as it turns out, was just fine with those odds.
ICYMI. Damani Staley with a PICK SIIIIIX.

?ESPN2: https://t.co/xe3X0YDdu3 pic.twitter.com/xxXhdUyrGK

— Gamecock Football (@GamecockFB) September 11, 2021
Although the house call didn't immediately reverse the momentum for the middling SC offense, it did energize the defense, which largely dominated the second half. More importantly, it kept the margin within striking distance; when the offense finally broke through on a 72-yard touchdown drive late in the third quarter, it was enough to even the score. After trading field goals in the fourth, the Gamecocks closed out the comeback on a 10-play, 54-yard drive that ate up the final 5 minutes, capped by a 36-yard, walk-off game-winner by kicker Parker White.
South Carolina is not a good team, but whatever it takes to get there, it's good to be 2-0.
Obscure stat of the week
56 Yards. That was the distance of LSU kicker Cade York's second field goal in the Tigers' 34-10 win over McNeese State, which set the record for the longest successful kick in the history of Tiger Stadium. The previous record? 55 yards, set by… Cade York, on his first field goal of the night in the second quarter.
With those connections, York improved to a remarkable 12/14 career on attempts from 50+ yards, including the school-record 57-yarder that clinched LSU's 37-34 upset at Florida last December. Whatever other problems the Tigers have — and there's no shortage of them at the moment — kicker is not one of them.
Superlatives
The week's best players.
1. Arkansas LB Grant Morgan. The league's reigning overachiever turned in a career night in the Razorbacks' pasting of Texas, racking up 13 tackles, 3 tackles for loss, and an 88.0 grade from Pro Football Focus, best of any SEC linebacker on the week. He was everywhere, and made those stops count: Nine came on plays that gained 4 yards or less; only one came on a play that gained a first down.
2. Kentucky RB Christopher Rodriguez Jr. and WR Wan'Dale Robinson. Rodriguez and Robinson served as the perfect complements in the Wildcats' 35-28 win over Missouri, each playing his role in the Cats' remodeled offense to a tee. Rodriguez pulled workhorse duty in the backfield, setting career highs for yards (207), carries (27), and touchdowns (4, including 1 as a receiver) on an exceedingly healthy 7.7 yards a pop. Meanwhile, Robinson, the former Kentucky high school legend who transferred home from Nebraska, continued his emergence as an all-purpose dynamo from multiple positions, accounting for 174 scrimmage yards and big plays as both a rusher …
? to see @wanda1erobinson rocking Kentucky Blue when he runs like this ?

? @SECNetwork https://t.co/69ivXNaRfd pic.twitter.com/ntC5q0xQ9X

— Kentucky Football (@UKFootball) September 11, 2021
… and a receiver.
QB1 @will_levis deep to @wanda1erobinson on repeat! ??

? @SECNetwork https://t.co/69ivXNaRfd pic.twitter.com/icAzdfz6Yn

— Kentucky Football (@UKFootball) September 12, 2021
Both plays set up UK touchdowns and should help advance Robinson's rep as one of the conference's most versatile playmakers regardless of where he lines up.
3. Georgia QB Stetson Bennett IV. If we didn't know anything about Bennett before Georgia's 56-7 thrashing of UAB, it would be much easier to spin his insanely efficient stat line against the Blazers — 10/12 passing, 288 yards, 5 TDs to 4 receivers, all before halftime — as a revelation. Bennett was everything the Bulldogs have been looking for behind center, averaging 24.0 yards per attempt with touchdown passes that covered 73, 89, and 61 yards, respectively, at a position that has notoriously struggled to push the ball downfield.
Brock Bowers TD #Devy pic.twitter.com/asWvB7vcGN

— Greg Brandt (@devywarehouse) September 11, 2021
But given that Bennett himself has been a prominent contributor to those issues in the past, it makes more sense for now to chalk up his flame-throwing performance to a one-off against an overmatched and under-prepared defense that didn't know what to expect with starter JT Daniels ruled out by a core injury. All indications out of Athens are that Daniels is expected to resume the starting role as soon as he's healthy, which could be as soon as this weekend against South Carolina. Clearly, though, there's no need to rush it.
4. Florida QB Anthony Richardson. Richardson's final line vs. USF: 3/3 passing for 152 yards and 2 touchdowns, plus 115 yards rushing with 1 touchdown on 4 carries. That may be the most productive 7-play outing on record.
5. Texas A&M DT Jayden Peevy. While the offense struggled, A&M's defense took command of the low-scoring win at Colorado, shutting the Buffs out over the final three quarters and preventing them from crossing midfield after halftime. No one was a bigger part of that than Peevy, a fifth-year senior, who was in on seven tackles (two for loss) from his tackle position and came down with his first career interception. He and aspiring first-rounder DeMarvin Leal may be the most imposing interior line combo in the country.
Honorable Mention: Texas A&M DB Antonio Johnson, who finished with a team-high 9 tackles (all solo) and 2 PBUs in the Aggies' win over Colorado. … LSU d-linemen Maason Smith and Andre Anthony, who combined for 11 tackles and 6 sacks in the Tigers' win over McNeese State. … South Carolina DE Kingsley Enagbare, who had 6 QB pressures and 2 sacks in the Gamecocks' come-from-behind win over East Carolina. … South Carolina DB Cam Smith, who was credited with 6 tackles, 3 passes broken up and just 1 reception allowed (for a gain of 4 yards) on 4 targets vs. ECU. … Kentucky OLB JJ Weaver, who generated 3 QB pressures, 2 TFLs, and a forced fumble in the Wildcats' win over Mizzou. … Missouri RB Tyler Badie, who accounted for 149 scrimmage yards (64 rushing, 88 receiving) and a touchdown vs. Kentucky. … Alabama RB Jase McClellan, who was on the receiving end of 1 touchdown, ran for another and returned a blocked punt for a 3rd in the Crimson Tide's 48-14 win over Mercer. … Ole Miss QB Matt Corral, who threw 5 TD passes without an interception in the Rebels' win over Austin Peay. … And Arkansas DT John Ridgeway, who anchored the interior of the Razorbacks' 3-man front against Texas with 6 tackles and a stellar 83.6 PFF grade in his first game in an Arkansas uniform.
– – –
The scoring system for players honored in Superlatives awards 8 points for the week's top player, 6 for second, 5 for third, 4 for fourth, 3 for fifth, and 1 for honorable mention, because how honorable is it really if it doesn't come with any points? The standings are updated weekly with the top 10 players for the season to date. Note: Week 1 points have been retroactively updated to account for Matt Corral's dominant performance vs. Louisville on Labor Day, for which he was awarded first-place points.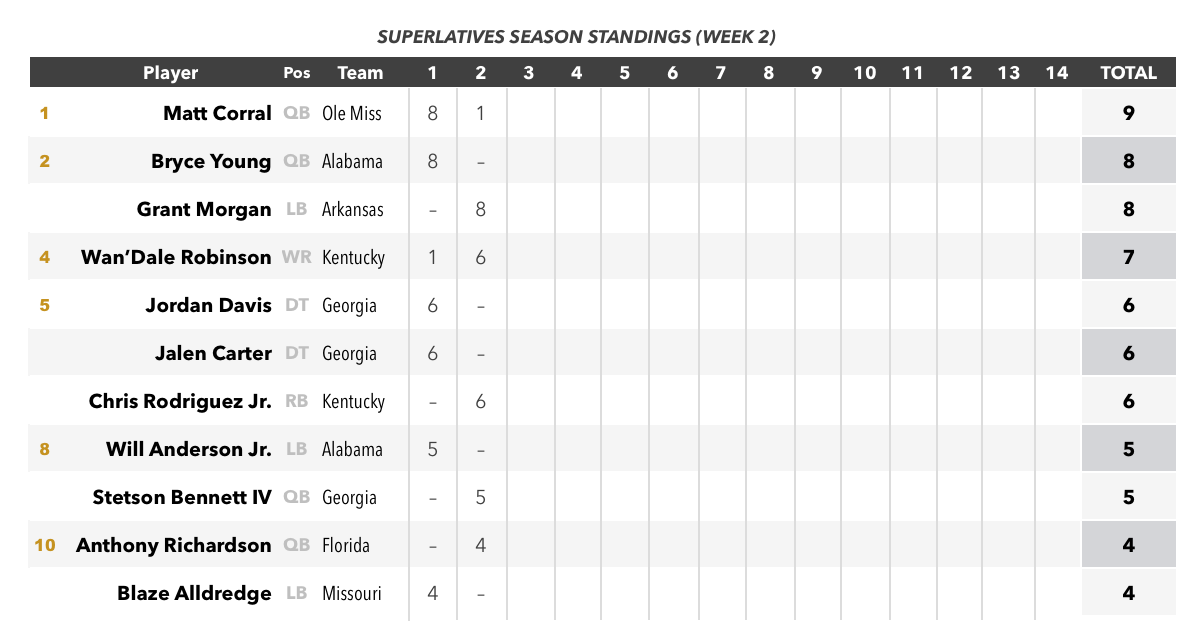 Moment of Zen of the week
UAB's offense didn't come close to scoring on Georgia's defense, and if not for DB Keondre Swoopes' 61-yard pick-6 in the dying minutes, the Blazers wouldn't have gotten on the board at all. The world may also have never gotten a glimpse of the most hardcore turnover chain in the game.
UAB has quite the turnover chain ? pic.twitter.com/ifYe3PcBtO

— The Sporting News (@sportingnews) September 11, 2021
Sweet dreams, everybody.