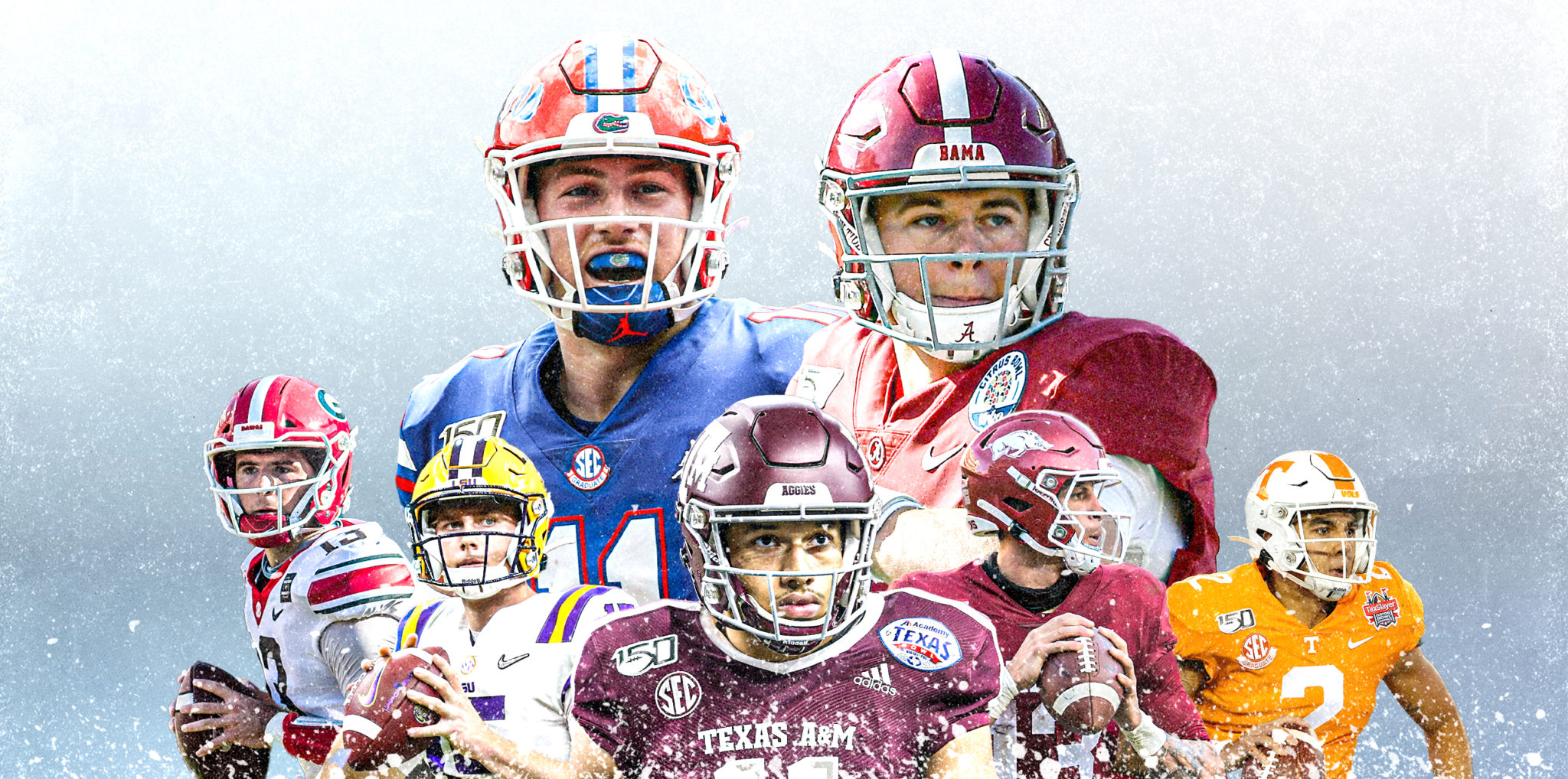 SEC
SEC QB Power Rankings, Week 5: Georgia risking more by sticking with Stetson Bennett or by moving on
Quarterbacks: There are a lot of them! Each week throughout the season, SEC QB Power Rankings will help you keep the game's most important position in perspective by ranking the SEC starters 1-14 according to highly scientific processes and/or pure gut-level instinct. Previously: Week 2 … Week 3. … Week 4.
1. Mac Jones, Alabama
Saturday night was the night Jones fully emerged from Tua Tagovailoa's shadow as a full-blown Heisman candidate in his own right – a heady trajectory for arguably the least touted prospect in Alabama's loaded 2017 recruiting class, a guy who was signed essentially as an insurance policy in the transition from one 5-star icon to the next. Bryce Young can cool his jets.
Jones' outing against Georgia was the best performance by an opposing quarterback vs. the Bulldogs in at least 20 years. He's only the second QB since the turn of the century to hang 400 yards and 4 touchdowns on UGA in the same game (joining Arkansas' Ryan Mallett in 2009), and the first to post a 200+ passer rating on more than 30 attempts. Only Tim Tebow (10/13 for 154 yards, 2 TDs in 2008) has posted a better rating in that span, period. Since 2016 no other opposing QB has even come close.

Jones went into a game against one of the best defenses in college football as the national leader in yards per attempt, efficiency and QBR and came out of it still leading in all 3 categories. He's connecting nearly 70% of his downfield attempts (15+ yards), completing nearly 60% of all attempts for first downs, and converting more than 50% on third downs. Would he be putting up those kinds of numbers throwing to, say, Texas A&M's receivers rather than Alabama's, or setting up behind Mississippi State's offensive line? Probably not! But given the opportunity to head up the most explosive offense in the game, he's taken full advantage. And if he can make Georgia's secondary look like Ole Miss', he can do it to anyone he'll face at this level.
– – –
(Last week: 1)
2. Kyle Trask, Florida
On a miserable Saturday for almost every other SEC quarterback who was not Mac Jones, Trask solidified his position in the on-deck circle by sitting at home after a COVID-19 outbreak postponed Florida's game against LSU. He'll have another strong showing from the couch this weekend as the Gators' date with Missouri was pushed back to Halloween.
– – –
(Last week: 2)
3. Matt Corral, Ole Miss
Corral's performance at Arkansas was a nightmare: He completed barely half of his 38 attempts for just 5.3 yards a pop — less than half his average over the Rebels' first 3 games — and was picked off 6 times en route to a demoralizing, 33-21 loss. Six times! Six interceptions in a single afternoon is a rare feat. Corral is one of only a dozen FBS players who have managed to personally throw at least 6 picks in a game since 2000, and 1 of only 5 to do it in fewer than 40 attempts. The only other SEC quarterback on the list is Mississippi State's Michael Henig, in a 2007 loss to LSU.
Not 1 …
Not 2 …
Not 3 …
Not 4 …
Not 5 …@RazorbackFB racked up SIX interceptions against Ole Miss ?? pic.twitter.com/0kbknjulgP

— SEC Network (@SECNetwork) October 18, 2020
And yet: Even after the debacle in Fayetteville, Corral's production prior to Saturday was so stellar that he still ranks among the top 10 nationally for the season in yards per game, yards per attempt, completion percentage, touchdowns, overall efficiency and QBR. (These are strange times indeed when Arkansas' pass defense is objectively better than Alabama and Florida's, but here we are.)
He remains well ahead of every quarterback ranked below him here in each of those categories. The gap between No. 2 and No. 3 is vastly larger this week than it was last week, when Corral and Trask were in a dead heat, but I'm going to tentatively chalk up Corral's collapse to a bad afternoon pending further notice and look forward to a return to form this weekend against Auburn.
– – –
(Last week: 3)
4. Kellen Mond, Texas A&M
Mond had a relatively quiet afternoon in the Aggies' 28-14 win at Mississippi State (13/23, 139 yards, 2 TDs, 1 INT, no impact as a runner), which is just as well in a game that saw RBs Isaiah Spiller and Ainias Smith go for 166 yards on 5.9 per carry. Spiller, in particular, is in the process of emerging as one of the SEC's most productive backs as a true sophomore — he leads the conference at 6.7 yards per carry — which makes the quarterback's job that much easier. Last year, Mond accounted for nearly 75% of A&M's total offense vs. Power 5 opponents while the Aggies went 5-5 in those games; through 4 games this year, that number is down to 60.9% for a team that's 3-1. He should enjoy it while it lasts.
– – –
(Last week: 5)
5. Feleipe Franks, Arkansas
His numbers don't exactly leap off the screen, and he's not the first-round talent his initial recruiting hype suggested. But Franks' re-emergence from the devastating knee injury that ended his tenure at Florida has quietly been one of the best stories of the early season. Under ex-head coach Chad Morris, the Razorbacks infamously burned through 8 different starting quarterbacks in 2 years, forming a black hole at the position that might have taken even longer to shore up if the new staff had been forced to throw freshmen K.J. Jefferson and/or Malik Hornsby to the wolves this season. Instead, Franks has quickly developed a rapport with an intriguing group of wideouts (most notably sophomore Treylon Burks) and entrenched himself as the veteran anchor they hoped he'd be as the program rebounds from rock bottom. It's nice to be appreciated.
– – –
(Last week: 6)
6. Myles Brennan, LSU
Brennan is questionable for this weekend's game against South Carolina due to a "significant" lower body injury he suffered in the first half of the Tigers' Oct. 10 loss at Missouri. Although he played through the injury in Columbia — and played well, throwing for 286 yards and 4 TDs in the second half alone — Brennan would not have been available Saturday at Florida if the game had gone on as planned, according to Ed Orgeron, and his return to practice has been slower than anticipated. If he can't go against the Gamecocks, LSU will be forced to decide between 2 true freshmen: Max Johnson, a native Georgian who arrived as a 4-star recruit, or the gargantuan T.J. Finley, a local product who's officially listed at 6-6, 242 pounds.
– – –
(Last week: 7)
7. Stetson Bennett IV, Georgia
Bennett isn't Jake Fromm, and JT Daniels most certainly isn't Justin Fields. But after Saturday's loss at Alabama the dynamic is eerily similar to the one the Bulldogs faced 2 years ago: Stick with the steady hand who can be trusted to guide the ship into position to win big in the postseason, or gamble on the bigger, unproven talent who might give them a better chance to actually win it all once they arrive?
Bennett has been … you know, fine. Certainly better than anyone has any right to expect from a 5-10 former walk-on who was floating somewhere between 3rd and 5th on the depth chart 2 months ago.
After Saturday he's slightly below average in terms of overall efficiency, but he's been solid situationally (most notably on 3rd downs) and ranks 4th nationally in QBR — just behind Trevor Lawrence — after a big strength-of-schedule adjustment to account for the fact that his first 3 starts have come against Auburn, Tennessee and Alabama. He looked like a plus starter vs. the Tigers and Vols, and turned in a good-enough first half in Tuscaloosa with 177 yards, 5 3rd-down conversions and 2 touchdowns en route to a 24-20 lead at halftime.
THE MAILMAN COOKIN' UP TOUCHDOWNS pic.twitter.com/ClO8MmixWL

— CBS Sports (@CBSSports) October 18, 2020
The second half, though, was Exhibit A as to why Georgia made upgrading the talent level behind center its top offseason priority. Prior to falling behind in the 3rd quarter, the Bulldogs had been efficient on the ground (if not explosive), with backs Zamir White, Kendall Milton and James Cook averaging a healthy 5.9 yards per carry.
From the moment Alabama pulled in front, though, they largely abandoned the run, logging exactly 2 carries over the game's final 19 minutes; meanwhile, Bennett struggled enormously to throw his team back into it, finishing 4-for-12 with 2 killer interceptions on UGA's last 3 possessions, both of them coming on obvious passing downs. With a big game in the balance, the defense reeling, and the onus almost wholly on his arm, Bennett's limitations were suddenly very obvious.
Again, contemplating the fate of a championship-caliber roster whose ceiling is capped by a pedestrian passing attack is all-too-familiar territory for Georgia fans. Predictably, Kirby Smart has already confirmed that Bennett will remain the starter on the opposite side of this weekend's open date for the Bulldogs' Oct. 31 trip to Kentucky. They figure to be substantial favorites in each of the next 6 games, including the Nov. 7 collision with Florida that will likely decide the SEC East, and there's no reason to believe that promoting Daniels or D'Wan Mathis would increase those odds. All signs continue to point toward a rematch with the Tide in the SEC Championship Game with a Playoff ticket on the line.
Still, whatever faith there was in Bennett ever becoming the kind of guy who can slay multiple Playoff-caliber opponents after the weather changes is pretty much kaput. In 2020, winning at that level inevitably means generating big plays via the downfield passing game — e.g. the kind of plays Mac Jones made repeatedly Saturday night despite a hard-nosed effort from Georgia's blue-chip defense — and with Bennett it's safe to say that aspect of his game is always going to be a liability. With Daniels, despite his inconsistency in his lone season as USC's starting QB in 2018, it has the potential to become a strength.
Smart has remained coy about Daniels' status; although Daniels apparently has been medically cleared to play following a setback to his recovery from a torn ACL, he hasn't seen the field and there's been no indication coaches expect him to anytime soon. The idea that he might overtake Bennett at any point this season is, for now, 100% pure speculation from outside the program. But there's a reason the buzz persists: If it's already clear that Bennett can only take them so far, how can the Bulldogs risk letting yet another opportunity to win big pass with a 5-star talent sitting on the bench? Isn't this the reason they pursued him on the transfer market in the first place?
There's no better time to ask these kinds of questions than during an open week following a sobering loss. The last time he was in this position, Smart stuck with the status quo, came up just short in the postseason, and watched the next-level talent who might have put Georgia over the top bail out without so much as scratching the surface of his potential in Athens. A significant segment of the fan base has never quite gotten over it. If the past few weeks left them bracing for déjà vu, well, who can blame them?
– – –
(Last week: 4)
8. Bo Nix, Auburn
Nix's numbers have been poor, to put it mildly, and the specifics have been even more frustrating than the stats. In Saturday's loss to South Carolina, he was picked 3 times, got caught on camera in a sideline spat with his best receiver, and lost his bearings with the game on the line in the final seconds for the second week in a row. (This time, he wasn't so lucky to be bailed out by the refs.) To his credit, as Gus Malzahn pointed out on Monday, he was, uh, trying very hard.
These runs by Bo Nix were bold…is bold the right word? pic.twitter.com/yu8SCQpNCt

— Cover 3 Podcast (@Cover3Podcast) October 17, 2020
Why is Nix attempting 35 passes per game? That comes out to a little more than 52 percent of Auburn's total snaps this season, up from 41.9% last year and 35.7% over the course of Malzahn's tenure from 2013-19, a significant increase. The obvious answer is Malzahn's decision to relinquish play-calling duties — for real this time — to offensive coordinator Chad Morris, an old friend of Malzahn's who arrived from his doomed stint at Arkansas with his longstanding reputation for developing quarterbacks still more or less intact.
The more Auburn fans see of Nix in the pocket, though, the more convinced they are that the actual focal point of the offense is, or should be, true freshman RB Tank Bigsby, who has accounted for 372 scrimmage yards over the last 3 games and consistently lived up to his nickname in the process. Bigsby averaged 6.9 yards on 16 carries against South Carolina while Nix (in addition to the picks) averaged just 5.8 yards on 47 passes.
The most successful offenses under Malzahn have always been the ones that lean heavily a high-volume workhorse back: Tre Mason (2013), Cameron Artis-Payne (2014), and Kerryon Johnson (2017) each accounted for 1,500+ scrimmage yards on roughly 24 touches per game, and only injuries kept Kamryn Pettway from hitting that mark in 2016. Bigsby, clearly, fits that template like a glove. The longer the Tigers hang on to the notion that Nix is their meal ticket, the less sense it makes.
– – –
(Last week: 8)
9. Terry Wilson, Kentucky
An ironclad rule of Kentucky's success over the past 3 seasons is that the less the quarterback has to do, the better. Against Tennessee, Wilson was a perfectly cromulent 12-of-15 for 101 yards with a 1-yard touchdown pass, no turnovers and 38 yards rushing. When your defense outscores the other team's offense by itself for the second week in a row, that'll do just fine.
– – –
(Last week: 10)
10. Connor Bazelak, Missouri
COVID-19 issues at Vanderbilt prevented Bazelak from following up on his breakout, 406-yard, 4-TD performance against LSU in his first career start. This weekend's game against interception-happy Kentucky will be a significant test of his staying power.
– – –
(Last week: 9)
11. Collin Hill, South Carolina
Carolina's 30-22 upset over Auburn was driven by the ground game and takeaways, which set up 3 of the Gamecocks' 4 touchdowns, rather than stellar QB play — Hill finished 15-of-24 for 144 yards with 1 TD, 1 INT, and only 1 completion longer than 20 yards. But that completion was incredible …
The concentration on this catch is ridiculous. pic.twitter.com/lpx21WTYAA

— CBS Sports (@CBSSports) October 17, 2020
… and the team won a game it wasn't supposed to, so no one is complaining. Hill's passing yardage has declined in each game this season as the team's overall performance has improved, which says all you need to know about his role.
– – –
(Last week: 13)
12. KJ Costello or Will Rogers, Mississippi State
Costello was benched in the midst of another depressing performance against Texas A&M, and may be on the verge of losing the job outright to Rogers, a true freshman, as Alabama looms on the other side of an open date. Rogers fared better against the Aggies, finishing 15-of-18 for 120 yards and 1 TD off the bench — a huge improvement over his brief turn at Kentucky in Week 3, where he was quickly yanked after throwing 2 picks — but remains essentially a blank slate.
Either way, the QB play is going to continue to suffer as long as the offensive line remains one of the nation's worst. Through 4 games the Bulldogs have allowed an SEC-worst 14 sacks; A&M alone had 5 of those as the MSU front gradually disintegrated against basic 3- and 4-man rushes. "Pressure vs. Coverage" isn't a dilemma for the defense when it's that easy to do both.
– – –
(Last week: 11)
13. Jarrett Guarantano or TBD, Tennessee
Tennessee fans may be ready to send Guarantano packing (again) after his disastrous afternoon against Kentucky, and at least some of Guarantano's teammates appear to be, too. Between the second half of the Vols' loss to Georgia and the first quarter of Saturday's debacle, he was responsible for 6 turnovers in a span of 12 offensive possessions, 5 of which resulted in points for the other side.
Jeremy Pruitt, though? "Absolutely not," for fairly obvious reasons: As bad as Guarantano has been the last 2 weeks — and make no mistake, he has been very bad — coaches still don't trust his fledgling backups to be any better. After Guarantano's second pick-6, they felt obliged to give sophomore J.T. Shrout a shot; he promptly served up an INT on his first attempt and didn't see the field again.
True freshman Harrison Bailey made an appearance in garbage time, going 1-for-4 for 24 yards in his first career action — hardly a basis for handing him the reins this weekend against Alabama. The apparent locker room favorite, sophomore Brian Maurer, failed to seize the job late last year, hasn't seen the field this year, and was recently forced to deny rumors of an impending transfer, always a bad sign.
That leaves Guarantano, who in spite of everything has at least demonstrated bouts of competence over the course of 29 career starts and remains listed as the starter for Bama. At this point, merely surviving without committing multiple turnovers in front of a jittery home crowd may be the best they can hope for.
– – –
(Last week: 12)
14. Ken Seals, Vanderbilt
The Commodores were hit hard enough by coronavirus to postpone last week's game against Missouri and put their Oct. 31 date with Ole Miss in doubt following a regularly scheduled off week. Just taking the field again may be as close as they come to a victory this year.
– – –
(Last week: 14)