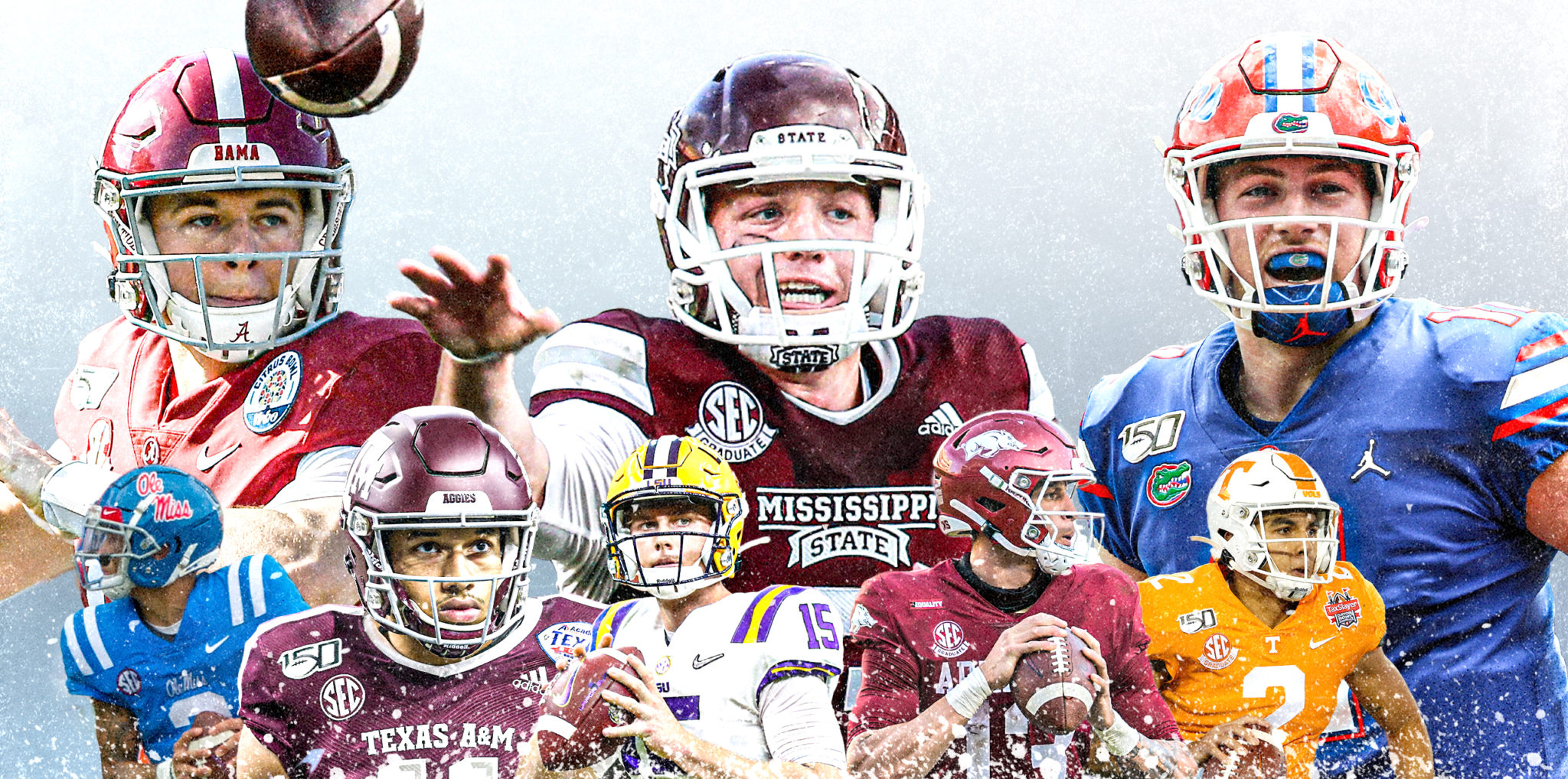 SEC
SEC QB Power Rankings, Week 3: Auburn has bigger problems than Bo Nix, but will he ever be the answer?
Quarterbacks: There are a lot of them! Each week throughout the season, SEC QB Power Rankings will help you keep the game's most important position in perspective by ranking the SEC starters 1-14 according to highly scientific processes and/or pure gut-level instinct. Previously: Week 1 … Week 2.
1. Kyle Trask, Florida
As Trask continues to cement himself as a bona fide Heisman candidate and potential first-round pick, it's incredible in hindsight to consider how close he came to never seeing the field at all: If not for Feleipe Franks' injury last September, there's a good chance Trask's playing career would have ended in total obscurity, without him cracking the starting lineup in college or high school, where his status as a career backup to classmate D'Eriq King limited his scholarship offers to the likes of Houston Baptist, Lamar University … and Florida. At the time, signing a who-dat prospect with no meaningful game experience and no interest outside of local FCS schools was another signal that the imminently doomed Jim McElwain was losing the thread; in the end, it may be the single best move he made toward the Gators' long-term success.
– – –
(Last week: 2)
2. Mac Jones, Alabama
There was a train of thought this offseason that, with Tua Tagovailoa and a couple of first-round wideouts on their way out, and with a proper workhorse like Najee Harris still in the fold, that Alabama's offense would revert to its old, run-first form, with Jones playing the unassuming role of, say, Greg McElroy. Yeah … no.
Hello, Mac Jones. Hello, John Metchie. Hello, end zone. pic.twitter.com/RN1aVjYHXY

— CBS Sports (@CBSSports) October 3, 2020
This is just Alabama's offense now. Jones' output against Texas A&M was straight-up Tagovailoan: 20-of-27 for 435 yards and 4 TDs, 3 of them covering more than 60 yards, in a 52-24 romp. Like Tua the past 2 years, he's setting a furious pace as the national leader in yards per attempt (13.4) and overall efficiency (222.1), with (still) the most explosive WR corps in the college game. John Metchie III, the unsung third wheel of the group behind DeVonta Smith and Jaylen Waddle, is averaging more than 30 yards per catch in his first 2 career starts.
Even Jones' first big negative play of the season, an interception that set up a quick A&M touchdown in the second quarter, was the result of a tipped ball on an attempted screen pass rather than a bad read or errant throw. Presumably there will be a few of those along the way, too – Georgia's coming to town next week. As it stands, though, the offense hasn't missed a beat in the transition and there's no reason to expect it's about to start.
– – –
(Last week: 3)
3. Matt Corral, Ole Miss
Corral shredded Kentucky on play-action passes, assembling a near-perfect stat line (24/29, 320 yards, 4 TDs, 0 INTs, 221.0 efficiency) on a steady diet of slants, quick-hitting seam routes, and some first-rate Lane Kiffin gimmickry …
Ole Miss running an H-Back Insert Iso Pop Pass through the B-Gap pic.twitter.com/K71wDvavVX

— Coach Dan Casey (@CoachDanCasey) October 5, 2020
… every bit of which was needed to eke out a 1-point win opposite a defense that gave up 400+ yards rushing and currently ranks dead last among Power 5 schools in total and scoring D. At this rate, Corral is well on his way to one of the most prolific passing seasons in school history out of sheer necessity. Anything less and the Rebels' season will devolve from entertaining to desperate in a hurry.
– – –
(Last week: 5)
4. KJ Costello, Mississippi State
It's hard to put together two more contradictory performances in consecutive weeks than Mississippi State's win over LSU and Mississippi State's subsequent loss to Arkansas. Inevitably, Costello has come in for his fair share of the heat after serving up 3 picks vs. the Razorbacks and generally failing to spark any of the downfield fireworks that fueled the upset in Baton Rouge. His yards per attempt plummeted, from 10.4 ypa to 5.3, and he connected on just 1 pass that gained more than 20 yards.
K.J. Costello NOT picking up where he left off…

— PFF College (@PFF_College) October 3, 2020
Much has been made of the fact that, in contrast with LSU's man-to-man mentality, Arkansas largely succeeded in grounding the Air Raid by dropping 8 defenders into zone coverage, preventing big plays, and forcing Costello to consistently make short, routine throws without stalling out or committing a major gaffe – probably a little bit too much. (As Mike Leach, who has surely encountered every conceivable permutation of pass coverage in his 20+ years calling plays at the major college level, told reporters on Monday, "we're out of business decades ago if dropping 8 is some secret deal.") More likely, the issues stem from a combination of missed reads and missed throws by Costello, demonstrating the Jekyll-and-Hyde aspect of his game that ultimately cost him the starting job at Stanford. If that's what happens every time he sees a zone defense, it's gonna be a long year.
– – –
(Last week: 1)
5. Stetson Bennett IV, Georgia
Sanity check: As comfortable and efficient as Bennett looked in Georgia's 27-6 win over Auburn, there are some fairly obvious limits on how much we should read into a former walk-on making his first career start in a game in which the opposing offense fails to score a touchdown. That said, Bennett easily cleared the first test of his staying power at the top of the depth chart, settling into the role like a long-tenured vet.
Against Tennessee on Saturday, that sounds just fine. Against Alabama in 2 weeks, on the road? Seeing is believing.
– – –
(Last week: 7)
6. Bo Nix, Auburn
The gap between Nix's performance against the top half and bottom half of the schedule was a central theme of his freshman campaign, and based on Saturday's flop at Georgia the issue is only going to get hotter in Year 2. If anything, Sophomore Bo has arguably regressed: In his first real test, he turned in a career-low 4.4 yards per attempt and failed to account for a touchdown (rushing or passing) for the first time in 15 starts. His inability to challenge the Bulldogs downfield was the stuff of mockery …
Bo Nix on throws of 10+ yards against Georgia:

▪️ 3/18
▪️ 1 INT
▪️ 16.9 passer rating pic.twitter.com/0TfRqhm7BY

— PFF College (@PFF_College) October 4, 2020
… made worse by the fact that all 3 of those completions came with Auburn deep in comeback mode in the second half. Even then, the longest gain covered just 20 yards.
To be fair, no, that doesn't all fall on Nix, who in some ways may actually have been among the least of the offense's problems. The real issues, as the above photo of UGA's Nolan Smith bearing down on him makes clear, began up front. Auburn's running backs accounted for 35 yards on a grand total of 10 carries, all via true freshmen Tank Bigsby and Jeremiah Pegues; with no ground support to speak of, Nix spent the night running for his life almost literally every time he set up to pass.
UGA's version of the box score credited Georgia's defense with an astounding 28 QB hurries in addition to 3 sacks, and while hurries are not an official statistic (too subjective to be recorded consistently; many schools don't even bother), that number certainly passes the eye test. Nix was under siege from the jump.
And again, to be fair, almost every opposing quarterback Georgia faces this season is going to find himself in the same position, with more or less the same results. The Bulldogs' front seven is on the short list of the most dominant units in college football. But Nix, a 5-star recruit, was supposed to be the kind of talent who elevates the team around him, not falls victim to it. If he's not a finished product, he's close enough now that it's also fair for Auburn fans to begin asking if this is as good as it's going to get.
– – –
(Last week: 4)
7. Kellen Mond, Texas A&M
Nix at least still has plenty of time to grow into his potential. Mond's time, on the other hand, is on the verge of running out.
That's not an easy conclusion to reach about a guy who just passed Johnny Manziel on A&M's career passing list and is pretty much certain to break the school record this weekend against Florida. But lord, how much of that output has he racked up in a futile effort to throw the Aggies into games that were all but decided at halftime? An awful lot, it seems. His 318-yard, 3-touchdown outing at Alabama was a case in point: More than 75% of those yards and 2 of the 3 TDs came with A&M trailing by at least 14 points. And while the defense was never going to give the Aggies a chance to hang with the Tide, Mond did his part to contribute to the deficit at a point when the game was still plausibly within reach.
The Wright Stuff pic.twitter.com/Gw4oDLmYyT

— CBS Sports (@CBSSports) October 3, 2020
Twelve of Mond's 36 career starts have come against ranked opponents; A&M is 2-10 in those games, both wins coming in 2018 vs. Kentucky (a low-scoring slugfest decided in overtime) and LSU (a deranged shootout decided in 7 overtimes), respectively. Aside from a valiant, down-to-the-wire effort against Clemson earlier that year, the losses have rarely been close enough to make the case that the Aggies or their overworked QB are making progress. Yet another blowout in Tuscaloosa made exactly the opposite case.
The heir apparent, true freshman Haynes King, made his first appearance Saturday in garbage time, where he's currently scheduled to remain barring a complete meltdown. Mond isn't the meltdown type, or at least hasn't been to date. But he hasn't moved the needle, either, and the window for hoping he ever will be may have just slammed shut.
– – –
(Last week: 6)
8. Jarrett Guarantano, Tennessee
Guarantano's stat line in the Vols' 35-12 win over Missouri wasn't much to look at (14/23, 190 yards, 1 TD, 0 INTs), but in context, it was arguably the ideal of how Tennessee envisions his role in the offense – that is, a limited one that plays off the success of the running game, a luxury he's never been able to rely on prior to this year. The massive o-line was at full strength for the first time against Mizzou, thanks to the SEC's belated decision to give Georgia transfer Cade Mays the green light to play earlier in the week, and lived up to its billing, paving the way for UT's running backs to churn out 222 yards on a healthy 5.7 per carry. In that context, defining Guarantano as a "game manager" whose top priority is avoiding killer mistakes is playing to his strengths.
It's harder to imagine that equation holding up this weekend at Georgia or, down the line, against Alabama, Auburn and Florida, without Guarantano making some plays. Against those defenses in the past, he's been a deer in the headlights. But then, Tennessee has never gone into any of those games in his tenure as the starting QB with anything resembling a coherent identity on offense. It's early, but at least these Vols appear to know who they are, and who they need Guarantano to be, which already counts as progress.
– – –
(Last week: 8)
9. Feleipe Franks, Arkansas
Franks justified his existence in a Razorbacks uniform at Mississippi State, doing just enough (20/28, 212 yards, 2 TDs, 0 INTs) to put the Hogs over the top in a game that was truly won by the defense. After the revolving door that defined the position over the past 2 years, Franks has already established a degree of stability behind center that had been sorely missing and even allowed Arkansas fans to dream the impossible dream of multiple SEC wins in the same season. With the albatross of a 20-game conference losing streak out of the way, suddenly the sky — or at least the first rung above the conference basement — is limit.
– – –
(Last week: 9)
10. Terry Wilson, Kentucky
Wilson was the lynchpin of Kentucky's 400-yard rushing bonanza against Ole Miss, accounting for a career-high 129 yards and 3 touchdowns on the ground as well as 151 yards passing … only to have it undermined by a) An unusually flammable Wildcats secondary, and b) A missed extra point in overtime that left the Rebels room to win, as they inevitably did, with a touchdown and PAT. Despite the disappointment in the end, the results on the ground were an encouraging sign that offense has the potential to pick up where left off last season as one of the most productive rushing attacks in the country. Wilson, of course, isn't Lynn Bowden Jr. as a runner, but he's close enough that even some modest consistency as a passer could represent an intriguing upgrade.
None of which matters when the defense and special teams are as out of sync as they were Saturday. But even coming close to approximating last year's Bowden-fueled ground game with Wilson running point over the course of the season would be a pleasant surprise.
– – –
(Last week: 10)
11. Myles Brennan, LSU
If there's any defense you want to see on the schedule when your young QB is in struggle mode, it's Vanderbilt's, and Brennan made good on the opportunity, rebounding from a rough debut against Mississippi State by torching the Commodores for 337 yards and 4 TDs in a 41-7 rout. (It's worth noting how far SEC offenses have come when that kind of stat line is all in a day's work, regardless of the opponent.) Just as encouraging: He wasn't sacked in Nashville after eating 7 sacks in the opener. Even if that ultimately says more about Vandy's D than it does about Brennan or his protection, it's still a step firmly in the right direction.
– – –
(Last week: 11)
12. Collin Hill, South Carolina
Hill's promotion to the starting job in preseason camp was surprising enough that it was difficult to gauge just how firm his grip was on the job with the presumed starter, sophomore incumbent Ryan Hilinski, still waiting in the wings. Two games in, the jury is still out: Although Hilinski has yet to make an appearance, Hill has proven to be prone to taking too many sacks (he's been dropped 8 times, the most of any quarterback nationally who's played in 2 or fewer games) and ineffective downfield, leaving the door wide open for Hilinski to return if Hill continues to stagnate. Again, Vanderbilt appears on the schedule just in time for him to ring up a little goodwill before it's back to the grind.
– – –
(Last week: 13)
13. Connor Bazelak, Missouri
Shawn Robinson is out following an abysmal start in Mizzou's 35-12 loss at Tennessee; Bazelak is in, for now, after looking relatively competent over the final 3 quarters. With Bazelak at the controls, the Tigers managed 3 extended scoring drives (1 touchdown, 2 field goals) and connected on 5 passes of 20+ yards to 4 different receivers – more than enough to move him to the top of the depth chart for this weekend's date against LSU, if nothing else. How long he stays there with Robinson, the more touted athlete, looking over his shoulder remains to be seen.
– – –
(Last week: 12)
14. Ken Seals, Vanderbilt
Seals has looked the part of a true freshman in over his head, averaging just 4.9 yards per attempt with 4 INTs in Vandy's losses to Texas A&M and LSU. He's also taken nearly every snap in both games (fellow freshman Michael Wright has appeared briefly in a Wildcat role), affirming the Commodores' patience with a guy they hope will mature into a solid long-term starter. But if he has designs on notching a W in Year 1, it needs to happen in the next 3 games vs. South Carolina, Missouri and Ole Miss, after which the odds over the second half of the schedule drop to slim and none.
– – –
(Last week: 14)