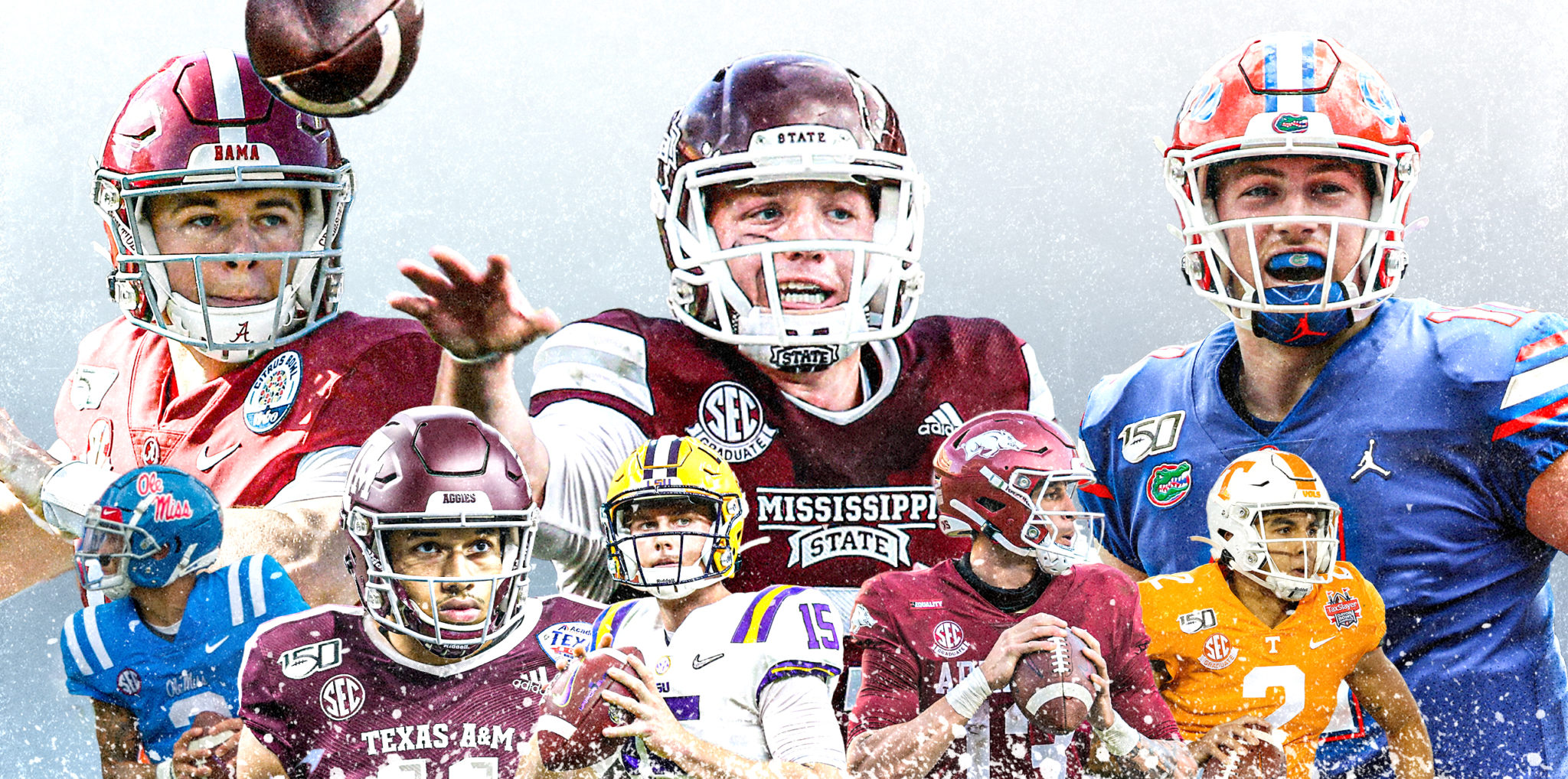 SEC
SEC QB Power Rankings, Week 2: Uncertainty abounds at Georgia, but so do options
Quarterbacks: There are a lot of them! Each week throughout the season, SEC QB Power Rankings will help you keep the game's most important position in perspective by ranking the SEC starters 1-14 according to highly scientific processes and/or pure gut-level instinct. Previously: Week 1.
1. K.J. Costello, Mississippi State
Costello's 623-yard, 5-touchdown performance in Baton Rouge was the most prolific ever by a Mississippi State quarterback or by an opposing quarterback against LSU. It was also just the 12th time since the turn of the century an FBS player has passed for 600+ yards in a single game … 8 of whom had Mike Leach as their head coach: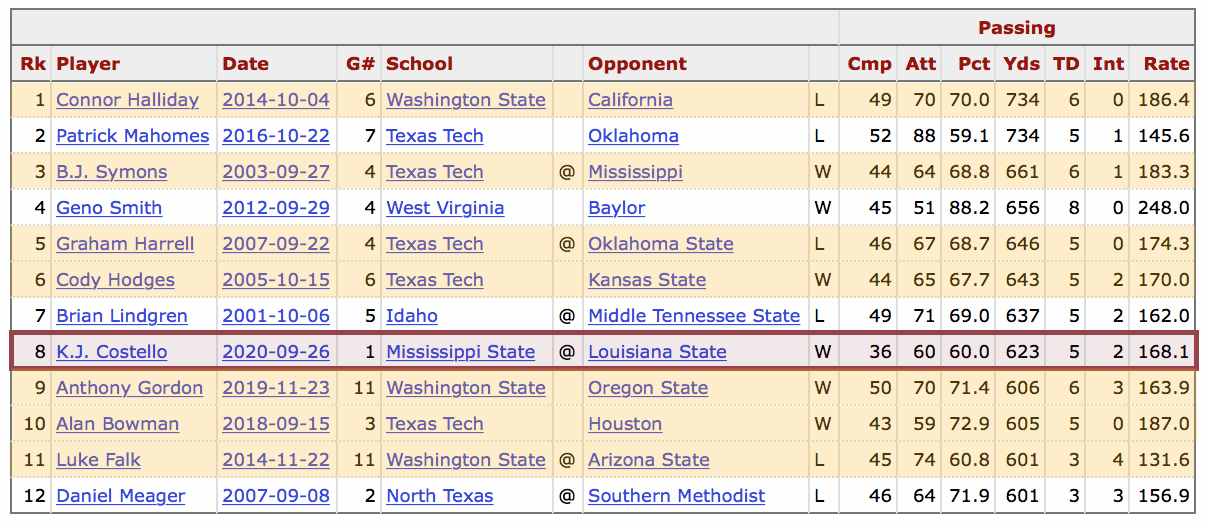 In Costello's case, that line largely represented his success a) against man coverage, which LSU largely refused to concede even in the absence of ace corner Derek Stingley Jr., and b) on 3rd down. On the latter front, Costello put on a clinic, connecting on 7-of-11 attempts (all successful conversions) to 5 different receivers for 194 yards, 3 TDs and the best 3rd-down passer rating of any QB nationally despite an interception dragging that number down. He was good across the board, but on the money down he was nearly flawless.
– – –
(Last week: 1)
2. Kyle Trask, Florida
It's waaaaay too soon to start thinking in terms of the Heisman, but like Costello's turn in Baton Rouge, Trask's 416-yard, 6-TD performance at Ole Miss checked its fair share of boxes in Joe Burrow Bingo:
• An overlooked, late-blooming talent in his 5th year on campus …
• Coming off a good-not-great turn in his first year as a starter …
• At a position that has perpetually underachieved over the past decade …
• Delivers one of the most prolific performances in school history in a shootout win.
The connection was obvious, and even more so in the details than in the raw numbers. Even adjusting for Ole Miss' secondary, Trask looked good, distributing the ball across the lineup (6 players had at least 3 receptions for at least 25 yards) with a handful of big plays and no notable negatives. 20 of his 30 completions went for first downs, the highest rate among SEC starters, and 12 went for 15 yards or more.
Insert caveats here: It was only one game against a bad defense, etc. Acknowledged. But Trask's stock was already on the rise at the end of 2019, and if Saturday didn't send it through the roof another stellar effort this weekend vs. South Carolina will. The time to buy is now.
– – –
(Last week: 3)
3. Mac Jones, Alabama
Apologies to Jones, who turned in the weekend's best performance of any FBS quarterback according to both QBR and Pro Football Focus and moved down in this week's rankings, but Costello and Trask's record-breaking debuts simply couldn't be denied. Jones' evening against Missouri was more workmanlike: 18-of-24, 249 yards, 2 TDs, zero turnovers, zero sacks, lights out by halftime. After going 3-and-out on their first possession, the Tide scored touchdowns on 5 of the next 6 before Jones yielded to Bryce Young to close it out.
As for the freshman, the Young era at Bama might be a little later arriving than anticipated. He looked OK in his first career action, going 5-of-8 with 3 successful 3rd-down conversions; he also took a couple of drive-ending sacks on 3rd downs, one of which resulted in a lost fumble that cost Bama a field goal attempt. Barring some significant developments fans, probably shouldn't expect to see him outside of garbage time anytime soon, which is fine, for now. As long as Jones continues to look the part, there's no reason to rush it.
– – –
(Last week: 2)
4. Bo Nix, Auburn
Overall, Auburn's 29-13 win over Kentucky wasn't much to write home about: The Tigers finished with just 324 total yards, and the two 4th-quarter touchdown drives that made the difference on the scoreboard were both short-field efforts (27 and 23 yards, respectively) set up by UK miscues. Individually, though, Nix was sharp enough, going 16-of-27 for 233 yards and 3 TDs, highlighted by an off-balance dime to Seth Williams that arrived with the kind of mustard Nix rarely displayed as a freshman:
Bo Nix with a beautiful strike to Seth Williams for an Auburn TD pic.twitter.com/0TguFgaCn1

— Power of Dixieland (@Power_Dixieland) September 26, 2020
Then there was the punting, which added legitimate value by twice pining the Wildcats inside their 10-yard line. The boy's pooch game is strong.
The red flags on offense had less to do with Nix than with the ground game, where he also did his bit with 34 yards rushing on 5 carries – a number that wouldn't be worth mentioning except that it led the team. However much he's improved as a passer, it's not by enough to make that sustainable.
– – –
(Last week: 5)
5. Matt Corral, Ole Miss
Corral looked mostly great in the Rebels' loss to Florida, finally living up to his blue-chip recruiting hype with 395 yards and 3 TDs on a robust 12.7 yards per attempt. He posted the conference's best passer rating, connected on 7 passes of 25+ yards and added 50 yards rushing. His only major negative play came on a tipped pass at the line that landed in the arms of a defensive tackle.
Clearly, Corral is the guy for Lane Kiffin's offense. Where does that leave John Rhys Plumlee? Kiffin made a token attempt to keep both quarterbacks involved early, putting the ball in Plumlee's hands as a rusher or receiver on 4 of the first 5 plays of the game. As it wore on, though, and as the scoreboard dictated that Corral keep throwing, Plumlee was a nonentity; he finished with 5 touches for 10 yards and completed his only pass for just 3.
"With Matt playing so well and we were behind, we kind of went solely with Matt," Kiffin said after the game. "I think had Matt not been playing so well and us being behind, you would have seen more of John." Assuming Corral continues to play well, and that the defense ensures the Rebels will continue to play from behind on a regular basis, there's a good chance that statement stands for the rest season.
– – –
(Last week: 10)
6. Kellen Mond, Texas A&M
Mond was working with an almost entirely new set of wideouts in the Aggies' 17-12 win over Vanderbilt, which might help account for his pedestrian passing line (17-of-28, 189 yards, 1 TD/0 INT with a long gain of 26). The bigger issue in the opener, though, was ball security – Mond fumbled 3 times, losing 2, the second of which set up the Commodores in A&M territory for their only touchdown of the game. Those giveaways were a big factor in his falling to 12th among SEC starters in weekly QBR.
Fumbles, of course, fall into the category of random events that aren't likely to carry over from one week to the next. The larger point is that time for Mond to finally put it all together is running out. He's never shaken his streaky reputation, and if he's still looking out of sync in his 35th career start, against a 30-point underdog, the prospects of turning the corner against Alabama, Florida and Mississippi State over the next 3 weeks are not encouraging.
– – –
(Last week: 4)
7. JT Daniels or TBD, Georgia
Considering all the red flags already – Jamie Newman opting out, JT Daniels' lingering knee injury, D'Wan Mathis looking in over his head in the opener – the outlook here could be a lot worse. But the fact is that, fluid as the QB1 situation may be, the Bulldogs still have good options. Stetson Bennett IV, the former walk-on, arguably played his way to the top of the depth chart at Arkansas, coming off the bench to throw for 211 and 2 touchdowns while rallying UGA from a 10-5 halftime deficit. Daniels, the former USC transfer, has reportedly been cleared after sitting out Saturday's opener at Arkansas and expects to be available for this week's marquee date vs. Auburn.
And Mathis, bumpy start notwithstanding, can hardly be written off after a couple bad quarters in his first career game. On Monday, Kirby Smart defended his young QB's performance as a casualty of broader issues, including penalties and a meager day on the ground. Between them Mathis and Bennett put the ball in the air 47 times, Georgia's most attempts in a win in 4 years.
All 3 QBs are listed as co-starters on the updated depth chart for Auburn, along with true freshman Carson Beck, just to drive home the point. Although Bennett managed to keep the offense afloat in Fayetteville, it's difficult to see him as a long-term answer for a team with Playoff ambitions. Daniels, on the other hand, comes with blue-chip credentials, a full season under his belt as USC's starter in 2018, and a month of splitting first-team reps with Mathis in preseason camp; had Daniels been cleared for full contact earlier he would have been a clear favorite to win the job outright. Now that he's got the green light there's no good reason to keep him waiting.
– – –
(Last week: N/A)
8. Jarrett Guarantano, Tennessee
Guarantano was solid overall in the Vols' 31-24 win at South Carolina, but with starkly divergent results depending on the situation – red-hot on 1st down, ice-cold on 3rd:

And that lone 3rd-down conversion? It only happened by virtue of arguably the catch of the day (of the year?) on the other end:
Brandon Johnson caught that?

HUGE 3rd down conversion for @Vol_Football

(via @SECNetwork) pic.twitter.com/gmmkuD6irt

— CBS Sports HQ (@CBSSportsHQ) September 27, 2020
Note that, in keeping with the broader trend, that connection came on 3rd-and-2, an obvious running down. There's a lot to be said for mixing it up when the defense is most likely to be caught on its heels by a pass (especially off play-action), and Guarantano's success on that front is a good foundation for an attack that aspires to strike that balance. But when those situations account for his only success, the margin for error is a little too thin for comfort.
– – –
(Last week: 9)
9. Myles Brennan, LSU
Brennan was an inevitable scapegoat of the Tigers' loss to Mississippi State: In his first career start in place of a legend, he served up 2 INTs, ate 7 sacks, and was easily outgunned by his counterpart on the opposite sideline. Even the would-be silver linings of his performance (345 yards, 3 TDs on 27-of-46 passing) fell flat due to a) volume, and b) the astronomical bar set by Joe Burrow last year, next to which throwing for 345 yards on 7.5 per attempt looks like pocket change.
So it's safe to scratch Brennan's name from the Heisman odds and drop LSU from the ranks of Playoff contenders – no surprise on either count, except for the timing. Upcoming dates with Vanderbilt and Missouri are good opportunities to get reoriented out of the national spotlight before the next big test, an Oct. 17 trip to Florida.
– – –
(Last week: 7)
10. Feleipe Franks, Arkansas
Franks' Arkansas debut was graded along two curves: One in relation to the Razorbacks' dismal QB play over the past 2 seasons, the other in relation to playing opposite a suffocating Georgia defense. Based on those standards he was … fine. You know, more or less. He connected on a majority of his attempts with an early, 49-yard touchdown pass to rising star Treylon Burks; on the other hand, he averaged just 5.6 yards a pop with 2 interceptions, including a pick-6 in that put the game on ice late in the 3rd quarter.
Arkansas fans have seen much worse, and the Bulldogs have inflicted much worse on other opponents. This week's trip to Mississippi State is another, better shot at respectability.
– – –
(Last week: 8)
11. Terry Wilson, Kentucky
Despite the final score, there was plenty to like about Wilson's effort at Auburn: He accounted for 281 total yards, led several extended drives (two of which paid off in touchdowns), and showed no ill effects of the knee injury that cost him almost all of last season. But a pair of turnovers were killers: A goal-line interception at the end of the first half cost Kentucky a go-ahead touchdown* heading into the locker room, and an ill-timed fumble in the 4th quarter set up a short field for Auburn's offense to tack on the clinching touchdown. UK is not nearly talented enough on offense to overcome multiple giveaways as an underdog; coaches clearly trust Wilson in general, but if he continues to give the ball away he risks finding his job in jeopardy the second that Joey Gatewood is cleared to play by the SEC office.
*Yes, the Wildcats were inexplicably jobbed out of a touchdown just before the INT, which would have happened if not for the blown call. Alas.
– – –
(Last week: 11)
12. Shawn Robinson, Missouri
Robinson connected on one big play against Alabama, a wide-open, 54-yard wheel route to RB Tyler Badie in the 4th quarter that accounted for Missouri's first touchdown in a game that had long since been decided. (The Tigers added another on the final play of the night.) Otherwise, it was small ball all the way: His other 24 attempts yielded just 5.5 yards a pop and 7 first downs, with a long gain of 23.
The offensive line's issues against Bama's front seven had a lot to do with that, severely limiting Robinson's time to look downfield, and the receivers struggled with drops. But if he's going to continue to fend off sophomore backup Connor Bazelak, some semblance of downfield juice should be a minimum requirement.
– – –
(Last week: 12)
13. Collin Hill, South Carolina
Hill went coast to coast in the Gamecocks' loss to Tennessee, taking every snap and largely justifying the surprise decision to elevate him to QB1 over incumbent starter Ryan Hilinski. The connection was strongest with senior WR Shi Smith, who hauled in 10 receptions for 140 of Hill's 290 passing yards, including a 29-yard TD pass that kept Carolina within striking distance in the 3rd quarter. Still, Hill's limited upside and Hilinski's presence (as well as true freshman Luke Doty's) likely guarantees this will remain a week-by-week situation.
– – –
(Last week: 13)
14. Ken Seals, Vanderbilt
Seals, a true freshman, won a 4-way competition for the starting job in the preseason and turned in a perfectly respectable effort at Texas A&M, finishing 20-of-29 for 150 yards with 1 TD and 2 INTs in his first career game. The picks in this case come with the territory of throwing a fledgling start into the deep end on the road; instead, Vandy fans should focus on the positives:
Ken Seals with a dime in the end zone?

— PFF College (@PFF_College) September 27, 2020
With touch like that, he shouldn't be lingering in this position for long.
– – –
(Last week: 14)