SEC
Monday Down South: Saving best for last, Texas A&M-LSU was the first great game of 2018
Let's be real: 2018 isn't going to go down among the most dramatic, exciting, or suspenseful seasons in SEC history. Strictly on a game-by-game basis, it was kind of a slog. The defining matchup of the season, a winner-take-all rematch between Alabama and Georgia in the SEC title game, was preordained in August and has come to fruition exactly as expected, with every single game involving the Tide and Dogs decided by at least two touchdowns. Even LSU's midseason upset over Georgia was a rout, and still barely made a dent in UGA's collision course with Bama.
Meanwhile, Auburn plummeted from the preseason top 10, Mississippi State's dark horse potential was limited by its dreadful offense, no viable challenger materialized in the East, and all of the most anticipated games of the regular season — Alabama-LSU, the Cocktail Party, the Iron Bowl, the Deep South's Oldest Rivalry — were over by the fourth quarter, if not sooner. The two most promising upstarts, LSU and Kentucky, were emphatically derailed by the frontrunners, two more victims of the all-encompassing Bama-UGA vortex that vacuumed up every last ounce of intrigue.
In the end, maybe it was fitting that the first true, indisputable classic of the season had nothing to do with any of that. By the time it was over — nearly five hours after it kicked off — Saturday night's 7-overtime bonanza between LSU and Texas A&M unfolded in a context entirely of its own, a freestanding, never-ending freak show of a game with zero implications on the Playoff or Heisman races in which every play in the extra sessions felt like a turn in a game of Russian Roulette. After a certain point, the only implication that mattered was surviving to the next round, and eventually getting out alive.
The Tigers and Aggies gave us the longest game in college football history and the highest-scoring, a marathon that featured 17 touchdowns and 146 points in all, 84 of them coming after the end of regulation.
Texas A&M's 74 points were the most ever against a ranked opponent. (LSU, with 72, fell one point short of the previous record.)
But the benchmarks mattered less than the intensity: Beginning with A&M's final drive of regulation, there were no fewer than a dozen do-or-die plays to either win or extend the game, each of which had the potential to be the last play of the night but somehow none of which were, right up until Kellen Mond found Kendrick Rogers for the game-winning 2-point conversion in the bottom of the seventh.
Just to force OT, the Aggies had to have a game-clinching interception wiped off the board, convert a 4th-and-18 in the dying seconds of regulation, and score the tying touchdown from 19 yards out with no time left on the clock. At some point in that sequence, Ed Orgeron was doused with a celebratory Gatorade bath a good hour-and-a-half before the game actually ended with his team on the losing side.
In OT, the offenses combined to convert two fourth downs and three 2-point conversions with the game directly on the line. They ran 50 plays and gained 18 first downs in overtime alone. As always, the format proved to be ideally suited for the college game in that the longer it goes on the more it seems specifically designed to drive everyone watching insane.
The larger ramifications resided at the margins. At 10-2, LSU would have been a lock for a New Year's 6 bowl in a year that began with the lowest expectations in Baton Rouge in ages; at 9-3, the Tigers still exceeded the preseason doom-saying, but will likely cede the major bowl bid to Florida. At 7-5, Texas A&M would have failed to take any notable step forward in Jimbo Fisher's first season, and probably come in for an offseason's worth of mockery paying him a little north of a million dollars per win; at 8-4, the Aggies can claim a signature win — Kevin Sumlin's teams were 0-6 vs. LSU since joining the conference — and with a bowl game on deck have a chance to reach 9 wins for the first time since Johnny Manziel's last year on campus in 2013. Any of a half-dozen plays could have easily reversed those outlooks, and in a couple cases probably should have.
None of which was on anyone's mind while the outcome was still in doubt. What made the game the memorable, up-all-night classic it was destined to become was the game itself: Its self-contained drama, its refusal to loosen its grip on its increasingly sleep-deprived audience, its alternating currents between exhilaration and exhaustion. It was a scene and scenario completely unique to college football. It meant almost nothing in the bigger picture, and no one who watched it will ever forget it.
Notebook
Around the conference.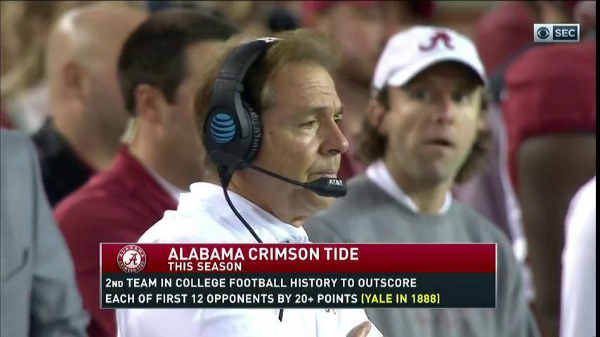 Not a history buff
Alabama 52, Auburn 21
Alabama is No. 1, obviously, but this week especially it's worth emphasizing that Alabama is No. 1 by a lot. In the traditional rankings, the Tide swept every first-place vote in the AP poll and all but one in the Coaches' poll. In the advanced metrics, the distance between Bama and most of the other ostensible Playoff contenders is one of the few points on which the assorted systems consistently agree.
According to ESPN's Football Power Index:

According to Football Reference's Simple Rating System:

According to Jeff Sagarin:

According to S&P+:

According to Kenneth Massey:

The committee doesn't consult these metrics, but they're consistent with the consensus view of a defending champion that's yet to be challenged. And the most notable gaps aren't the ones between Bama and Clemson/Georgia directly beneath them; they're between Bama and the two teams at the center of this week's great Playoff debate, Oklahoma and Ohio State, which (assuming the Buckeyes and Sooners both win their respective conference championship games) are also the two teams the Tide will be sized up against for the final Playoff ticket if they both their closing argument this weekend against Georgia.
Last week, I speculated on the dominoes that would need to fall for Alabama to make the cut after a hypothetical loss in Atlanta, and one of the biggest came crashing down Saturday when Ohio State wiped the floor with Michigan. The Wolverines' collapse likely increased the Tide's chances of earning of a mulligan. The bad news: The runaway, 62-39 margin in Columbus was emphatic enough to shift the perception of the Buckeyes from "underachieving team doing the bare minimum to get by" to "talented team hitting its stride at just the right time" in just a few hours — a narrative they've justified in the past. If it does come down to a three-way decision between OSU (12-1, Big Ten champs), Oklahoma (12-1, Big 12 champs), and Bama (12-1, loss in its championship game), you don't have to strain too hard to imagine the committee's stated emphasis on rewarding conference championships overriding Alabama's meh strength of schedule.
Like last year, what the Tide have going for them is a track record of consistent, week-in, week-out dominance that's put them so far ahead of the pack that an 11th-hour lapse would only mean that the committee actually has to discuss their credentials rather than waving them on in, especially if the lapse happens to come at the hands of another playoff-level opponent. Besides their respective losses, Ohio State and Oklahoma both have numerous close calls against the middle rungs of the schedule and serious questions about the viability of their defenses. Bama has no remotely close calls, no significant questions other than its ongoing struggles on PATs.
There's no way to know exactly what the committee is going to do, or how those calculations might change based on style points or some other inscrutable factor. Notre Dame is in; TBD on the rest. Short of an unprecedented collapse, though, the Tide might have already done enough to punch their ticket.
Georgia 45, Georgia Tech 21
Of course, Bama fans would rather not indulge any hypothetical scenario that doesn't take for granted the Tide continuing to rout all comers. But if they're not concerned about Georgia, they should be: Since laying an egg at LSU at midseason, the Bulldogs have looked more confident and more ruthlessly efficient by the week. Statistically and athletically, this outfit is much closer to the one that pushed the Crimson Tide to the brink in January's national championship game than the lopsided point spread suggests, give or take a Roquan Smith in the middle of the defense.
The offense is operating at maximum efficiency. Against Tech, Georgia scored on each of its first seven possessions (six touchdowns, one field goal as time expired in the first half) without breaking even the faintest hint of a sweat: Altogether, 27 of UGA's 44 plays on those drives went for first downs or touchdowns — 27 of 44! — only two coming on third-down conversions because the Bulldogs consistently moved the sticks on first and second down. D'Andre Swift and Elijah Holyfield combined for 184 yards rushing on 8.0 per carry, yielding to the backups in the third quarter; Jake Fromm also checked out in the third, having connected on 13-of-16 attempts for 175 yards and 4 touchdowns, a tidy afternoon that moved him into the top three nationally in both pass efficiency and Total QBR for the season.
https://twitter.com/SECNetwork/status/1066397834285641729
I'll go into much greater depth on the Georgia-Bama showdown later this week, including some love for a UGA defense that has been much stingier than the raw numbers suggest. (Six of the 8 touchdowns it has allowed in the past four games have come in garbage time, with the Bulldogs already leading by at least 24 points; Georgia Tech took a kickoff to the house in the first quarter, but didn't find the end zone on offense until the score was 45-7 in the fourth.) The bottom line right now is that there's still very little daylight between these two teams, which again project as such perfect mirror images that there's almost nothing you can say about either of them that can't also be said about the other. The payoff at the end of this slog of a season might actually pay off.
Mississippi State 35, Ole Miss 3
Mississippi State fans go to bed almost every night of their lives dreaming of beating Ole Miss like this, in a game that consisted mainly of the MSU defense stuffing the Ole Miss offense in a suitcase: The Rebels finished with fewer total yards (189) on fewer yards per play (3.5) than in any game since the 2014 Sugar Bowl debacle against TCU, which was also the last time they were held without a touchdown by anyone other than Alabama.
Ole Miss came in on a 4-game losing streak, with no hope of a bowl game, but with its high-octane offensive reputation still very much intact. It limped out into an offseason that's only going to get more grim as the last of Hugh Freeze's prized recruits bail for the draft.
The win left Mississippi State with the No. 1 scoring defense in the nation, a worthy finish for a unit that allowed a grand total of 12 touchdowns in 12 games. I imagine it also left the Bulldogs feeling like they missed a golden opportunity. Not that MSU is ever disappointed with 8 wins — this is just the ninth time they've cracked 8 regular-season wins since the SEC split into two division in 1992 — but most of those teams had to overachieve to get there. This one arguably underachieved, offsetting a championship-level defense by failing to score more than seven points in any of its 4 losses.
At least two of those, September dates against Kentucky and Florida, were imminently winnable. (An October trip to LSU arguably was, too.) In a season that saw the Bulldogs go on to beat Auburn and Texas A&M, those early offensive flops linger as the difference between a rare 10-win season in Starkville, capped by a top-10 ranking and New Year's 6 bowl bid, and the second- or third-tier bowl that actually awaits. The window for a really big season doesn't come open very often for Mississippi State, and with the vast majority of the defensive lineup on its way out this winter (most notably aspiring first-rounders Jeffery Simmons and Montez Sweat along the front four) it's more likely than not to slam shut again for the foreseeable future.
Recall that just four years ago Ole Miss boasted the nation's No. 1 scoring D itself in the hey day of the Nkemdiche era; one full recruiting cycle later the Rebels are indisputably the worst defense in the conference. The regression at MSU probably isn't going to be that extreme, but at the end of the day, ideally you'd like to be able to say you got more out of the best defense in school history than a trip to the Outback Bowl.
Missouri 38, Arkansas 0  •  Vanderbilt 38, Tennessee 13
The bargain schools make with first-year head coaches in rebuilding situations is that wins and losses don't really matter in Year 1, as long as the team shows some semblance of progress along the way. Arkansas and Tennessee, clearly, have gone in the opposite direction: Combining Saturday's bombs with their Week 12 losses to Mississippi State and Missouri, the Razorbacks and Vols closed the season by getting collectively outscored 198-26 in a span of eight days. Momentum-wise, losing that big this late in the season is about as bad as it gets; both Chad Morris and Jeremy Pruitt are facing locker rooms that are going to have to be resuscitated in Year 2 from a dead stop.
At least in Arkansas' case the Razorbacks knew exactly what kind of year this was almost right away, and were able to brace themselves accordingly. Arkansas fans have been on emotional cruise control since September. Tennessee, on the other hand, rebounded from a miserable start to offer a couple of legitimate glimmers of hope in midseason upsets over Auburn and Kentucky, the kinds of wins that in the moment can feel like a turning point. The past two weeks are the sobering reality: At the end of Pruitt's first season, the Vols are no closer to climbing out of the SEC East basement than they were at the same point on the calendar last year, when the speculation was just beginning to swirl over who would replace Butch Jones. Vanderbilt has taken three in a row in a series it was once accustomed to winning roughly once a decade.
#OURSTATE | #ANCHORDOWN pic.twitter.com/eqT1lXcTGy

— Vanderbilt Football (@VandyFootball) November 25, 2018
It doesn't help that Tennessee's lineup still largely consists of relatively touted athletes — 17 of 22 starters vs. Vandy arrived in Knoxville as 4-star prospects — who have almost uniformly fallen short of their potential. Pruitt conceded after the loss that "the best team won today," a line that, for now, still reflects largely on Jones' rep for big recruiting busts. That won't be the case for much longer, though, as Pruitt recognizes: Offensive coordinator Tyson Helton is reportedly on his way out, a sure sign of a head coach who's already beginning to feel the heat.
Superlatives
The best of Rivalry Week …
1. South Carolina WR/KR Deebo Samuel. It's not easy to rise above the box score in a game that features 13 touchdowns and 1,344 yards of total offense, especially when you're on the losing side of a 56-35 margin. But Samuel's performance against Clemson's decorated, blue-chip defense was electric even in a losing effort: His 210 receiving yards (on 10 catches) marked a career high, and yielded more touchdowns (3) than Clemson's previous nine opponents combined (2). Clemson DC Brent Venables was duly aggrieved.
The second entry in Deebo's hat trick, a 75-yard, second-quarter strike from Jake Bentley — who turned in a career night in his own right — was the result of a bit of sleight-of-hand formationing by offensive coordinator Bryan McClendon, designed to create a coverage mismatch against his most dangerous downfield weapon. On South Carolina's previous possession, Clemson had allowed TE Kiel Pollard to sneak behind the coverage for a 67-yard TD on a backside post; to open the subsequent series, the Gamecocks came out with only three down linemen flanked by an H-back in front of Bentley while the other two front-line starters split wide along with TE K.C. Crosby (the eligible receiver on the end of the line) and Samuel, who started out behind the oversized contingent as if setting up for a screen.
That had the effect of drawing the Tigers' best edge rushers, Clelin Ferrell (No. 99 below) and Austin Bryant (No. 7) out of the box to account for whatever potential trickery Carolina was setting up on the outside.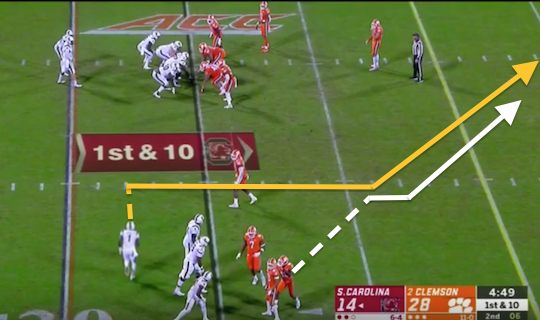 Instead of a screen, though, Samuel motioned into the slot, setting up a one-on-one matchup vs. safety K'Von Wallace (No. 12) while turning Ferrell and Bryant into bystanders who didn't even have to be blocked. Against a short-handed pass rush, Bentley had enough time to scan the field, set his feet, and find Samuel running free against the hopelessly outgunned Wallace:
That was the highlight of a reputation-making night for McClendon, who crossed up the Tigers so badly that on several occasions they were still trying to figure out where to line up when the ball was snapped. Following McClendon's move from the press box to the sideline in late October, Carolina eclipsed 500 total yards in three of its last four games — a mark it had only hit three times in the previous four years combined — and scored at least 31 points in all four.
2. Alabama QB Tua Tagovailoa. I'm going to push back against the notion that Tua is a shoo-in for the Heisman, if only out of respect for Oklahoma's Kyler Murray, who remains in a dead heat statistically and still has a chance to throw his team in to the Playoff despite the flaming shipwreck that is the Sooners' defense. But Saturday's 25-of-32, 324-yard, 5-TD performance against Auburn did feel like the pièce de résistance of Tagovailoa's campaign, leaving him as the indisputable frontrunner heading into the final weekend of the season. The touchdown passes went to four different receivers and showed off his dynamic range at all points on the field.
Perfect. Strike. pic.twitter.com/QifzCI90vG

— CBS Sports (@CBSSports) November 24, 2018
Oh, he also ran for a score, for good measure, and betrayed no hint of the ailing knee that had limited him over the previous few weeks. Barring a major collapse against Georgia, Murray's probably going to have to turn Texas' secondary into pillars of salt to have a prayer.
3. LSU LB Devin White. Forget overtime: White, being his usual ubiquitous self, racked up a team-high 13 tackles with 3 tackle for loss in regulation alone, before adding to both columns in the extra sessions. (His final totals, 17 tackles with 4 TFLs, set career highs.) He was also responsible for one of the biggest plays of the night, a forced fumble that teammate Michael Divinity returned 58 yards to even the score early in the fourth quarter. Next up: The Butkus Award, which White has a legitimate shot to keep in the SEC for the third year in a row.
Jachai Polite (@RetireMoms) with the speed rush sack. OL never gave himself a chance with that set.

PS – Polite probably has the best twitter handle in the game! @jack

via @WurthDraft pic.twitter.com/uEN1iynvC8

— DLineVids (@DLineVids) November 24, 2018
4. Florida DE Jachai Polite. Polite thoroughly terrorized Florida State's embattled offensive line, delivering on both the gaudy stat line (6 tackles, 3 sacks) and the highlights to back them up: See him stuffing the run, embarrassing would-be blockers off the edge (see above), and forcing a fumble to set up a game-clinching, short-field touchdown for Florida's offense on the next play. The 41-14 final was the Gators' most lopsided win over FSU since the Tebow years and snapped a 5-game losing streak in the series; Polite marked the occasion by politely instructing what little remained of the home crowd in the second half to go home.
Coming off a shoulder injury in 2017, Polite has come from way off the radar to rival Kentucky's Josh Allen as arguably the most feared pass rusher in the league: Against FBS opponents, he ranks second to Allen in both sacks and tackles for loss and ranks alongside Allen and three others for the national lead with five forced fumbles. He's all but guaranteed to take advantage of his soaring draft stock while it's there for the taking.
5. Vanderbilt QB Kyle Shurmur. The Commodores are bowl-eligible after winning three of their last four and their quarterback is going out on arguably the highest note of his career: In his last game in Vanderbilt Stadium, Shurmur lit up Tennessee for 367 yards and 3 touchdowns on 31-of-35 passing, setting personal bests for completion percentage (88.6) and overall efficiency (204.9) in the process. Derek Mason, your thoughts?
.@VandyFootball is going bowling and @CoachDerekMason is loving it! pic.twitter.com/cB7Rk1PYSB

— SEC Network (@SECNetwork) November 25, 2018
In Vandy's past three games against Tennessee, Shurmur averaged 355 yards with 9 touchdowns to a single INT and a combined efficiency rating of 189.2; Vanderbilt went 3-0 in those game with at least 38 points in all three. No one will be happier to see him go than the Vols.
Honorable Mention: Georgia QB Jake Fromm, whose icy efficiency against Georgia Tech yielded 4 TD passes on just 16 attempts. … South Carolina QB Jake Bentley, who took the opposite approach against Clemson with career highs for attempts (50), yards (510), and touchdowns (5) in a losing effort. … Florida QB Feleipe Franks, who carved up Florida State's secondary for 254 yards and 3 TDs without an interception. … Alabama DBs Shyheim Carter and Saivion Smith, who combined for 12 tackles, 5 PBUs, and a forced fumble against Auburn. … Mississippi State DL Jeffery Simmons, who led the onslaught against Ole Miss with a pair of TFLs (including a sack), a forced fumble, and a swatted pass from the middle of the Bulldogs' defensive line. … Kentucky WR/KR Lynn Bowden Jr., who accounted for 175 all-purpose yards (86 receiving, 7 rushing, 82 on kickoff returns) and 2 TDs in the Wildcats' 56-10 annihilation of Louisville. … Missouri WR Emanuel Hall, who hauled in 6 receptions for 153 yards and 2 TDs in the Tigers' romp over Arkansas. … Missouri DL Jordan Elliott, who led the defensive effort with 4 TFLs (including 3 sacks) and a forced fumble. … Texas A&M RB Trayveon Williams, who shouldered the heaviest load of his career in the marathon win over LSU with 35 carries for 198 yards and 2 TDs, both coming in regulation. … LSU QB Joe Burrow, who handled the ball as a rusher or passer on 67 of LSU's 90 plays from scrimmage, accounting for 370 total yards (270 passing, 100 rushing) and 6 TDs in the most exhausting individual effort of the season, losing or otherwise. … And A&M QB Kellen Mond, who was even better, accounting for 7 TDs (6 passing, 1 rushing) and many, many more clutch throws.
Catch of the Year of the Week: Kendrick Rogers
Rogers showed out early in the season against Clemson, had a decent afternoon at Alabama, and promptly disappeared from Texas A&M's offense: Limited by nagging injuries, he came into the finale against LSU with just five catches in the Aggies' previous seven games, none of them for touchdowns. In the overtime sessions, though, he soared back into the spotlight with a vengeance:
HOW DID HE CATCH THIS??? pic.twitter.com/lHgUld7HLo

— CBS Sports (@CBSSports) November 25, 2018
In addition to catching two touchdown passes from Mond in OT — both of which evened the score in response to an LSU TD — Rogers came down with three two-point conversions, including the game-winner in the bottom of the seventh. The How he comes in for anything less than a dozen targets per game is a mystery.