SEC
Monday Down South: Matt Hinton's Ultimate SEC Preview (AKA: The countdown to the next Bama-Georgia blockbuster begins now)
For two proud, ambitious programs that share as much as Alabama and Georgia — a 400-mile border, a football-crazed culture, an imperial outlook toward recruiting, an indigenous hatred of Auburn and Tennessee — the rivalry between the Tide and Dawgs has never come as naturally as you might expect.
As infrequently as their paths have crossed, it's debatable whether it even qualifies as a proper rivalry at all: However the respective fan bases might feel about one another in the comments section, on the field Bama and UGA haven't played on an annual basis since the mid-sixties; in the 26 years since the SEC split into two divisions, they've met in the regular season just seven times, and in the SEC Championship Game just once, in 2012, which prior to last year was also the only season in that span in which both teams ended the regular season ranked in the AP top 10. And since dropping an overtime heartbreaker to Georgia in 2007, Nick Saban's first season, Alabama has owned the series, winning four consecutive over the ensuing decade. They've rarely been relevant at the same time, and they're not scheduled to get together again until 2020.
Still, on the eve of the 2018 campaign it's hard to treat that date as anything but a technicality, and the see-you-when-I-see-you vibe that characterized Bama-Georgia for a half-century as — for one more year, at least, and likely for a few more beyond that — anything but ancient history. If there's one thing just about everyone can agree on in August, it's that the Bulldogs and Tide look like virtual locks to meet in Atlanta on Dec. 1, as heavily favored in their respective divisions as any pair of preseason frontrunners in years. A playoff ticket will almost certainly be at stake for the winner, likely as the no. 1 overall seed. And if there is any single, inescapable theme that stands to define the upcoming season in the SEC, it's the potential for another classic, winner-take-all collision at the end.
The main reason for that, of course, is that the last collision turned out to be a high-stakes thriller in its own right, a roller-coaster of a match that will go down as one of the most bizarre and dramatic championship games in college history. But in many ways Alabama's come-from-behind win in January felt less like the culmination of a season than the beginning of an era. Not only did Georgia usurp Bama as the SEC's regular-season champ; by pushing the Tide to the brink on the sport's biggest stage, the Bulldogs graduated from up-and-comers to equals built in Bama's own image. By the middle of last season, it was already obvious just how much Kirby Smart's new team literally looked like his old one, athletically and philosophically, effectively mirroring the standard-issue Saban outfit right down to the fact that Georgia's rising-star quarterback, Jake Fromm, was at one point committed to play for the Tide. By the end, challenger and champ were indistinguishable.
Meanwhile, the Bulldogs' momentum in the win column carried over to the recruiting wars, where Smart followed up a banner 2017 class with a haul that achieved the impossible, supplanting Alabama atop 247's national rankings for the first time since 2010. The incoming crop in Athens is a testament to the sustainability of Smart's burgeoning Death Star, both in 2018 and for the foreseeable future: Seven incoming prospects arrived with five-star grades according to 247 — a record number — along with five more ranked among the Top 100 players overall, making it one of the most highly decorated and anticipated classes in recent memory. (The 2019 class is shaping up as a blockbuster group, too.) Outside of Alabama, no other SEC team currently has more than four 5-star players on its entire roster.
None of which is to say a rematch in Atlanta is inevitable, any more than it was when last year's Bama-Georgia showdown was (temporarily) derailed by their respective November flops at Auburn. This is college football, after all, where consensus goes to die. But if not Tide-Dawgs in the SEC title game, then who? The most likely spoiler, again, is Auburn, the only other SEC team that will start out in the top 15 of both the Coaches and AP polls after surging to the West Division crown in 2017. But this time around the Tigers have to visit Athens and Tuscaloosa, not to mention a tougher-than-usual trip to Mississippi State; their trajectory will also be heavily influenced by Saturday's season opener against Washington, which will go a long way toward establishing where both teams fall in the national pecking order.
Alabama, on the other hand, will get three of its four big SEC West games (vs. Auburn, Texas A&M and Mississippi State) in Tuscaloosa and won't face another currently-ranked team outside of the division. Georgia gets LSU and Auburn from the West, but no notable nonconference test or obvious challenger in the East — Florida, Missouri, and South Carolina might be trending up, but still failed to crack the initial polls. ESPN's Football Power Index gives both Bama and Georgia roughly a 10 percent chance of running the table, better than any other FBS team except Clemson. Based strictly on the chalk, both will likely be favored by at least a touchdown in every game, and usually by a lot more.
If the season in fact plays out that way, the conference championship might not be the de facto Playoff elimination game it was last year, or even necessarily the last word on Alabama-Georgia in 2018. If it plays out any other way, at least one side (if not both) will have to consider it a major disappointment. This is a Santa Clara or bust kind of year. And as long as that remains the case, the Saturdays in between are just prologue.
NOTEBOOK
Around the conference.
ALABAMA'S ACHILLES' FOOT. As always, Bama has a few potential speed bumps en route to another title run – most prominent among them its impasse at quarterback, which I'll address in more detail this week in the season's first edition of QB Curve. Then there's the eternal question in Tuscaloosa: Do the Tide have a dang kicker?
The answer last year was … eh, kinda. Andy Pappanastos connected on a respectable 15-of-19 field goal attempts in the regular season, a marginal improvement over his predecessor, Adam Griffith, but still just barely escaped a lifetime of goat-hood after he shanked 2 of his 4 attempts in the national title game. (Had the Tide not gone on to pull out the win in overtime, Pappanastos' egregious miss from 36 yards out on the final play of regulation would rank right alongside Punt Bama Punt, the 2011 LSU game, and the Kick Six in the timeline of Alabama's most infamous special teams failures.)
With Pappanastos gone, the battle is on between redshirt freshman Joseph Bulovas, one of the top-ranked kickers in the 2017 recruiting class, and Temple transfer Austin Jones, who hit on 50 of 67 attempts with a long of 47 yards in his career with the Owls. The way things have gone at this position on Saban's watch, if Bama fans are still struggling to recall either of those names in January it will probably be for the best.
GEORGIA'S DEFENSIVE RESET. For Georgia, the Big Question is how quickly and effectively the Bulldogs will be able to reload on defense. The D was the cornerstone of last year's breakthrough, a deep, veteran outfit that returned a dozen starters from 2016 and rivaled Bama's as stingiest unit in the league. Inevitably, it was also hit hard by attrition: Departures included a pair of colossal anchors on the interior line (John Atkins and Trent Thompson), a pair of bookend pass rushers off the edge (Lorenzo Carter and Davin Bellamy), a trio of versatile, multi-year starters in the secondary (Aaron Davis, Malkom Parrish, and Dominick Sanders), and — most important — the heart of the unit, heat-seeking middle linebacker Roquan Smith, who wrapped up his college career as the most decorated defensive player in the country. Collectively that group accounted for 249 career starts.
That's nothing new for Smart, of course, who as Saban's defensive coordinator spent most of the past decade managing the annual exodus from the Crimson Tide's top-ranked defense as a matter of course. And the cupboard in Athens isn't exactly bare — UGA will still have a steady veteran presence in the trenches (Jonathan Ledbetter and Tyler Clark), off the edge (D'Andre Walker), and in the secondary (Deandre Baker and J.R. Reed). Senior DE Jay Hayes, a full-time starter last year at Notre Dame, is in the mix as a graduate transfer. Even the glaring vacancy at middle 'backer could be in reliable hands depending on the status of senior Natrez Patrick (below), a part-time starter the past two years who's trying to work his way back into good standing following a string of legal issues that sidelined him for the entire postseason.
For the first time, though, Smart will have to rely heavily on his own recruits to check off a few of those boxes, and with the expectations for this team dialed to eleven the notion of a learning curve in early road trips to South Carolina and Missouri is a luxury they can't afford. Just how quickly newbies like linebacker Walter Grant, safety Richard LeCounte III and injured cornerback Tyrique McGhee settle into more prominent roles is worth watching closely.
MISSISSIPPI STATE'S BEST SHOT. Winters in the SEC coaching ranks are never placid, but even by the usual standards 2017 was a bloodbath. Five of the league's 14 teams will be under new management in 2018 — six if you count Ole Miss' Matt Luke, who didn't shed the interim tag until after the season — most of whom arrived in their new jobs with a proven track record and an over-the-top salary to match.
Of all the new hires, though, the highest expectations in Year 1 may belong to the one who'll be making the least: Mississippi State's Joe Moorhead, whose 4-year, $11 million deal pales in comparison to the rest of his West Division peers, but who'll inherit a roster with the potential to pay off immediately.
Part of the optimism in Starkville stems from Moorhead's track record, first as the head coach at Fordham, where he molded a last-place outfit into a perennial FCS playoff team, and more recently at Penn State, where he helped turn the notoriously stale Nittany Lions offense into a versatile, explosive attack that averaged nearly 40 points per game over the past two seasons. But he'll also benefit enormously from the work of his predecessor, Dan Mullen, who left a vastly more stable and competitive program than the one he took over in 2009.
Much is riding on senior quarterback Nick Fitzgerald, the centerpiece of the offense the past two seasons, and his surgically repaired right ankle. But assuming he's back to his old self, the rest of the offense returns virtually everyone who touched the ball in 2017, including 1,000-yard rusher Aeris Williams, along with four-fifths of the starting line. (Even if Fitzgerald isn't his old self, backup QB Keytaon Thompson more than held his own in both the Egg Bowl and a Gator Bowl upset over Louisville, as well as with the first-string offense in the spring.)
On defense, MSU returns a dozen players with at least six career starts under their belt, led by a pair of NFL-ready headliners on the line, Jeffery Simmons and Montez Sweat; both were first-team All-SEC picks last year and have a chance to be first-rounders in next year's draft. Except for Sweat and safety Johnathan Abram — former JUCO transfers who began their careers at Michigan State and Georgia, respectively — every projected starter on both sides of the ball is in at least his third year in the program. Mullen's 2014 and '15 recruiting classes, in particular, will form the core of one of the most seasoned outfits in the country.
Long-term, of course, the Bulldogs' ceiling will always be limited by the fact they share a division with Alabama, Auburn and LSU, and with Jimbo Fisher's arrival in College Station, the window for continuing to take advantage of Texas A&M (Mississippi State has taken 3 of the past 4 against the Aggies) might be closing fast. Except for the coaching staff, though, the lineup is essentially an older version of the same one that last year beat LSU early, Louisville late, and pushed Alabama to the brink on the way to a 9-4 finish, a banner year in Starkville by any standard.
MSU will open the season ranked 18th in both major polls, its best starting position since 1981. If Moorhead can't capitalize on that momentum with another nine or 10-win season this fall, it might turn out to be the best opportunity he's going to get.
FLORIDA'S FIRST STEPS. As for Mullen's new gig, the immediate outlook in Gainesville is decidedly less rosy in the wake of last year's 4-8 debacle, an historic collapse which in many ways was even worse than the record suggests. (The game that sealed Jim McElwain's fate, a 42-7 rout at the hands of Georgia, must rank among the most embarrassing performances in the modern era of Florida football, which is saying something for a program that employed Ron Zook.) After that, beleaguered Gator fans can be forgiven if they're a little reluctant to invest their time and money in the new guy before he's produced results.
Given his track record, it's a safe bet that Mullen — former mentor to Tim Tebow, Dak Prescott and Alex Smith, among others — will eventually win over the skeptics. Eventually. For now, he's stuck with essentially the same cast that averaged a dismal 21 points last year vs. SEC opponents, worst in the conference outside of the abandoned mine that was Tennessee. Specifically, he's stuck with an incumbent quarterback, Feleipe Franks, who frequently looked lost as a redshirt freshman and actually appeared to regress as the season unraveled. At no point did he give off the vibe of a guy on the cusp of maturing into a viable long-term starter.
The decision facing Mullen in Year 1 is whether Franks still has enough upside to justify another year of growing pains in a new system. Franks was a sought-after prospect, arguably the gem of McElwain's first full recruiting class in 2016. But the same can be said for true freshman Emory Jones, a dual-threat type who defected from Ohio State, enrolled early, and projects as a better fit than the lumbering Franks in Mullen's spread-to-run scheme. Whoever winds up taking the majority of the snaps this year, satisfying the expectations of a notoriously impatient fan base is likely to going to take some time.
SUPERLATIVES
The best of the week.
Throughout the season this space will be reserved for the best performances of the previous weekend. This week, however? It's awards time.
DEFENSIVE PLAYER OF THE YEAR: Jeffery Simmons
11/18/17 — Tackle for loss by Mississippi State's Jeffery Simmons vs. Arkansas pic.twitter.com/uHRt4bFZki

— College Football Clips (@CFB_Clips) August 23, 2018
In a conference defined by freakishly gifted D-linemen, they don't come much freakier than Simmons, a 6-4, 300-pound specimen who personifies the evolution of modern defensive tackles from plodding, run-stuffing blobs into sleek, explosive athletes. For a man his size, Simmons leapt off the tape as a sophomore primarily for his burst, a high-octane first step that allowed him to blow past overwhelmed blockers or deposit them several yards into the backfield in a blink, effectively blowing up run plays at the snap; as a pass rusher, he was capable of bringing the kind of heat from the interior line (especially on third-and-long) that quarterbacks usually only fear from the edge, and far more disruptive at his best than his five sacks on the season suggested. Even if his stat-sheet production is muted this season by a steady diet of double and triple teams, his impact should be obvious.
OFFENSIVE PLAYER OF THE YEAR: A.J. Brown
Brown was the SEC's most productive target in 2017, leading a run-first league in receiving yards and touchdowns, and its most entertaining, routinely embarrassing opposing cornerbacks after the catch and using the Egg Bowl as a platform to appoint himself honorary mayor of his hometown. The challenge this year — certainly Brown's last at Ole Miss before he leaves for the next level — will be to turn it up against next-level competition: He was shut down in losses to Alabama and LSU, the only lulls in an otherwise unstoppable campaign against everyone else.
SPECIALIST OF THE YEAR: Rodrigo Blankenship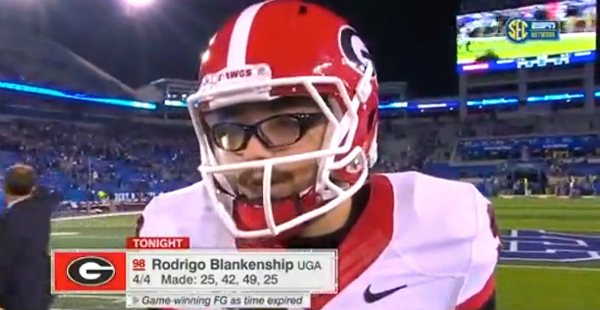 Rodrigo is, first and foremost, college football's reigning fashion icon. Panache notwithstanding, though, "Hot Rod" also emerged in 2017 as arguably the SEC's steadiest leg, connecting on 20 of 23 field-goal attempts with a touchback rate north of 70 percent on kickoffs. He came through in crucial moments in the Rose Bowl, cooly following a career-long 55-yard field goal just before halftime with a 38-yarder in overtime, and in the national title game, where he went three-for-three with a 51-yard bomb in OT that momentarily put Georgia in position to close out the win. As it turns out, behind the specs could be the face of the most clutch kicker in the country.
FAT GUY OF THE YEAR: Trey Smith
Smith isn't the most polished lineman in the league — that title belongs to Alabama's Jonah Williams, a likely top-10 pick in next year's draft — but he is the most physically dominant, owner of a pancake-heavy freshman highlight reel that made him a fan favorite from the get-go and one of very few bright spots on the SEC's worst offense.
#RTIFilmStudy Trey Smith is a grown man. He pancakes a corner in his first drive, but weakside pressure gets to Kelly. pic.twitter.com/MieC3YQNVY

— Rocky Top Insider (@rockytopinsider) September 5, 2017
At 6-5, 320, Smith is a natural-born mauler who can play inside or out, having finished 2017 at left tackle after spending most of his debut campaign at guard, and is back at full speed after being sidelined by blood clots in the spring; with a dozen starts under his belt, he already qualifies as one of the most seasoned members of a rebuilding Tennessee O-line. Whatever other growing pains the Vols encounter under first-year coach Jeremy Pruitt, Smith looks like a cornerstone for the foreseeable future.
BREAKOUT PLAYER, OFFENSE: D'Andre Swift
Swift is no secret, having served capably as the third wheel in Georgia's dominant rushing attack as a true freshman, and with Nick Chubb and Sony Michel off to the next level — and heralded signee Zamir White likely out for the year — he should have no problem making the leap from part-timer to every-down workhorse. At 20 carries per game, Swift could very well run himself into the Heisman race; the main question, with chiseled backups Brian Herrien, Elijah Holyfield, and James Cook waiting to be fed, too, is whether coaches are willing to risk exposing him to excessive wear and tear in blowouts just to give him the chance.
BREAKOUT PLAYER, DEFENSE: Mack Wilson
Sure, at this point tabbing Alabama's new middle linebacker for a breakthrough is just boring, like buying stock in Coca-Cola. On Saban's watch, the position has yielded five consensus All-Americans and eight draft picks in the past nine years. Still, as heirs apparent go, Wilson is about as apparent as they come.
A blue-chip recruit, he spent his first two years in Tuscaloosa biding his time behind a pair of future first-rounders, Reuben Foster and Rashaan Evans, and nursing a foot injury that sidelined him for the better part of last season. Even in limited action, though, Wilson managed to rack up 40 tackles (including three for loss) and four interceptions as a backup, setting himself up for an above-the-fold junior campaign that upholds the standard in the middle of the most consistently impenetrable run defense in the nation. As long as his foot holds up, you can take his ascension to the bank.
ROOKIE OF THE YEAR: Patrick Surtain II
Even by Bama standards, Surtain stands out as a prospect by virtue of his elite potential and famous last name. But he also has a unique opportunity to make his mark right away: With the mass exodus from last year's secondary, Surtain will be in the regular rotation from Day 1, possibly in the jack-of-all-trades nickel role ("Star," in the local parlance) manned last year by Minkah Fitzpatrick. In uniform, the 6-1, 200-pound Surtain already looks like a Fitzpatrick clone in terms of both NFL-ready size and five-star talent. If his game matches the hype, the accolades will follow in short order.
COMEBACK PLAYER OF THE YEAR: Deebo Samuel
Pound for pound, Samuel was as electric in 2017 as any player in college football: Before his Week 3 injury at Kentucky, he scored six touchdowns — three receiving, one rushing, two on kickoff returns — on a grand total of 19 touches, all but one of those scores coming from at least 25 yards out. No other Carolina skill player accounted for more than five TDs all year, from any distance, and the offense never really recovered from Deebo's absence.
The silver lining to that ordeal was a medical redshirt for Samuel, preserving a fifth year of eligibility, and increased reps for his understudies — collectively, the trio of Bryan Edwards, Shi Smith, and OrTre Smith combined for more than 1,500 yards and 13 touchdowns. That wasn't enough to lift the offense out of the doldrums (the Gamecocks finished 12th in the SEC in scoring after coming in dead last in 2016), but with a year under their belts, Samuel back at full speed, and Jake Bentley hitting the prime of his college career the arrow is clearly pointing up. If the scoreboard fails to follow suit, it won't be for lack of viable weapons.
GAME OF THE YEAR: Auburn at Georgia (Nov. 10)
Auburn's thorough, 40-17 romp over Georgia last November was one of the most stunning results of the season, and one of the most consequential for the postseason: By setting up a rematch in the SEC title game, the Tigers prevented a Bama-UGA showdown in Atlanta that likely would have knocked the loser out of Playoff contention, thereby preventing the eventual Bama-UGA showdown for the national crown. Instead, the fact that Georgia duly dominated the return date reset the midseason status quo and only made the regular-season beatdown on the Plains look that much more random in hindsight.
The stakes in this year's collision are likely to be every bit as high, especially for Georgia, which is likely to be favored in every other regular-season game by double digits; barring a major upset in the meantime, Auburn is again all that stands between the Bulldogs and a 12-0 record going into December. The Tigers have a tougher road, beginning with this weekend's big non-conference test against Washington and continuing with the usual SEC West gauntlet. Assuming the division is still theoretically within reach when they visit Athens, though, no other single game stands to shape the postseason landscape to quite the same extent.
My All-SEC team
And just for the heck of it, here's my own personal (that is, not reflective of the opinion of anyone else at Saturday Down South) preseason All-SEC team. If an obviously deserving player from your neck of the woods didn't make the cut, it can only be because I harbor a deep, irrational bias against him personally — especially if he happens to play, say, defensive tackle or quarterback — and your team generally, and certainly not because some of these decisions were tough calls between more deserving candidates than I could accommodate.
OFFENSE
Quarterback: Jarrett Stidham • Jr, Auburn
Running Back: Damien Harris • Sr, Alabama
Running Back: D'Andre Swift • So, Georgia
All-Purpose: Deebo Samuel • Sr, South Carolina
Wide Receiver: A.J. Brown • Jr, Ole Miss
Wide Receiver: Emanuel Hall • Sr, Missouri
Tight End: Albert Okwuegbunam • So, Missouri
Line (OT): Jonah Williams • Jr, Alabama
Line (OT): Greg Little • Jr, Ole Miss
Line (OG/OT): Trey Smith • So, Tennessee
Line (OG): Hjalte Froholdt • Sr, Arkansas
Line (C): Ross Pierschbacher • Sr, Alabama
Honorable Mention – QB: Jake Fromm (Georgia); Tua Tagovailoa/Jalen Hurts (Alabama); Drew Lock (Missouri); Jake Bentley (South Carolina); Jordan Ta'amu (Ole Miss); Nick Fitzgerald (Mississippi State). … RB: Benny Snell Jr. (Kentucky); Trayveon Williams (Texas A&M); Aeris Williams (Mississippi State); Damarea Crockett (Missouri); Najee Harris (Alabama). … WR: Terry Godwin (Georgia); Demetris Robertson (Georgia); Bryan Edwards (South Carolina); DeMarkus Lodge (Ole Miss); D.K. Metcalf (Ole Miss); Van Jefferson (Florida); Ryan Davis (Auburn); Darius Slayton (Auburn); Jhamon Ausbon (Texas A&M). … TE: Isaac Nauta (Georgia) … OL: Kendall Baker (Georgia); Lamont Gaillard (Georgia); Andrew Thomas (Georgia); Garrette Brumfield (LSU); Martez Ivy (Florida); Javon Patterson (Ole Miss).
DEFENSE
Defensive End: Raekwon Davis • Jr, Alabama
Defensive End: Landis Durham • Sr, Texas A&M
Defensive Tackle: Jeffery Simmons • Jr, Mississippi State
Defensive Tackle: Derrick Brown • Jr, Auburn
Edge/Rush End: Montez Sweat • Sr, Mississippi State
Linebacker: Devin White • Jr, LSU
Linebacker: Tyrel Dodson • Jr, Texas A&M
Linebacker: Mack Wilson • Jr, Alabama
Cornerback: Greedy Williams • So, LSU
Cornerback: Deandre Baker • Sr, Georgia
Safety: Grant Delpit • So, LSU
Safety: Chauncey Gardner Jr. • Jr, Florida
Honorable Mention – DL: Terry Beckner Jr. (Missouri); CeCe Jefferson (Florida); Marlon Davidson (Auburn); Dontavius Russell (Auburn); McTelvin "Sosa" Agim (Arkansas); D.J. Wonnum (South Carolina); Isaiah Buggs (Alabama); Benito Jones (Ole Miss). … LB: D'Andre Walker (Georgia); Otaro Alaka (Texas A&M); K'Lavon Chaisson (LSU); David Reese (Florida); Dylan Moses (Alabama); Dre Greenlaw (Arkansas); Jordan Jones (Kentucky); Gerri Green (Mississippi State). … DB: Nigel Warrior (Tennessee); Deionte Thompson (Alabama); Mark McLaurin (Mississippi State); Jamel Dean (Auburn); C.J. Henderson (Florida); Marco Wilson (Florida); Mike Edwards (Kentucky); Joejuan Williams (Vanderbilt).
SPECIALISTS
Kicker: Rodrigo Blankenship • Sr, Georgia
Punter: Corey Fatony • Sr, Missouri
Kick Returner: De'Vion Warren • So, Arkansas
Punt Returner: Mecole Hardman • Jr, Georgia
Honorable Mention – K: Daniel LaCamera (Texas A&M); Tucker McCann (Missouri). … P: Joseph Charlton (South Carolina). … KR: Richaud Floyd (Missouri); Deebo Samuel (South Carolina).