SEC
Monday Down South: Bring on the Bama-Georgia showdown we deserve
No disrespect to Auburn. Really. But it's been abundantly clear for weeks now where this season is headed — toward an all-defining, winner-take-all collision between Alabama and Georgia in the SEC Championship Game — and with the destination in sight there's no turning back now, or dialing back the palpable sense of anticipation.
The Bulldogs and Crimson Tide are bona fide heavyweights, mirror images in almost every way, ranked No. 1 and No. 2 in every poll, the best possible scenario for a conference that's already hosted more than its share of bloodbaths on its biggest stage.
Auburn is … well, Auburn is a spoiler, frankly, a flawed, inconsistent team with a better chance of derailing one or both of its rivals' dream seasons than it has of fulfilling its own. And who, outside of Auburn fans, is in any mood to have the one good thing the SEC undeniably has going for it in an otherwise morose 2017 spoiled?
So with all due respect to the one team that can still prevent it from happening: Bring on Bama-Georgia already. Let it arrive with maximum impact. Let the hype bloom and expand beyond the known borders of interest in SEC football. Embrace the inevitability. Give the people the blockbuster they've bargained for, undiluted, at top volume.
Again, nothing against Auburn. There's a reason they're in position to deflate the status quo over the next three weeks: When the Tigers are good, they're very good, having laid the wood to five of their first six SEC opponents by at least 15 points apiece. Saturday's efficient, 42-27 win at Texas A&M was their closest call yet in a conference win, and they went into cruise control midway through the third quarter.
In their only conference loss, the Tigers led LSU 20-0 early in the second quarter before gradually falling to pieces on the road; a couple more plays in its favor in Baton Rouge, and the conversation around Auburn's résumé and prospects as a Playoff contender in its own right would be very different. In its way, the "Big Three" narrative down the stretch could be every bit as compelling down the stretch as the trajectories of the Immovable Object and Irresistible Force.
It's not for nothing, either, that the early line for Saturday's Auburn-Georgia tilt is effectively a pick 'em, with UGA opening up as a mere 1-point favorite on the road. But the Bulldogs, 9-0 for the first time since Herschel Walker's last go-round in Athens in 1982, are already a lock for Atlanta, having clinched the East Saturday in a by-the-book, 24-10 victory over South Carolina, and an upset on the Plains (even a technical one, according to Vegas) would throw all the well-laid assumptions about Georgia's path to the Playoff into flux. It also would set up an Iron Bowl matchup on Thanksgiving weekend, also at Auburn, that could destabilize the prevailing order even further.
That's not likely to happen. If it does, though, the Tigers could find themselves in a Championship rematch with Georgia just three weeks removed from the first meeting, with their Playoff credentials as a potential two-loss SEC champion serving as the main topic of debate. The opportunity is still in front of them. The promise and beauty of the Bama-Georgia showdown, though, that's loomed all season is that there is no debate: Two 12-0 teams on the same field, interchangeable at the top of the polls, speaks for itself. That's the opportunity in front of the SEC, and everyone who lives and breathes it year-round. We can live with a dark horse. We can't replace the only matchup we really wanted.
NOTEBOOK
Around the conference.
Alabama 24, LSU 10: First of all, a routine, two-touchdown victory over LSU is a routine, two-touchdown victory over LSU, which even for a program that's taken seven straight against the Tigers is worth taking at face value. Alabama went up 14-0 less than a minute into the second quarter, maintained a double-digit edge the rest of the way, and generally had no reason to fear LSU's offense on any level — i.e., a rough repeat of almost every other entry in the current streak. By any standards except Bama's, it was an encouraging outing against a ranked opponent; even by Bama's, it was business as usual, at worst.
But it was not the kind of start-to-finish beatdown that the Crimson Tide have made their trademark. LSU slightly outgained Alabama overall, converted nearly 50 percent of its third downs, and broke a rare big play on the ground; the offense went three-and-out just twice and sacked Jalen Hurts four times. But most notably, for a deep, dominant backfield that came in averaging almost 300 yards rushing per game, on well over six per carry, LSU effectively shut down the run to an extent that barely seemed possible over the first two-thirds of the season, or even longer — Bama's output on the ground (116 yards on 3.2 per carry) was easily its worst of the past two years vs. a Power 5 opponent, and one of its worst of the past five years:
That's about as mortal as the Tide have looked on the ground in a long time, against a defense that had been more or less average against the run over its first eight games; Mississippi State (285 yards), Troy (206), Florida (194), Auburn (189), and Ole Miss (153) all did more damage on the ground against LSU than Alabama, both in terms of total yards and yards per carry. Remove negative yardage on sacks, and Hurts' production was within range of his season average. The rest of the blue-chip, gold-standard backfield was dormant. Bo Scarbrough scored from 9 yards out in the early going and was quiet the rest of the night. The resident home-run back, Damien Harris, averaged just 3.7 per carry, well below half of his season average, with a long gain of just eight. Josh Jacobs got one carry, for three yards; Najee Harris didn't touch the ball at all.
It didn't matter in the end because a) the defense held up its end of the bargain, as usual, and b) Hurts did enough damage with his arm to make the Tigers pay for their fixation on stopping the run — although he hit just 11-of-24 passes, five gained at least 20 yards, and all five led to points.
That's encouraging in light of lingering skepticism over Hurts' ability to challenge secondaries deep with any kind of consistency. But is it sustainable? The sketchy completion rate is reminiscent of Hurts' postseason nosedive last year as a true freshman. The next three conference opponents on deck for Alabama (Mississippi State, Auburn, and Georgia if the Tide win the West) are also the SEC's best defenses against the run behind Bama's. If any succeed in putting the game on Hurts' arm again the results might not be as favorable for the Tide.
Georgia 24, South Carolina 10  Last week I looked at Jake Fromm's restrained, 4-of-7 performance against Florida and wondered how just much the freshman was prepared to handle in a situation that forced him to carry a larger share of the offense.
This game plan seemed specifically designed to answer that question, calling on Fromm to throw early and (relatively) often, and he delivered with one of his most self-assured outings to date: 16-of-22, 196 yards, two touchdowns, no picks, no drama. The Gamecocks gave Georgia its first four-quarter test since the Bulldogs' Week 2 win at Notre Dame, and their fledgling quarterback passed with ease.
That's not to suggest Kirby Smart or offensive coordinator Jim Chaney are ready to open the playbook up for Fromm, Big 12 style; Georgia still kept the ball on the ground Saturday on 53 of its 75 snaps, continuing to rely on Nick Chubb (20 carries for 102 yards) and Sony Michel (16 for 81) about twice as often as on Fromm's arm.
So far, they have no reason not to. But Fromm has looked comfortable with everything he's been asked to do, and as the passing playbook has gradually expanded he's expanded his game right along with it. When the time comes for him to make a play or else, at minimum it seems they can count on him to not be overwhelmed by the moment.
Missouri 45, Florida 16: Florida is in the tank, obviously, well on its way to a finish that eclipses the 4-8 debacle of 2013 as the most depressing season in Gainesville in recent memory. (The low point of that season was the late November loss to Georgia Southern in which the Eagles didn't complete a pass; would anyone be surprised if this team lost to UAB in two weeks? Anyone?) As sharply as the Gators' stock has fallen, though, for Missouri QB Drew Lock the needle continues to point in the opposite direction — as bad as he looked in September, since the calendar turned to October, Lock has been the most productive passer in the SEC, and quietly one of the most efficient in the nation:

Those are crazy numbers across the board (21 touchdowns to three picks? In five games?), and not just against the likes of Idaho and UConn: Lock is the only opposing quarterback to date who's had any success against Georgia whatsoever, and his passer rating against Florida (210.3) was the best of any opposing QB against the Gators since early 2014. After throwing an interception on Mizzou's first series, he was nearly flawless, leading touchdown drives on five of the Tigers' next six possessions. For the first time in his career, he's finally beginning to look like the guy they recruited him to be against respectable opposition.
Is it a coincidence that Lock's surge has coincided with Coach Barry Odom's "I'm the man to get it done" speech following the blowout loss to Auburn? Eh, check again later — it's still true that Missouri has yet to beat an above-average team, and even as the offense has come alive other issues persist. (On paper, anyway, Malik Zaire and Feleipe Franks combined to post Florida's best passing game of the season.) But suddenly the Tigers are likely favorites in their last three games, against Tennessee, Vanderbilt and Arkansas, and if they take two of them they'll snap a two-year bowl drought. On the heels of a five-game losing streak, that would qualify as one of the happier endings in a conference where there aren't going to be very many.
PLAYOFF REALPOLITIK
Each week for the rest of the season, Playoff Realpolitik will reorganize the Top 10 according to each team's chances of actually making the playoff field in December, regardless of its ranking on a given weekend — not how the field looks today, but what it will look like when it comes time for the bracket to be set. Projections take future schedules and multiple possible scenarios into account to determine the true pecking order, with the understanding that the real winner in the end will be chaos. Always chaos.
The big shakeup this weekend involved the Big Ten — the Big Ten East, specifically, where front runners Ohio State and Penn State both crashed and burned on the road en route to their second losses. As far as the conference standings are concerned, the result was a convoluted, four-way logjam atop the East that will likely take the rest of the regular season to resolve; the Playoff conversation, on the other hand, just got a lot simpler: Barring a miracle over the coming month (or a catastrophe, depending on your perspective) the Buckeyes and Nittany Lions are effectively eliminated.
That leaves us with just six teams in control of their destiny for one of the four Playoff slots, including 9-0 Wisconsin, the B1G's lone remaining standard bearer. Here they are in order of their chances of winning out (including conference championship games) according to ESPN's Football Power Index:
At this point, it's safe to assume Georgia and/or Bama can survive a mulligan over the next few weeks and still make the cut if it goes to win in Atlanta — of all the possible outcomes between now and Dec. 3, it's hard to imagine any of them leaving a 12-1 SEC champion out in the cold. (A mulligan for the loser of the championship game is another story; see below.) For the rest, every game is an elimination game. Wisconsin and Miami are fine as long as they keep winning, but neither has been impressive enough or played an impressive enough schedule to survive a loss now, pretty much regardless of the circumstances.
To be fair, the Hurricanes' odds improved significantly with Saturday's solid, 28-10 win over Virginia Tech, and will soar if they follow it up this weekend with a win over Notre Dame. But their chances of getting past Notre Dame and Clemson, in the ACC Championship Game, are still distant. (In fact, if I were a Miami fan, I'd swallow my cross-state pride and root for a Florida State upset over Clemson, opening the door for N.C. State to take the ACC Atlantic instead — much better to face the Wolfpack for the conference title than the defending champs. I wouldn't bet on it, though.)
Next up, the teams that need a little help, in the order that I believe the committee would rank their respective best-case scenarios:

I realize Georgia fans, especially, will take issue with the idea that a loss in the SEC title game is likely to drop the Bulldogs below the same Notre Dame team they beat back in Week 2 — in South Bend, no less — and y'all might be right. A scenario that pits 12-1 UGA vs. 11-1 ND for the final Playoff ticket isn't very likely, but it is intriguing: Georgia has the head-to-head edge, but the Irish, if they're still in the conversation a month from now, will have survived a notably tougher schedule. If it comes to that, my guess is the committee would fall in line for the team on a 10-game winning streak over the one that just lost on the final Saturday of the season, but that's just a guess. How competitive the Bulldogs are in Atlanta will have a lot to do with that argument.
The same goes for Alabama if it's on the losing end in the SEC Championship, except that Bama doesn't have another above-the-fold win to fall back on: Its big non-conference victim, Florida State, is 3-5 and barely scratching out wins over the likes of Duke and Syracuse. FSU's collapse isn't the Tide's fault, but it does leave a massive hole in their résumé that's going to be hard to overcome if they can't even claim to be the best team a frankly watered-down conference. In that case the nod would go to Notre Dame.
In the Big 12, the difference between Oklahoma and TCU (who play on Saturday, and could see each other again in the Big 12 Championship Game) is that OU has a marquee non-conference win, over Ohio State on the road, and the Horned Frogs don't. If Oklahoma wins out to finish 12-1, the combination of a conference title and a quality non-conference scalp win will likely elevate the Sooners over a 12-1 SEC runner-up; if TCU wins out, my guess is the committee would favor the SEC runner-up. Root for TCU, or better yet, for Oklahoma this weekend and TCU in the presumptive rematch.
Flip Auburn and Washington if you like; again, the Tigers would have a serious case as 11-2 SEC champs, but as things stand that outcome is so unlikely it's not worth overthinking. (Whereas Washington is beginning to look like a runaway favorite to repeat in the Pac-12.) And if you're in the mood, you can theorize over some remote hypothetical that involves a two-loss Big Ten champion — or one-loss Wisconsin, if the Badgers stumble against Michigan or Iowa — somehow climbing back into the picture. Have at it. I'll wait to go down that rabbit hole until I can see the end.
SUPERLATIVES
The best of the week …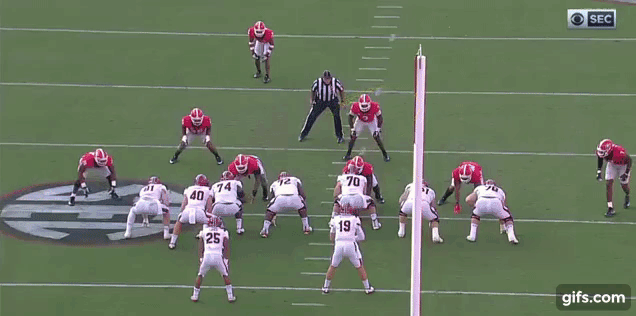 1. Roquan Smith, LB, Georgia. Smith was his usual, ball-hawking self against South Carolina, showing off his tremendous instincts and closing speed en route to a team-high nine tackles (seven solo) and two sacks. More to the point, with Smith patrolling between the tackles Carolina largely abandoned any pretense of a ground game after the first quarter: Over the final three, the Gamecocks' running backs managed a grand total of 41 yards on just 10 carries.
2. Kerryon Johnson, RB, Auburn. Johnson's lanky frame belies a workhorse mentality on par with any Auburn back of the past 25 years, at least, which is saying something. But it's true: Against Texas A&M, he racked up 174 yards from scrimmage on 34 touches, a career high, most of it coming in the second half. (And none of it coming on big, breakaway runs; Johnson's longest gain of the game covered "only" 22 yards.) For the season, that lifted him into the SEC lead for both yards and carries per game, as well as total touchdowns, despite missing the better part of September with a gimpy hamstring.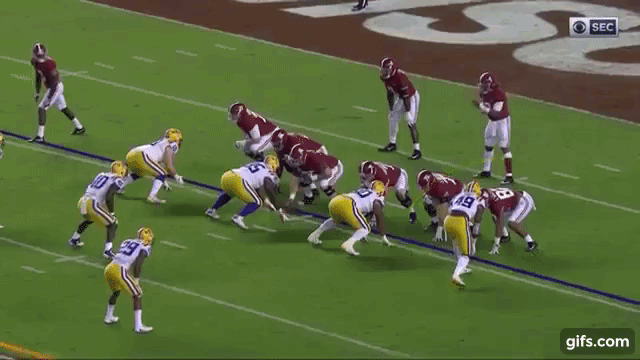 3. Arden Key, Edge, LSU. On a field full of future draft picks, no one did more to solidify his stock than the Tigers' resident edge-rushing terror, who was as healthy as he's been all season against Alabama and looked it. Key had a hand in at least a dozen plays, finishing with eight total tackles, two for loss, and a pair of QB hurries, for good measure; after a slow start, that marked his third straight game with multiple TFLs. At one point, Key also drew a holding penalty against Bama's star left tackle, Jonah Williams, that wiped out a long completion in the third quarter.
4. T.J. Hammonds. RB, Arkansas. It was a harrowing weekend for the Razorbacks, narrow survivors of a 39-38 upset bid from Coastal Carolina, and would have been much worse if not for a breakthrough performance by Hammonds: Coming off the bench, the little-used sophomore accounted for 179 total yards and two touchdowns — covering 60 yards and 88 yards, respectively, the latter sparking Arkansas' comeback from 13 points down in the fourth quarter — all on just eight touches. Prior to last week's win over Ole Miss, Hammonds had just 22 career carries, a number he's nearly matched now in the past two games alone.
5. Jordan Ta'amu, QB, Ole Miss. In his second career start, the Hawaii native delivered a legitimately Patterson-esque stat line against Kentucky (31-of-40, 382 yards, 4 TDs, 0 INTs) along with a couple of Patterson-esque throws, as well. Most important, with the game on the line he drove the Rebels 71 yards for the winning touchdown in the dying seconds — a drive on which Ta'amu was 8-of-11 passing to seven receivers and added a 10-yard scramble for a first down. The sample size is too small to place him among the league leaders, but if it did, Ta'amu's efficiency rating over the past three games (171.3) would be the best of any SEC starter this year vs. FBS opponents.
Catch of the Year of the Week: D.K. Metcalf, Ole Miss.
It helps, of course, to have a fleet of rangy, prototypical targets like Metcalf, who combined with Van Jefferson, A.J. Brown, and DaMarkus Lodge to bring down 22 of Ta'amu's 31 completions and all four touchdowns. The last entry on that list was shortest, covering just 7 yards. But it was also the biggest, effectively sealing Ole Miss' first road win of the year with 5 seconds to go, and undeniably drew the highest marks for degree of difficulty: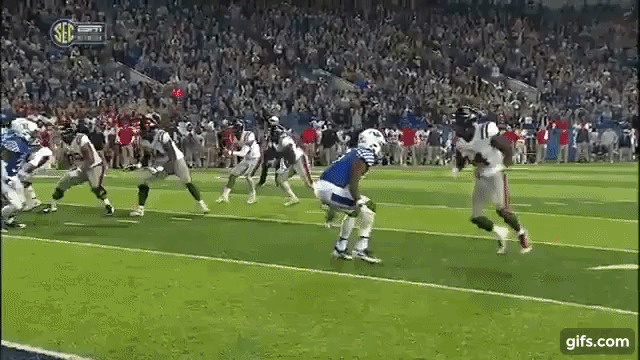 For more context, the cornerback on that play, Lonnie Johnson, is listed at 6-foot-3, only an inch shorter than Metcalf. That Metcalf still has the ability to make a clutch, tightly contested catch with no margin for error and an equally lanky DB draped all over him look relatively easy is just another mark in its favor.
Honorable Mention: South Carolina's Bryan Edwards hauls in an acrobatic, back-shoulder touchdown to put the Gamecocks on the board against Georgia … UGA's Javon Wims does him one better … And Vanderbilt's Trey Ellis takes advantage of a lucky bounce against Western Kentucky.
DEMERITS
… and the worst.
Pic sums up the razorback season this year. Couldn't give away xtra lower level tickets so I just stuck them on a column help yourself!! pic.twitter.com/iKj3EPoEhS

— WooPIgFan (@BrentMontgomer3) November 4, 2017
Arkansas' Close Shave. Coastal Carolina is not an FCS team, technically, but as far as Arkansas is concerned it might as well be: The Chanticleers arrived in Fayetteville Saturday as arguably the lowest members of the Sun Belt, 24-point underdogs riding a seven-game losing streak in their first season in the I-A/FBS ranks. (Previous losses in that span included a 52-10 debacle at the hands of Western Illinois, a 51-17 blowout against Arkansas State, and a 27-7 flop against lowly Texas State their last time out.)
Realistically, their main objective was to make it out in one piece with a $1.5 million check to show for it. Instead they pushed the Razorbacks to the brink before losing by one point, 39-38, after leading for virtually the entire second half.
Under the circumstances, some Arkansas fans were at least as upset by the Hogs' fourth-quarter rally as they would have been by an outright loss — understandably, since at least a loss, while humiliating, might have forced an immediate decision on coach Bret Bielema rather than dragging out the inevitable for another month or (heaven forbid) another year.
At 4-5, the Razorbacks are still eligible for a bowl game, for whatever that would be worth; they also figure to be significant underdogs in each of their last three games against LSU, Mississippi State, and, the way things are going, probably even Missouri in the regular-season finale.
At this point, what exactly would qualifying for the Belk Bowl prove, anyway? Bielema is 11-26 in SEC games over nearly five years, and the gap is getting wider. When the official AP recap describes a come-from-behind victory over a Sun Belt bottom dweller as "improbable," everyone knows what time it is.
Texas A&M's Punt Team. As if the other phases weren't bad enough in the Aggies' loss to Auburn, things went sideways for the punting unit in just about every way possible. In the first half, the personal protectors in front of punter Shane Tripucka parted like the red sea, leading to a blocked punt, an Auburn recovery in the end zone, and a massive momentum swing just before halftime. In the second, Tripucka just straight up kicked the ball into his own man …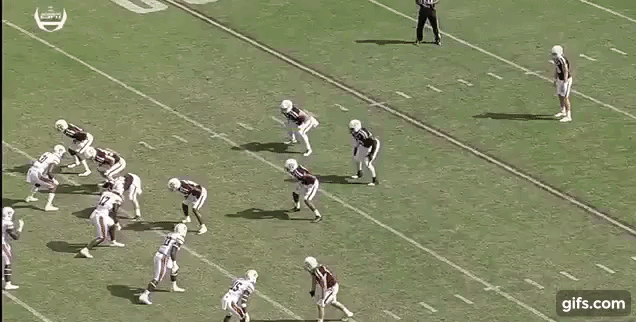 … resulting in a 16-yard punt and a short field for the Tigers' offense. Three players later they were in the end zone, extending their lead to 35-13 midway through the third quarter. A&M only touched the ball three more times after that, trailing by at least 15 point each time.