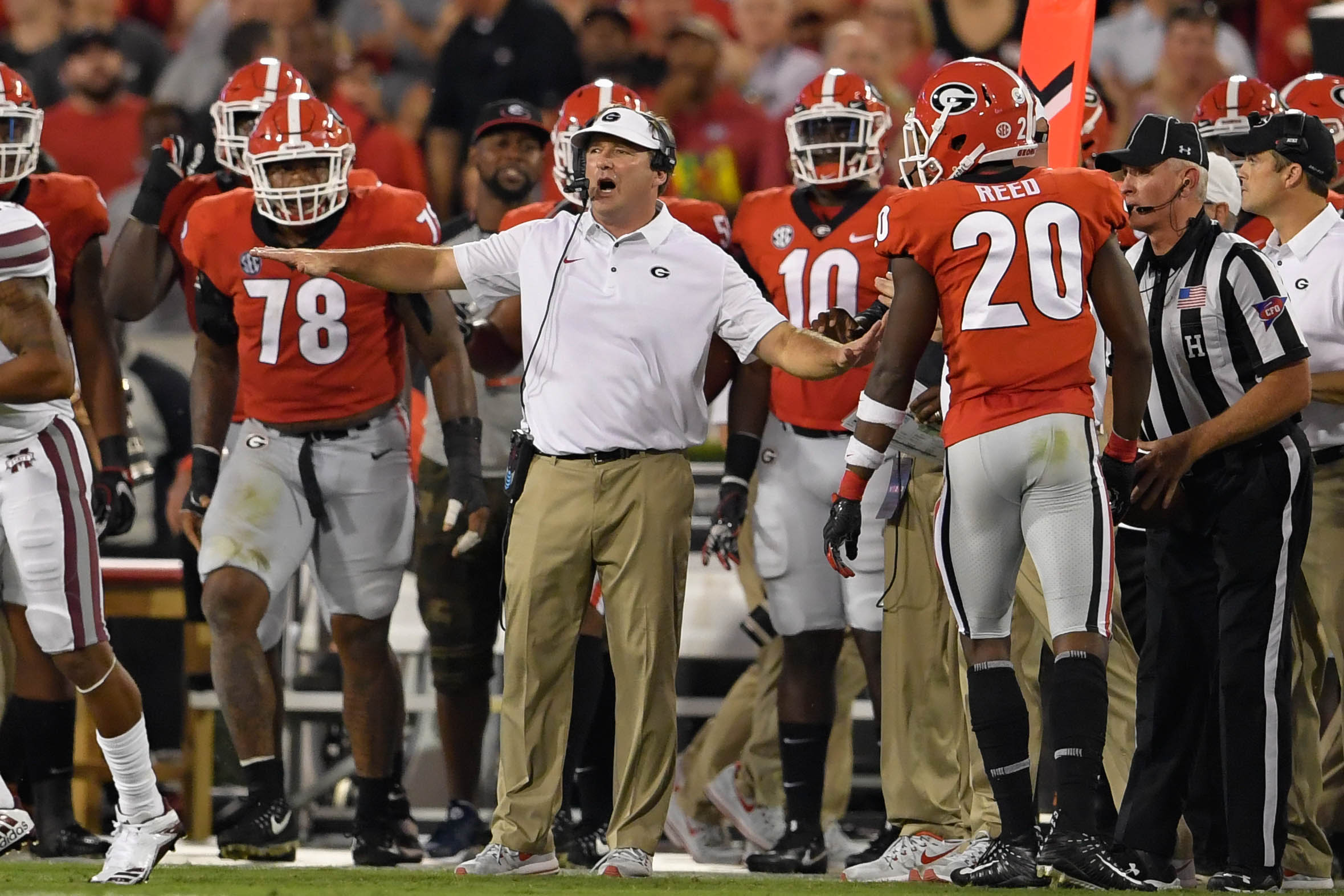 SEC
Monday Down South: Beyond Bama, it's Georgia or bust
A specter is haunting the SEC — the specter of Bama. The Crimson Tide's blowout win over Vanderbilt on Saturday was their 18th straight in conference play, their ninth straight by double digits, and the latest notice (as if anyone needed it) that the Saban Death Star only appears to be getting stronger with age. Last year, Saban's tenth in Tuscaloosa, the gap between Alabama and the rest of the SEC was so vast it was almost comical. Based on the early returns this year, the chasm is still growing.
Four weeks into the 2017 campaign the conference is already down to its last, best hope to emerge a serious challenger: Georgia, whose 31-3 trouncing of Mississippi State left the red-and-black Bulldogs as both the league's only other undefeated team and, at this stage, the only other plausible contender with a shot at national relevance. Whether that says more about Georgia's ascent under Kirby Smart or about the ongoing decline of the SEC's other traditional heavyweights is the most pressing question of the young season.
For its own part, UGA still has a ways to go to shed its reputation as an enigma. The Bulldogs are talented, of course, if not quite on Alabama's level — they're not about to send out a 1,000-yard rusher to block a punt just for the hell of it — then certainly as close as any team this side of Clemson or Ohio State is likely to come.
But they've also fallen into a pattern of underachieving, finishing unranked in three of the past four seasons despite spending time in the Top 10 each year. That pattern got Mark Richt fired, and it didn't change in Smart's first season, when Georgia plummeted from as high as No. 9 in the AP poll to an 8-5 finish. Wit that track record, frankly there's almost nothing the Bulldogs could have done in just four games to vanquish any lingering doubts.
Still, the outfit that just waylaid Mississippi State has a lot going for it, beginning with a loaded, long-in-the-tooth defense built in the image of the monster 3-4 units Smart oversaw as Saban's defensive coordinator; the Bulldogs nearly pitched a shutout against MSU, two weeks after holding Notre Dame to a single, short-field touchdown in a 20-19 win in South Bend. They're physical offensively (see below), and suddenly flush with targets in the passing game.
The schedule poses the usual obstacles — Tennessee, Florida, Auburn, Georgia Tech all away from home — but from this vantage point UGA will be favored in every game. There's no Bama, LSU or Texas A&M on deck, and as sketchy as Tennessee, Florida and Auburn have looked so far against decent competition, there's a possibility that we'll look back in November and realize the Bulldogs have already passed their toughest test of the regular season. If turns out that test was Saturday night, they passed with flying colors.
For at least a few more weeks, though, visions of a competitive, high-stakes SEC Championship Game will be based more on optimism than actual evidence. For teams that haven't won big before, handling success can be an obstacle in itself. This weekend's trip to Knoxville is ripe for an ambush; ditto the Florida game a month from now, against a team well on its way to mastering the dark art of winning games it has no business winning. If Georgia doesn't quite fit the void opposite the Crimson Tide, as long as it keeps racking up Ws the temptation will be to fit the void to Georgia, if for no other reason than to keep it interesting.
Because barring a wild plot turn, the only available alternative to the void — that is, to a fourth consecutive season of Bama walking over a token doormat from the East in Atlanta — is a Georgia team that's up to the challenge, with viable playoff hopes of its own. A lot can and will change between now and December, but but very few of the possible paths from here end with, say, Auburn or Florida overcoming their flaws to emerge as a national player. Until proven otherwise, it's Bulldogs or bust.
NOTEBOOK
Around the conference.
Georgia 31, Mississippi State 3: We already knew Georgia could play defense, so it was fitting that the D set the tone for the blowout: Mississippi State's first play went for a 6-yard loss, setting up a quick three-and-out; repeat a dozen times and you'll have a fairly accurate summary of the rest of the night. MSU did manage to move the chains in fits and starts, matching Georgia's 15 first downs, but largely failed to string together actual drives or (unlike Georgia) to generate anything remotely resembling a big play. That was a direct result of UGA's control of the line of scrimmage, which — just as it was in UGA's much more tightly contested triumph at Notre Dame — was probably the single most salient factor in the win.
No, the real revelation was Georgia's offensive line, which not only held up against Mississippi State's formidable front seven but often imposed its will. It was an especially miserable night for the rising star of MSU's defensive line, Jeffery Simmons, who barely registered on the stat sheet and was generally neutralized by a steady diet of double teams.
To put it bluntly, on a handful of plays in this game Simmons was physically manhandled in a fashion that was the complete opposite of his star turn against LSU. Keep an eye on Simmons (No. 94) on Georgia's first carry of the game, a straight-ahead iso run by true freshman D'Andre Swift, which gained 12 yards behind a pancake-worthy combo block by left tackle Isaiah Wynn (77) and left guard Kendall Baker (65):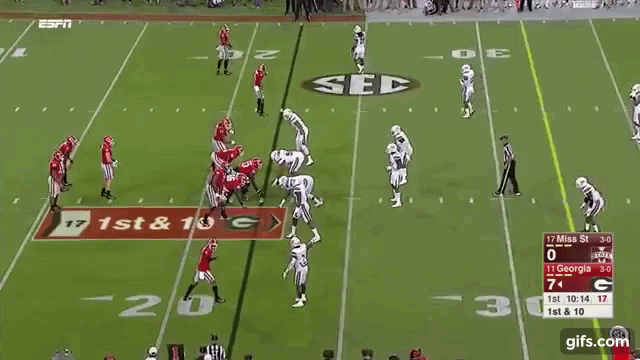 Up next is a nearly identical play in the second quarter, which saw Simmons getting driven a good seven yards off the ball (and eventually to the ground) by Baker and center Lamont Gaillard (53):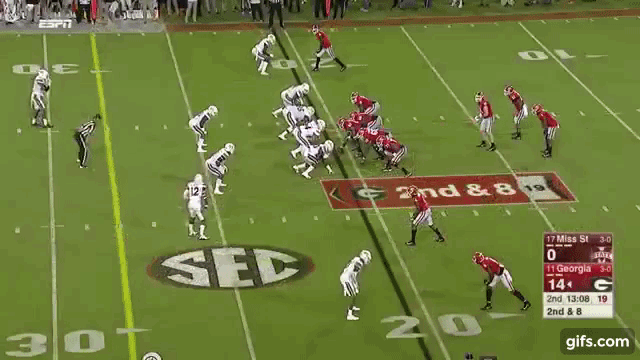 Third quarter now, on another straight-ahead run pitting Simmons against a double team by Baker and Gaillard, with similarly lopsided results as Sony Michel barreled for 8 yards through the hole cleared by the interior line: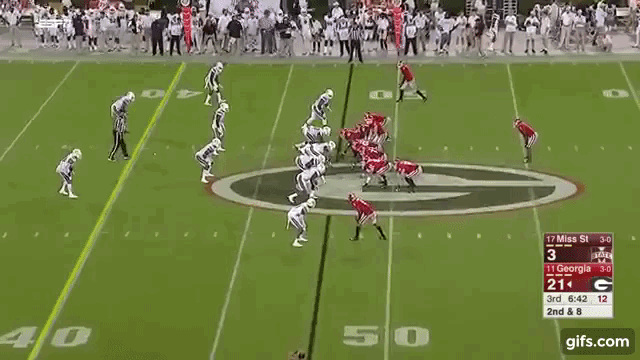 That run set up the dagger, a 41-yard touchdown pass on the next play from Jake Fromm to tight end Isaac Nauta that extended UGA's lead to 28-3; predictably, it came at the expense of an MSU secondary that was fully committed to run support on third-and-1. By that point it had no choice: Georgia's offensive line had repeatedly asserted itself as the burlier unit in the trenches, and Mississippi State's d-line — the standout unit in the Bulldogs' win over LSU — needed all the help on an ostensible run down it could get.
The point here isn't to single out Simmons, a bona fide 5-star talent who (rough night notwithstanding) remains one of the conference's most promising young players, or anyone else on the MSU defense; it's to it's to highlight the kind of physicality from Georgia that's been sorely missing against top-shelf SEC defenses for at least the past two years.
The Bulldogs aren't massive between the tackles (Baker and Gaillard are listed at 287 and 288 pounds, respectively, undersized for modern SEC blockers) but they made a compelling case Saturday that they have the muscle to grind out a steady living on the ground against the rest of the regular-season schedule, at least. If that's the case, the looming impasse at quarterback may be strictly academic.
Texas A&M 50, Arkansas 43 (OT): Deep down, Kevin Sumlin's heart will always belong to the Air Raid. In practice, the ideal version of Texas A&M's offense circa 2017 is a lot closer to what we saw on Saturday: Even in a game that felt like the gridiron equivalent of H-O-R-S-E, the Aggies kept the ball on the ground on 60 percent of their snaps, divvying up productive touches between tailbacks Keith Ford and Trayveon Williams and long-striding freshman QB Kellen Mond; collectively that trio racked up 283 yards rushing on just shy of seven yards per carry, with scoring runs covering 18, 23, and 44 yards. (Mond also busted a 79-yard option keeper in the first half, which should have scored; although he was ruled out of bounds on the field, the SEC acknowledged on Sunday that he deserved a touchdown.)
On a per-carry basis the Aggies' output against Arkansas eclipsed their 382-yard romp against UCLA on opening day. Assuming Sumlin is all-in on Mond as his starting quarterback — and at this point, he pretty much has to be — a spread-to-run attack that revolves around the freshman's mobility is a legitimate identity to build on.
Of course, it certainly doesn't hurt that Mond is beginning to make strides as a passer, too. He connected on at least two downfield throws Saturday that would have seemed beyond him just a couple weeks ago: The first, an ad-libbed throw on the run to his primary weapon, Christian Kirk, who exploited a badly busted coverage by Arkansas en route to an 81-yard touchdown; the second, a 50-yard heave to Damion Ratley that showed off some better-than-expected downfield touch from the pocket: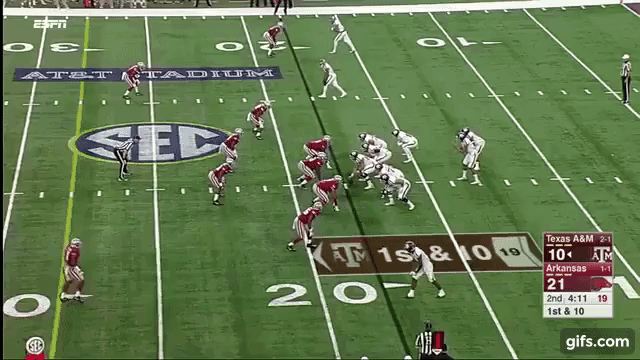 There were still some signs in the second half that coaches don't fully trust Mond yet in certain situations, most obviously when they opted to settle for a field goal to tie at the end of regulation rather than let him attempt a pass to win from the Razorbacks' 10-yard line. But Mond responded with what turned out to be the winning TD pass in overtime, and at the rate he's going — not to mention the alarming rate at which A&M's defense is allowing points in the fourth quarter — it's a safe bet many more of those opportunities are in his future.
Florida 28, Kentucky 27: The really mind-boggling thing about Florida's offense right now isn't just that it has to resort to a bizarre combination of gimmicks and raw, random luck to get anything done against an opponent it's now beaten 31 years in a row — it's that the combination actually worked. The Gators scored four touchdowns on Saturday night, not a single one as a result of their conventional offense functioning under normal conditions:
1. True freshman jack-of-all-trades Kadarius Toney scored his first career TD on a 36-yard run from the Wildcat, tying the game at 7-7 early in the second quarter. (No other Florida run gained more than 11 yards.)
2. Just before the half, Kentucky's secondary spaced on its assignments, simply neglecting to cover wide receiver Tyrie Cleveland at all on 4th-and-3; Cleveland hauled in a short throw from Feleipe Franks and took it 45 yards for an essentially uncontested score to tie the score at 14.
3. Receiver Brandon Powell scored on a 6-yard run out of the Wildcat, capitalizing on the biggest gain of the night by either side: A 50-yard connection from Toney to Cleveland on an end-around pass. (Another first for Toney.) That cut the Wildcats' lead to 27-21 early in the fourth.
4. With less than a minute remaining, Kentucky's secondary somehow spaced again, this time leaving receiver Freddie Swain all by himself for an easy, uncontested TD catch from 5 yards out. That tied the game with 43 seconds to play; the extra point supplied the winning margin.
As far as sustainable positives likely to carry forward over the rest of the season, the ledger is empty. The non-Wildcat ground game was steady but pedestrian; Florida's every-down quarterbacks, Franks and Luke Del Rio, accomplished next to nothing except when their receivers were literally ignored by UK defenders. (The fact that Del Rio finished the game with a perfectly healthy Franks and Malik Zaire watching from the sideline was a blaring emergency siren in itself; I'll have more on that development in this week's edition of QB Curve.) Combined with last week's Hail Mary miracle to beat Tennessee, it's hard to imagine a less inspiring way to open 2-0 in conference play.
On the other hand, if you just assume the Gators' failure to field an offense with any reliably functioning pieces from one week to the next necessarily dooms their chances of repping the East in Atlanta, well, you must be new in these parts.
Auburn 51, Missouri 14: Missouri was outscored 66-16 in its previous two games, against South Carolina and Purdue, so it's not like watching the Tigers get beaten to a pulp by a ranked team told us anything we didn't already know. Mizzou had looked overmatched against mediocre competition; on Saturday night it looked completely out of its depth, trailing Auburn 45-7 midway through the third quarter. But that's no solace to second-year coach Barry Odom, whose job depends on salvaging some semblance of progress from this mess, and who is clearly not content to submit to the negative vibes beginning lap at his feet:
Here's the first portion of Barry Odom's "state of the program" address. pic.twitter.com/cXyBzDT5f3

— Brandon Kiley (@BKSportsTalk) September 24, 2017
Odom is right in one sense: Long-time Missouri fans are intimately familiar with the rebuilding cycle under his predecessors, Larry Smith and Gary Pinkel, both of whom achieved some longevity (seven years for Smith, 15 for Pinkel) after similarly depressing starts. Unlike Odom, though, they both had established track records as head coaches at previous stops.
More to the point, the program Odom inherited from Pinkel was largely built, barely a year removed from back-to-back SEC East titles in 2013 and '14, and all signs right now are pointing firmly in the wrong direction relative to that standard. The current lineup is a fairly veteran group overall, headlined by a former blue-chip quarterback recruit in his third year as the starter. Just how patient are those fans supposed to be after watching their team get embarrassed by Purdue, an even more dire rebuilding case whose new coach has made immediately obvious progress in just a few games? If Odom is "the man to go get it done," well, when does it start getting done?
The fact is, at this still-early stage in Odom's tenure, those aren't really questions anyone would have thought to ask if he hadn't gone out of his way to issue the challenge. Waiting on a bad team to turn things around is par for the course; waiting on a coach who insists he has the answers is a harder sell when all of the evidence to date suggests the opposite. With his speech, Odom only reinforced that there is and should be a sense of urgency — one way or another, it will probably go down as a defining moment in his tenure. Just not necessarily in the way that he hoped.
Alabama 59, Vanderbilt 0: I'm going to assume most of the people who bothered to tune in to this game in the first place flipped away early, after Bama went up 21-0 in the first quarter, or else spent the subsequent three hours devoting their attention to family or friends or spiritual growth or whatever while the carnage continued in the background. The ones who didn't watch — most of you, I hope, for your own sake — likely saw the final score later and shrugged, because obviously, yeah, of course Bama beat the shine off Vandy. So it's worth pausing for a second to reflect on just how historically lopsided this particular massacre was.
Because I've seen a lot of brazen mismatches and perfunctory blowouts over the years, many of them involving Alabama operating at maximum Bama-tude, and I've examined more than my share of hideous box scores. And believe me when I tell you that (with one exception) I can't recall an example of a team so thoroughly extinguishing the soul of another in all phases, from the first gun to the last, as this: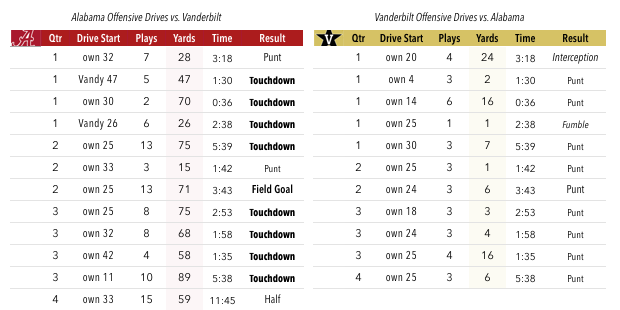 My friends that is a beating of such relentless efficiency that Nick Saban, an essentially humorless man obsessed with the pursuit of perfection, was caught on camera smiling and laughing with his players before it was even finished. On the sideline! Afterward he praised his team for playing 60 minutes and conceded "all in all, this was a pretty good win for us," which coming from Saban in mid-September is like the Nobel prize of coachspeak.
Offensively, Vanderbilt wasn't just shut out: The Commodores barely managed a positive play, earning a grand total of three first downs (including one via penalty) with a long gain of 10 yards. The final margin in total offense — Bama outgained Vandy 677 yards to 78 — was the largest in Alabama history, despite a sincere effort to slam on the brakes in the fourth quarter. (The Crimson Tide's only possession in the fourth ate up nearly 12 minutes and ended with three straight kneel-downs inside Vandy's 10-yard line.) At this level, it was as close as you're likely to see to a truly flawless performance, and the fact that it was interpreted as a more or less routine afternoon for this outfit is all the more impressive.
SUPERLATIVES
The best of the week …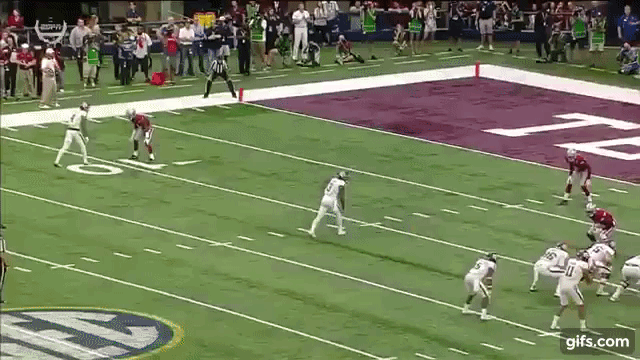 Christian Kirk, WR, Texas A&M. I've always preferred to think of Kirk as a kind of artist, and if I'm going to stick with that analogy then his performance against Arkansas is his masterpiece: In a must-win game for A&M, Kirk set career highs for all-purpose yards (246) and touchdowns (3), including a 100-yard, go-ahead kickoff return with a little more than five minutes to play and a go-ahead TD catch in overtime that stood up as the game-winner. His dry spells are frustrating, but when Kirk is able to get his hands on the ball with any kind of consistency he remains the most versatile and electric playmaker in the SEC, for sure, and arguably in college football.
Armani Watts, S, Texas A&M. Watts redeemed the entire A&M defense in overtime with his game-clinching, out-of-nowhere interception off Arkansas' Austin Allen, a play I've watched more than a dozen times and still have no idea where he came from to make the decisive pick. He also led the Aggies with eight total tackles for the game, including a TFL, thereby earning his second appearance in the Honor Roll in as many weeks.
Kadarius Toney, WR/Wildcat, Florida. Toney provided a brief but obvious spark in the Gators' win over Tennessee, then expanded on that role in clutch fashion in Saturday's win over Kentucky, accounting for 64 yards from scrimmage as a rusher and receiver and the biggest play of the game on his lone pass attempt. The more we see of the freshman, the more he looks like the best thing to happen to Florida's offense in a good long time. If only there were, like, six more of him …
Deandre Baker, CB, Georgia. Georgia's entire defense rose up against Mississippi State, but no one more so than Baker, who was credited with five tackles, two passes broken up (not including a play on which he forced an MSU receiver out of bounds in mid-air, foiling a would-be catch along the sideline), and an interception that unofficially marked the beginning of the end — UGA scored three plays later to go ahead 28-3. It's usually not a good sign for the D when a cornerback is the most visibly active player on the field, but in this case Baker was consistently one step ahead of Nick Fitzgerald and his receivers all night.
DEMERITS
… and the worst.
Kentucky's Phantom Coverage. The odds of an FBS defense just flat out forgetting to cover an opposing wide receiver, in arguably its biggest game of the year, are low enough that I'd stick the Wildcats' secondary down here based strictly on their initial bust in the first half. This is an egregious gaffe!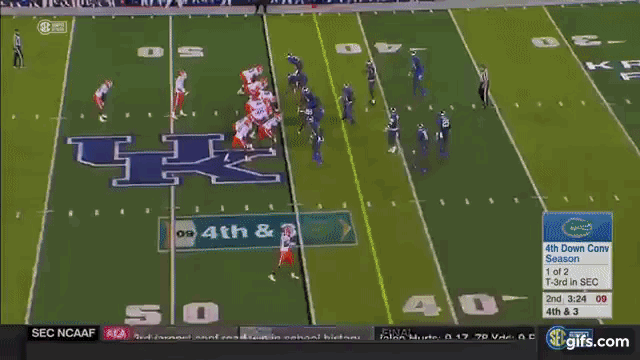 When they let it happen again, with the game directly on the line, it was like something out of a terrible movie that half the audience walks out on for being too farfetched. Florida needed every possible break to extend its ownership of the head-to-head series to 31 years, and as usual Kentucky was only too happy to oblige.