SEC
Monday Down South: With the end in sight, Bret Bielema embodies the SEC in decline
Five years in college football can feel like an eternity, especially when they go the way the past five have gone for Arkansas, and the closer the clock ticks toward the end of the Bret Bielema era in Fayetteville the easier it is to forget what a shock it was when the Razorbacks introduced Bielema as their new head coach.
Lately, his stock has crashed with no sign of recovery: Saturday's 52-20 debacle against Auburn was Arkansas' seventh consecutive loss against a Power 5 opponent and clinched another five-loss season in Fayetteville — the fifth in as many years — with five games still to go. In their past three games the Hogs have been outscored by 90 points, which Bielema himself admitted this weekend is "uncharted waters."
In the meantime, the default position toward the class of new head coaches hired in December 2012 (Bielema, Gus Malzahn, Kevin Sumlin and Butch Jones) has shifted dramatically, the point that all four — even Malzahn, who came within seconds of winning a national title in his first year at Auburn — have come to embody the decline of the once-mighty SEC as a whole. These days, it's a given that the league's malaise is largely a symptom of its uninspiring coaching hires, a list on which Bielema's name will remain at the top for as long as he still has a job. Coaching-wise, all of the momentum in 2017 resides in the Big Ten.
In that context, it's harder to recall that his arrival at Arkansas was regarded as a significant coup, and one that specifically reinforced the SEC's growing sense of superiority over the rest of the country. The 2012 season was the last in the league's seven-year run of national championships, a streak that seemed to be in no danger of ending anytime soon. At a moment when the Southern superiority complex was at an all-time high, luring the head coach of the three-time defending Big Ten champion to a program like Arkansas was almost an act of hubris: Not only will we beat you when it matters — if your coach matters, we might take him, too.
Because in any other context, by any other prevailing assumption about what motivates a coach to move from one job to another job, Bielema to Arkansas never made sense. If you could convert those assumptions into some kind of equation, it would have rated the logic of that move at zero. Maybe less. It made negative sense. Bielema was a Big Ten lifer: Born in Illinois, played at Iowa, graduated from Iowa, coached at Iowa. Has an Iowa tattoo on his leg. His mentors were Big Ten lifers. Hayden Fry recruited and coached Bielema as a Hawkeye, gave him his first job as a graduate assistant and promoted him to his first full-time job. Bielema coached at Wisconsin before he was promoted to replace his outgoing boss, Barry Alvarez, by his outgoing boss, who remained his boss throughout his tenure.
And of course, he won at Wisconsin. He won big at Wisconsin, which was not a given, historically. Bielema's last game with the Badgers, a 70-31 splattering of Nebraska in the 2012 B1G title game, sent them on their way to their third consecutive Rose Bowl as conference champs. At the time, only one other Big Ten coach (Kirk Ferentz at Iowa) had been at his current school longer. Bielema's vintage, between-the-tackles philosophy continued to pay off in Madison – and pretty much only in Madison – with an offense that consistently ranked at or near the top of the conference and turned obscure, 2- and 3-star farm boys into hulking NFL draft picks on an annual basis.
That doesn't happen in the blue-chip-driven SEC. And the rest of the Big Ten was at a nadir: With Ohio State and Penn State in NCAA-mandated flux, and Nebraska and Michigan still saddled with mediocre hires, Bielema's program stood as the B1G's gold standard for stability and traditional Midwestern muscle.
Bielema had no professional connection to Arkansas or the South. Arkansas had never won anything in the SEC. It was arguably further behind its peers than Wisconsin in terms of resources and recruiting base. The Razorbacks' previous three head coaches had all been exiled under increasingly sordid circumstances. Crazy Wisconsin fans have a beer or two (or six) too many. Crazy Arkansas fans come after your cell phone records.
So what, he was bored by the Rose Bowl? No. At age 42, the only good reason Bret Bielema would leave Wisconsin for Arkansas, the one thing that might entice him to leave the most stable, enviable seat in the conference that raised him, is that he considered a middle-of-the-pack SEC job a step up from the top of the Big Ten. For a coach whose ultimate goal is a national championship, in December 2012 the SEC was clearly the conference that offered that opportunity in the coming Playoff format – even, apparently, at a school that had not (and has not) come close to a national crown in two decades in the fold.
In October 2017 that line of thinking seems thoroughly backward. The intervening years have proved the opposite: While the SEC is at a low ebb on the field and on the sidelines, the Big Ten is thriving with proven, dynamic head coaches in almost all of its most high-profile programs (one of whom, Penn State's James Franklin, it hired from the SEC) and legitimately intriguing up-and-comers like Purdue's Jeff Brohm and Minnesota's P.J. Fleck. The Badgers are doing just fine under Bielema's former offensive coordinator, Wisconsin born-and-bred Paul Chryst. With the notable exception of Mike Riley at Nebraska, no other active B1G coach is anywhere in the remote vicinity of the hot seat.
In the SEC the heat comes with the territory, along with the type of fan that can recite the details of your contract buyout by heart, and it's not just a quirk of timing that every single coach in the conference who isn't Nick Saban has felt the temperature rise at some point in the past 18 months. Out of all of them, Bielema's might be the hottest because it was fueled by the highest expectations, ambitions that at one point reflected how high even the second-tier SEC schools were wiling to aim to remain relevant. As he barrels toward the end of the line, they look more like reminders of just how much relevance the league has lost.
NOTEBOOK
Around the conference.
Alabama 45, Tennessee 7: Bama was business as usual on the ground, riding a committee effort to 272 rushing yards on 5.1 per carry, and on defense, pitching a shutout. (Tennessee's only touchdown came on a pick-six INT return in the second half.)
The one exception was in the passing game, where Jalen Hurts and Tua Tagovailoa combined for a season-high 33 attempts, hitting 22 of them for 332 yards (also a season high), two TDs,, and the aforementioned interception. That certainly wasn't necessary to beat the Vols, who posed no threat after the first quarter. Were the Tide's young QBs putting in work for a game where it might be?
It's possible: Last year's trip to LSU was a rough one for Hurts, who only managed to salvage a dismal night as a passer (10-of-19, 107 yards, 0 TDs, 1 INT) by way of some clutch mobility in the fourth quarter. The Tigers won't be any easier to throw on in two weeks; neither will (presumably) Georgia in the SEC title game, or whomever awaits in the Playoff. Hurts' performances in those four games last year — at LSU, followed by the three postseason dates — were easily his worst.
Hurts isn't in any danger of losing his spot on the depth chart anytime soon, but it was interesting that coaches gave Tagovailoa essentially the entire second half to operate without any apparent restrictions. He had one massive screwup on the pick-six; otherwise he looked every bit the part of the No. 1 dual-threat QB in the 2017 recruiting class as both a runner and passer.
At some point along the way that kind of experience against a defense on the level of Tennessee's could prove invaluable in a game where it might actually mean the difference in winning and losing, whether it's because of injury to Hurts or because coaches eventually come to trust the freshman's arm more.
That hypothetical is still a good ways off, but what a luxury to be able to prepare for it in a game like this, against your No. 2 rival, without any risk whatsoever.
Auburn 52, Arkansas 20: Auburn deliberately pushed the pace early in this game, resulting in a play on the Tigers' opening possession that (assuming Bielema doesn't make it to 2018) may as well serve as his epitaph. Everything went wrong for the Razorbacks at once, beginning with the previous play — a screen pass to Eli Stove that broke for 48 yards on 3rd-and-11 — which left Arkansas gasping for breath and direction as Auburn's offense hurried to the line to capitalize on the big gain.
In the confusion, two Arkansas players inexplicably ran off the field; zero ran on to replace them, leaving the Razorbacks with just nine defenders — and just one down lineman — to defend 11 as the ball was marked ready for play. (Auburn didn't substitute between plays, and so wasn't obligated to wait around.) This is everyone: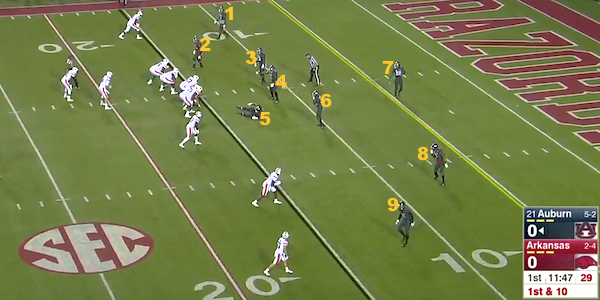 Not content to settle for incompetence, Arkansas doubled down on absurdity when its only remaining d-lineman, sophomore McTelvin "Sosa" Agim, realized what was happening — it's not clear that anyone else did — and abruptly hit the deck in the middle of the field in a transparent attempt to stop the play for a (clearly fake) injury. Refs didn't bite; with Agim sprawled helplessly on the turf, that left just eight defenders, and a path to the end zone for Auburn QB Jarrett Stidham that must rank among the least resisted in modern SEC history.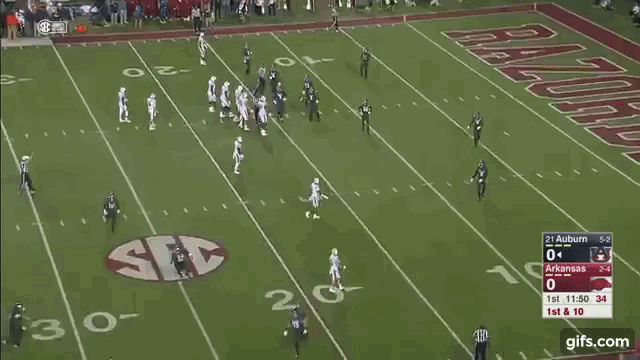 Auburn's entire offensive line surged ahead 10 yards with essentially no one to block, eventually converging on a pair of unfortunate linebackers who opted, wisely, for full retreat; Agim, untouched, just watched in frustration. Arkansas fans know the feeling.
Altogether, the Tigers racked up 345 yards rushing as a team despite failing to produce an individual 100-yard rusher, and despite starting tailback Kerryon Johnson averaging just three yards per carry. That's the second week in a row the Razorbacks have yielded 300-plus on the ground, and the fifth time in the past two years.
LSU 40, Ole Miss 24: Taken by itself, this was an immensely encouraging performance by LSU, not only because the Tigers won big on the road (given how badly Ole Miss was thrashed by Alabama and Auburn, from the Rebels' perspective a 16-point margin actually qualifies as competitive), but specifically because their brightest stars — Derrius Guice on offense, Arden Key on defense — both looked like their healthy, dominant selves for the first time this year.
Since hitting rock bottom against Troy, LSU has taken three straight, punctuated by Week 7's season-saving, come-from-behind win over Auburn; with the head-to-head tiebreaker on their side, the Tigers still control their own destiny in the West Division. If this were any other team, it would be easy to say it's hitting its stride at exactly the right time, with a bye week on deck to heal up for the defining trip to Alabama on Nov. 4.
Because it's LSU, there's a distinct sense that we've seen this movie before. At the same point on the calendar, the only real difference between last year's team (5-2 through the end of October) and this year's (6-2) is that the 2017 edition hasn't switched coaches in midstream or canceled any games due to the weather. Otherwise, the script is the same: Just like the current group, the 2016 Tigers also rebounded from a pair of demoralizing September losses to ride a three-game win streak into Bama week, and dominated Ole Miss in virtually identical fashion heading into the pre-Bama bye. Guice's 276-yard outburst on Saturday mirrored Leonard Fournette's 284-yard romp through the Rebel D last year, which was also taken as a sign that the SEC's most feared offensive weapon was finally in peak form after battling injuries over the first half of the season. We have a fairly good idea how it will end.
The silver lining in that projection is that a) Last year's 10-0 slugfest in Baton Rouge wound up being the most legitimately competitive game Alabama played before its last-second Playoff loss to Clemson, even if LSU was never in position to realistically win it; and b) Matt Canada's offense is still just scratching the surface of its potential with Guice in a full-time role. At full speed, Key really is a difference-maker off the edge. And who knows? With two weeks to prepare, maybe the Tigers will show up with something completely different up their sleeves. I wouldn't bet on it, but if there's one reason LSU hired Canada above all else, it was specifically to shift those odds.
SUPERLATIVES
The best of the week …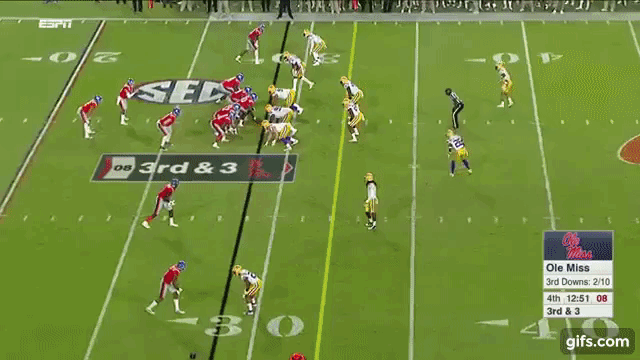 1. Derrius Guice and Darrell Williams, RB, LSU. Naturally, Guice got the headlines for his gonzo output on the ground, and more generally for returning to his All-American sophomore form for the first time this season. But Williams turned in a career night against Ole Miss, too, as both a rusher (103 yards) and receiver (105, the majority coming on a 63-yard gain that set up a field goal on LSU's first possession). Between them, the Tigers' top tailbacks accounted for an absurd 493 of the team's 593 yards of total offense.
2. Grant Delpit, S, LSU. On the other side, frankly it's unfair to the rest of the defense to single out any one player on a night when half the starting lineup stood out in one way or another. But certainly no one was more deserving than Delpit, a true freshman, who continued his rapid ascent against the Rebels by logging a team-high nine tackles (eight solo), breaking up a pass, and picking off another for his first career interception. He arrived in the spring from IMG Academy hyped as the heir apparent to Jamal Adams; with each passing week he looks a little further ahead of the curve.
3. Levi Wallace, CB, Alabama. Again, elevating any one member of the Bama defense is an exercise in futility. But Wallace's name keeps popping up, for good reason: In his fourth year on campus, the former walk-on has earned a starting nod in each of the past seven games, defying the blue-chip stereotype, and an increased presence in the box score.
Against Tennessee, Wallace was credited with two sacks, an additional TFL, and a QB hurry on nickel blitz calls alone; in coverage, the only pass the Vols completed in his vicinity of the field was dropped for a loss.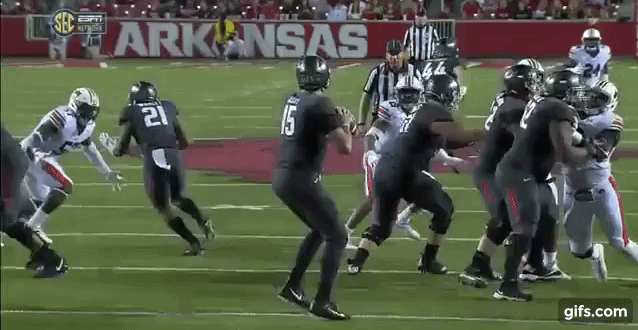 4. Jeff Holland, DE, Auburn. Holland led Auburn's assault on Arkansas' colossal quarterback, Cole Kelley — according to their officially listed weights, Kelley (267) outweighs Holland (249) by nearly 20 pounds — recording two of the Tigers' six sacks and forcing fumbles on both. For the season, that moved Holland into the SEC lead for sacks (8.0) and a tie for the national lead in forced fumbles, with four.
5. Drew Lock, QB, Missouri. I've been hard on Lock, and a 68-21 evisceration of Idaho is exactly the kind of performance that has tended to obscure his persistent, ongoing problems against respectable competition. Still, even against a Sun Belt secondary 23-of-33 passing for 467 yards and six touchdowns is 23-of-33 passing for 467 yards and six touchdowns. Four of those came in the first quarter, three of them to freshman tight end Albert Okwuegbunam. After five consecutive losses, any positive result over the second half of the season is a step in the right direction, regardless of at whose expense it happens to come.
Catch of the Year of the Week: Kevin Toliver II, LSU: LSU's corners were as good as advertised against Ole Miss, holding the Rebels' fleet of NFL-bound wide receivers without a touchdown or any other play worth noting; among the wideouts, the longest gain of the night covered just 17 yards. Even by their usual high standards, though, the fourth-quarter interception Toliver wrested from the hands of last week's COTYOFTW honoree, D.K. Metcalf, was above and beyond.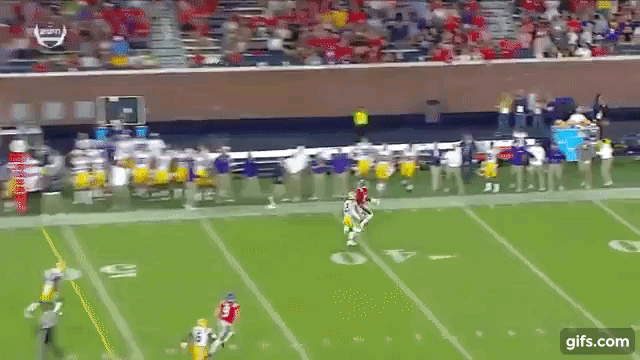 This is the kind of play where the question of whether he managed to get his foot down in bounds is a mere footnote to the fact that he managed to come down with the ball in the first place.
1. Kentucky's Meltdown. The Wildcats' trip to Starkville was a disaster in just about every way, one that fully lived down to the 45-7 final score. Afterwards, it got worse:
Words from the locker room spilled into Mark Stoops' postgame presser. pic.twitter.com/MF7Ss6E5g2

— Joe Mussatto (@joe_mussatto) October 22, 2017
That's head coach Mark Stoops, hardly the mild-mannered type himself, attempting to address the media over the din of his recruiting coordinator, Vince Morrow, unleashing an NSFW tirade in an adjoining locker room at such volume that Stoops had to briefly interrupt his own presser to send a staffer to quiet Morrow down.
When the head coach concedes moments after a bad loss, "They flat out beat us. They out-coached us," and that turns out to be the least embarrassing part of the proceedings, then it is definitively not your day.
2. The Universe re: Shea Patterson. Ole Miss' 5-star quarterback is reportedly done for the year due to a knee injury, advancing the Rebels' doomed campaign to an even deeper level of football hell than they had already endured. Patterson was the heart, soul, spine, liver, esophagus, gallbladder, appendix and adrenal glands of the Ole Miss offense, among other things, accounting for more than 71 percent of the team's total yards this season. Even if he decides to remain in Oxford to play for the new coaching staff in 2018, by the time he's 100 percent the team around him will look dramatically different.
3. Tennessee's Faux Flicker. Who was supposed to be fooled by this play: Alabama's defense, or poor Jarrett Guarantano? Because, broadly speaking, the basic concept of a flea flicker tends to involve eligible receivers making themselves available for a pass beyond the line of scrimmage. And the version the Volunteers tried to run in the first quarter against Bama … uh, did not.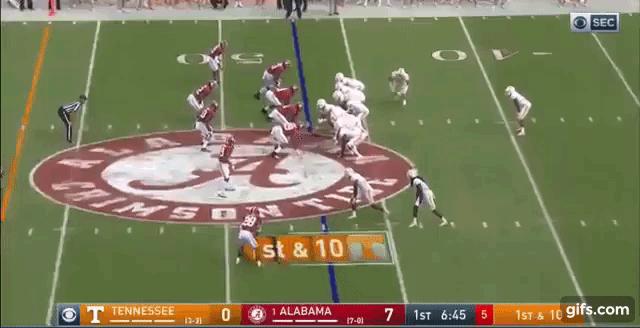 Best guess is the play was designed to be a screen pass to No. 1 Marquez Callaway, which barely makes sense, but sure, whatever y'all have to do. (Tennessee has been desperate to figure out ways to get the ball in Callaway's hands without putting its quarterback in the position of actually having to attempt to throw downfield, or its offensive line in the position of having to block long enough to let him.) But even for this offense, failing spectacularly to pull off the remedial version of a trick play is just sad. Speaking of which …
3. The Vibe at Tennessee, In General. Even on the road the Vols couldn't escape the negativity that's enveloped the program since opening night: They left Tuscaloosa 0-4 in SEC play, nearly a month removed from their last offensive touchdown, and, barring a miracle down the stretch, probably only a month or so away from firing their head coach. How are their spirits holding up in the meantime?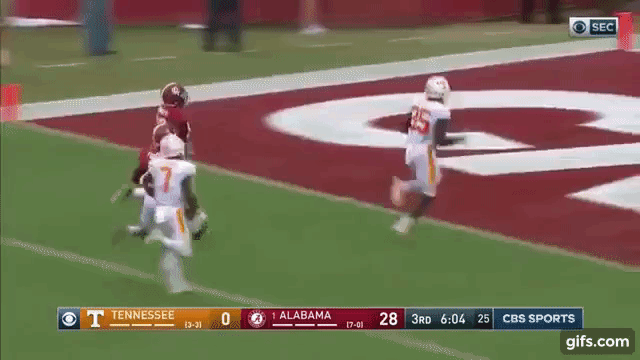 Yep, I think that just about sums it up.